It's no secret that UST (Ultra Short Throw) projectors have been around for a long time, but thanks to the COVID-19 pandemic keeping a record number of people inside, and lots of technological innovations happening with solid state light sources right now, the UST projector market is currently flush with near-complete TV-replacement options to choose from. Without practical means to watch movies on the big screen in commercial theaters, many are choosing UST projectors as a way to fill the void and create their own big screen experiences at home.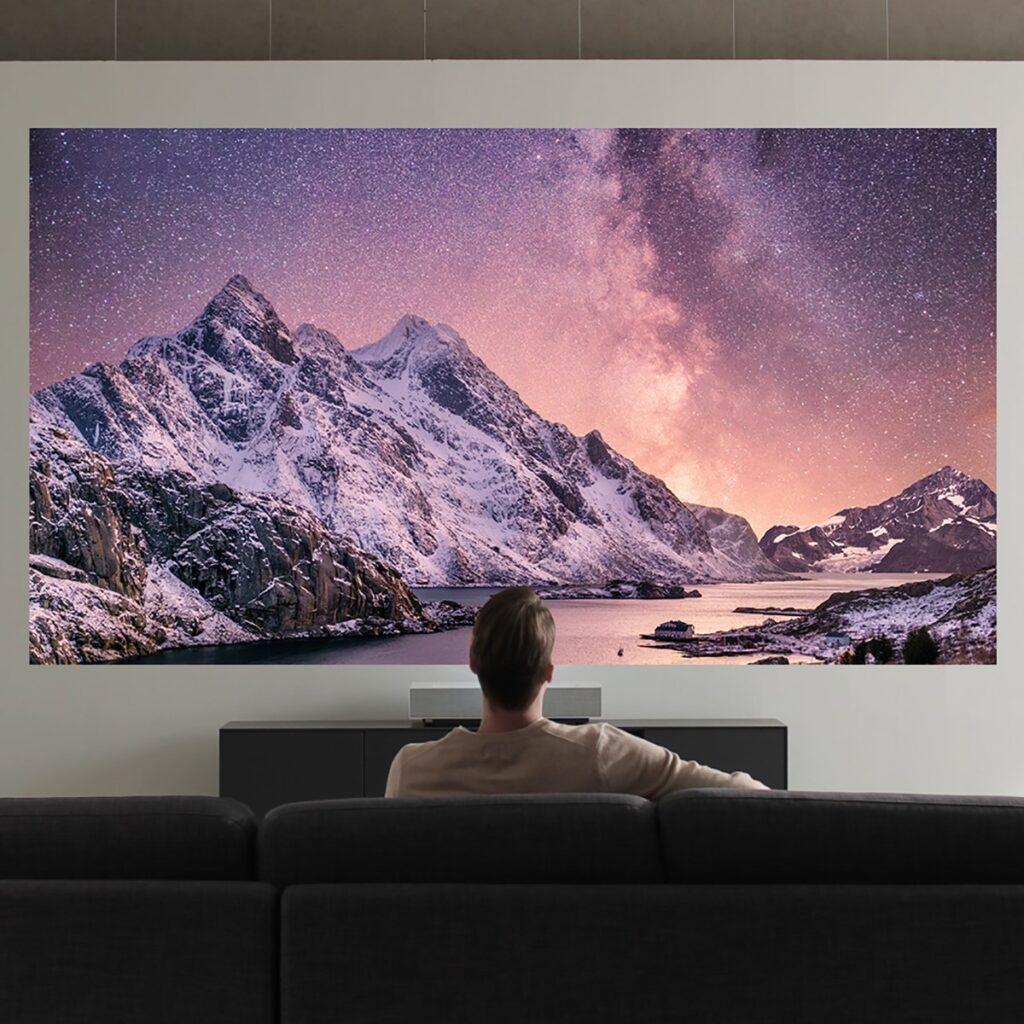 LG is no stranger to the UST projector market, with the company offering several UST options for consumers to choose from. With their latest flagship CineBeam HU85LA ($4,999), the company is touting its proprietary three-channel laser system, developed specifically for this projector, as a way to reel in customers. The advantage to this system is that light no longer needs to be filtered through a spinning color wheel in order to create each primary color, as the lasers themselves do this on their own.
Not only does this increase the efficiency of the light engine; it also means the HU85LA can offer high brightness without a huge sacrifice in color saturation performance like you see with most other high-brightness, single-chip DLP projectors that rely on a spinning color wheel. Additionally, the use of lasers adds the benefit of long life, reliability, and a slow, linear reduction in light output over time, advantages normally reserved for flat panel televisions. LG specifies the HU85LA's output at up to 2,700 lumens, with the projector needing 20,000 hours of use before noticeable light loss occurs.
Other notable specifications include a 2,000,000:1 contrast ratio, UHD resolution through the use of an XPR-enabled .66-inch DLP DMD, 12-bit video processing and color gradation, HDR10 support with REC2020 compatibility, real-time dynamic tonemapping for HDR10 video sources, LG's ThinQ AI smart-enabled software features, and a two-year limited warranty.
Additionally, the HU85LA includes other TV-replacement features, such as a digital TV coax input, a built-in speaker system, and a smart-enabled operating system. In fact, as far as I can tell, this is the same LG-designed webOS operating system used on the company's premium LCD and OLED televisions. This means you can run apps directly from the projector as you would from any smart TV. LG even includes a back-lit variant of the company's wonderful and intuitive Magic Remote to control the projector. To date, this is one of the most well-rounded TV replacement options I've seen. Once you purchase a screen, you can say goodbye to your flat panel television and hello to the new big-screen experience at home.
Setting Up the LG HU85LA
One of the most important aspects of setting up any UST projector is pairing it with the right screen. Because the HU85LA is intended to be used inside a living room as a TV replacement, ambient and reflected light within this environment has the potential to wash out the projected image. For this review, Screen Innovations was kind enough to send over one of its Solo Pro 2 screens (Available at ProjectorScreen.com) featuring the company's Short Throw screen material, which is a great match for this projector. It's designed to more ideally reflect the shallow angle at which these projectors throw their image, so that more of this light is reflected back towards viewers. It also has ambient light rejecting (ALR) optical coatings. If you're planning on buying this projector and using it in an untreated space, a screen like this is an absolute must if you want to get the most from the projected image.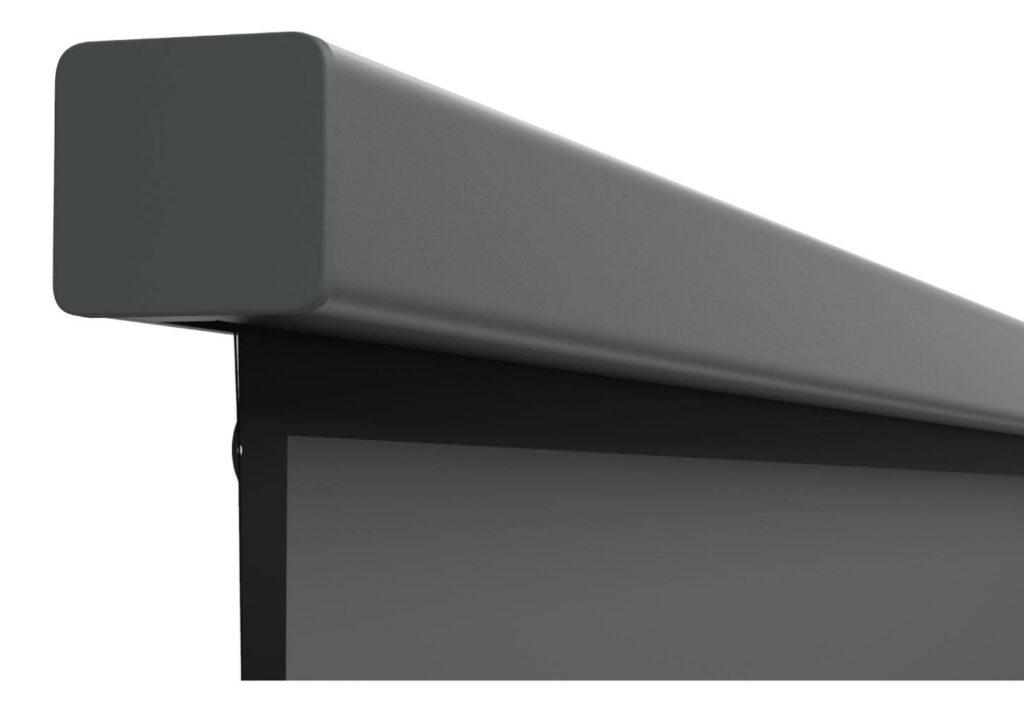 For connections, the HU85LA offers a pair of full-bandwidth HDMI 2.0 ports (one ARC compliant), an optical TOSLINK audio port, an RJ-45 LAN port, the aforementioned digital TV coaxial antenna input, a Kensington lock for extra security, and a pair of type-A and single type-C USB ports to power connected devices. Be aware that if you're installing the projector close to a wall to fill a smaller screen, you may need to buy some 90-degree cable adapters for this type of installation to work. The ports are located on the side of the chassis that will face your screen wall, and although they're recessed into the chassis a bit, the cavity may not be deep enough for a straight install, depending on the thickness of your cables.
The HU85LA has an exceptional short 0.19:1 fixed throw ratio. With this throw, LG says owners can create a 120-inch diagonal image from 7.2 inches, or one as small as 90-inches from just 2.2-inches away from the screen. This particularly short throw ratio makes setting up the projector a bit more time consuming and tedious than usual, even compared with other UST projectors. For best results, you'll want to take your time and make sure the projector and screen are symmetrically mirrored in physical planes with one another as close as you can get. Otherwise, you may see issues like waves in the image, focus non-uniformity, trapezoidal image geometry, and hotspotting. To help with proper positioning, the HU85LA includes four adjustable feet underneath. For dialing in focus, you'll find an adjustment knob hidden underneath a door on the top of the chassis.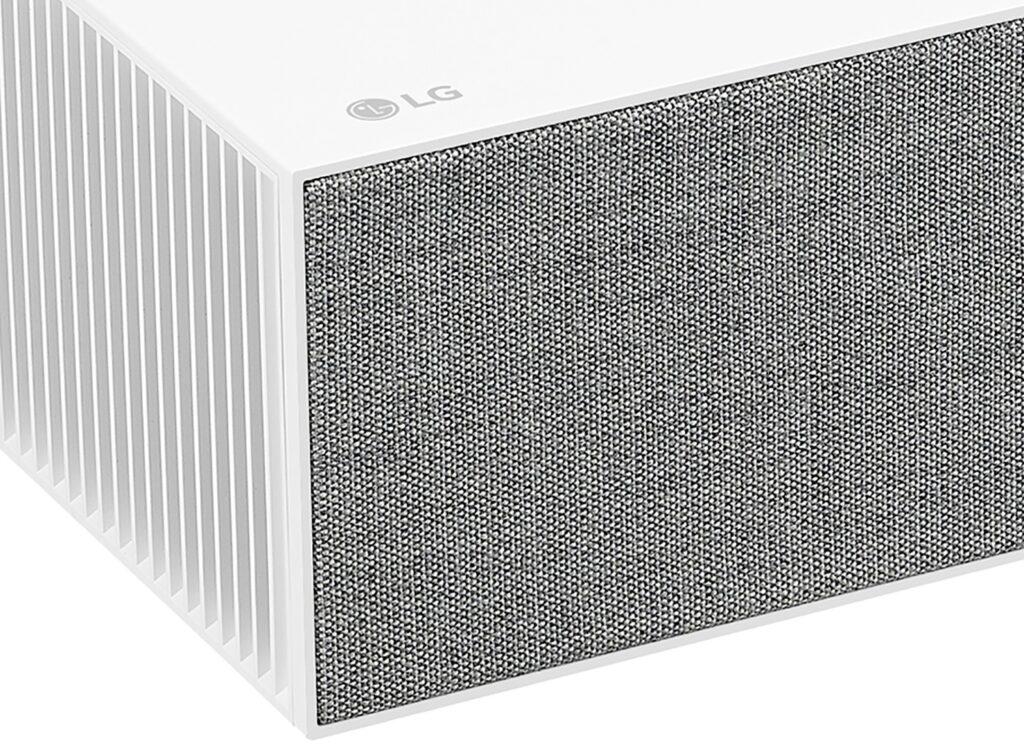 The projector itself comes in a fairly compact form factor, measuring in at 26.8 by 5.0 by 13.7 inches and weighing 26.9 pounds. Build quality is excellent overall, with premium materials used throughout. Be aware that the only finish option available is matte white. However, the projector comes with a grey "kvadrat" cloth grille cover to break up the all-white chassis and conceal the pair of five-watt speakers built into the projector.
If you've adjusted the feet and you're still seeing issues with image geometry on screen, you have the option to use image manipulation software within the menu system of the projector. But tread lightly. The more you rely on this software, the more potential it has to diminish image resolution and subjective sharpness. My advice is to get it as close as you can physically before you use this software.
Once you have the projector installed, you'll find the initial software setup process is essentially identical to pretty much all currently selling smart TVs on the market. You'll start by setting up your internet connection (either wired or wireless), then you'll want to download and sign in to your desired streaming apps, adjust your audio output if you don't plan on using the included speakers, and then dive into calibration controls if you're the kind of person who likes to fine-tune the image.
During my own setup process, I was a little disappointed to find that the list of available apps was far less extensive than what's offered on the LG B8 OLED installed in my living room, despite the fact that it runs the same webOS operating system. It's also worth noting that the user interface felt less fluid and responsive. I suspect these issues stem from the projector not using one of LG's newest processing solutions. With that said, you still have access to Netflix, YouTube, Amazon Prime Video, Plex, Google Play Movies, Disney+ and Spotify, among others.
If you've used any webOS-enabled LG display from the past several years, finding your way through the menu system on the HU85LA should be second nature. Menu items are logically placed and named to avoid confusion as to what each option does. You'll find several preset picture modes to choose from. For SDR content, I'd recommend going with Expert (Bright Room) mode, and for all HDR10 content, Cinema user mode. Each of these offered the best out-of-the-box performance for their corresponding content.
The HU85LA offers an extensive set of video adjustment and calibration controls for those who'll use them. These include basic Brightness, Contrast, Sharpness, Color and Tint controls, but you'll also find a full color management system, extensive white balance controls, and user-selectable gamma options. There are also options to manually adjust settings for color gamut, dynamic range, smooth motion frame interpolation, dynamic digital contrast and color enhancement, smart sharpening controls, and customized tonemapping options for how the projector processes and displays HDR10 video content.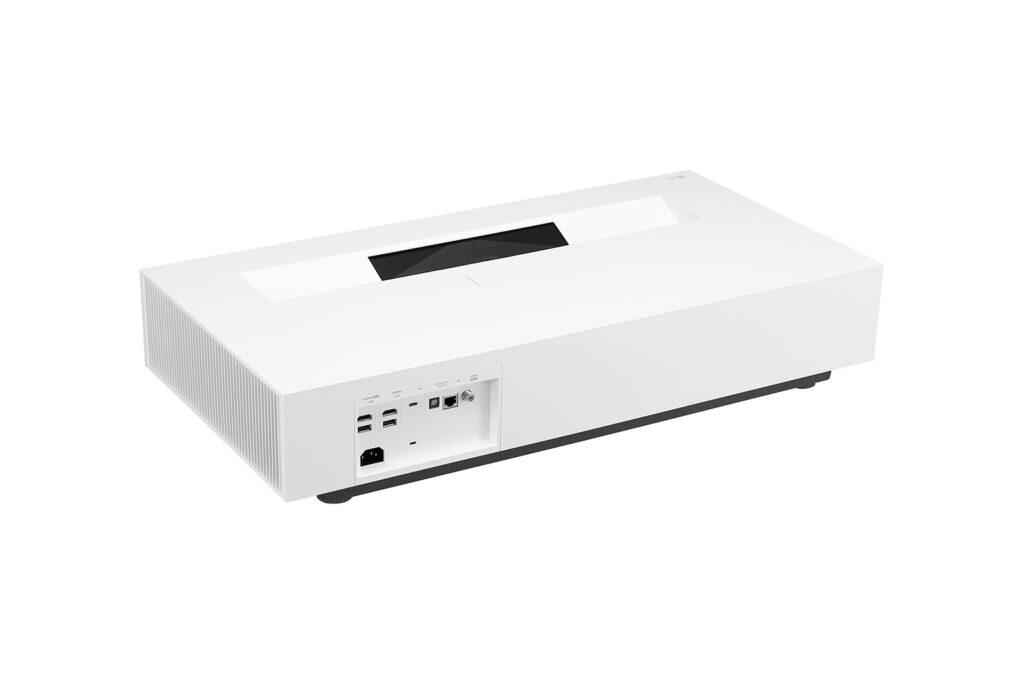 If you plan on watching HDR10 video content, I highly recommend enabling the projector's Dynamic Tonemapping menu option. That's because the HU85LA shares the same excellent real-time dynamic tonemapping software found on LG's higher-end flat panel displays. When enabled, the projector will automatically adapt the HDR image to better suit the real-world capabilities of the projector.
While it would have been nice for LG to include some customizable settings for the software, such as setting the peak white image brightness for better tone mapping performance, it's still a useful and effective tonemapping tool. With it enabled, you can expect an image with colors that appear more natural and fully saturated, with a far better sense of dynamic range and brightness within the image overall. This is the type of HDR video processing I wish others in the home theater projector industry would adopt as well. Currently, JVC is the only other company that I'm aware of that uses this type of software.
How Does the LG HU85LA Perform?
Before we get into the measurements, I want to discuss who I think the HU85LA would be an excellent choice for. Because this is a single-chip DLP projector, it's going to have inherent strengths, relative to most other projection technologies, in motion, ANSI contrast, image sharpness, resolution, and uniformity. These strengths lend themselves well to brighter, higher frame rate video material like you'd typically find with certain broadcast television, live sporting events, and video games. As you'll see, on/off contrast performance and black level are not among its many strengths. This means it's going to struggle a bit with many Hollywood-style films and television shows, as this type of video content is typically dark overall and requires solid on/off contrast performance to look good in a subjective way. So if you are planning on watching a lot of movies with the HU85LA, keep your expectations in check.
Out of the box, I found that Expert (Bright Room) mode offered the most accurate out-of-the-box image for SDR video content, so I used that as a starting point for calibration. With the projector placed in its highest light output mode (Minimum Energy Saving), I measured a peak of 1,953 lumens after calibration. This is a relatively competitive amount of calibrated light output for an UST projector in this price class. If you require less light output, the projector has a Medium and Maximum Energy Saving mode, each reducing light output by nearly 20 percent. I wouldn't recommend using the lowest output mode, however, as I found it added a large red push in white balance. With that said, all of my subjective viewing was using this projector's highest light output mode. In this mode, using the projector's two-point white balance controls, delta errors averaged 4.1 prior to calibration and just 2.1 after.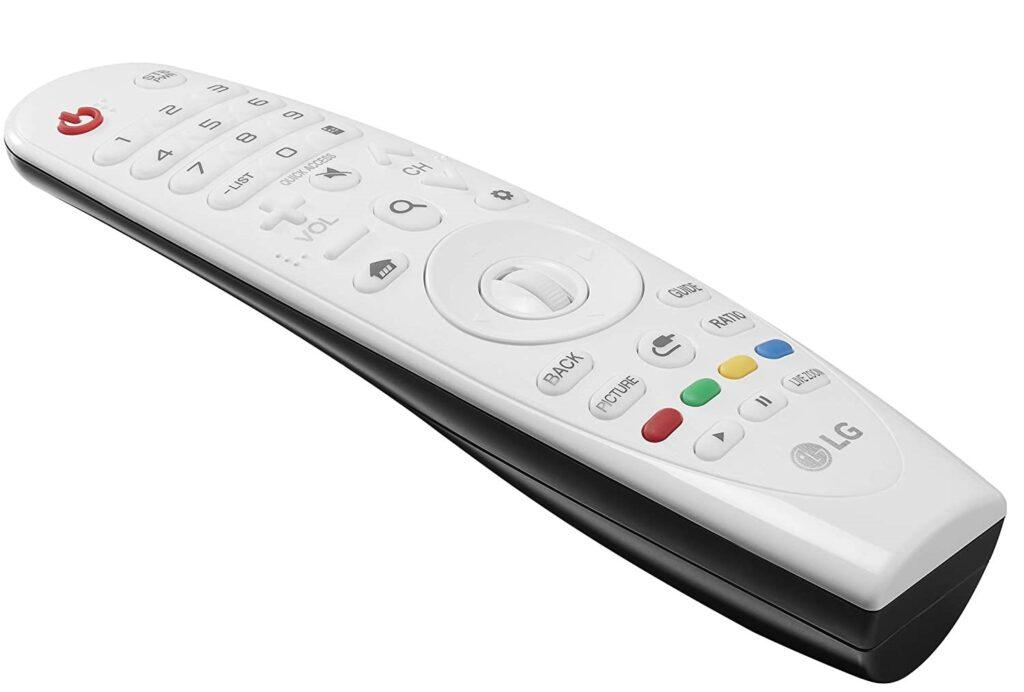 I found that out-of-the-box color accuracy was quite good as well. For SDR content, in Expert (Bright Room) mode, the HU85LA can fully cover the REC709 color gamut. Delta errors averaged 3.5 prior to calibration and just 1.5 afterwards. For HDR10 video content, the projector switches over to a REC2020 compatibility mode with several picture modes to choose from. I found that Cinema mode offered not only the most accurate image for HDR video content, but also the most color saturation performance as well. I measured this mode to cover 94.5 percent of the DCI-P3 color gamut within the REC2020 triangle, with delta errors averaging 2.1 after calibration. Be aware that this boost in color saturation costs you about ten percent in light output over Expert (Bright Room) for SDR video.
While this extra color saturation past REC709 is definitely welcome, I was expecting to measure quite a bit more due to the fact that this projector employs an RGB laser light source. Incredibly deep color saturation has been one of the defining features of RGB laser light sources for years, with most projectors that use them (some far less expensive than this projector) being capable of saturation past REC2020, which is something no other consumer display technology can currently achieve. So not seeing this type of color performance, especially at this price point, was a bit of a letdown.
But I wouldn't let this level of color performance bother you. The fact remains that there are only a handful of movies out there that utilize color saturation past DCI-P3. Even on some of the movies that do, such as the recently remastered version of The Matrix on Ultra HD Blu-ray, the deep shades of cyan and green that this movie is known for still appeared satisfyingly saturated and natural in tone. The list of movies graded beyond DCI-P3 is more than likely to grow in the future, though, so if you were eyeing this projector's RGB laser light source as a means to a more future-proof purchase, the HU85LA might not be the best choice. With that said, color performance is still up there with some of the best home theater projectors on the market today.
Contrast performance offered by the HU85LA is only middle-of-the-road. I measured a peak native contrast ratio of 1,695:1 after calibration. While this is definitely a great level of native contrast for a single-chip DLP projector in this price range, the problem is that the projector lacks a dynamic contrast system to take things to the next level. Without one, it really holds back the image relative to other projectors that are currently selling in this price segment, and even some other UST options that cost considerably less.
While the HU85LA was here, I took a look at a few scenes from the movie Ad Astra on Ultra HD Blu-ray. This movie can be tough for any display to render convincingly, not just projectors. Like most sci-fi movies, it has shots of pure black space, dimly lit interiors, and plenty of shots where mixed bright and dark elements appear on screen at the same time. The HU85LA had no problem with most of the shots when mixed content was on screen, but fell apart anytime most of the image needed to be black. Shots of space subjectively looked more like a shade of gray. A dynamic contrast system would have helped dramatically throughout. So if you watch a lot of sci-fi or horror movies, you may want to consider a different projector.
Brighter video content is where this projector comes alive. I played back a few scenes from the movie Midsommar on Ultra HD Blu-ray. The bright outdoor sequences portraying the idyllic Swedish retreat where the majority of this movie takes place looked remarkably good. Thanks to LG's excellent dynamic tonemapping solution for HDR10 video material, the image had an impressive sense of depth, dynamic range, and natural color rendition. There was also an impressive sense of image sharpness and resolution that few other UST projectors that I've seen, at any price point, have.
Video games also suit the HU85LA extremely well. I can't tell you how much fun I had playing games like Microsoft Flight Simulator 2020 and Star Wars Jedi: Fallen Order on the big screen in my living room. The HU85LA offered an image that was tack sharp, with lots of pop and apparent resolution. Flying around in Flight Simulator was extremely impressive, with the projector allowing me to see extremely far off in the distance and able to make out exquisite detail rendered in distant objects. Pans and other fast movements had an impressive sense of motion resolution as well, something I think gamers will really appreciate.
With that said, input lag isn't the best. I measured 53 milliseconds with my Leo Bodnar input lag tester. This should still be low enough for most casual, noncompetitive titles like a flight simulator or real-time strategy games. In my own experience, I didn't run into any major issues. However, if you're a more competitive gamer, you might want to look elsewhere.
I also tested the speaker system built into the projector. As expected, bass performance was lacking. But this level of bass performance is pretty typical for speaker systems built into projectors. Dialogue sounded great. It was crisp and detailed and the volume can go pretty high without any major issues with audible distortion. At this projector's price point, I suspect most owners will opt for a dedicated two-channel or surround sound system anyways, so I don't expect this to be a deal breaker for most.
The Downside
As mentioned above, the only major gripe I have with the HU85LA is its lack of a dynamic contrast system. Historically speaking, one of the big ways premium displays differentiate themselves from the more value-oriented segment of the market is by offering up enhanced contrast performance. You saw this with plasma and continue to see this with OLED televisions. And that's because contrast performance is one of the most important aspects of a subjectively pleasing image. And when you're using DLP as your display device, a technology that hasn't kept up with LCD-based projector technology in terms of native contrast over the years, a dynamic contrast system has become even more important if the projector wants to remain relatively competitive, especially in the more premium part of the projector market.
Another issue I see with the HU85LA is the DMD LG has chosen to use. The .66-inch XPR DMD has a hardware limitation that forces all video to be output at 60 Hz. This means 24p film cadence often takes a noticeable hit. You may see some occasional judder introduced by the forced 3:2 pulldown. Playing back the iconic Minas Tirith sequence from The Lord of the Rings: The Return of the King clearly showed off this motion deficiency. As Gandalf and Pippen ride their way up through the city, these long panning shots were filmed with 24p cadence in mind and are supposed to appear smooth. Through the HU85LA, there was noticeable judder added into the moving image. One way to help lessen this issue is to enable the De-Judder option found in the TruMotion menu system. Set to level 1, I found this helped remove most of the obvious judder, but could not fix this problem completely.
One last thing you should be aware of is that, despite using an RGB laser light source, the HU85LA is still prone to color breakup artifacts, more commonly referred to as rainbows. I see a lot of mixed information out there regarding solid-state illumination and how it relates to creating (or not creating) these artifacts. Creating this artifact is determined by how quickly color can be provided in sequence to the DLP DMD imaging device, not necessarily the type of light source being used. While there are some LED and laser bank controllers that can provide colors in sequence fast enough to avoid seeing the issue, in the case of the HU85LA, it doesn't appear that LG is using a controller that can supply color and sequence fast enough to avoid the phenomenon. Based on my subjective testing, rainbows are still visible, appearing about as often as I've seen them on projectors using a six-segment RGBRGB color wheel that are typically found in projectors near this price point. So if you're sensitive to seeing these artifacts, you're more than likely going to see them with this projector on occasion.
How Does the LG HU85LA Compare to the Competition?
One of the HU85LA's closest competitors in feature-set and overall performance is Optoma's CinemaX P2. Like LG's projector, the P2 is a 4K/HDR10 capable, single-chip DLP projector featuring a laser-based light engine, stereo speakers, and a smart operating system to provide owners with a near-complete TV-replacement package. Despite these similarities, the P2 comes in at a far more attractive price point of $3,299. But it's not just price where the P2 takes a lead. Optoma also delivers an additional 300 lumens of specified image brightness, a slightly more expansive range in color reproduction, and, most importantly, a true dynamic laser dimming feature for improved contrast performance that that HU85LA desperately needs to compete at its high asking price. If you're looking to stick with a single-chip DLP projector, the P2 is high on my list of other projectors to consider.
Priced at $5,999, Epson has taken direct aim at the HU85LA with the company's recently released LS500 UST projector. Like the LG and Optoma UST projectors, the LS500 also includes a long-lasting laser-based light engine, stereo speakers, and an AndroidTV operating system. One of the ways the LS500 separates itself from the HU85LA, however, is that a 120-inch ALR screen is bundled in at that price, making the LS500 a truly complete TV-replacement package. Because this is 3LCD-based, you do lose out on a few inherent strengths that DLP projectors offer, such as great motion resolution and higher on-screen resolution, but in lieu of that, you'll be gaining better native and dynamic contrast and won't need to worry about color breakup artifacts interjecting themselves when viewing high-contrast video material.
Final Thoughts
Whether or not the HU85LA is right for you truly depends on the type of video content you typically watch. If it will be primarily used for sports, video games, and brighter TV-style content, I think this projector is a great option. The image is tack sharp, provides excellent resolution and class leading performance in motion, color, video processing, and a multitude of smart TV software options that a lot of owners will find useful.
The main problem I see with the HU85LA is the lack of a dynamic contrast system. And because I'm coming at this review with home theater in mind, the way this projector recreates a movie-viewing experience is my main focus. And it's in this area where I feel this projector simply lacks what's needed to keep up with other options currently on the market, some of which are quite a bit less expensive. And at this projector's premium price point, solid contrast performance is definitely needed to justify the cost.