Removing it from its cardboard and foam cradle packaging, it's immediately obvious that LG's SN11RG ($1499.98 at BestBuy) is one humongous soundbar. As wide as your average middle-school student is tall – let that sink in for a few seconds – and about a half-foot in depth, the first thing that came to mind during its unboxing was "This is a soundbar on steroids. Man, this thing is big."
Checking out its spec sheet reveals that the 7.1.4 channel, Dolby Atomos/DTS:X soundbar system also is big on power. LG says the SN11RG – which consists of seven speakers and a tweeter up front in the main bar (LG doesn't specify speaker size), a pair of drivers in each of the two satellites, and a ported subwoofer with 7-inch driver – can crank out a total of up to 770 watts of sonic punch.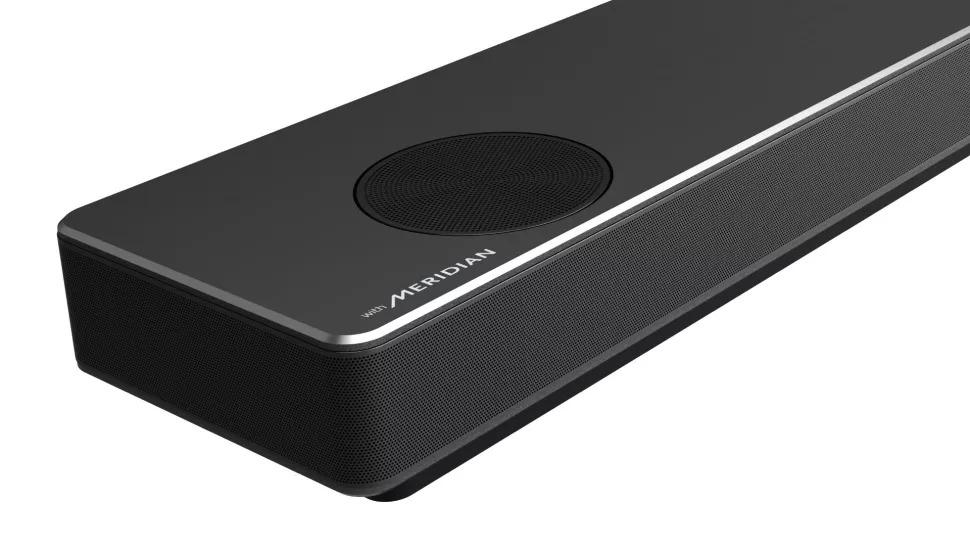 But for my money – or, more accurately, for the 1,500 bucks it costs to acquire this Meridian-tuned audio system – the biggest attribute of LG's flagship soundbar is its ability to encompass listeners in sound. It's difficult ranking audio components without the benefit of same-time, side-by-side comparisons, even if the setting and source material remain consistent. Nevertheless, I'm totally comfortable stating that the SN11RG's soundstage is as expansive and its audio as immersive as any soundbar I've ever tested. So much so that given my pick of any soundbar – but only one – to live with for the next few years, LG's flagship is the one I'd choose.
That's how much I loved listening to movies and sports for hours at a time on this thing. Music sounded great, too, but I seldom sit and listen intently to it for more than a few minutes at a time aside from when I'm evaluating components. This LG flagship also excels at connectivity, ease-of-use and features.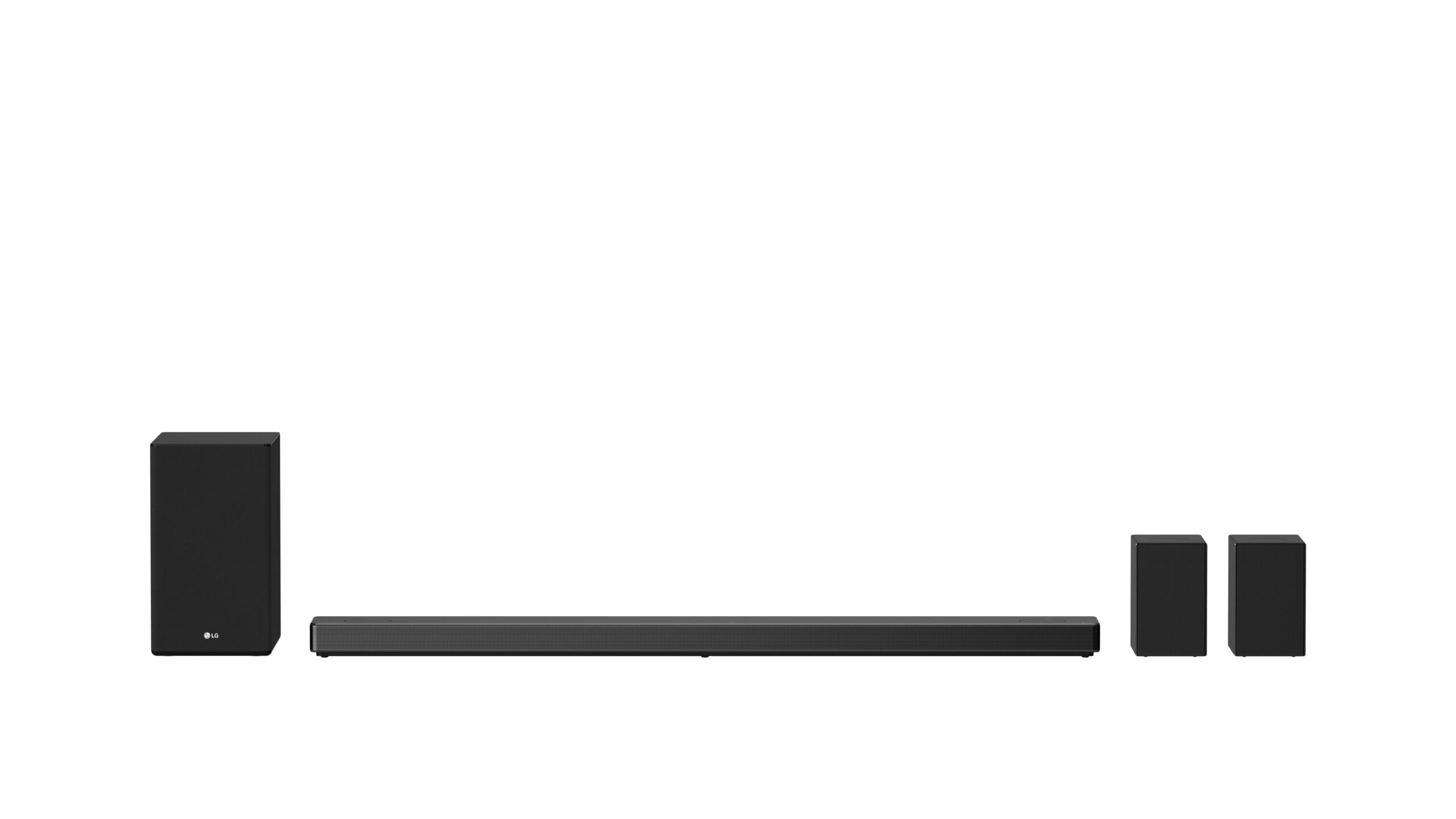 But because of its sheer size, it might not be for everyone. In addition to the massive main bar, this soundbar system comes with a pair of hefty satellites. The subwoofer's moderate size is an exception to the other components in that it's about average for a premium soundbar. Yet, because the rest of the system will occupy a lot of real estate and its four up-firing and two side-firing speakers require proper placement (no obstructions nearby) for optimum sound, the SN11RG won't work for everyone.
On the other hand, the LG SN11RG's size wasn't much of an issue for me. My 25 by 16-foot listening room provides ample space for satellite speaker stands, and my 75-inch TV sits on a media cabinet that stretches 74 inches and easily accommodated the 56.8-inch-wide soundbar. The cabinet sits in the center of a room in which the side walls were more than 9 feet from each end of the SN11RG, and there are no obstructions between the room's walls and the soundbar's up- or side-firing speakers.
The depth of the soundbar, however, presented a bit of a problem because my TV's legs are only 53 inches apart and stick out 5 inches in front of the display. So, I had to push the TV back several inches to create a suitable perch for the soundbar in front of the it. That also gave the soundbar's up-firing speakers a clear path to bounce sound off the room's 8-foot ceilings. Sliding the TV back a bit was far less inconvenient than having to prop it up on blocks to clear the height of many other soundbars and center-channel speakers I've tested. The SN11RG's main bar is only 2.5 inches high, so it should sit comfortably lower than the bottom edge of just about any TV.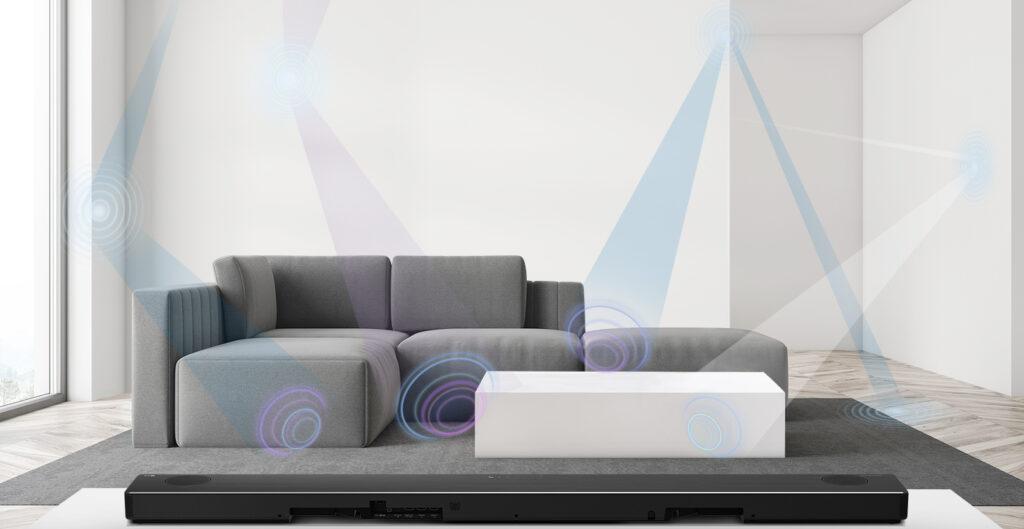 I've been dwelling on the SN11RG's size because that alone could very well determine whether or not LG's flagship soundbar is right for you. In this case, size definitely does matter, and a buyer unprepared for the SN11RG's enormity could feel like Shaquille O'Neal trying to squeeze into a Mazda Miata.
Although LG includes wall-mounting hardware for both the main bar and the satellites, those components' size and placement requirements might make wall-mounting impractical, too … even if you have someone to help you hoist the 15.9-pound main bar onto the wall. For example, the bar's leading edge will stick out about 8 inches from the wall once it is attached to its mounting hardware.
The brawny satellites, meanwhile, weigh in at 11.5 pounds apiece and measure 5.1 inches wide, 8.3 inches high, and 7.5-inches deep. Comparatively speaking, the 17.2-pound subwoofer is a relatively small at 8.7 inches wide, 15.4 high and 12.3 deep. Its size should make it fairly inconspicuous and not particularly difficult to fit behind a media cabinet, an armchair, or even under an end table.
The subwoofer can be placed wherever it suits your aesthetic taste and/or delivers optimum bass because, like the satellites, it connects wirelessly to the main bar. "Wireless" in this case means the components don't have to be tethered to one another with audio cable or speaker wires. You've still got to plug each component into an AC outlet, so keep that in mind when you're deciding where to place the sub and satellites.
LG's wireless connectivity is as simple and effective as any soundbar I've ever tested. The sub and satellites synced immediately with the main bar as soon as all four components were plugged in and powered up. At that point, green indicator lights on the components confirm connectivity. That's all there is to it. I wish all wireless connections worked this flawlessly (they don't).
On the negative side of its setup ledger, the SN11RG requires two mobile apps for optimum configuration and to access all features and functions. One is Google Home, which many readers undoubtedly already have and use to control other smart home devices. This app serves a few purposes with this soundbar. It enables the system to connect to your Wi-Fi network so you can stream music from mobile devices, and it provides access to the SN11RG's built-in Google Assistant, which enables voice control of several soundbar functions other Google Home-enabled devices.
This full-featured soundbar also has Chromecast built in. Prefer streaming your tunes using Bluetooth? The SN11RG has you covered there, too, with Bluetooth 5.0 connectivity. One of the soundbar's greatest attributes, in fact, is its versatility. In addition to supporting high-resolution audio up to 24bit/192kHz, it can handle all the popular Dolby (Atmos, Digital, Digital Plus, and TrueHD) and DTS (Digital Surround, HD Master, HD High Resolution and DTS:X) formats, as well as less popular formats such as LPCM, OGG, FLAC, AAC, WAV, and MP3. On the video front, the SN11RG offers 4K, Dolby Vision, and HDR10 passthrough, can play video from a USB thumb drive, and provides HDMI (HDCP 2.3) input and output with eARC support.
The eARC support makes it possible to connect the SN11RG to a compatible TV with just one HDMI cable. But befitting a premium soundbar, LG's flagship ranks right up there with any competitor in terms of connectivity options with two HDMI inputs along with one USB and one Toslink optical cable input. All of these connectors are located side-by-side-by-side in a convenient recess at the bottom rear of the soundbar. About the only thing missing is a 3.5mm minijack, although I'm probably one of the few people who still uses mobile devices containing the headphone jack that makes minijacks useful.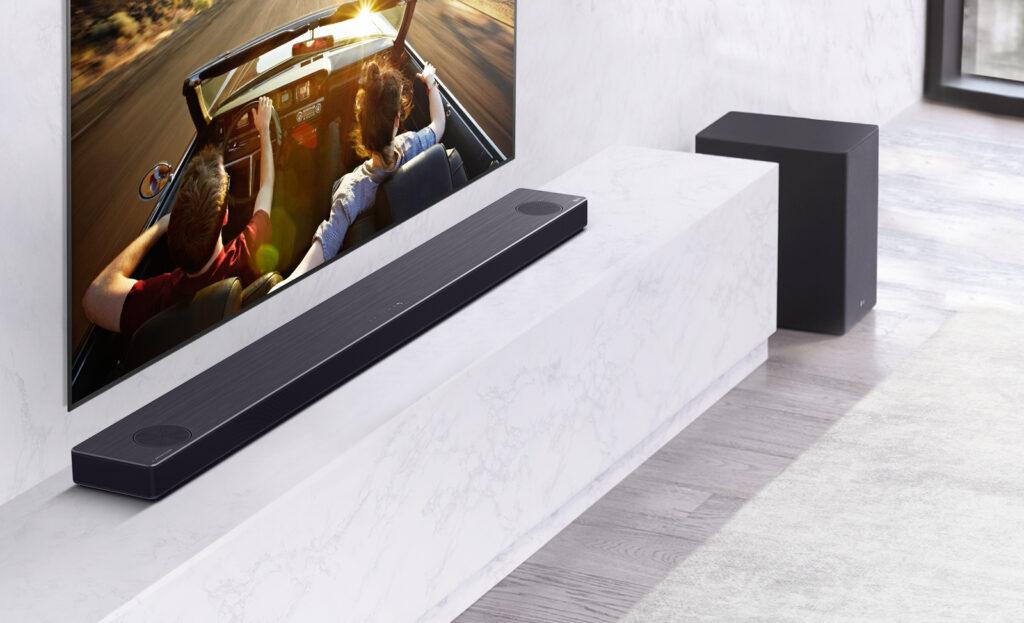 Now that you know what can or can't be connected to the SN11RG, we'll discuss the second app you'll also need to fully enjoy it: "LG Wi-Fi Speaker." In addition to serving as a secondary way to control the soundbar (primary way, if you find it more convenient than the included conventional IR remote), this app adds a few extra functions, such as a Dynamic Range Control and Auto Volume Leveler.
But its most important capability is arguably AI Room Calibration, which automatically measures a room's acoustic characteristics and adjusts the SN11RG's audio to best suit the environment. The only way to take advantage of this sophisticated, built-in digital setup function is through the app. My very unscientific assessment is that AI Room Calibration is definitely useful. Before-and-after listening revealed that it definitely enhanced audio by sharpening imaging and making the soundstage larger and more immersive.
Once I finished performing the room calibration, however, I found myself primarily using the SN11RG's conventional remote. It's small and not backlit but nevertheless surprisingly full-featured and easy to use, thanks in part to nicely raised and segmented keys. It duplicates several LG Wi-Fi Speaker app operations, including Power On, Volume, Mute, Function, Sound Effect, Equalizer, Google Assistant, Track/File and Night Mode. The top of the attractive SN11RG, which features elegantly curved cabinet corners and a faux brushed metal finish, also contains a handful of redundant function buttons: Power, Function, Volume, Next Track and Mute. The front of the bar provides a handy and easy-to-read (at least from my couch 10 feet away) LED display that self-dims a few seconds after your last input.
That kind of attention to detail befits a premium soundbar and is easy to appreciate. But what I appreciated most about the SN11RG is the sound it delivered regardless of what I asked it to play. I'm not an audiophile, so I was most impressed with the way it handled movies and television. The soundbar satisfied right from the first thing I threw at it, Dolby's Amaze Atmos demo trailer. From the moment the synthesizer began thumping on the title screen, I was immersed in an immense jungle where I was soon caught in a massive tropical storm. Thunder cracked and the room trembled. Rain landed on leaves overhead. The realism and pinpoint location of the sound was palpable.
The same was true during the battle scenes in Lionsgate's Midway, one of my go-to demo movies. The SN11RG's ability to create a Dolby Atmos soundstage that seemed the size of my room gave the movie's battle scenes a gravitas and sense of realism befitting Director Roland Emmerich's efforts to recreate the pivotal World War II battle. I could feel the impact of heavy caliber machine gun bullets striking their targets as planes swooped in to attack and then roared away overhead. I heard bombs and torpedoes exploding convincingly while totally surrounded by the inescapable sounds of battle mayhem.
The SN11RG did a convincing job with subtle sounds, too. The dialogue in Midway and everything else I watched was as clear as my tired ears have heard. During Dolby's Leaf demo, I could hear frogs croaking in the distance and birds chirping in the creaking branches above my head as the wind began to build and was soon whipping around me. Then I followed a seed pod's trajectory with my ears as well as my eyes as it was dislodged from a tree and floated to the ground.
Music also benefits from the SN11RG's large soundstage, and LG's soundbar also does a great job with imaging. While viewing the Jesus Christ Superstar Live Arena Tour Blu-ray disc and its DTS-HD Master Audio soundtrack, I felt like one of the 20,000 in attendance. The ambient sounds of being in part of an arena audience were evident, and the music also sounded terrific. The LG's imaging placed vocals right where the singers were standing, and I could hear individual instruments as opposed simply one big mélange. Vocals were rendered beautifully, too, from Tim Minchin's Judas tenor to the rich baritone of Pete Gallagher's Caiaphas. Only drums lacked a bit of definition and clarity, which I noticed also while playing the Qobuz Hi-Res versions of The Band's Stage Fright and The Clash Hits Back.
High Points
If there's a soundbar that delivers a more immersive listening experience or a larger soundstage, I haven't heard it. Imaging and fidelity also are excellent.
Four up-firing height speakers deliver exceptional realism with object-based audio effects.
The SN11RG's wireless subwoofer and satellite connections were as simple, quick and flawless as any I've tried.
Having Google Assistant built in as a great convenience. In addition to providing basic voice control of the soundbar, it performs all the other functions of a digital assistant.
Low Points
The sheer size of the SN11RG's main bar and, to a lesser extent, its satellites, could make it a tight fit for many potential buyers.
For best audio results, there shouldn't be any obstacles above or to the sides of the main bar or above the satellites. That could make placement a challenge.
The subwoofer delivers ample bass even with action movies, but it could be a little tighter with music.
Comparison and Competition
Despite the fast-growing popularity of soundbars, there still aren't many that, like the SN11RG, provide front and rear height-channel speakers. Three come to mind: The JBL BAR 9.1, VIZIO SB46514-F6 and Samsung HW-Q90R. Neither the JBL nor the VIZIO are as full featured as the LG, both lacking built-in Google Assistant, the JBL having fewer inputs and the VIZIO requiring the rear speakers to be hardwired to the sub. But they cost $500 and $600 less, respectively, than the LG SN11RG. At $1,500, the Samsung is priced the same as the LG, and its feature set is very similar. It does not, however, have a built-in digital assistant.
Conclusion
If you've got the space and the right location to accommodate LG's SN11RG huge, flagship soundbar system – and you can afford its premium price – you won't find a more full-featured soundbar that delivers a larger, more immersive or accurate audio soundstage. Because it's also easy to set up and use, I have no qualms about recommending it to anyone whose home can handle it.