Music fans visiting the Luxman booth at the AXPONA show had plenty of reasons to salivate, as the company presented two North American debuts: the D-07X CD/SACD player and the PD-191A turntable, which is a gorgeous new flagship model.
Luxman also displayed other dazzling products, including the NT-07 network streamer—which was unveiled at the show—and the acclaimed C-900u preamplifier.
The arrival of this high-end disc player made a strong statement about the enduring appeal of CDs and SACDs among audiophiles. Following standards set by the D-10X player, premium BD34301EKV DAC chips manufactured by Rohm and positioned in a dual-monaural configuration comprise the core of the digital circuitry in the D-07X. Over a USB input, the D-07X supports a wide range of format encoding up to 32-bit/768kHz PCM and DSD 22.4MHz.
The disc drive section that supports CD and SACD playback is based on a proprietary LxDTM design, which features a sturdy box structure covering the entire mechanism with a side frame and top plate. The D-07X is engineered to block external vibrations, achieving precise, reliable signal-reading performance that is comparable to that of the flagship D-10X.

Turntable for the Ages
Designed to replace the PD-171 series, the PD-191A is a stunning turntable and Luxman's new flagship model. Made in Japan and weighing about 60 pounds, this hefty machine is a three-speed model, which will certainly please collectors of vintage 78 rpm discs.
"This turntable is a masterpiece of design, engineering and usability," said John Pravel, vice president of North American sales for Luxman. "It has a beautiful, lacquered-wood front that's similar to other top-of-the-line Luxman components. But underneath, it's an all-metal skeleton and structure that uniquely absorbs and manages vibration."
Featuring a quiet, DC motor belt-drive system supported by a muscular power supply, the PD-191A is aimed at music fans who simply want the best in vinyl playback. The PD-191A features a high-precision, high-torque, brushless DC motor supported by a float-mounted, fully regulated large-capacity power transformer that has been upgraded to higher specifications for high-mass platters.

Transcendent Tonearm (or Two)
The new LTA-710 balanced tonearm was developed specifically for the PD-191A. "This is a 10-inch design for low distortion and low tracking error, featuring a detachable headshell, so that multiple cartridges can be used," Pravel explained.
The tonearm features knife-edge bearing technology for superb performance. The LTA-710 is the result of an intense collaboration between Luxman and the company SAEC, which has designed tonearms for more than 40 years. This tonearm supports detailed settings, such as stylus pressure, anti-skating and height adjustment (which can be tweaked, depending on the cartridge used).
"When you remove the cover, there is the ability to mount a second tonearm," Pravel added. "So, with two tonearms, you have all kinds of adjustability or flexibility with cartridge mounting."
At AXPONA, the tonearm was fitted with the Luxman LMC-5 moving-coil phono cartridge.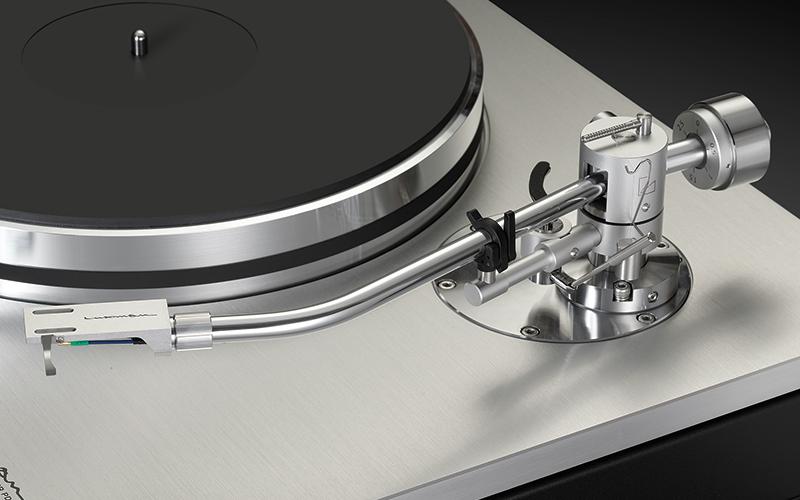 Precise Control
Luxman's C-900u preamplifier offers user-friendly features, refined tone controls and satisfying tactile operation. It is designed with four independent modules in the balanced amplification circuit. This allows the "hot" and "cold" components of the left and right audio signals to be handled independently, thus suppressing noise generation.
The proprietary LECUA 1000, a stepped, fixed-resistance attenuator, is used for volume adjustment. The 88-step range allows for ultra-precise listening levels, and the fluorescent display shows the volume level.
The C-900u has a bi-amplifier output mode, in which a balanced output circuit can be used as a 2-channel unbalanced output. (An external preamplifier input is useful for connection to an AV system, and the tone controls are electronically tuned for enhanced tonal quality.)
At AXPONA, the C-900u was in a system with a pair of mighty Luxman M-10X power amps in a dual-mono configuration, driving a pair of Magico S5 Mk II loudspeakers.

Pricing & Availability
The D-07X disc player and the C-900u preamplifier are available from authorized Luxman retailers, including Suncoast Audio. The PD-191A turntable is available at Dedicated Audio for $12,495.
Veteran audiophiles have long relied on Luxman for superior performance and luxurious aesthetics. Luxman products certainly fall into the category of serious gear for serious consumers. Auditioning them can be a truly enlightening experience.