Music lovers who want immersive sound, standout features, and wallet-friendly pricing should rejoice at the new integrated amp from legendary manufacturer Marantz.
Aimed at a more budget-minded consumer, the new Marantz PM6007 ($699.00 at Audio Advice, Crutchfield, and Amazon) rings the bells quite loudly when it comes to convenience, features, ease of setup, and value.
The PM6007 can accommodate a variety of sources, both digital and analog. It boasts 45 Watts Per Channel (WPC) into 8 ohms RMS, 20Hz to 20kHz. Using a high-current power supply with Shottky Barrier Diodes and better-than-average storage capacity, the PM6007 is designed to cleanly deliver music with a wide dynamic range.
Also built in is a high-res DAC capable of playing digital files up to 192kHz/24-bit.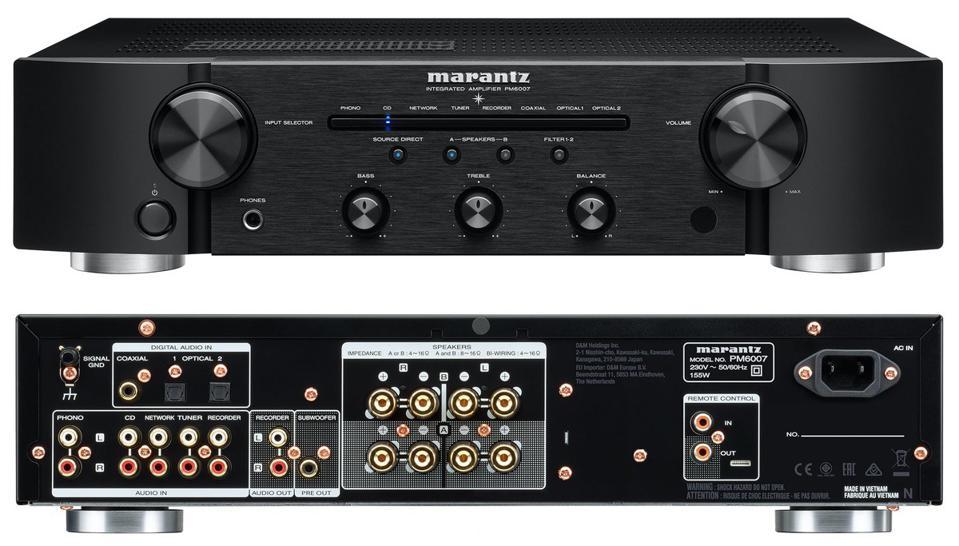 Another welcome feature is a built-in phono stage, which means you can connect a turntable and play LPs by simply switching the source on the amp without having to add a phono preamp. It should also be noted that only Moving Magnet (MM) cartridges are supported; Moving Coil (MC) cartridges are not.
As such, because all of my cartridges are MC, I was unable to connect my turntable. However, at this price point, I suspect many of the turntables used with this unit will be MM-equipped by the manufacturer so it shouldn't be a huge problem.
Packaging was more than adequate for protection during shipping, and the PM6007 was quite simple to unbox. I liked the fact that all the tape was folded over on one end, which made removing it very easy. The remote even comes with the required two AA batteries.
While not a home theater receiver, the PM6007 has speaker terminals for two sets of speakers as well as a subwoofer. There are switches on the front panel that allow independent activation of the "A" or "B" speakers. Also included are optical and coaxial connections, and the unit even includes a digital filter to clean up and enhance sources using those type of connections.

On the front panel are separate controls for bass, treble, and balance. All of these controls have a midpoint detent, making it very simple to find the default settings by feel alone
All in all, it took me a mere 16 minutes from the time I opened the box until I was playing music. Connecting everything was very simple, and as someone used to slinging 100-plus-pound amps around, I have to say that moving the 17-pound PM6007 into and out of the equipment rack was a refreshing change.
Sonically, the PM6007 does what it is designed to do -- deliver a nice, pleasing sound with wide dynamics and sufficient power to play loudly enough to grab one's attention. I retrieved a folding chair from the closet, moved it a little closer to the rack than my normal listening position, and was surprised at the imaging I heard. There was a nice center image and even imaging beyond the side boundaries.
The PM6007 could easily serve as the foundation of a high-performance two-channel system. Add a compatible set of bookshelf speakers, a CD player, and an entry-level turntable and you'll have yourself a very enjoyable stereo system for somewhere in the ballpark of $1,500.
Look for a comprehensive review of this product soon at Home Theater Review.
What we love: The straightforward connections and clear, concise instructions making setting up the Marantz PM6007 very simple.
What we don't: I wish the phono stage accommodated both MC and MM cartridges.
Size: (W x D x H) 17.3 (wide) by 14.5 (depth) by 4.1 (height) inches; 16.7 pounds
MSRP: $699.00
Additional Resources
• Marantz SR6014 9.2-Channel AV Receiver Reviewed at HomeTheaterReview.com
• A Match Made in Marantz Heaven at HomeTheaterReview.com
• Marantz PM7000N Integrated Amplifier Reviewed at HomeTheaterReview.com