A pair of new integrated amplifiers from McIntosh, the MA8950 and MA9500, are upgraded versions of the company's award-winning MA8900 and MA 9000. These new models are said to offer performance enhancements including a 50% increase in dynamic headroom and have the McIntosh DA2 digital module pre-installed, versus the DA1 module used in their predecessors.

The DA2 has two coaxial, two optical, one USB, and one proprietary MCT digital input, plus an audio-only HDMI Audio Return Channel (ARC). The DA2 also supports DSD512 playback via the USB input, compared to DSD256 on previous models.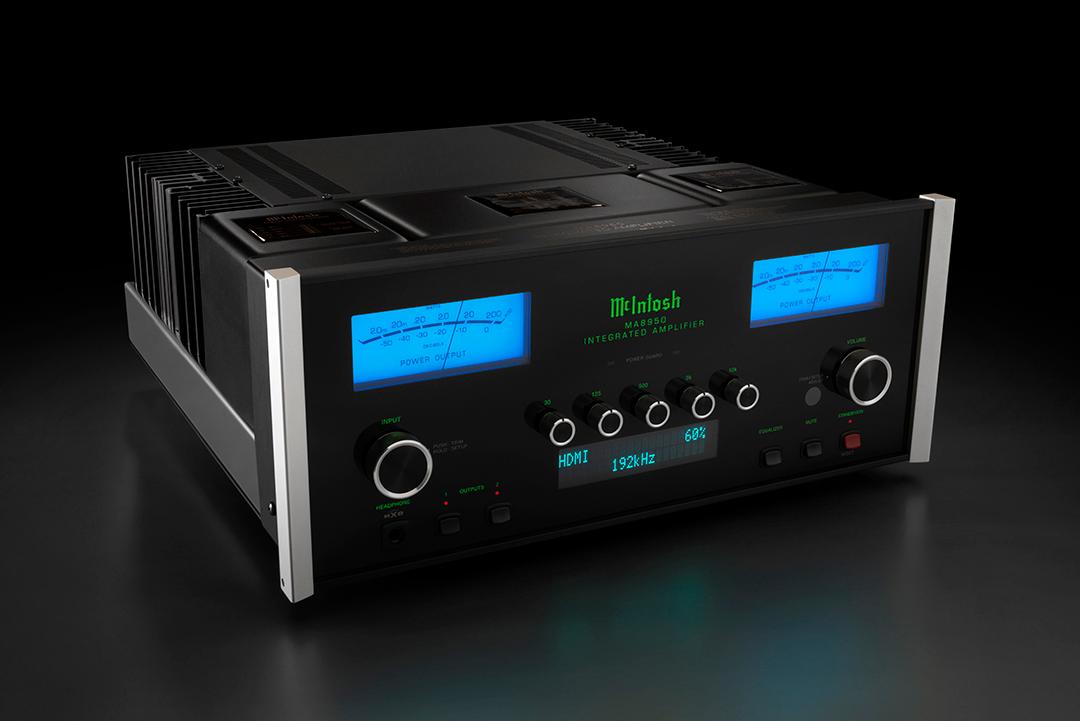 McIntosh has also upgraded the power supply in these new models, with the system controlled by microprocessors for stable and reliable operation, and a design the company says reduces noise emissions.
The MA8950 combines McIntosh's amplification and preamplifier technologies into one magnificent stereo sound system component. This unit sports one balanced, six unbalanced, one Moving Coil (with adjustable loading) and one Moving Magnet phono stereo inputs. On the back of the unit is a discrete five-band tone control that allows sophisticated manual (analog) adjustment of up to +/-12dB in 2dB increments, at 30Hz, 250Hz, 500Hz, 2, and 10kHz.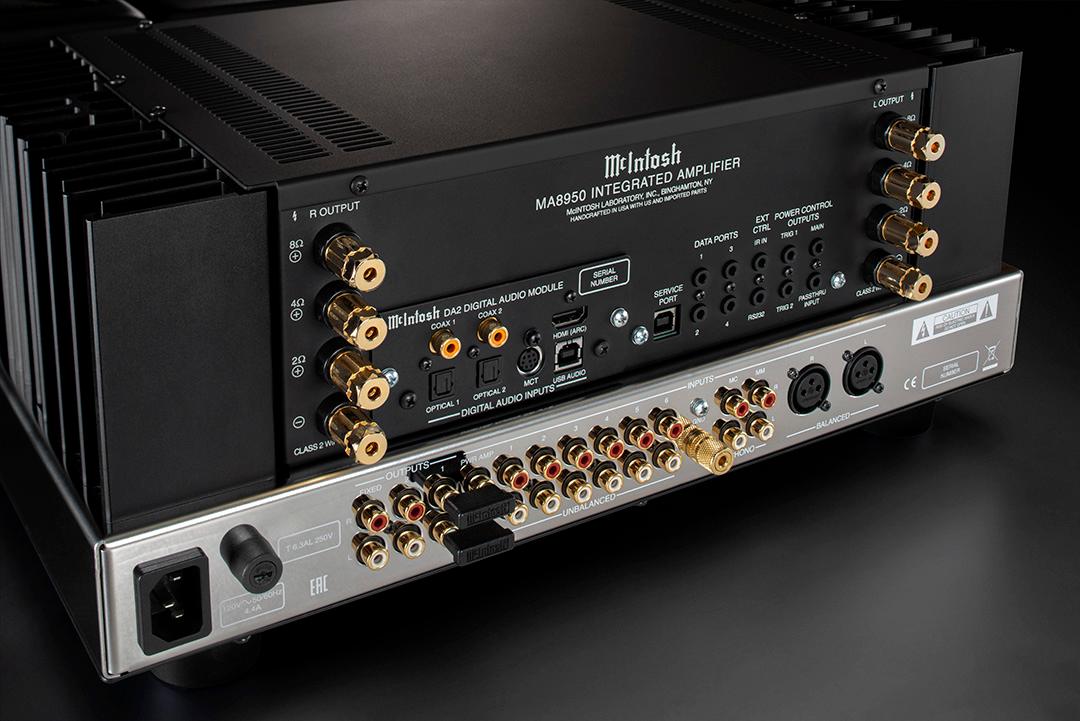 The MA9500's 300 Watts per channel of pristine power ensure there's plenty of headroom to give life to music. It is well equipped with one Moving Coil and one Moving Magnet phono input, each with adjustable loading. It also has balanced and unbalanced outputs, for connecting to another power amplifier. The MA9500 has an advanced manual analog tonal adjustment of +/-12dB in 2dB increments, at 25Hz, 50Hz, 100Hz, 200Hz, 400Hz, 1kHz, 2.5kHz, and 10kHz.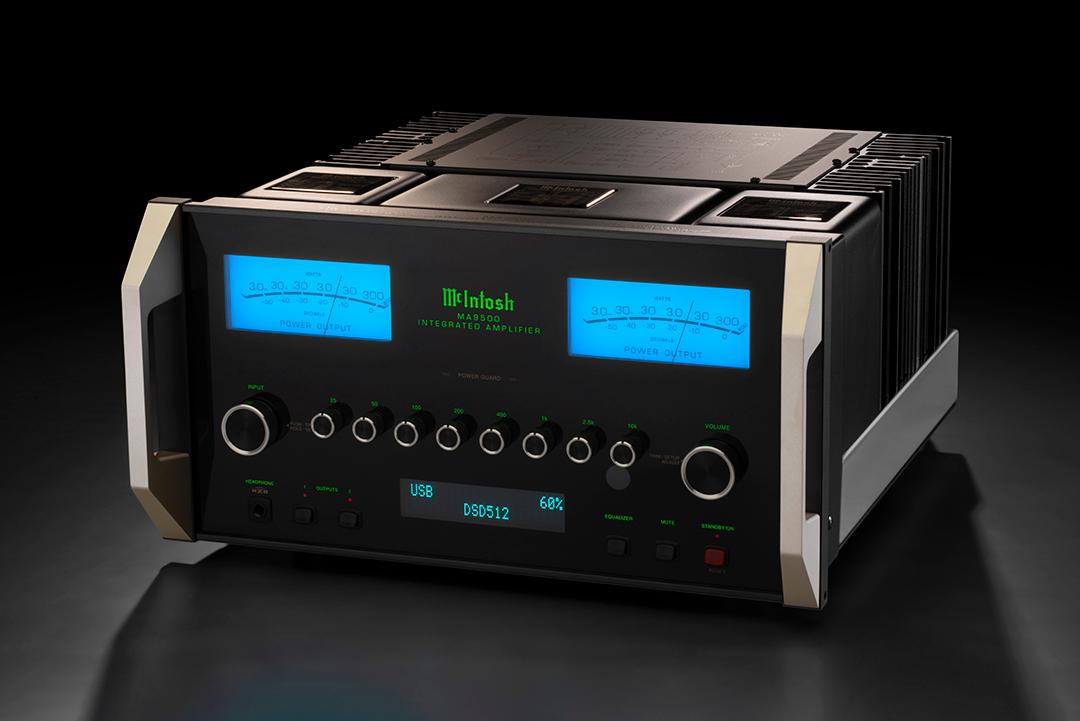 The following additional information is provided by McIntosh:

Shared Features of the MA9500 and MA8950
• McIntosh's Power Guard® technology that continuously monitors input and output signals and can dynamically adjust input levels to ensure maximum output while avoiding harsh sounding distortion and clipping that could damage the speakers

• Fuse-less short-circuit protection technology Sentry Monitor™ that disengages the output stage before the current can exceed safe operating levels, and resets automatically when operating conditions return to normal

• McIntosh Monogrammed Heatsinks™ that are made from high quality materials with excellent thermal conductivity and heat dissipation properties

• Home Theater PassThru that allows for seamless integration into a home theater system

• High Drive headphone amplifier with Headphone Crossfeed Director (HXD®) which can bring an added dimension to headphone listening

• Power Control to send power on/off signals to connected McIntosh components for easy system power up and shutdown

• The DA2 has received Roon Tested designation from Roon Labs

Pricing and Availability

Orders for the MA9500 and MA8950 can now be placed with Authorized McIntosh dealers. Shipping of both is expected to begin in February 2022 to the United States and Canada, and to the rest of the world shortly thereafter. Suggested retail price (VAT, shipping and any customs duties related to current standards of individual countries are excluded):

MA9500: $12,000 USD
MA8950: $9,000 USD