Global audio brand McIntosh has dedicated over 70 years to crafting outstanding audio equipment for music and film enthusiasts everywhere. The company's latest innovation is the MHT300 Home Theater Receiver, a robust, future-proof new A/V receiver that only McIntosh could cook up. Blending user-friendly setup and insane power, this model is a versatile centerpiece for the modern home theater.
Taking every step to ensure that the MHT300 lives up to the legacy of the McIntosh name, this digital-only, home theater-optimized amplifier could be described as 7 mono-block amplifiers in one chassis. With 150W per channel of distortion-free power, there is more than enough headroom for the most impactful home theaters.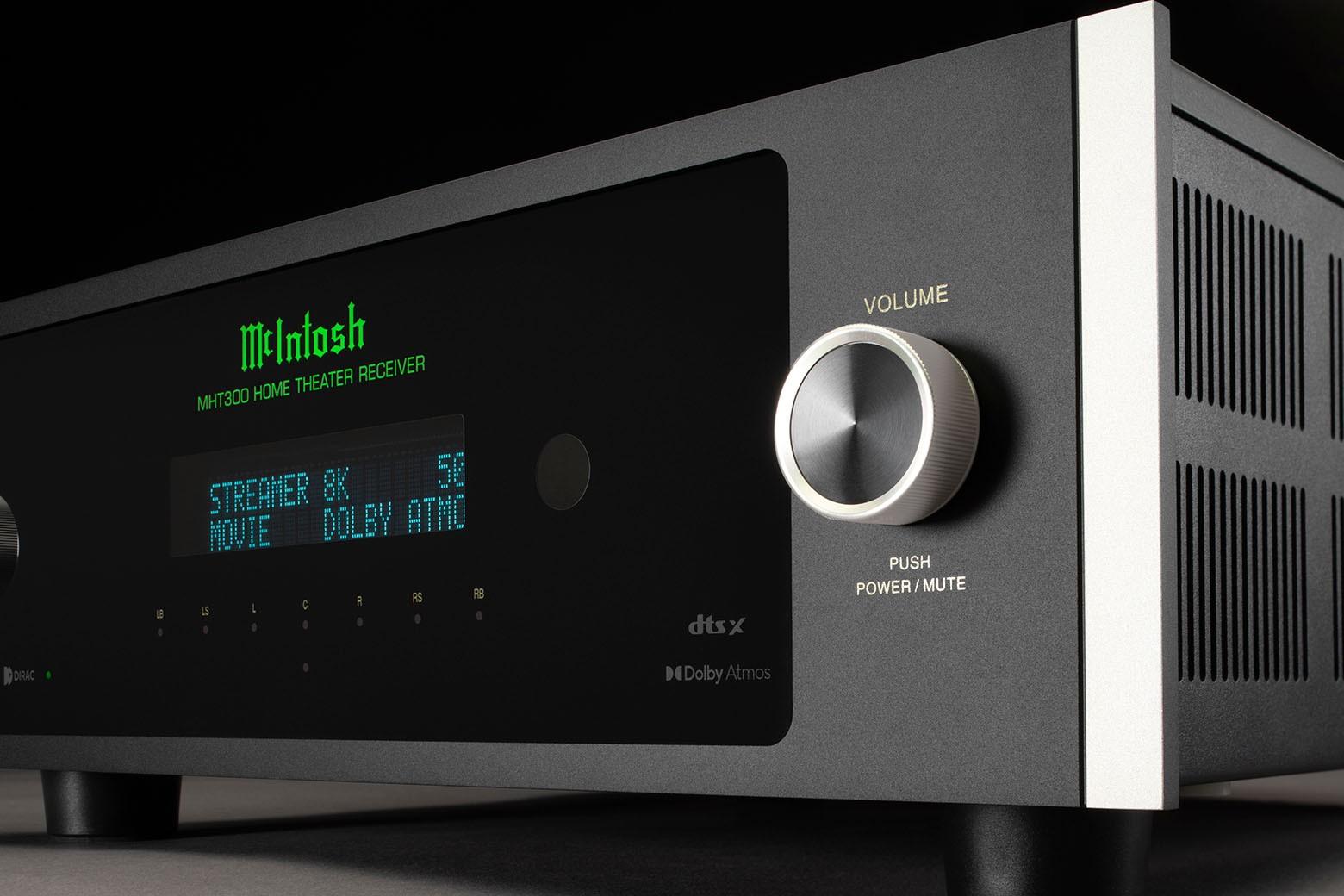 This receiver boasts numerous features that make it a standout component for uncompromising home entertainment setups. From its Dirac Live Room Correction to its adaptable, 7-channel amplification with up to 150 watts per channel simultaneously, McIntosh's MHT300 is designed for clear, potent, audiophile-grade surround sound.
A Flexible Flagship Receiver
The MHT300 is a 7.2.4 channel A/V receiver (AVR) able to connect up to 7 traditional surround speakers, 4 Dolby Atmos height channels, and dual subwoofers in multiple configurations. However you want your surround sound, this receiver is ready for the challenge with the quality McIntosh fans the world over have come to count on.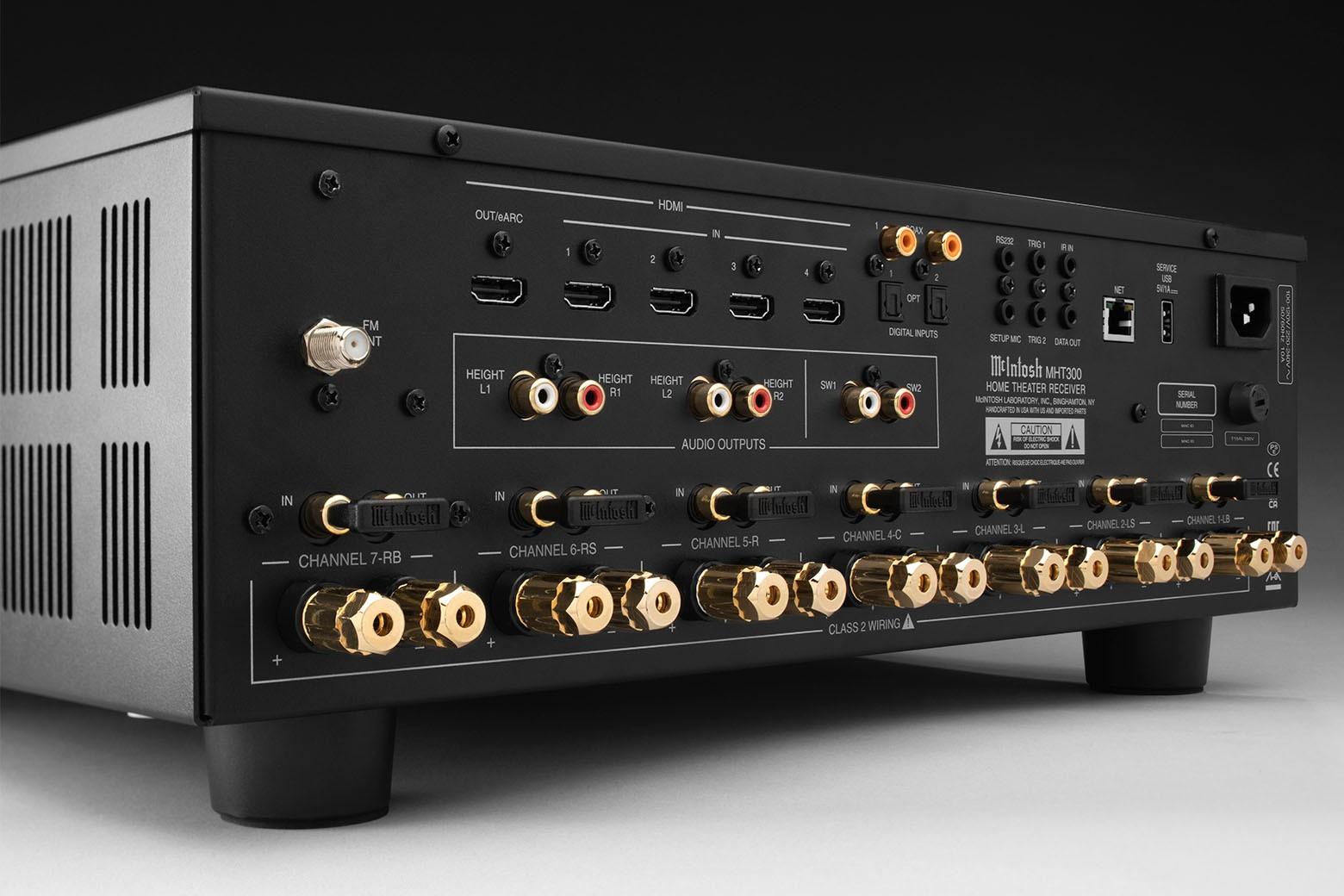 As you'd expect, the MHT300 offers both Dolby Atmos and DTS:X surround processing to serve up your favorite spatial audio mixes over both streaming services and 4K Blu-rays. To foster the immersive, dome-like overhead sound these formats require, the unit can be configured to internally power 5 surrounds and two height channels on its own for 5.2.2-channel Atmos surround out of the box.
But it can also grow with your system. Each channel offers both a preamp output and an amplifier input, and is individually connected via short, included RCA jumper cables. The flexibility to power speaker channels as you see fit is a great advantage - just add another amp and upgrade to 7.2.4 with ease. To maximize immersivene audio, pair the MHT300 with a McIntosh MI254 4-channel power amplifier for a full complement of surround speakers.
Inflated power specs?? Not in this amp
While many brands attempt to wow you with impressive watts per channel numbers, what is sort of the dirty secret in the industry is those specs are nearly always rated with only 2 channels driven at once. If that wasn't bad enough, as more channels are driven, distortion often increases dramatically, often ten-fold or more.
In contrast, the MHT300 delivers massive power to match your thirstiest speakers, offering a colossal 150 watts per channel across all channels simultaneously for 4-ohm speakers, or 120 watts per channel at 8 ohms. It also offers +3dB of headroom, for up to 300 watts of peak power and virtually zero distortion (rated at 0.03%). Powering every channel at once is never an issue, with no loss of power or increased distortion.
Translation: This receiver serves up a firehouse of crystalline amplification fit for any speakers in your arsenal.
Additionally, the MHT300 offers dual optical and dual coax digital inputs to let you connect your other audio gear such as CD players or streamers. The internal DACs (digital to analog converters) offer top-tier, 32-bit resolution for high-quality playback. And if you want to go old school, there's even a built-in FM tuner to lock in your favorite classic rock station.
Impeccable Visuals
There are no compromises in the MHT300, and that goes for video passthrough as well. The receiver offers HDMI eARC/ARC for the latest high-bandwidth connection to your flagship TV or projector. And each of its 4 HDMI inputs supports 4K video at up to 120Hz or 8K video at 60Hz for those peeking even further into the future.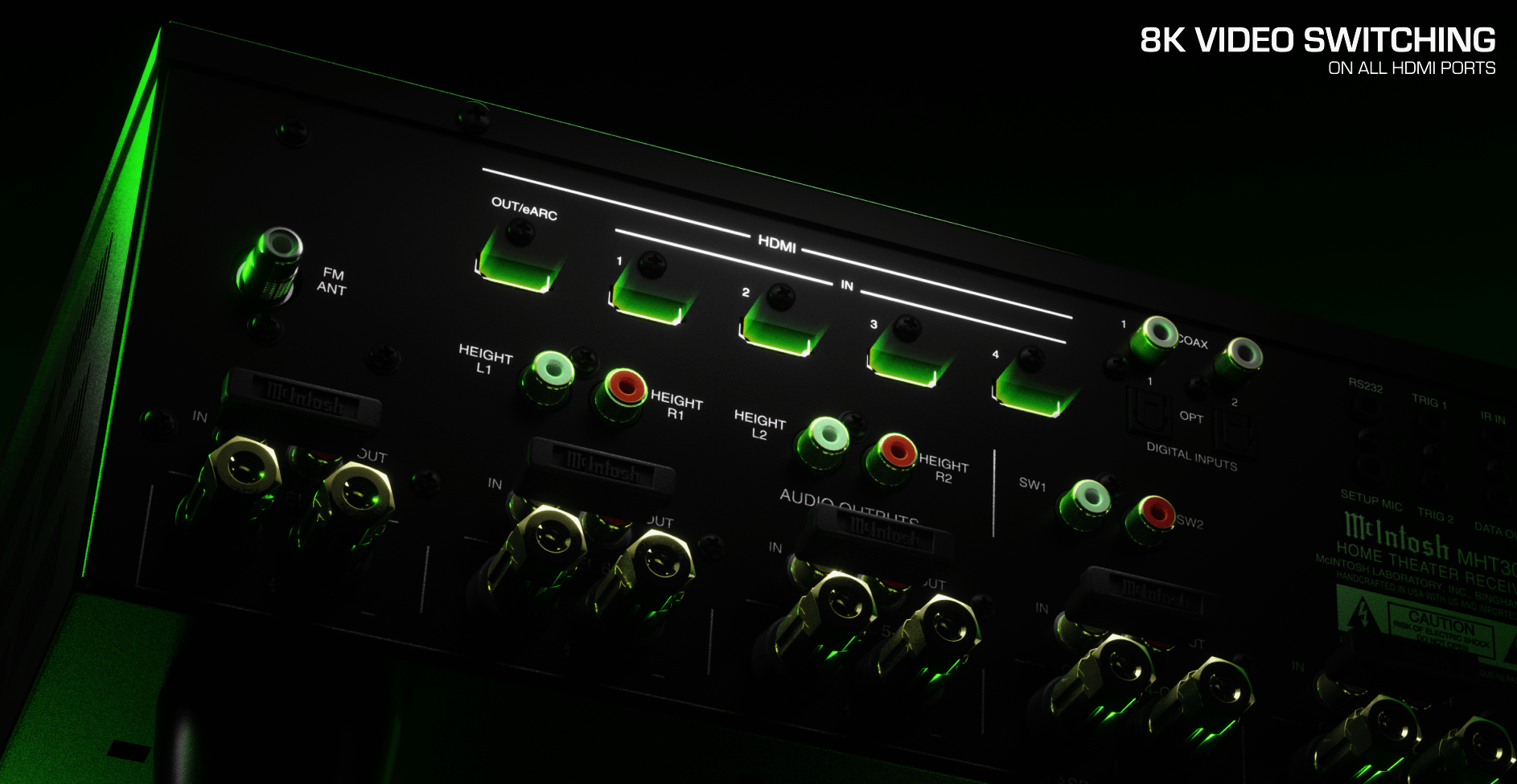 The MTH300 supports Rec. 2020 color gamut and 4:4:4 color sampling. It also supports all major HDR formats, including Dolby Vision, HDR10+, and Hybrid Log Gamma (HLG) to transfer searing brightness, voluminous color, and brilliant contrast to your TV or projector of choice from a wide variety of video sources, from Netflix to 4K HDR broadcasts.
Customize your sound
McIntosh has devoted itself to consistently advancing how people revel in their audio. The brand continues to add to this reputation by featuring Dirac Live Room Correction in the MHT300. Dirac Live Room Correction is a progressive calibration suite that seeks out the trouble spots in your room and corrects EQ to account for them.
But that's just part of the Dirac correction system. It also uses patented timing correction to snuff out rogue alignment issues throughout the room, not just the sweet spot. The combination of frequency and timing adjustment helps account for any problems that can obstruct optimal sound performance in less-than-optimal rooms like reflections, distortions, and unwanted resonances.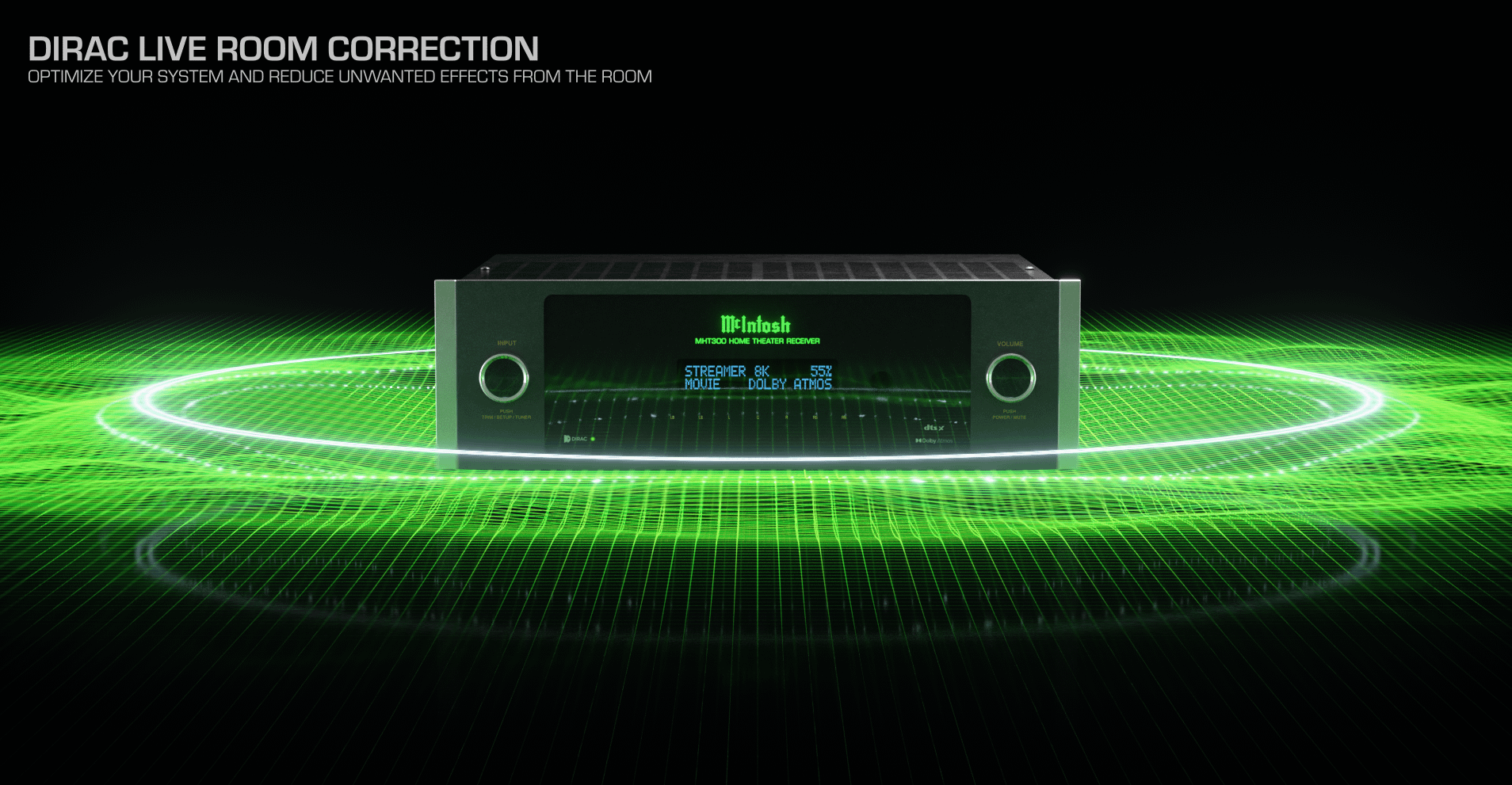 Easy setup and installation
The MHT300 is easy to incorporate into a variety of listening spaces and styles. With its signature glass-panel McIntosh design, it looks great on a traditional TV console, but it's also rack-mountable to help you organize your components behind the scenes for pro-style setups. The included full-size, metal microphone stand and calibration microphone ensures your room correction configuration is stress-free and accurate the first time. And forget about using a cryptic on-screen display for setup, McIntosh has created a laptop-based setup program.
Pricing and availability
McIntosh's MHT300 has an MSRP of $8,000 and is available for pre-order from authorized McIntosh dealers.
Considering its versatility as a home theater receiver and powerful amplifier, the MTH300 provides a lot of value for those looking for an uncompromising audio quality that can expand over time. Providing class-leading amplification and future-proof 8k HDMI connectivity, the MHT300 will provide years of immersive home theater enjoyment.