Recently, McIntosh, the New York-based premier audio brand has publicized the release of the MHT300 Home Theater Receiver. This high-quality product is excellent for any home theater setup. Crafted with audiophiles and movie lovers in mind, it is guaranteed to provide users with an immersive experience.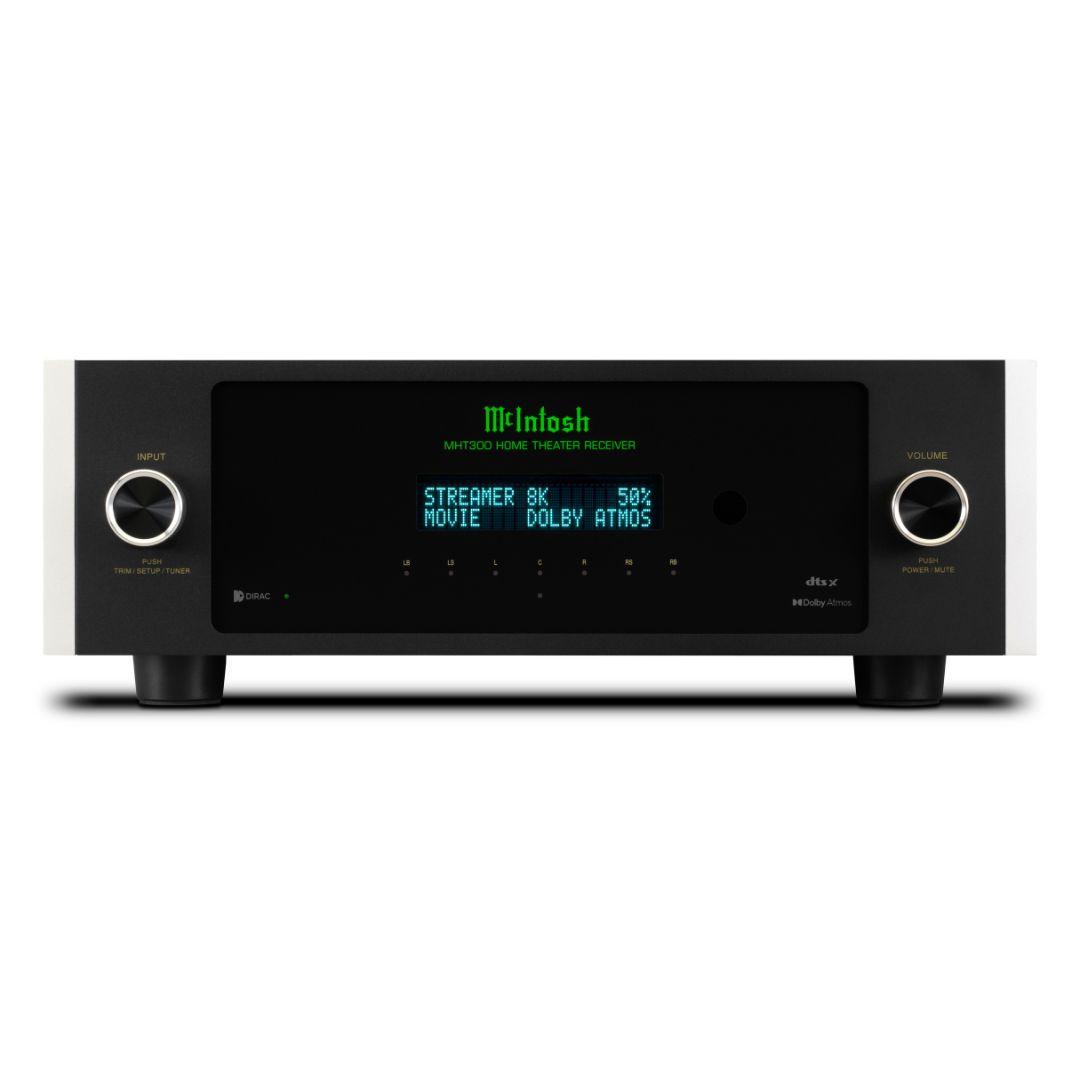 The MHT300 has seven channels that deliver 120-150 Watts of power to each speaker connected to a sound system, accurately recreating the action on the screen or music being played. One great component of this receiver is that it supports both 8K/60 Hz and 4K/120 Hz through its 4 HDMI inputs, generating stunning visuals that go hand in hand with its audio. There are other impressive features of this receiver, including a customizable amplifier and State-of-the-art Dirac Live® Room Correction, which allows for the personalization of a sound system based on the acoustics of the space. This receiver is an optimal choice for those seeking a refined and remarkable cinematic experience at home. The McIntosh MHT300 will available for purchase in March 2023, with a suggested retail price of $8,000.
From McIntosh:
BINGHAMTON, NY (January 31, 2023) – McIntosh is proud to announce the launch of its new MHT300 Home Theater Receiver, an uncompromising 7.2 channel home theater powerhouse, set to transform home theater dreams into reality.
The MHT300 is an unmatched receiver that offers 120 – 150 Watts of legendary McIntosh power to every speaker with all seven channels being driven. For every explosion, car chase, high-speed fighter jet flyby, to the roar of the crowd after a game winning score, the MHT300 will faithfully reproduce the action with full power on every speaker. It also supports breathtaking 8K/60Hz and 4K/120Hz video on all 4 of its HDMI inputs and 1 HDMI output so the image will feel as realistic as the sound.
With consumer experience at the forefront of the brand's values, the MHT300 was created to not only provide unparalleled sound, but to be customizable and expandable. Its individual amplifier modules can be configured in a multitude of ways to suit any specific speaker configuration and additional external amplifiers can be connected to power the included Height 1 and Height 2 audio outputs, effectively turning the MHT300 into a 7.2.4 home theater receiver. State-of-the-art Dirac Live® Room Correction enables users to optimize their sound systems and adjust their audio output to the unique acoustics of the space.
"Considering the increase in video streaming services over the last decade, we are excited to share our latest innovation in home theater with our customers for them to better enjoy their entertainment in the comfort of their home," said McIntosh President Charlie Randall. "We look forward to seeing the positive impact the MHT300 will have on consumers' at-home viewing and listening experiences."
The MHT300 includes traditional McIntosh design cues such as their signature black glass front panel, an illuminated McIntosh logo, rotary control knobs, and a familiar form factor highlighted by silver trim all in a robustly built and durable chassis.
The MHT300 will be available through Authorized McIntosh Dealers beginning March 2023, with an MSRP of $8,000 USD.