Woodstock 1969. Most attendees probably had something else on their minds other than what's powering the show. But in the end, there's no concert without power amplifiers, and the original 1968-1971 MC3500 monoblock is famously the model that drove the PA in the most famous concert of its era, if not in all of history. And now, after a 2-year development process inspired by the 50th anniversary of Woodstock (and McIntosh's celebration of such) the company has announced the MC3500 Mk II, a $15,000, 350-watt tube monoblock amp that's both a classic and full updated.


The new amplifier features modern components but also retains key aspects of the original design, such as the power supply (McIntosh's Unity Coupled Circuit™ output transformer). It's designed to deliver full power to speakers of varying impedance; you don't get to use only half the power if you have, for example, 8-ohm speakers vs. 4-ohm.
"At the 50th anniversary of Woodstock in 2019, there was a lot of buzz resurfacing about the McIntosh sound system. This enthusiasm was infectious and inspired me to get our engineering team together to redesign the amp that has obviously resonated with music fans as being a historically significant piece of audio gear. After over two years, we are really proud of the result. The MC3500 Mk II takes its inspiration from the original 1968-71 MC3500 and incorporates all the knowledge we have gained surrounding vacuum tube amplifier design since the 1960's."

McIntosh President, Charlie Randall
Key Features
McIntosh's Power Guard Screen Grid Sensor™ (SGS) technology that prevents premature vacuum tube failure
Sentry Monitor™ technology to actively observe the output current to ensure operation within safe limits
Balanced and unbalanced input(s) to connect with home audio system and multi-amp configurations

McIntosh's patented, gold-plated Solid Cinch™ speaker binding posts that easily but securely attach the speaker cables to prevent them from coming loose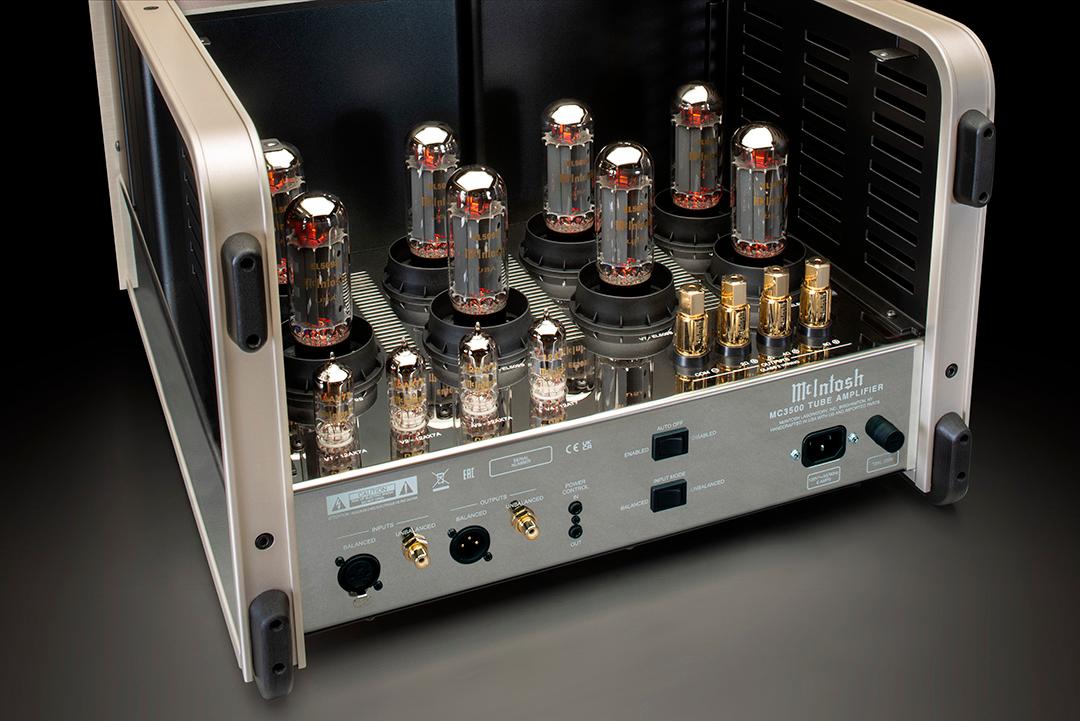 A Better MC3500
This new amplifier is, as McIntosh describes it, "both modern and retro." It features the U-shaped side rails that were a signature design element of the original and had the functional purpose of strengthening the chassis and making it durable for road use. Furthermore, on the rear of the amplifier, you will find the rubber bumpers that were a feature of the original, which allowed for vertical placement, as they were used at live concerts.

Of course, is a McIntosh, so you get an awesome power meter featuring the company's DualView Power Output Meter design, which shows you both the amplifier's output as well as tracking the amplifier's warm-up time.
Pricing and Availability
McIntosh anticipates shipping the MC3500 Mk II during December 2021 in the United States and Canada. The rest of the world will have to wait slightly longer to get its hands on this historic, yet modern, and utterly impressive amplifier.



About McIntosh

Founded in 1949, McIntosh Laboratory, Inc. is known for offering distinguished quality audio products, superior customer service and the ultimate experience in music and film. All McIntosh products are handcrafted at the Binghamton, NY factory by over 150 employees with a passion for music and the McIntosh heritage. McIntosh continues to define the ultimate home entertainment experience for discriminating consumers around the world, with the iconic "McIntosh Blue" Watt Meters globally recognized as a symbol of quality audio. Since its inception, McIntosh has been powering some of the most important moments in music history and pop culture. From President Lyndon Johnson's inauguration speech to Woodstock to the famous Grateful Dead "Wall of Sound," McIntosh has not only witnessed history, it has shaped it. With McIntosh, customers have the ability to create their own premium audio experience – and truly live their music. Visit www.mcintoshlabs.com to learn more.