Meze Audio, the Romanian high-end audio company, has announced the launch of the Empyrean II, the successor to its acclaimed Empyrean planar magnetic headphones. The Meze Audio Empyrean II headphones bring forth several refinements, designed to elevate the listening experience and cater to audiophiles seeking premium sound quality and customization options.
At the core of the Meze Audio Empyrean II is the Isodynamic Hybrid Array driver design, a result of a partnership with Rinaro Isodynamics. Meze Audio has honed this driver to deliver a more neutral sound signature while preserving the brand's signature "easy to listen to" character. This refinement aims to cater to discerning listeners looking for audio fidelity in their high-end headphones.
"When creating Empyrean II, our goal was to enhance the headphones' ability to reproduce fine details and achieve a more neutral sound signature, all the while preserving the original "easy to listen to" character. With this in mind, our engineers have masterfully harnessed the driver's power to reveal new possibilities in terms of responsiveness and accuracy and even make the driver more reliable in challenging acoustic environments," says Meze Audio's Managing Director, Mircea Fanatan.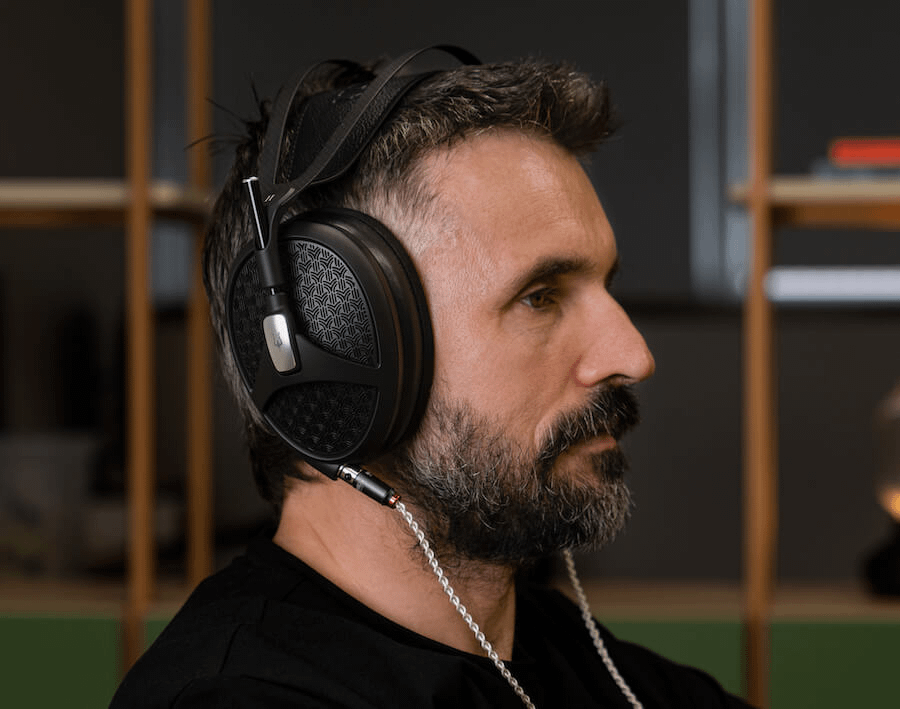 In terms of aesthetics, the Empyrean II sports a sleek black matte finish with subtle silver accents, providing a sophisticated and timeless appearance. Notably, the headphones feature a redesigned aluminum grille with an art deco-inspired theme, merging classic aesthetics with modern sensibilities.
Meze Audio places a strong emphasis on comfort and personalization. The Empyrean II headphones come with two sets of interchangeable earpads. The Duo Earpads, designed to be all-rounders, are constructed from a blend of premium leather and Alcantara, promising a harmonious tonal balance suitable for various music genres.
Meanwhile, the Angled Alcantara Earpads are tailored for audiophiles, featuring an angled shape that expands the internal earpad space. This design choice results in an airier sound profile, cleaner bass, and improved midrange presence, catering to the nuances of high-fidelity music.
Another noteworthy feature is the Isomagnetic coupling technology, which simplifies the process of switching between the two sets of earpads. This technology leverages the driver's demagnetizing field to secure the earcup in place while enhancing overall efficiency.
The Isodynamic Hybrid Array Driver, a hallmark of the Meze Audio Empyrean II headphones, is engineered to deliver precise sound targeting, closely following the natural form of the ear. With a total harmonic distortion (THD) measuring under 0.1% across the entire frequency range, listeners can expect exceptional sound clarity. Additionally, a reduction in driver weight contributes to increased comfort during extended listening sessions.
Another innovative element is the hybrid magnet array. The neodymium magnets are symmetrically positioned on each side of the diaphragm, forming an efficient Isodynamic magnetic field, ensuring uniform activation across the diaphragm's entire surface.
The diaphragm itself, referred to as the Rinaro Isoplanar diaphragm, is incredibly lightweight at just 0.16 grams while boasting a large active area of 4650 mm². The Meze Audio Empyrean II headphones are constructed using fiberglass-infused ABS to strike a balance between weight and structural rigidity.
Meze Audio has made the Empyrean II available for pre-order starting November 8th, 2023, through their official website. Customers can also find them at selected dealers' stores worldwide. These premium headphones come with a retail price of $2,999 / €2,999 / £2,749.