Naim's Uniti Star media player is a top-of-the-line product that reflects its premium price. The Uniti Star is an all-in-one media player that can serve as the beating heart of any HiFi audio system.
The Uniti Star boasts ultra-convenient high-res streaming support and several flexible inputs that allow it to slide into many different set-ups, including TV support, as well as built-in Bluetooth and Wi-Fi. If you needed proof that the the Uniti Star has it all, it also comes with a CD player with a ripping function that can create and store digital copies of your physical CDs for easy streaming—feel nostalgic yet?
Overall, with its supreme and versatile functionality, high-resolution sound, and luxurious design, the Uniti Star is an excellent choice for those looking for a high-end player and are willing to invest money into it.
High Points
Excellent performance; high-resolution audio quality.
Premier design that matches the high cost, sleek design made from high-grade materials.
The 5" LCD display screen looks amazing and is visible from almost anywhere.
Every connectivity feature imaginable.
Simple setup that will slide easily into most audio systems.
Low Points
High cost, which may be a turn-off.
The app that pairs with the Uniti Star can be difficult to work with.
The Design
The Uniti Star certainly looks and feels like a premium product. The product is encased with black, anodized aluminum with a brushed finish. On both sides, there are large slits that act as ventilation for the player.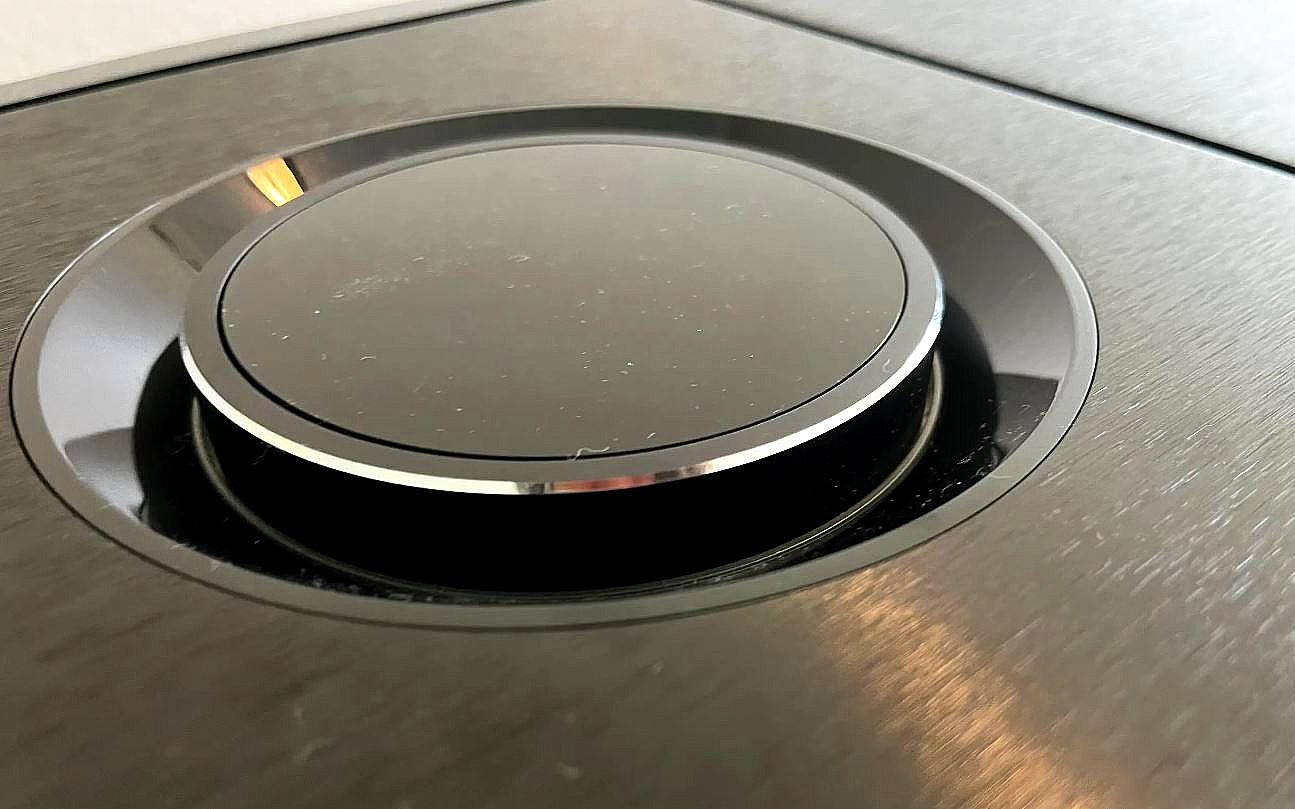 At the bottom left of the front side of the player, there is a Naim logo illuminated by a white LED above it. The volume knob on the top has a premium feel and looks bespoke.
The other controls on the player feel nice and intuitive as well. There are four buttons on the front of the Uniti Star: a power button, a play/pause button (which also pairs Bluetooth), a select/navigation button, and a favorites button, which allows for some convenient customization.
The screen on the front of the player is vibrant and modern. At 5 inches, it's about the size of a phone, and has a smart sensor which changes what is displayed based on your proximity. From a distance it will show clearly visible album art, and as you approach, it will swap to detailed info. Other features on the front of the player include a CD tray, a headphone jack, and a USB port. Interestingly, the CD player doesn't have a reject button on it, nor did I find one on the remote (Editor's Note: CD eject can be done by pressing and holding the play button on either).
Connections and Set Up
The Uniti Star offers exceptional flexibility and boasts a wide range of input and output options. It includes various audio input options such as 2 x Optical TOSLink (supporting up to 24bit/96kHz), 2 x Coaxial RCA (supporting up to 24bit/192kHz), 1 x BNC (supporting up to 192kHz), 1 x HDMI ARC, 1 x RCA, 1 x 5-pin DIN, 2 x USB Type A sockets (located on the front and rear panels), and 1 x SD card slot.
For audio outputs, the Uniti Star is equipped with 1 x Stereo power amplifier, 1 x RCA sub/pre output, and 1 x 3.5mm headphone jack. This extensive selection of input and output options ensures versatile connectivity and meets various audio requirements.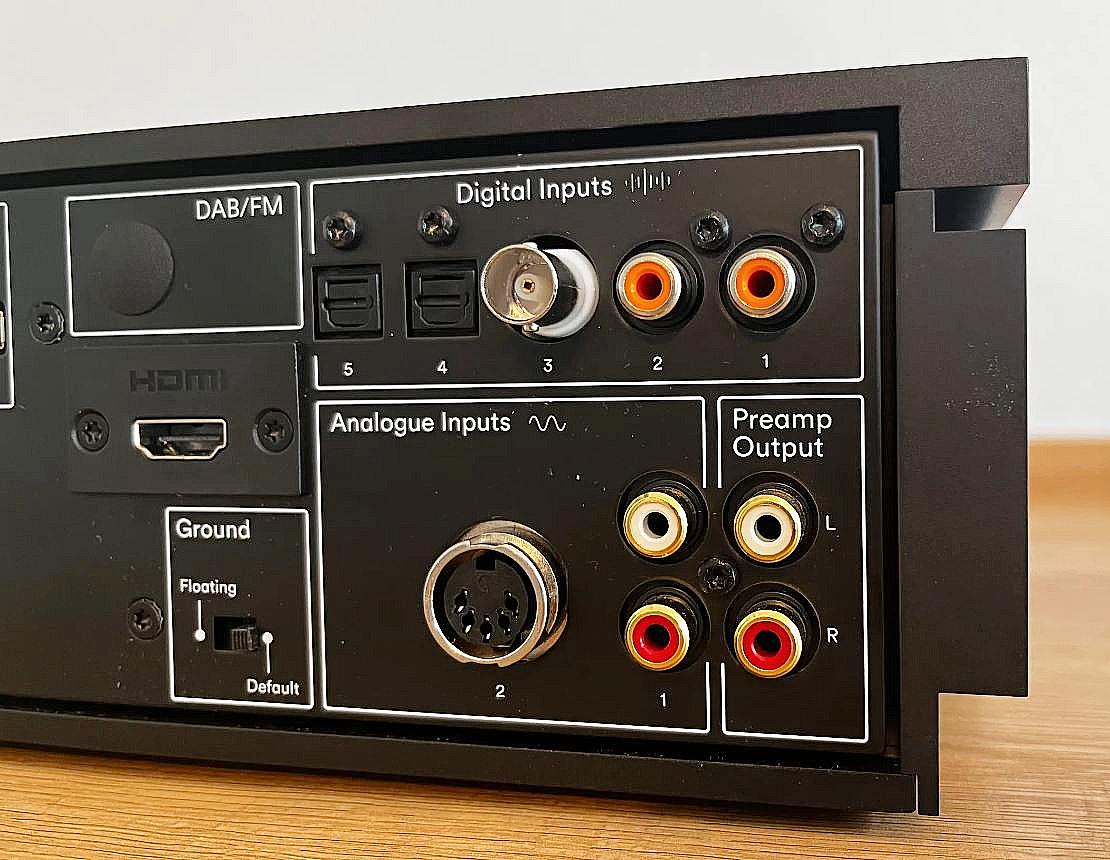 Set up with the Uniti Star is shockingly simple. It's essentially plug-and-play, only requiring you to plug it into a power source and connect some speakers.
Setting up Wi-Fi is very simple too, and I had no difficulty doing so. It also has an ethernet port available for hardwire connections.
Once the Uniti Star is connected to the internet, you can make full use of its functionality. One of the biggest things this product has going for it is its simplicity. In the realm of high-end audio, configurations can be complex and setting up gear can be... tough. With great power comes great responsibility, but the Uniti Star is so well designed you don't need to be a superhero to figure it out.
The Remote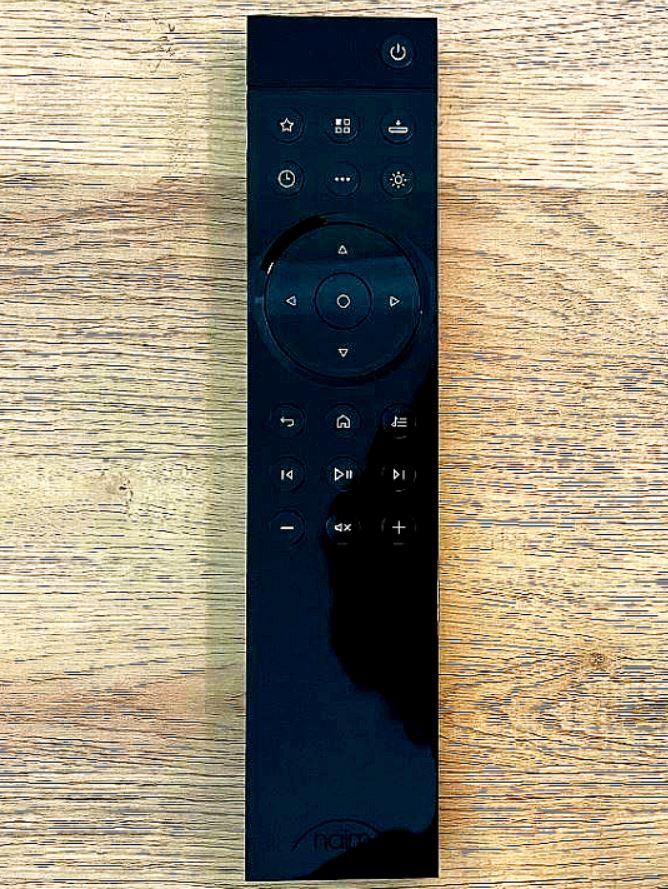 Continuing its trend with premium design, the remote that comes with the Uniti Star is one of the nicest I've seen in a long time.
It impresses by being simple, well-made, elegant and sturdy and comes with several nice features: including motion-based backlighting, a light control button for the player, and a button for all the controls mentioned earlier.
Packaging
Given its high price point, I expected the Uniti Star to be packaged in a manner commensurate with its cost. I'm pleased to note that Naim excelled in this department. I could tell that considerable time and care went into the product's packaging.
The Uniti Star arrived in a sturdy box that, when opened, revealed a protective black casing that effectively shielded the player from damage while shipping. Alongside the player, the package included a variety of extras: brochures from Naim and Spotify featuring special deals, a warranty card, a user manual, and the necessary power cords and batteries for setup.
Streaming Integration
Streaming using the Uniti Star is an absolute breeze. It has built-in integration with several different streaming services, including TIDAL, Spotify, and a high-res streaming library, Qobuz.
In my testing, these modes all worked effortlessly and made streaming very convenient. I highly recommend you make use of TIDAL's and Qobuz's higher streaming fidelity to get the most out of the audio quality.
The Uniti Star is also set up for streaming from other devices around the house, including private music servers. Streaming from your mobile device is incredibly simple, both using AirPlay and Bluetooth. I never had a problem connecting my device to the Uniti Star. It's compatible with all kinds of different formats, including AAC and FLAC.
Audio Performance: Speakers
I tested the Uniti Star four ways: using small Focal monitors, medium Focal Chorus 826V, large Wilson Audio Specialities Alexx Loudspeakers, and well as reference headphones. I wanted to give the player a 40-hour run period before diving into any serious listening session, but was shocked at how quickly things sounded amazing. The synergy between NAIM's Uniti Star and the Focal speakers delivered an immediately balanced and articulate sound.
Right out of the gate, the Uniti Star is capable of producing excellent sound quality with intricate clarity and warmth. It is a sound that reminds me of the warmth of vinyl but with the convenience of digital streaming. From my testing, all types of music seem to be given the treatment they deserve on this machine.
The large speakers delivered larger-than-life sound. When paired with the formidable Wilson Audio Specialties Alexx loudspeakers, the Uniti Star blew my mind. The setup delivered music with crystal clarity, full range, exceptional imaging, a vivid soundstage, and unparalleled realism. The Wilsons, with their dynamic and resolving capabilities, are able to deliver exceptional audio, and the Uniti Star rose to the occasion, driving a near-perfect listening experience.
Songs with high energy, like Vince Staples' Yeah Right, are given the weight and drive they deserve, while more subtle songs, like FKA Twigs' Cellophane, sound appropriately soft and delicate. Vocals are rendered beautifully and clearly and are accurately staged front and center.
I noticed no fuzziness or any artifacts in my testing. The high-resolution streaming options offered by this product make digital music sound as good as ever. However, even with lower-resolution streaming, such as Spotify, the sound quality produced by Uniti Star is excellent and full of depth. The sound is dynamic; low-ends are given room to breathe and don't swallow the mid-highs, which come in beautifully.
The Uniti Star comes with 70 watts of power to drive speakers, which is more than enough to get a full range of frequency from most speakers. The CD player sounds great even when using a lower sampling rate, and details pop through with excellent clarity.
Audio Performance: Headphones
The sound quality while using headphones is solid and makes late-night listening a great experience. Using the Uniti Star was noticeably better than connecting the same pair of headphones directly to my phone.
CD Ripping and Player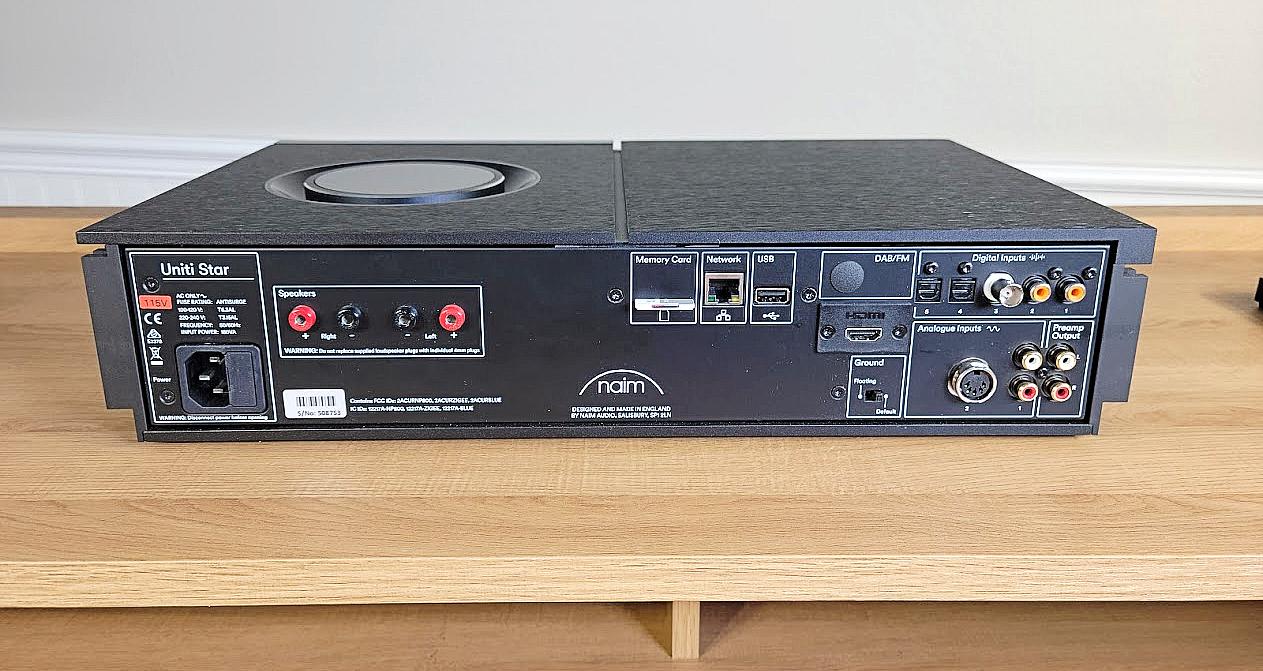 The CD ripping feature and the player itself are quite nice. Not only is the process intuitive, but the music played on the Uniti sounds great. The fidelity feels studio quality, which is such a nice touch for CD fans like myself.
Ripping CDs is incredibly easy, too. All you need is some sort of storage to start ripping. Once that is set up, it only takes a few taps of a button on the app to get it going. The process is streamlined and quick.
From my testing, it only took about 5-6 minutes to rip the full CD, and it went off without a hitch. If you are someone who is big into CDs, you will get a lot of mileage out of this feature and this player.
Different Modes and Naim App
The Uniti Star comes with a variety of different "modes" you can swap between, which allow for different functions. For example, there is a radio mode, options for digital and analog ports, Bluetooth, CD, Spotify, Tidal, and Qobuz. Using the app, you can swap between these functions with relative ease.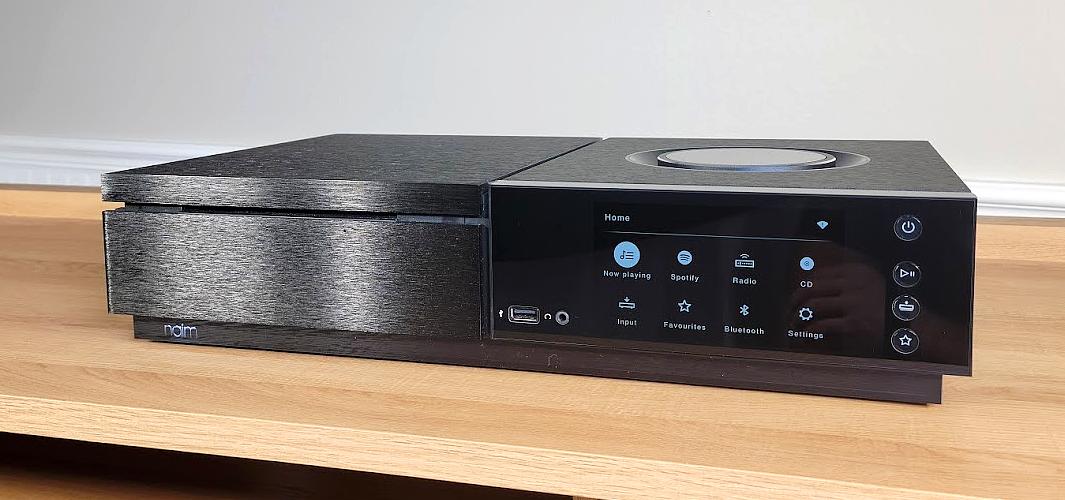 The radio function comes with an impressive library of different channels to connect to, including options for different music genres, languages, news, etc. There is bound to be something for everyone, with the amount of options available. In addition, the sound quality of the radio stations is surprisingly great and had me tuning into more radio than I have in years.
Swapping between these stations can be a touch troubling. My biggest complaint all around about the Uniti Star is the app. While convenient in many aspects, I found the app to occasionally be unresponsive and have a bit of a learning curve. I am using an iPhone 13, which is experiencing no other kind of lag outside of the app, so the unresponsiveness comes from it. That said, this is an easy fix down the line and I don't knock it too much. When the app is working smoothly, it is an incredibly nice feature that makes the user experience much simpler. Being able to easily swap between radio stations or to swap to a different input is super convenient, so I hope that future updates improve responsiveness.
Conclusion
Overall, the Uniti Star is a premium product with all the bells and whistles that you could ask for from a streaming device. It has lots of inputs, which makes it convenient to slide into any setup. It has a luxurious look and sounds great, and its built-in streaming integration makes it ultra-convenient to use. Despite some small issues with the app, it is a very well-rounded product that will elevate your digital music experience.
I can say with the utmost confidence that the Naim Uniti Star is aptly named and deserves five stars across the board. With a well-thought-out design and a bevy of features that set it apart from competitors, it's easy for us to stamp this as a "Highly Recommended" product.