The Optoma UHD35STx comes to us filling a unique niche in the projector market. With a throw ratio of 0.5:1, this projector can throw a 100-inch image from only 44-inches away. This makes it the shortest-throwing 4K projector on the market with a traditional projector design. Ultra Short Throw (UST) projectors can be placed closer, but those are very different projector designs with top-firing lens systems that generally come with higher price tags to match.
With a rated 3600 lumens and low input lag, the Optoma UHD35STx has some great features, but its relatively poor color and rough HDR performance may not make it the best choice for your money. Let's dive in to get the full picture.
High Points
Good contrast for the price range
Low input lag
Big screen from close up
Low Points
Very poor color performance
HDR handling is rough
Usable modes are much dimmer than specs
Dynamic contrast creates artifacts

Design and features
The UHD35STx is offered with a single white color option in a fairly compact case. It's nothing special to look at but also isn't offensive in any way. The lens in front resembles a large fisheye and gives the design some distinction.
There's a single focus dial on top–no zoom or lens shift here–and a few inputs on the back. On the front left of the unit is an exhaust vent for the fans. This opening could be better designed as there is a lot of light that makes it through to your room. It's not something you can easily block either since you need adequate space for airflow.
Spec-wise this Optoma features a rated 3600 lumens and rec709 color gamut. It features a 4-way pixel shifting 0.47-inch DLP DMD (Digital Mirror Device) with XPR (Xpanded Pixel Resolution) from Texas Instruments for 4K resolution, alongside low input lag, and 1080p support at 240Hz. There are two HDMI 2.0 ports on the back, a USB port to power a streaming stick, RS-232 for device control, 3.5mm and S/PDIF for audio out, and a 12v output. There's also an included speaker that I'd consider more of an emergency speaker than something to be regularly used for entertainment.
Setup and connection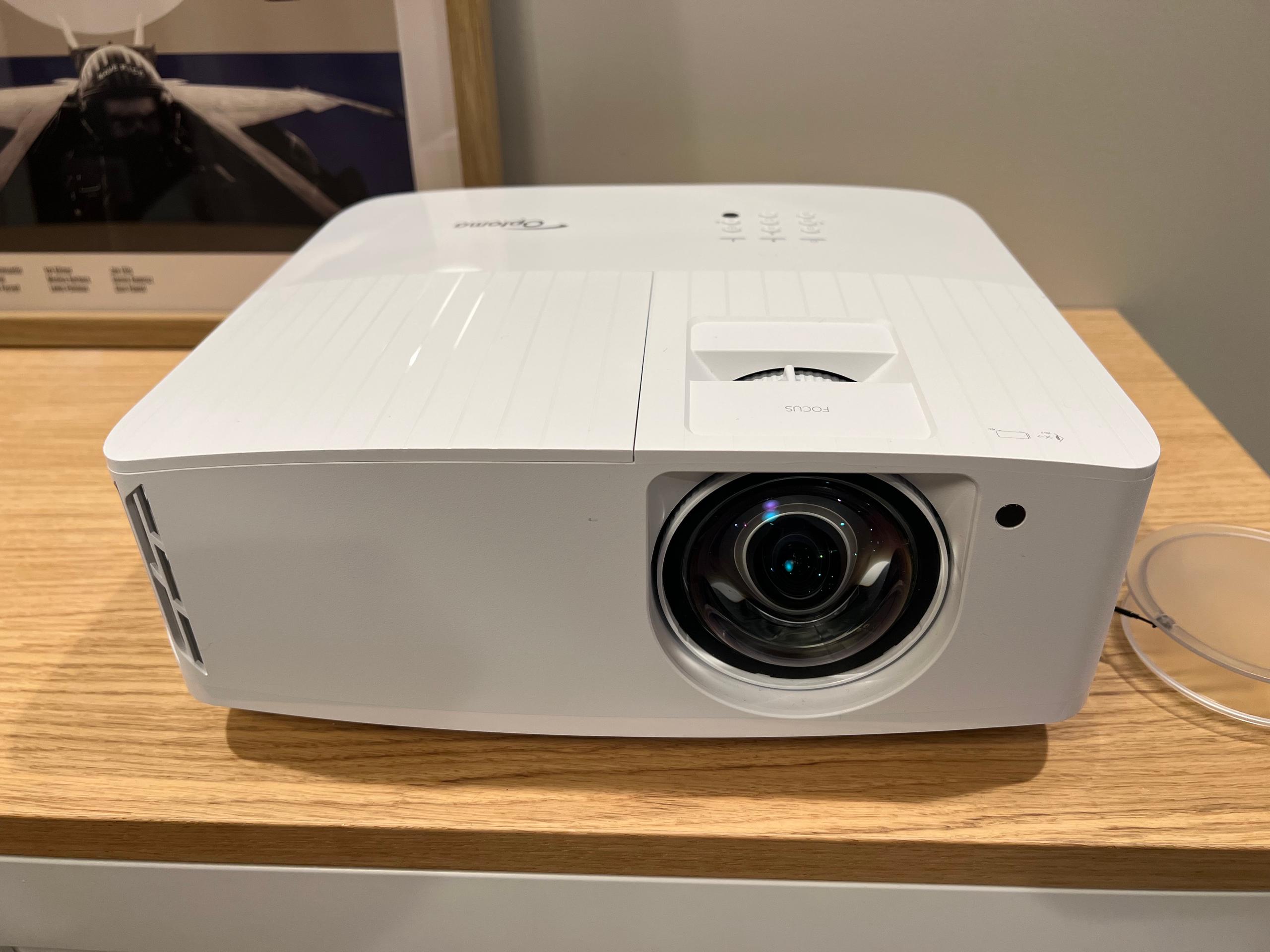 Setting up the UHD35STx was much like setting up an Ultra Short Throw projector. I placed it on a makeshift table and used the handy built-in test patterns to align and focus the image on my 123-inch screen.
There are three adjustable feet on the projector, one in front and two in back. Since there's no zoom or lens shift you have to physically place the projector just right on each axis to get a uniform image. Optoma includes a suite of Geometric Correction features to help digitally align the image to the screen if you can't get it just right with placement. It is best to avoid these features if you can as they reduce resolution, can create artifacts, and waste brightness. They are also disabled when enabling the Enhanced Gaming mode which gives you the best input lag performance for gaming.
Smart OS and Settings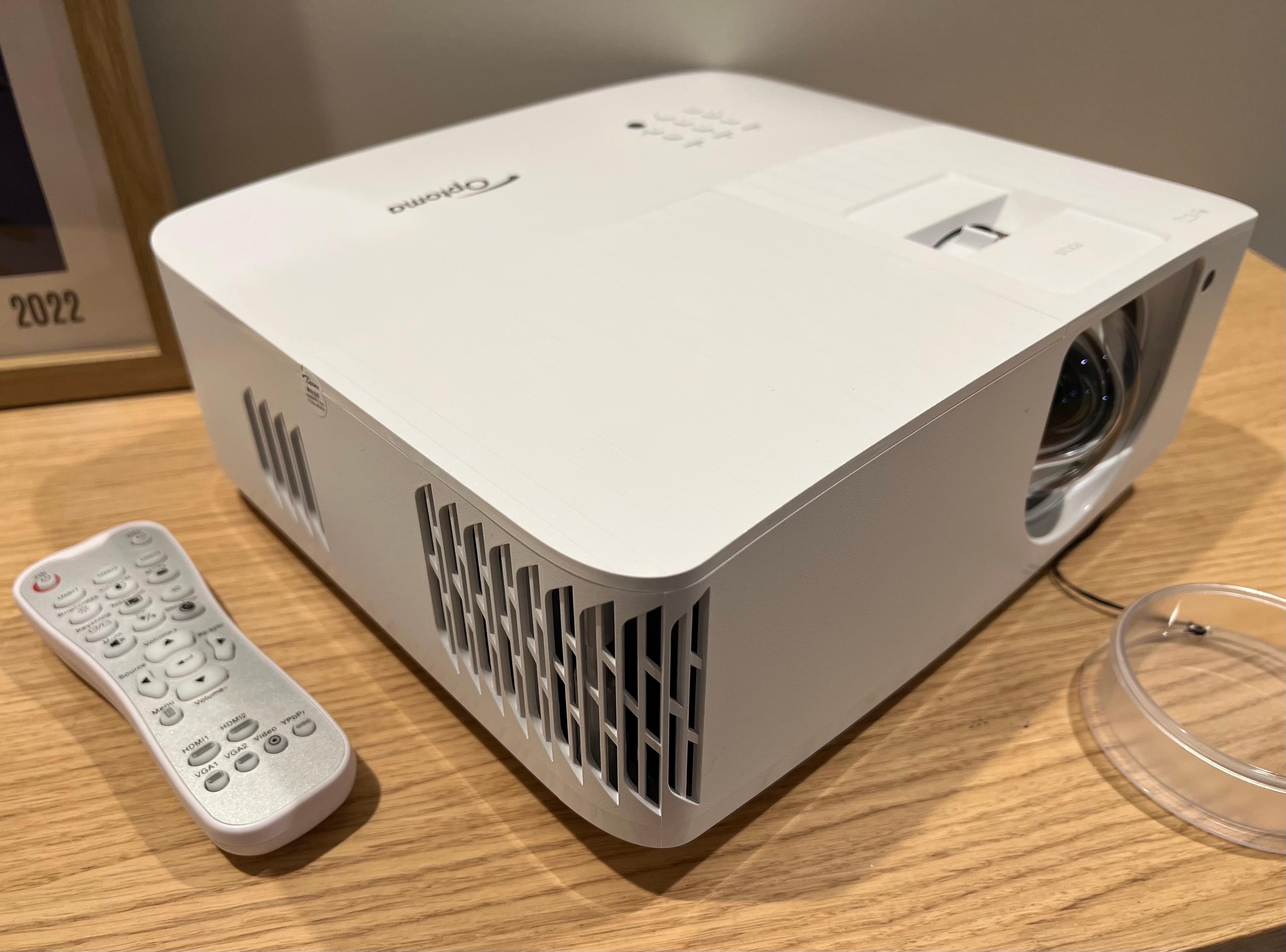 A lot of projectors include their own smart OS or dongle with a smart OS these days, but Optoma bucks that trend by keeping it old school which I appreciate. I'd rather have the cost go toward the projector and not toward a streaming setup that rarely competes with dedicated devices from Roku, Google, Amazon, or Apple.
The Optoma UHD35STx's OS is similar to a lot of other projectors but I had some issues with operation. Adjusting the settings makes the whole screen freeze--press and hold a button to increase a setting and nothing will change until you release it, making it harder to narrow in on the optimal position. I also think certain settings, like the HDR Strength slider, are buried too many levels deep.
Optoma includes a rather basic lightweight remote with mushy, backlit buttons that is clearly used with other projectors from the brand. There are buttons for inputs that this projector doesn't feature and you can feel open spaces beneath the silver sticker for more buttons where there currently aren't any. I did like the three user-assignable buttons which came in handy during calibration.
Calibration
(Note: For those who aren't into the nuts and bolts of calibration, feel free to skip ahead to the Performance section.)
Calibrating the UHD35STx wasn't a difficult endeavor but it was frustrating. Using my Calibrate ColorChecker Pro, X-Rite i1Pro 2, and Calman Ultimate by Portrait Displays I put the Optoma through a battery of tests. Color performance was so poor that it made me wonder if something was defective--it wasn't, we even checked with Optoma. For SDR, the Rec.709 color gamut isn't fully covered in any picture mode. I calculated only 82% coverage of Rec.709. I wasn't expecting much for a bulb-based single-chip DLP projector, but not coming close to covering Rec.709 is surprising. Compare this to the BenQ TK700STi, which is also a short-throw gaming-focused projector, that comes in around 96% of Rec.709.
SDR calibration was pretty straightforward. The included picture modes are tailored for many use cases, all of which need some tuning to be accurate. The Reference mode would be the best for critical viewing but its default corrections were more severe than needed and it sacrificed brightness. There's a Bright mode which is where this projector's lumen rating comes from but it is anything but usable--it's got a green color shift and looks very undersaturated.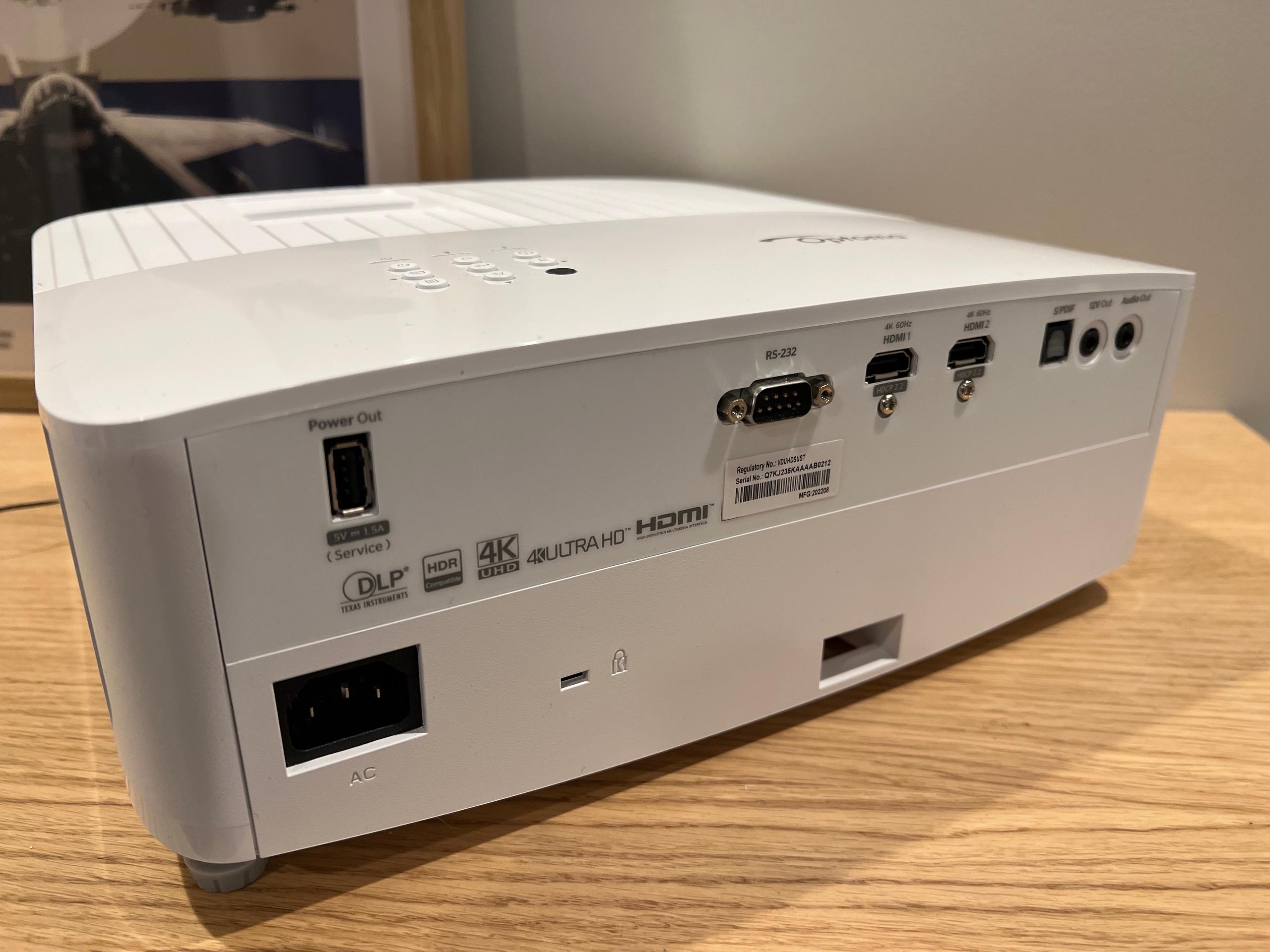 For all of my calibrations, I used the Bright lamp brightness mode. I selected Reference as my picture mode to calibrate. This mode started off with a contrast ratio of ~650:1, a blueish 7400 color temp and an average gamma close to 2.2. The White setting in the CMS had been overcorrected so I set that to all zeros and used the 2-point grayscale control to hone the RGB balance.
Combining this with a slightly boosted Brilliant Color setting of 3, I was able to achieve a native contrast ratio of 850:1--not bad at all for this 0.47-inch DMD. Nailing gamma was a challenge though. Setting the gamma control to 2.4 gave me the best overall tracking for my 2.2 target but there was a notch between 10-30% white that I couldn't fix. This is about the worst place to have a notch as it hurts shadow detail, an issue I saw while watching content. I tried to boost brightness but it reduced contrast and flattened the image.

Adjusting the CMS was again straightforward and controls responded as I expected. Below you can see what the Rec.709 post-calibration looked like. Everything is linear but we're pretty short of full Rec.709 coverage. What you can't see are luminance targets, which are fairly off even with Brilliant Color at 3. Turning it down to 1 doesn't help much but turning it up hurts a lot. There was no real way to fix the luminance issues which resulted in ITP dE errors of over 30 and an average of 7 (a measurement of how close to reference a color is, under 3dE is the target while over 5dE is considered poor).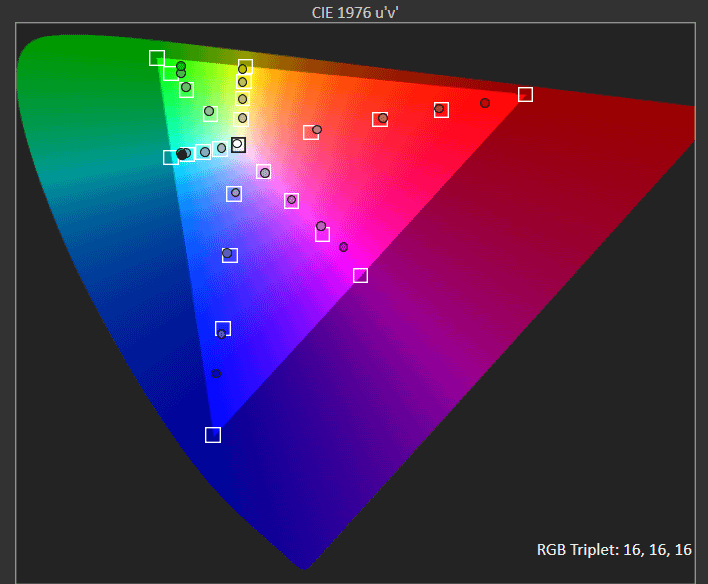 I also calibrated the User picture mode while focusing on brightness and contrast at the expense of color. I achieved a contrast ratio of 1250:1 and increased brightness by 50%. This mode had very large color errors due to a lack of color luminance and also had the same shadow detail issue. I was able to achieve 2000 lumens with Brilliant Color at 10 so this would be a good mode to use to combat ambient light where color accuracy isn't needed.
Calibrating for HDR was again straightforward albeit disappointing. There are only two picture modes to pick from for HDR or User. I chose HDR for my calibration. P3 color gamut coverage was expectedly very low at 60%. There was no use in trying to hit all the color targets so instead I optimized for hue and linearity. Like the User picture mode for SDR, I used a Brilliant Color setting of 10 to optimize for brightness and contrast for HDR. This didn't help color but gave some needed punch to the image.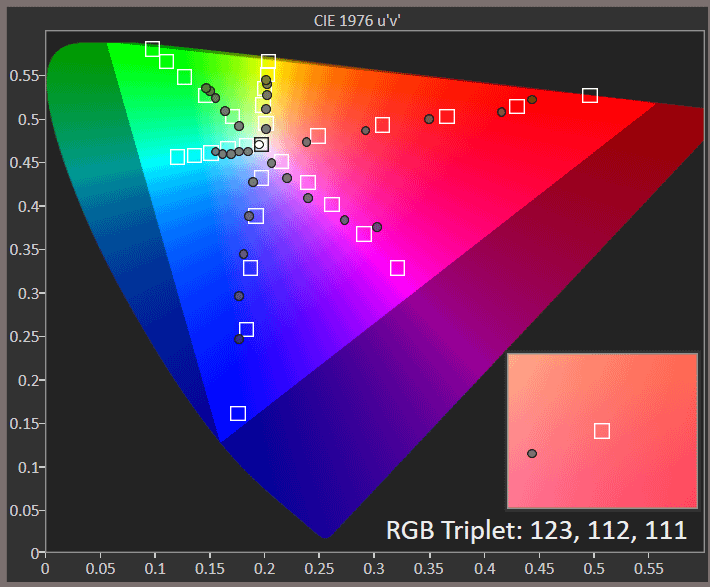 Due to Optoma using static tone mapping I didn't spend too much time calibrating its EOTF (the HDR version of gamma) since I knew it would have to be adjusted per movie to achieve the best image. This would be done with the HDR Strength slider and contrast settings. Instead, I focused on getting a good RGB balance which again was achievable just like with SDR. Interestingly, I noticed adjusting the HDR Strength slider to a lower number increased brightness at 100% white. This wasn't exactly a good thing since it got there by increasing blue and green and wrecking my RGB color balance. Increasing the contrast slider did the same. These settings need to be adjusted based on the content you're watching so this unfortunately isn't avoidable.

SDR Performance
I started my viewing by putting on the Spears & Munsil UHD HDR Benchmark
disc to verify my calibration settings and into some familiar content. Sharpness looked good as it usually does with these pixel-shifted DLPs. There is a bit of pink fringing around objects caused by chromatic aberration–a color distortion around the edges of objects caused by uneven light refraction through the lens–but it isn't noticeable from average seating distances. Motion tests looked good with 24Hz content if you're ok with the typical judder with this frame rate. Know that there's no frame interpolation if you're not.
My only real complaint with the SDR demo content in my Reference calibration was the lack of depth due to the lower contrast ratio. I decided to try my User mode calibration for added brightness and contrast and I immediately noticed an issue with bright colors. Having the Brilliant Color set to 10 caused very noticeable posterization, mainly with reds, oranges, and yellows. I thought turning it down a bit would fix it but it only goes away when you turn it to 3 or lower–this cuts a third of the brightness! I tried fixing it with the CMS as well but reducing saturation or the gain hurt color in other ways that weren't acceptable.
I proceeded to throw a variety of SDR movies at the Optoma to see how it fairs in that Reference mode. I used some of my favorites for testing, including Sing, Avatar, Gravity and Edge of Tomorrow. Starting with Sing, I noticed there just wasn't the depth and richness I am used to in this movie. The bright colors, like the squids in Buster Moon's short-lived aquarium, were also lacking in saturation. This is especially true if you try to push Brilliant Color higher for the added brightness.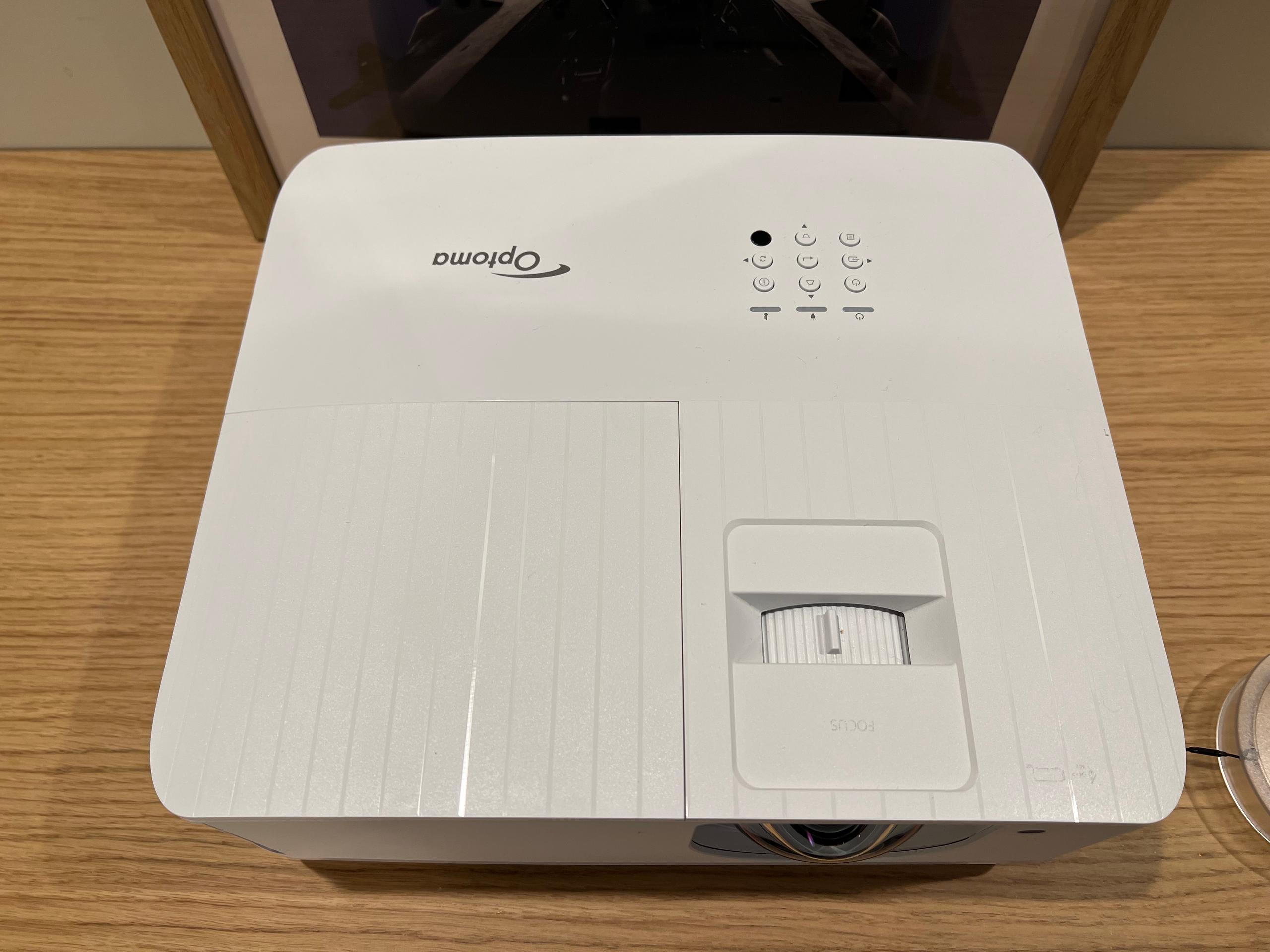 I knew this projector offered some dynamic contrast capability by dimming the bulb for dark scenes to increase perceived contrast. This can be activated by using the Dynamic or Eco+ brightness modes. I decided to give the Dynamic mode a try to see if it could help add some of that depth I felt was missing. It did! Sing looked better and when flipping over to Gravity and Edge of Tomorrow I felt things looked really quite good. The Dynamic brightness mode not only dims the image for darker content but it also manipulates the gamma, boosting the brightness of darker scenes and giving the look of a higher contrast projector. So far I was enjoying the effect even though I knew it was altering the actual content a bit from the director's intent.
In Gravity, this mode is almost critical. When Astronaut Stone flies off into space, a go-to test scene for black levels, this mode boosts the brightness of the stars while dimming the overall brightness giving the scene a much better look than the standard Bright mode. It isn't all gravy though. Modulating a bulb isn't very fast and the rate of change is noticeable at times. Thus far I was alright with the compromises. This mode also fixed the shadow detail issues I noted during calibration.
To complete my SDR viewing I watched some NBA basketball. The Lakers were taking on the Phoenix Suns which made for a great test subject for bright colors. The UHD35STx handled the fast-paced motion very well but those bright colors again were just lacking.
The Lakers' jerseys were noticeably undersaturated and there just wasn't a way to make them pop. Using a lower Brilliant Color setting helped some but then I lost brightness again. Overall, sports are acceptable on this projector. The motion resolution from DLP and good intra-scene contrast make for a solid experience. Just know that the brighter colors will be less than desired and could lead to some posterization.
HDR Performance
For HDR viewing I started with the opening ambush scene from The Revenant, which offers multiple panning scenes that tests a projector's ability to handle 24Hz well, as well as a good amount of detail.
Setting the UHD35STx's brightness mode to Dynamic I was pleasantly surprised with how it handled this scene. Contrast was quite good for a more budget-minded 4K projector. I found that the default brightness setting was crushing dark detail so I raised that from -15 to -10 and that fixed the issue without raising black. Motion handling on this scene was good but I do wish there was frame interpolation as I'm not a huge fan of 24Hz judder. DLP's great motion resolution performance leads to less blurring but it can make the judder more noticeable.
I next flipped over to the visual and audio masterpiece that is Top Gun: Maverick. Unfortunately, here my pleasant surprise did not carry over. I really struggled to find the right combination of settings. Scenes lacked depth and shadow detail was barely there.
Dynamic brightness mode was really needed to give the pop that this movie offers but it didn't help all scenes. I reached for the remote multiple times to boost contrast or decrease HDR Strength (which makes the image brighter). This would help temporarily but not for every scene. I found that leaving the HDR Strength setting at 6 and contrast at 15-20 was about the best I could do, but it still resulted in highlight clipping.
I then flipped to Aquaman and this again was a surprise–a good one! The settings from Top Gun: Maverick carried over well. There was actually less highlight detail clipping here, I was even able to boost contrast more to get more brightness. I ended up modifying the contrast more than the HDR Strength setting because it was a button away on the remote and had a similar effect, but with finer adjustments. The HDR Strength setting is multiple menus deep, making it difficult to adjust mid-movie.
Next up was Blade Runner 2049. At first I thought the settings carried over again and that I may have found the right combo. Then…chaos struck. Midway through the movie, Lt. Joshi is talking with Officer K in his apartment. There is a pretty good HDR effect here with some wall lights shining very brightly. For some reason, the Dynamic brightness mode's algorithm was tripped up here and it caused some very bad brightness pumping and even flashing. It was so bad in this movie I had to turn it off. This was very unfortunate because it was what fixed the crushed shadow detail issue. Turning it off and resorting to Bright made this movie way less, well…dynamic.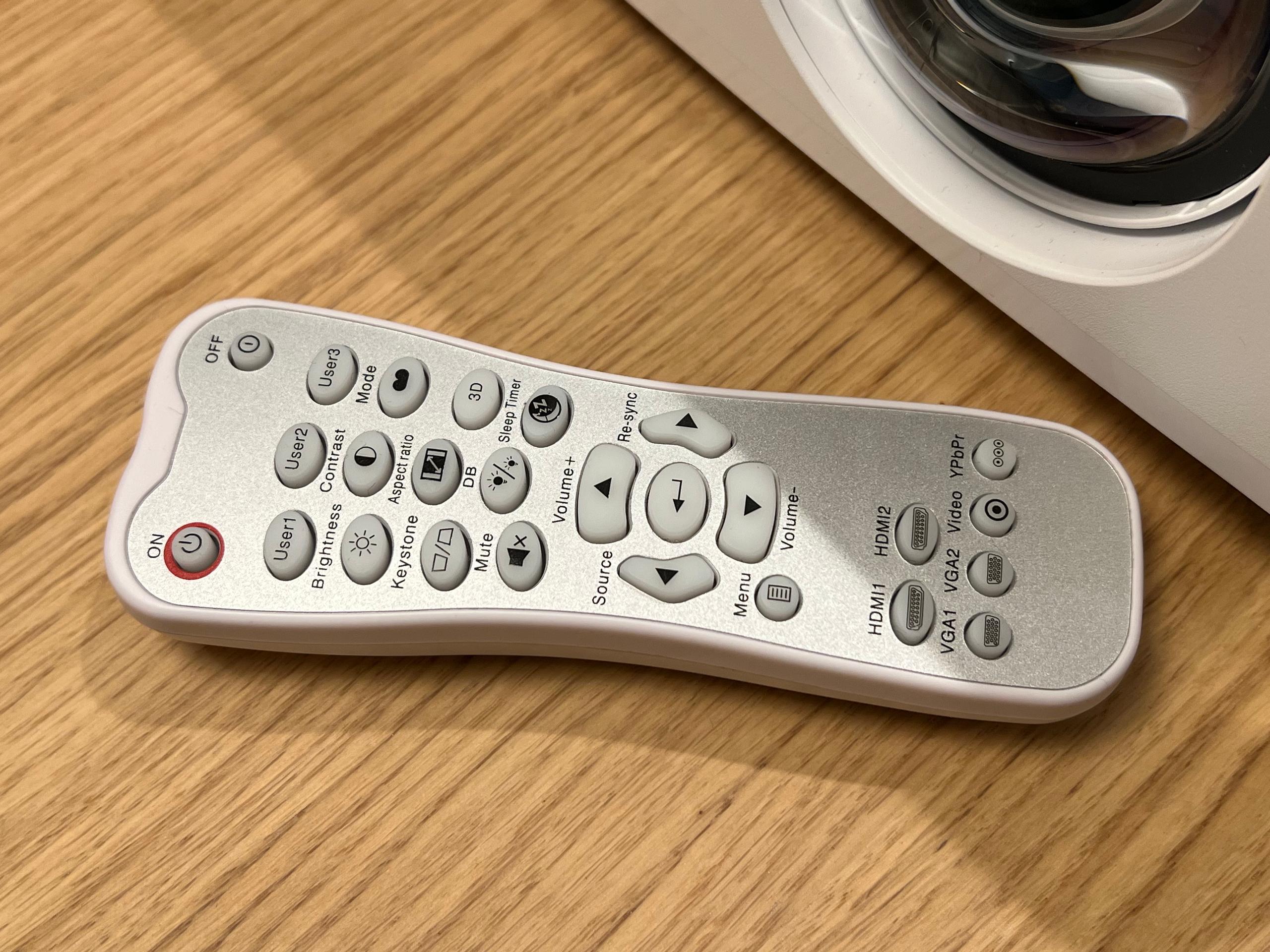 I flipped over to The Meg for my last HDR movie and I quickly realized this one was just too much for the Optoma's HDR tone mapping. It's a tough movie to reproduce due to the fact that it was mastered at 10,000 nits. It was a real challenge to get the bright day scenes on the ocean to look good. I was either able to get the clouds to render with detail, or the people and boat to have good contrast and depth, but not both.
This projector's HDR rendering issues aren't uncommon amongst similar projectors but it's atypical to have to adjust so many settings to get it to look just right. Sometimes it was the Contrast setting, other times Brightness or HDR strength. I always want to give the Dynamic brightness mode a try but the pumping artifacts I saw in Blade Runner 2049 made it feel like playing with fire.
I finished my viewing experience with some gaming and golf simulator play-throughs on YouTube. This is where I saw the most minimal downsides and I even had quite a bit of fun! I gave Halo Infinite a dust-off and I ended up spending more time than I intended playing into the night. I gave the Dynamic mode another try here and never once did I see it get tripped up. It really helped make this game pop in HDR. Colors were acceptable and not distracting and the 4K DLP image was impressively sharp. Input lag was perceptively very small and didn't impede in my ability to get some headshots.
While watching the simulator play-throughs, it was easy to see that the bright greens here were a bit lacking but overall the image was enjoyable with good definition and contrast. There's not much here to trip up the processing so using the Dynamic mode got the green light and it looked good.
Competition and Comparison
The market for this projector is unique. If you really need a 0.5:1 throw 4K projector then this is it–there isn't another one, not even close. The upcoming ViewSonic X2 4K will be the only short throw 4K projector that will come close to it and it's at a minimum a 0.69:1 throw. I'd look out for that one if it fits your setup. It will also feature a 4LED solid-state light system meaning no bulb changes.
If you can stretch your setup distance further, the BenQ TK700STi would be a better all-around performer with a throw of 0.9:1. Another option from BenQ is the TH690ST. This short throw projector (0.69:1-0.83:1) isn't as bright as the UHD35STx and is only 1080p, but it comes well calibrated out of the box, has much wider color gamut coverage, and should have better-calibrated contrast too.
Then there is the flourishing Ultra Short Throw category. A lot of these projectors feature a laser or triple laser light system. One to look at would be the AWOL LTV-2500 which features an RGB triple laser system for enhanced color, a built-in smart OS, and better contrast. That said, most have higher input lag which can affect gaming applications, and they're also generally more expensive.
Conclusion
My time with the Optoma UHD35STx was generally underwhelming. Movie watching was a very mixed bag, even within the same film. The inconsistent presentation made it frustrating as you never knew what you'll get or when you'll need to reach for the remote to tweak a setting. I would only recommend this projector for specific use cases where a short throw and 4K resolution are needed. It would do well as a golf sim and/or gaming projector where exact color performance isn't demanded. Otherwise, you'll probably want to look at one of the options noted above.
SDR and HDR Calibration Extras
Measurements and lumens
Here I measured each mode as it comes out of the box. Calibrated in Reference color mode came to ~1100 lumens.
| | | | | |
| --- | --- | --- | --- | --- |
| | Bright | Eco | Dynamic | Eco+ |
| Cinema | 2085 | 1351 | 2085 | 1293 |
| HDR | 2056 | 1334 | 2056 | 1314 |
| HDR Sim | 1952 | 1293 | 1952 | 1238 |
| Game | 1952 | 1289 | 1952 | 1238 |
| Reference | 922 | 600 | 922 | 713 |
| Bright | 3369 | 2185 | 3369 | 2139 |
| User | 2085 | 1355 | 2085 | 1305 |
| ISF Day | 2085 | 1355 | 2085 | 1314 |
| ISF Night | 2085 | 1355 | 2085 | 1314 |
| User HDR | 1643 | 1063 | 1643 | 1314 |
Noise
Noise floor in my room is 31.5dB. Dynamic and Eco+ both fluctuate the brightness and fan speeds. Bright and Eco exhibited the loudest and quietest the fan will reach.
| | | |
| --- | --- | --- |
| | Bright | Eco |
| Left | 35.5 | 32 |
| Back | 34.5 | 32 |
| Front | 35.5 | 32.5 |
| Right | 35 | 32 |
| Above | 35 | 32 |
Contrast
Below are ADL contrast measurements for both Reference and User picture modes. Brilliant Color was set to 3 for Reference and 10 for User, both are D65 calibrated. Cinema is uncalibrated with the D65 color temp selected and gains set to 0.
Dynamic contrast with the Brightness Mode set to Dynamic in the Reference mode was 3200:1
| | | | |
| --- | --- | --- | --- |
| | Reference | User | Cinema |
| Percent | Contrast | Contrast | Contrast |
| 0 % | 866 | 1227 | 1480 |
| 1/4 % | 844 | 1220 | 1430 |
| 1/2 % | 832 | 1189 | 1395 |
| 1 % | 805 | 1165 | 1331 |
| 2 % | 790 | 1112 | 1287 |
| 3 % | 754 | 1083 | 1204 |
| 4 % | 744 | 1011 | 1184 |
| 5 % | 705 | 998 | 1094 |
| 10% | 672 | 926 | 1017 |
| 15% | 635 | 868 | 939 |
| 20% | 590 | 807 | 856 |
| 25% | 569 | 732 | 816 |
| 30% | 514 | 703 | 712 |
Color Gamut
For the measurements below I put the projector in its best color mode, Reference with Brilliant Color at 1.
| | | |
| --- | --- | --- |
| P3 Gamut | | |
| | xy | uv |
| Reference | 59.01 | 60.98 |
| BT2020 Gamut | | |
| | xy | uv |
| Reference | 42.48 | 45.14 |