Known for its high quality and meticulous design, Palliser is one of the well known brands in the Home Theater Seating industry. This article will cover all of the features you should consider prior to making a purchase.
Just like Seatcraft seating, Palliser home theater seating offers luxurious comfort and customization options, but the price range may not be suitable for everyone.
Pros
Exceptional Comfort: Plush and comfortable design, specifically designed for long hours of movie-watching
Customization: material type, color options, and additional accessories like storage consoles or ambient lighting can be customizable
High-Quality Materials and Construction: Robust frames and high-quality materials ensure durability
Reclining Seats: Both manual and power recline options available
Aesthetically Pleasing Designs: Visually appealing addition to any home theater setup
Great Customer Service: Reliable customer service and commitment to quality control
Variety in Seating Formations: Straight formation seating and curved formation seating available
Unique Lighting Features: Multi-color LED cupholders and ground lighting for ultimate cinematic experience
Cons
Manual Recline: Some customers find the manual recline option less desirable than power-based models
High Prices: The price range for Palliser sofas can be steep in comparison to other brands in the home theater industry
Cupholder Size: For certain models, such as Beckett, users have reported problems with cup holders as not all sizes of cups or glasses fit comfortably
Parts' Durability: Customers have previously complained about parts wearing out quicker than expected
Palliser Home Theater Seating Assortment
Palliser has indeed done a spectacular job providing comfort, adjustability, and modularity through its comprehensive line of Home Theatre Seating. Here are the main seating options you can find in the Palliser home theater seating section.
Seating Series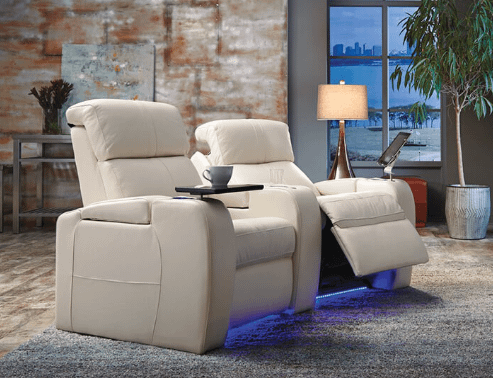 At Palliser, there's a wide variety of home theater seating series to cater to everyone's comfort and style preferences. The Flicks collection offers LED lighting and hidden storage features for those who crave modern convenience.
If you prefer a more contemporary take on the classic design, the Ace collection delivers traditional theater seating with an updated aesthetic. For those seeking ultimate comfort, the Vertex Collection is your best bet with its 1.5" memory foam and full pad-over chaise with an extended footrest that ensures complete support while watching movies at home.
And for smaller rooms, Palliser has the Audio collection which boasts all the comforts and features of advanced home theater seating but designed specifically for limited spaces. Each series is thoughtfully designed so you can maximize every movie experience in luxurious seats tailored to fit your needs!
Straight Formation Seating
As movie enthusiasts ourselves, we are excited about the straight-formation seating offered in the Palliser Home Theater Seating collection. This layout boasts exceptional comfort and a wide range of options to accommodate any home theater setup.
You can choose from configurations like 2-seater, 3-seater, 4-seater, or even larger setups depending on your preference. There's also flexibility in choosing between single or multiple rows of seating to best suit your space and viewing experience.
Among our personal favorites is the Flicks collection which shows a refined take on traditional home theater seating with an elegant 4-seat straight layout. Similarly, you can check out Seatcraft's models in the home theater section, which can be ordered in curved and straight layouts.
Curved Formation Seating
Palliser Home Theater Seating gives customers the unique option of curved formation seating, which provides a more immersive and comfortable viewing experience. This seating configuration is designed to suit the layout and style of your media room, offering optimal angles for everyone in the room to enjoy their favorite movies.
The curved formation seating can be customized to fit your specific needs and preferences, with options for 2-seater, 3-seater, 4-seater, and 5-seater setups available in single or multiple rows.
Not only does this seating provide exceptional comfort with its plush armrests and supportive cushioning but it also allows for easy cleaning and maintenance. With additional features such as swivel tables available, the curved formation seating truly enhances your home theater experience.
Home Theater Seating Customization Options
By offering additional options such as storage consoles and ambient lighting, Palliser undoubtedly went above and beyond to cater to its customers' every need.
Optional Accessories
Palliser's Home Theater Seating section comes with a variety of optional accessories to enhance your viewing experience. These accessories can be added to customize your seating and create the perfect home theater setup. Some of the optional accessories available include: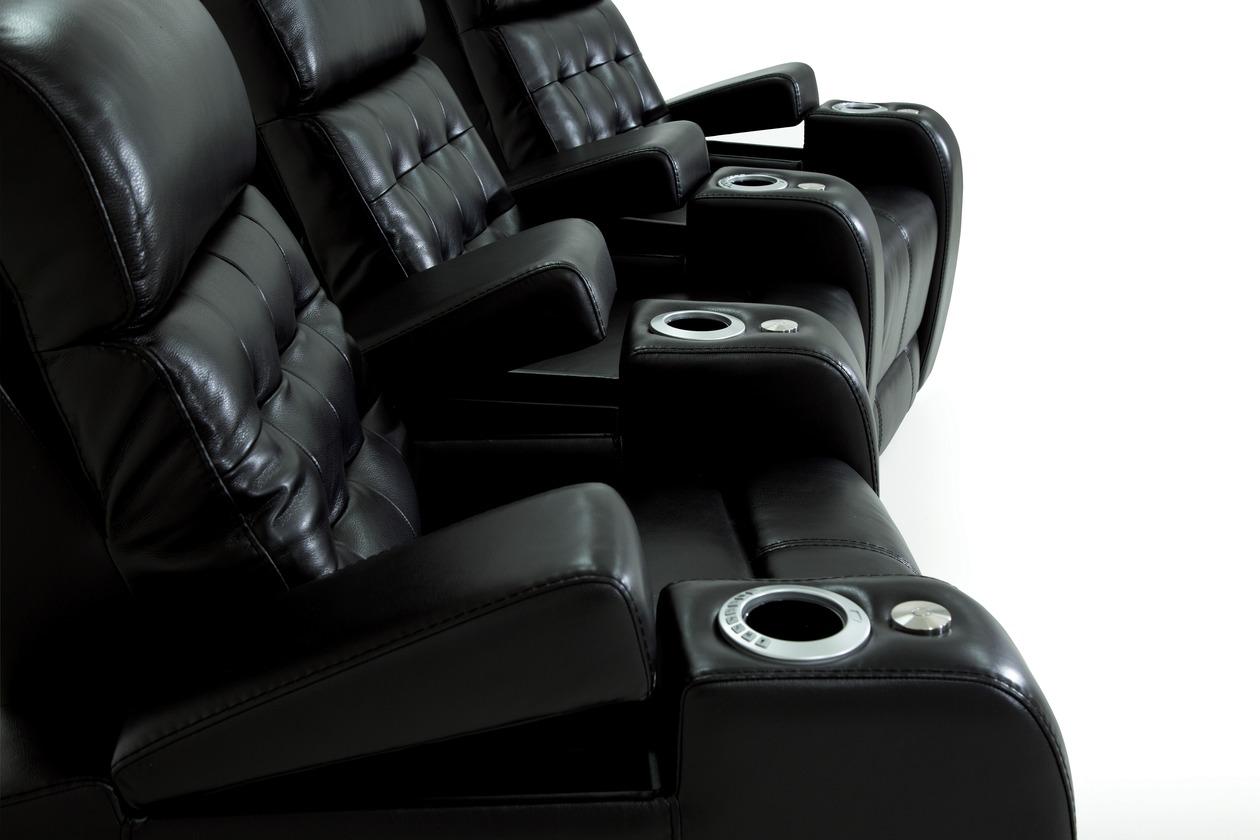 Storage Consoles: Palliser offers storage consoles that can be added between seats to provide convenient storage for snacks, remotes, and other items. These consoles feature cup holders and compartments for easy organization.
Ambient Lighting: Create a cozy atmosphere with the addition of ambient lighting options. Palliser's LED lighting strips can be placed along the base or back of the seating to provide subtle illumination.
Tablet Holders: Stay connected during your movie nights with tablet holders that can be attached to the arms of the seating. This allows you to easily access your devices without having to hold them in your hands.
Tray Tables: Enjoy snacks or work on your laptop without worrying about balancing them on your lap. Tray tables can be attached to the armrests of the seating, providing a stable surface for your belongings.
Wireless Chargers: Keep your devices charged while you relax with wireless charger options. Palliser offers built-in wireless charging pads that eliminate the need for cords and cables.
USB Ports: Stay connected and charge your devices conveniently with built-in USB ports on select models of Palliser Home Theater Seating. This feature ensures that you always have access to power for your electronics.
Storage Consoles
Palliser Furniture comes with storage consoles as a customization option for their home theater seating. These consoles provide convenience and hidden storage for items such as remotes and magazines. This way, you can keep all your essentials within arms reach while enjoying your favorite movies.
No more searching around or having to get up during an intense scene! The console design seamlessly integrates with the overall aesthetic of the seating, ensuring a sleek and organized look in your home theater. So sit back, relax, and enjoy the movie without any distractions!
Ambient Lighting
Ambient lighting is a key feature in Palliser home theater seating. It adds an extra touch of luxury and enhances the overall movie-watching experience. The ambient lighting creates a soft, glowing effect around the base of each seat, providing a subtle and sophisticated look to your home theater. Here are the benefits of including the ambient lighting option:
LED Baselighting: Palliser Media Home Theater Seats include LED-based lighting as an optional customization feature.
Discreet Illumination: The ambient lighting in Palliser home theater seats is designed to provide just the right amount of illumination without being overpowering or distracting during your movie viewing.
Ease of Use: The ambient lighting can be easily controlled with a simple switch or button located on the side of each seat.
Enhances Aesthetics: It adds a touch of elegance and sophistication, elevating the overall look and feel of your seating area.
Customization Options: Palliser includes different finishes for the ambient lighting, such as LED Lighted, Stainless Steel, or Antique Bronze finishes.
Comfort and Ergonomics
First and foremost, when we start talking about the quality of these seats, we need to start with their comfort.
Ergonomic Design and Lumbar Support Features
Palliser Home Theater Seating is known for its exceptional ergonomic design and lumbar support features, providing the utmost comfort during movie marathons or TV binge-watching sessions.
The seating incorporates carefully crafted dual-density cushions that offer superior body support without compromising on style. Additionally, the chairs are equipped with pneumatic lumbar support that can be easily adjusted to cater to individual preferences and ensure optimal comfort.
This attention to ergonomics is crucial in maintaining proper posture and preventing discomfort even after extended periods of sitting. Whether you prefer manual or power reclining options, Palliser's home theater furniture has got you covered with its range of customizable options designed to prioritize your well-being while enjoying your favorite movies from the comfort of your home.
Material and Frame Quality
The material and frame quality of Palliser home theater seating is exceptional, ensuring both comfort and durability. What's even more exceptional is that the seats are made from top-grain leather, which not only adds a luxurious touch but also enhances the overall longevity of the seating.
This high-quality leather is resistant to wear and tear, making it perfect for movie nights that involve hours of sitting. Moreover, the frames are constructed with sturdy materials that provide stability and support.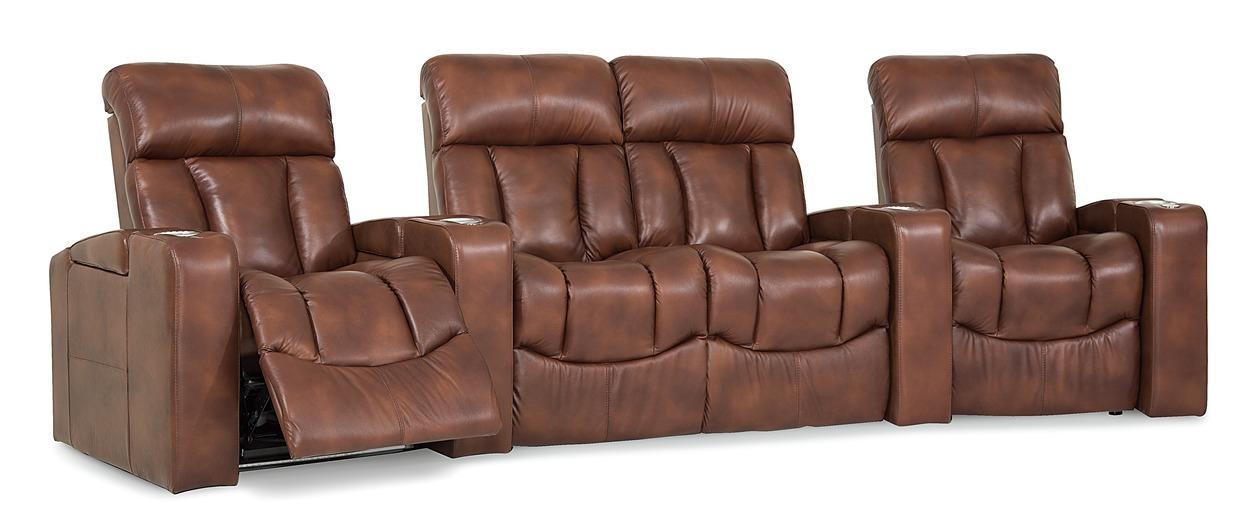 This ensures that the seating remains in excellent condition even after years of use. The combination of premium materials and expert craftsmanship results in a home theater seating option that is built to last and offers unparalleled comfort for your cinematic experience.
Reclining Mechanisms
You can choose from a range of reclining mechanism options with Palliser, including both manual and power recline.
The Leggett-Platt reclining system is utilized in many of their models, providing smooth and seamless movement. This ensures that transitioning from an upright position to a full recline is effortless and noise-free.
With high-quality mechanisms like these, you can relax and enjoy your favorite films without any distractions or discomfort.
Plush Armrests and Supportive Cushioning
The plush armrests and cushioning are designed to provide a comfortable place to rest your arms while watching movies or relaxing in your home theater.
They are soft and padded, offering a luxurious feel that enhances the overall comfort of the seating experience. The supportive cushioning ensures that you can sit back and relax for hours without feeling any discomfort or fatigue.
This high-quality cushioning also helps distribute weight evenly, reducing pressure points on your body. Therefore, these plush armrests and supportive cushioning will make elevate the customers' watching experience.
Pallister's Aesthetics and Design
The aesthetics and design of Palliser home theater seating are sleek and modern, making them a nice addition to any home theater setup. Palliser also has several seating models that are available in dark, rustic colors, making these seats perfect for any kind of room.
Design Aesthetics
From sleek and modern designs to classic and traditional looks, there is something for everyone. The seating series includes both straight formation and curved formation options, allowing users to customize their seating arrangement based on the layout of their theater room.
Along with the high-quality craftsmanship, Palliser's home theater seating not only provides comfort but also adds a touch of elegance to any space. From rustic design to minimalistic and modern off-white design, Palliser has got you covered.
Compatibility with Home Theater Themes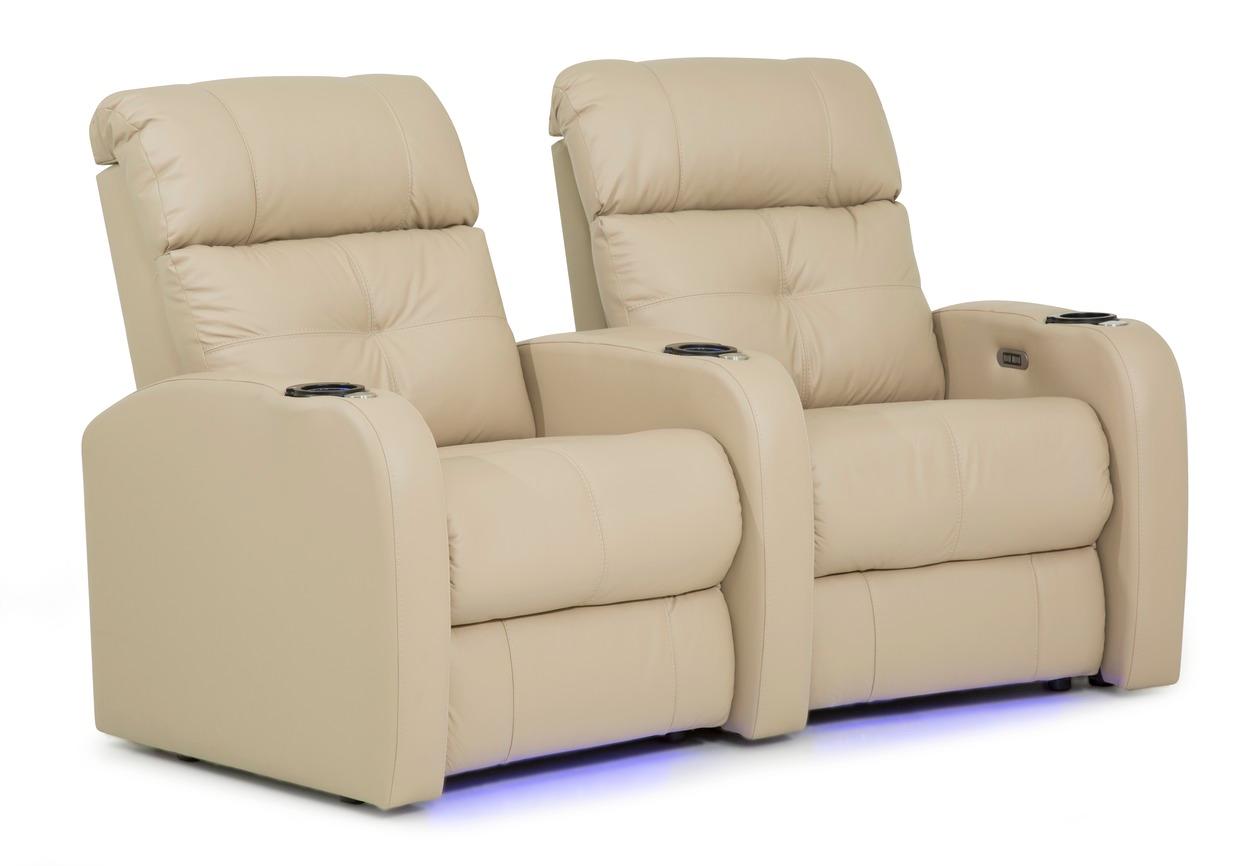 Palliser's seating can be further customized with a wide range of design options that are compatible with various home theater themes. Moreover, Palliser has seating options that will complement your chosen aesthetic, whatever it may be.
As these seats include a variety of customizable features such as different fabrics and materials, colors, and finishes available, you can create a cohesive and stylish space that matches your personal taste. This attention to detail in design ensures that Palliser's home theater seating not only provides comfort but also enhances the overall visual appeal of your entertainment area.
Price and Value for Money
Palliser's home theater seating is priced on the higher end. However, luxurious materials, comfort, and the fact that customers can customize their orders are just some of the features that can justify the cost.
Palliser's Pricing
Palliser home theater seats include several models that come at different prices to fit different budgets. The cost for Palliser seating starts at $4,325 per row of two seats. This may seem like a significant investment, but it is important to consider the high-quality materials and mechanisms used in Palliser's Canadian-made seating.
These features ensure durability and long-lasting performance, making the price reflective of the value you receive. Plus, keep an eye out for ongoing promotions or discounts that can make your purchase even more affordable.
Although Palliser seating may have a higher upfront cost compared to some other brands such as Seatcraft, it's ultimately up to the customer to decide whether the quality and customization options make it worth the investment.
Do Features Justify the Price Range?
You should evaluate whether the features provided match the price. Power and manual recline options, ergonomic design and lumbar support features, plush armrests, and supportive cushioning are what make the Palliser seating more expensive.
The material and frame quality also contribute to its overall durability. Therefore, while the prices may seem high compared to budget alternatives, customers are paying for a premium product that delivers exceptional comfort and aesthetics.
Furthermore, ongoing promotions or discounts may be available to make the purchase more affordable. Ultimately, if you prioritize comfort and style in your home theater setup, Palliser's features do justify the price range for those seeking a truly immersive cinema experience.
Ongoing Promotions, Discounts, or Package Deals
4Seating is currently having a major promotion on Seatcraft and Palliser models, offering customers exclusive discounts and package deals. Take advantage of these ongoing promotions to score some great savings on your home theater seating purchase. Here are some key details about the current offers:
Free Accessories: Depending on the specific model you choose, certain home theater seating options come with free accessories included. These may include tray tables, lighted cupholders, base lighting, and in-arm features. Enhance your movie-watching experience without any extra cost.
Massive Sale: Palliser is currently hosting a massive sale on its home theater seating collection. This limited-time offer allows you to enjoy significant savings on a wide range of luxurious seating options.
Package Deals: Palliser also offers special package deals where you can purchase multiple seats together at a discounted price. This is perfect if you're looking to furnish a larger home theater space or if you want matching seats for your family and friends.
Clearance Options: For budget-conscious shoppers, Palliser also has clearance options available for home theater seating. These clearance items still maintain the high quality and comfort of Palliser products but at even more affordable prices.
Customer Reviews and Feedback
Customers have been praising the exceptional quality and comfort of Palliser home theater seating, with many commending its luxurious design and ergonomic features.
Customer Feedback and Reviews (Palliser Website)
We were pleasantly surprised by the positive customer feedback and reviews we found on the Palliser website.
They appreciate the luxurious feel of the leather upholstery and mentioned how comfortable and supportive the seats are for long movie marathons. Customers also rave about the power reclining mechanisms, which allow them to adjust their seating position effortlessly.
Overall, it seems that Palliser lives up to its reputation as one of the best options for high-quality home theater seating.
When looking at customer feedback and reviews for Palliser home theater seating, there are several common praises and criticisms that stand out. Many customers praise the comfort and quality of the chairs, noting how they provide excellent support and cushioning for long movie nights.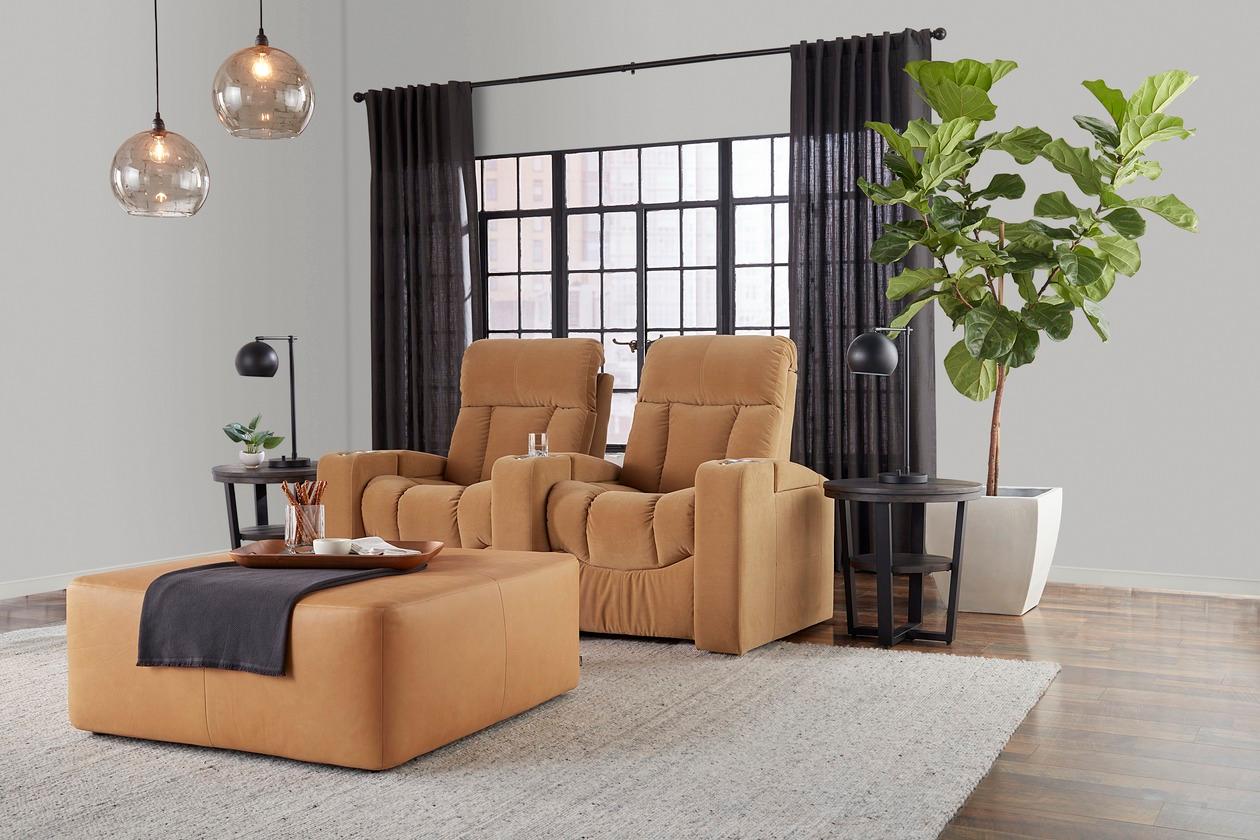 The customization options also receive positive feedback, with customers appreciating the ability to choose optional accessories like storage consoles and ambient lighting to enhance their viewing experience.
On the downside, some customers have mentioned that the price range of Palliser seating can be on the higher side compared to other high-quality brands. However, many feel that the features and durability justify the cost.
Conclusion
Standing shoulder-to-shoulder with high-end brands such as Seatcraft and Berkline, Palliser Home Theater Seating offers a range of high-quality and customizable options for creating a luxurious and ergonomic movie-watching experience in the comfort of your own home.
With their attention to detail, stylish designs, and excellent customer service, Palliser is a top choice for anyone looking to elevate their home theater setup. After carefully reviewing Palliser Home Theater Seating, we can confidently say that it offers a fantastic option for those looking to create the perfect movie-watching experience at home.
Focusing on comfort, Palliser has developed seating options that truly deliver. The ergonomic design and lumbar support features ensure maximum coziness, while the plush armrests and supportive cushioning provide an extra level of relaxation.
Additionally, Palliser provides a variety of customization options such as optional accessories and ambient lighting to enhance your viewing pleasure. Not only do they prioritize comfort, but they also excel in aesthetics and design.
Finally, based on customer reviews and our own assessment, we highly recommend Palliser Home Theater Seating for anyone seeking a comfortable, stylish, and immersive movie-watching experience at home. If you're looking for similar seating that comes with a wider variety of features at more affordable prices, perhaps Seatcraft is worth looking at.
FAQs
1. What are the key features of Palliser Home Theater Seating?
The key features of Palliser Home Theater Seating include comfortable cushioning, reclining and power options, customizable configurations, cup holders and storage compartments for convenience, and high-quality construction for durability.
2. How is the comfort level of Palliser Home Theater Seating?
Palliser Home Theater Seating is known for its exceptional comfort due to its plush cushioning, adjustable headrests, and ergonomic design that provides optimal support for long hours of sitting during movie marathons or gaming sessions.
3. Can I customize the configuration of Palliser Home Theater Seating?
Yes, Palliser offers a wide range of customization options for their home theater seating. You can choose from various seating arrangements like straight rows or curved setups and add additional features such as tray tables or LED lighting to enhance your viewing experience.
4. Is Palliser Home Theater Seating durable and long-lasting?
Palliser takes pride in its craftsmanship and uses high-quality materials to ensure its home theater seating is built to last. With proper care and maintenance, these seats are designed to withstand regular use without losing their shape or structural integrity over time.