We expect a lot from soundbars these days. Far more than just a way to beef up your TV sound, today's premium soundbars are tasked with plenty of side gigs: smart speaker; audio streaming hub; multi-room audio device; HDMI switcher; and the list goes on. It's easy to land all the best goodies if you're willing to shell out plenty of cash. But where do you draw the line when it comes to getting the best value?
With the Magnifi Max AX Dolby Atmos bar, Polk has shown a unique ability to load up the top features and attributes most users need, without skimping on the most important feature of all: impressive sound for your money. Offering a minimalist design and interface, solid features, and great performance, the Max AX appeals to those seeking a simplified Dolby Atmos setup that rises above the crowd without blowing your budget.
High Points
Impressive Dolby Atmos immersion
Excellent dialogue clarity
Full and balanced sound
Loads of HDMI inputs
Ability to add surround speakers later
Low Points
No App/limited audio settings
No room calibration mode
Sound is occasionally over processed
Swift and simple setup
Getting going with the Magnifi Max AX is exceedingly simple. Pulling the fabric-wrapped bar and boxy sub from its stout, L-shaped package is the most time-consuming part. After plugging in the sub and bar and connecting the included HDMI cable to my TV, I was up and running in a couple of minutes.
Connecting for Wi-Fi streaming was also quick, though here's where you'll get your first taste of just how simplified the Max AX really is: there's no dedicated app. Instead, if you've got an iPhone you can follow Polk's startup instructions to connect the bar to your network via AirPlay.
For Android users, Polk borrows either the Google Home or Amazon Alexa app to find your local network. There are no built-in mics, but once connected, Alexa is supported for basic controls via the Amazon app or a separate smart speaker. (Google Assistant is not supported).
Smooth style, loads of inputs
It's hard to find a soundbar that breaks from the all-too-familiar mold – there are a whole lot of non-descript black rectangles banging around out there. Polk's Magnifi does better than most, sporting a slightly rounded profile wrapped in a handsome layer of charcoal acoustic fabric that stands a healthy 45 inches across, 5 inches deep, and just under 3 inches high.
Under the surface are 11 drivers, including dual 2.5-inch upfiring drivers; a pair of 1x3-inch racetrack drivers and a single .75-inch tweeter for each of the left and right channels; and a pair of 1x2.5-inch racetrack drivers with another .75-inch tweeter for the center channel.
The wireless subwoofer is its own beast, loaded with a 10-inch down-firing driver set inside a large, black-matte MDF cabinet. The unit stands 16 inches tall and deep, and just under 12 inches wide. It looks classy enough, though the vinyl exterior seems to attract scuffs over time.
At a cubby behind the bar is an almost shocking number of HDMI inputs for this price bracket, including HDMI eARC for fully uncompressed audio when connecting to eARC-ready TVs, as well as three spare HDMI inputs that support 4K/HDR at 60Hz. There's also an optical connection (though this won't support Dolby Atmos), and a USB port for firmware updates.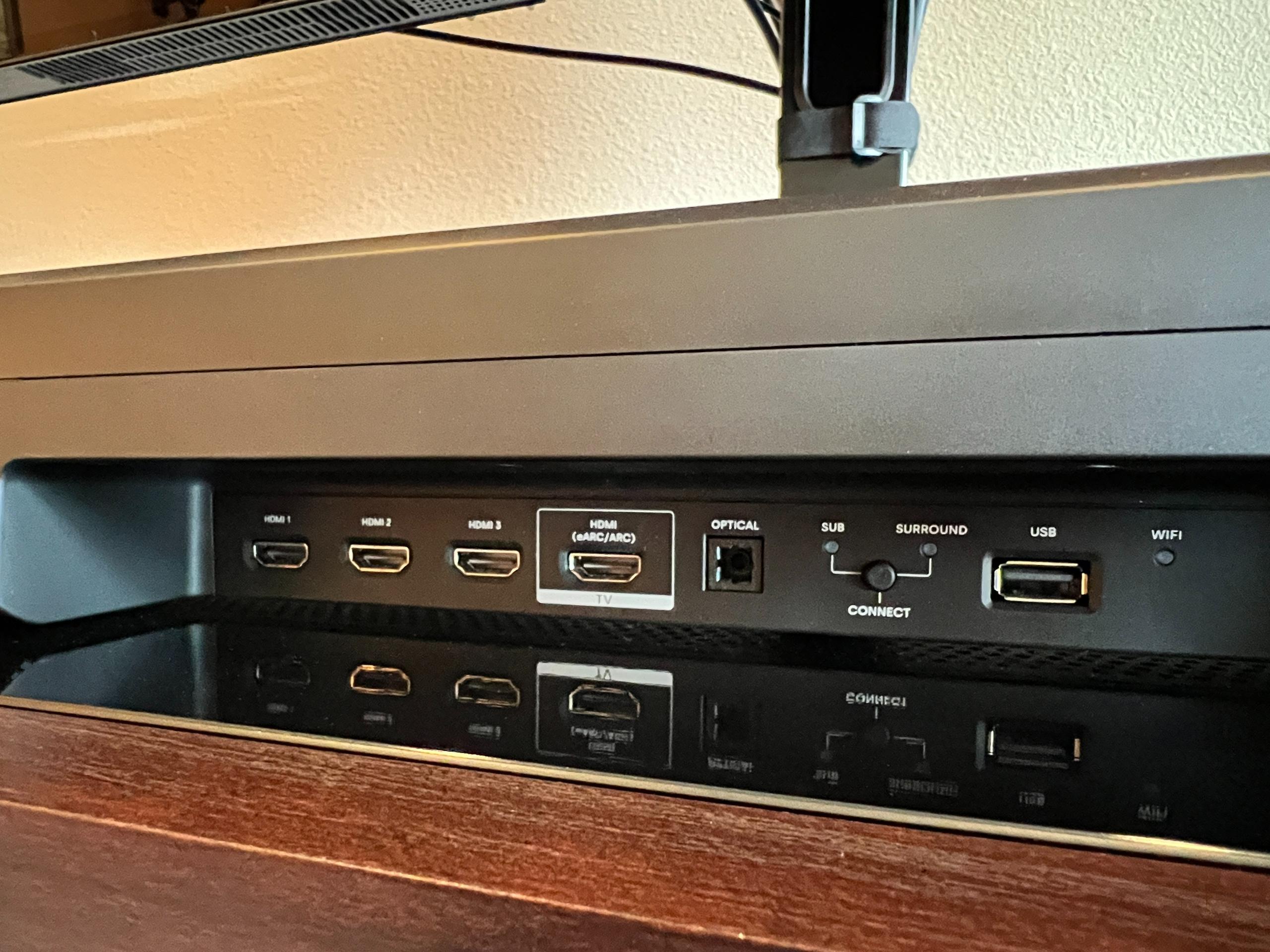 It would be nice if the HDMI inputs supported 120Hz passthrough to allow for higher framerates from the latest gaming consoles. But when you consider competitors like the Sonos Arc and Bose Smart Soundbar 900 offer zero spare HDMI inputs, and plenty of pricier bars have the same 60Hz limitation, you're still coming out well ahead.
There are also plenty of ways to stream wirelessly, including Chromecast, AirPlay 2, and Spotify Connect, as well as Bluetooth 5.0. Alongside Dolby Atmos, the Magnifi Max AX also supports its main rival for Blu-ray discs, DTS:X spatial audio.
One thing the bar skimps on is audio settings. The rubbery remote gives you the basics, including bass and treble controls, the ability to adjust height channels for effective spatial audio performance, as well as a Voice feature to pump up dialogue. But you won't find deeper settings, such as a subwoofer control or multi-band EQ, and there's no automatic calibration like a lot of competitors offer.
This is mostly by design – the Magnifi Max AX seems to target those who don't want to have to fiddle with all those extra settings. Most importantly, the default sound is quite good, offering impressive balance with a few EQ tweaks, and plenty of clarity thanks to the bar's loaded collection of drivers. This equates to simplified control, with the audio chops to back it up.
Clear, balanced, and expansive TV sound
When it comes to those audio chops, I was immediately impressed at just how full and immersive this system sounds out of the box. Virtual surround sound engines have become increasingly convincing in the last few years, and Polk's SDA version blends with its dual upfiring drivers for sound that pulls you into the action.
Delving through my Dolby Atmos demo discs, I was treated to an impressive show, from birds circling around the room to strafing starships overhead and buzzing bugs that almost had me scratching away the dense humidity of a muggy summer evening. Even the challenging rain storm in the "Amaze" demo came off with surprisingly realistic overhead placement, allowing my brain to almost feel the beads of rain falling from the ceiling.
Few sound effects made the full trip around the back of the room – a trick that's nearly impossible to pull off without actual surround speakers, but they came close enough for my brain to fill in the gaps.
Another Atmos test, "Ant-Man," was similarly impressive. The Max AX offered exciting spectacle in scenes like the suitcase fall, where Ant-Man and Yellowjacket cause The Cure's Disintegration to burst forth from a comparatively gigantic iPhone and fill the space with mournful new-wave rock. The system compares well to the Sonos Arc here, though I think the Arc provides a bit more clarity and dynamic punch.
One reason is likely because the Magnifi Max AX doesn't include side-firing drivers to bounce sound off the walls, relying on its virtual surround engine instead. Another is that Polk's bar seems to add some extra compression in chaotic scenes to keep things from distorting, which can dampen some of the dynamic intensity. As something of a purist, this was one setting I wished could be turned off.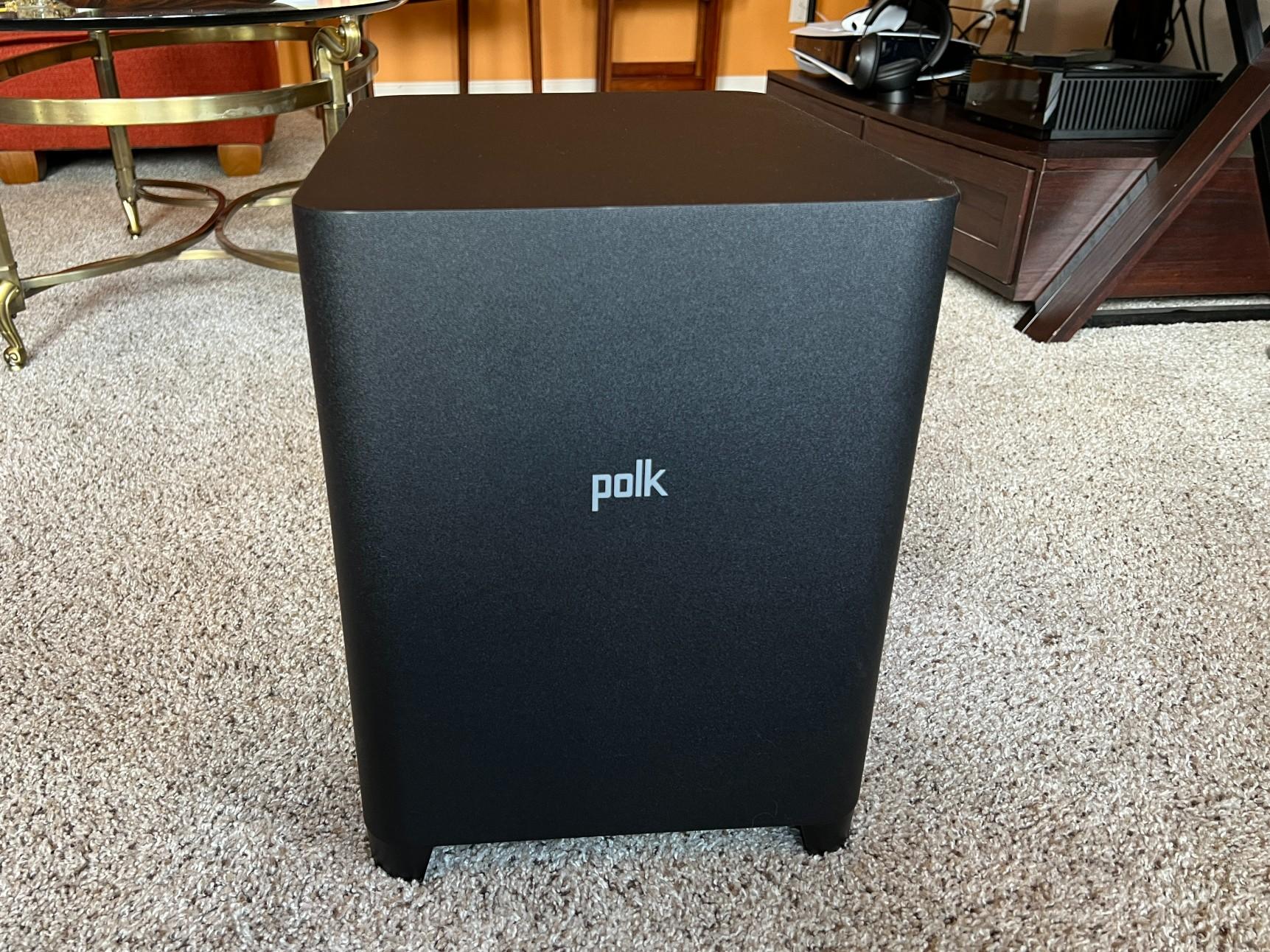 On the other hand, this keeps you from needing to ride the volume in bombastic scenes, while still keeping effects like gunshots and explosions appropriately palpable. You'll also be getting deeper sub-bass for the money than Sonos' bar because, unlike Polk's bar, the Arc does not include a subwoofer.
Speaking of subwoofers, even without room tuning, I was very pleased with how well the Magnifi Max AX's large cabinet fills in the holes in the system's lower register, melding with the bar for a near-seamless transition from the deeper bass tones into the lower midrange. The two work in tandem across content for a sweet mix of balance and authority.
Polk's decision to dedicate three speakers for the center channel alone also leads to clear and detailed dialogue in virtually any situation. While it's a lighter flavor, it's about as close as you can get to a discrete center-channel speaker in a single bar, letting you wave goodbye to dialogue issues. From sitcoms and prestige dramas to intense action, you'll hear every lip movement and all the different vocal textures of your favorite characters.
Great for music, too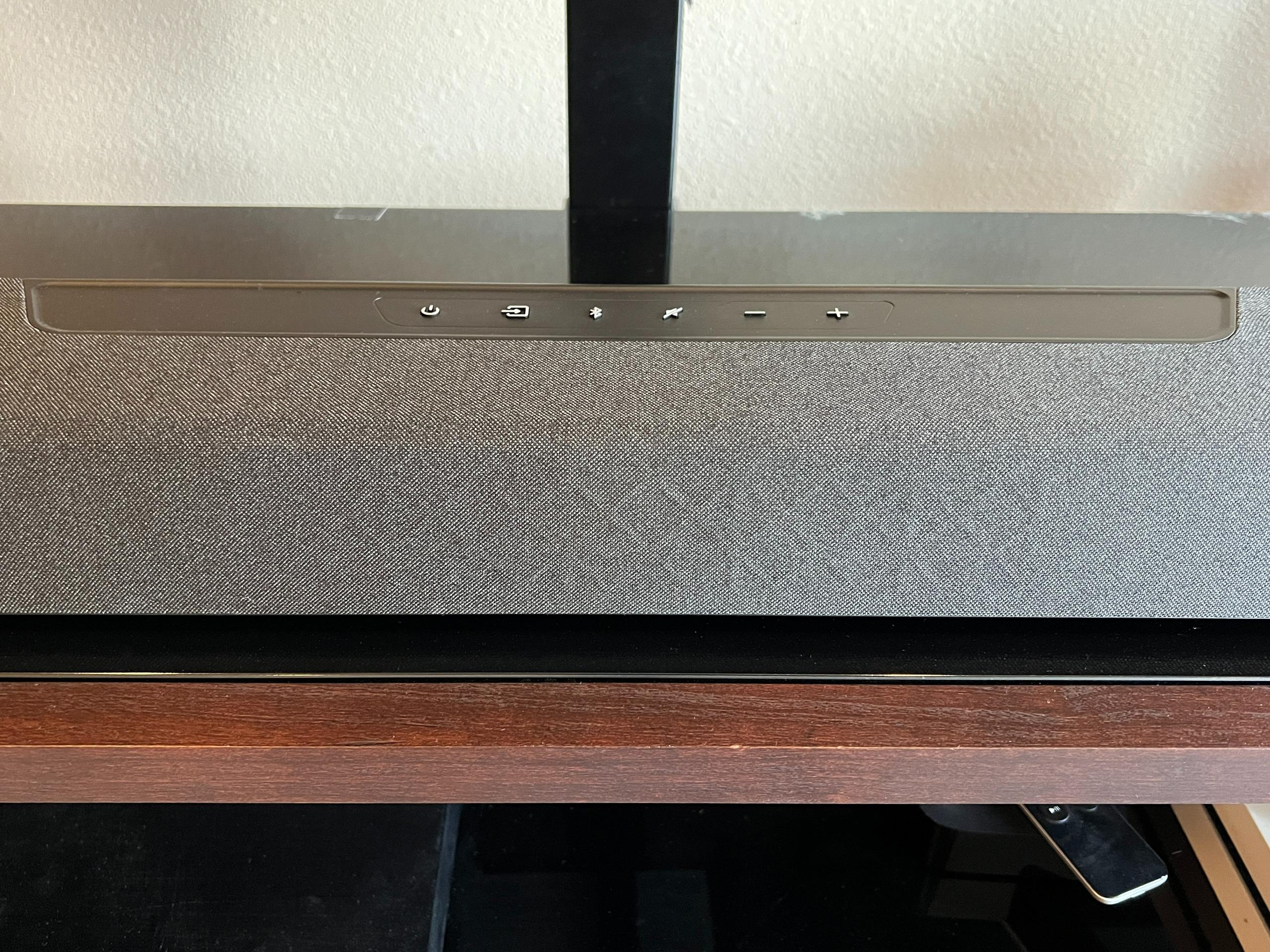 The Max AX is also a very capable music streamer. That smooth blend between the subwoofer and bar is once again on display when streaming over Wi-Fi as the two combine for warm and full sound for everything from pulse-raising electronic pop to acoustic tunes.
One point to note here: due to the bar's minimalist interface, there's apparently no way to stream stereo music without surround sound virtualization. You'll get sound modes like Movie, Music, and Night mode with different equalization presets, but there's no Direct mode to deliver the format as intended. That's normally something that would bother me, but the bar's Auto mode seems to make nearly all the right decisions, providing optimized performance for everything from immersive action scenes to swirling synthesizers.
Sure, on occasion I'd find a track that would be a little drowned in reverb or instruments oddly placed in the mix. But that was very rare – I mostly found myself enjoying the choices the bar made for instrumental placement and balance. It's a well-tuned machine, and although the engineer in me wants more control, I didn't need it for the vast majority of listening. The result is a hands-off system that's particularly enticing for those who don't live and breathe audio gear.
Competition and comparison
Priced $100 above the Magnifi Max AX, the Sonos Arc offers similarly immersive Dolby Atmos sound from a single bar, as well as advanced networking features like the ability to connect to other Sonos speakers in a surround or multi-room audio configuration. In many ways, the Arc is the complete opposite of Polk's bar, trading options like an included subwoofer and multiple HDMI inputs for an advanced app that lets you dive much deeper into the settings and features.
Another option to consider is Vizio's M-Series Elevate Dolby Atmos soundbar, which includes not only a subwoofer like Polk's bar, but also surround speakers. To get there, you forego any Wi-Fi streaming options, though, and it only includes one spare HDMI input.
Finally, if you know you want surround speakers and you like the cut of this bar's jib, Polk sells an upgraded version with surrounds included in the Magnifi Max AX SR (yes, it's a lot of letters) for just $100 more, cutting the retail price for the surrounds on their own in half.
Should you buy it?
Polk's Magnifi Max AX sets itself apart with a mix of impressive performance and versatile connection that adds up to great value. It offers balanced, clear, and surprisingly immersive audio for whatever you play, and it's one of the few models in its class to include multiple HDMI inputs and a subwoofer, alongside the ability to add surround sound speakers later.
Though its interface is more minimalist than most, it's got the sound quality to back it up, making it an ideal soundbar for those who want a mostly hands-off experience. Whether you get the AX or the SR version, Polk's latest Magnifi Max is a formidable option in the fierce Dolby Atmos soundbar field, and well worth considering as your next sound system.