To American audiences, Konka isn't a familiar name, but the company has been in the TV and tech business for decades. Currently, it's one of the top brands in China, supplies materials to other manufacturers, and has invested in developing MicroLED display technology. Now, Konka has entered the US market, aiming to grab a slice of the ever-expanding budget TV market pie. The Q7 Pro Series reviewed here was announced with a list price of $430 for a 55-inch version (although as of publication it goes for $500 (Check price on Amazon). It's available in three other sizes – a 50-inch for $370, 65-inch for $630, and 75-inch for $1,200 – although only the 65-inch version is listed on Amazon, currently priced at $700. Nonetheless, with quantum dot technology, HDR10 support, a game mode, and the Android TV interface, the Q7 Pro Series is still quite the bargain even at slightly above list price.
Setting up the Konka Q7 Pro
The Q7 Pro's design is sleek, with an unobtrusive zero-bezel design that Konka calls ZeroBezel Pro. On my 55-inch review sample, the feet spread about 46 inches wide – just under the full width of the display, which creates a sturdy base for the TV. The TV can also be mounted, as the 50- and 55-inch versions have 200x200mm VESA mounting points on the back (it's 400x400mm for the 65- and 75-inch). There's a directional pad under the left side of the Q7 Pro for menu navigation, which also houses the infrared sensor for the remote. The sensor housing was a tad loose on my sample, which was my first clue that the build quality of the Q7 Pro falls into get-what-you-pay-for territory.
Connections are split between two positions around the left side of the Konka. Facing the left side of the display is the HDMI 1 input (with ARC), a USB port, and a headphone jack. All the other connections (save for the power on the other side of the TV) are downfacing and include three more HDMI, two USB, an optical out, Ethernet, 3.5mm AV in (which can connect to legacy devices with a breakout cable), and an RF connector. There aren't any cable management channels or clips on the backside of the TV. In addition to wired connections, the Q7 Pro supports Chromecast for streaming content from your phone or other devices, such as a computer.
All of the HDMI ports are 2.0, so no 4K/120Hz support for the new Microsoft and Sony consoles. In fact, the panel itself is only 60Hz so the possibility wouldn't exist even with HDMI 2.1. Gaming features such as auto low latency mode and variable refresh rate are missing. There is a Game Mode that can be toggled on in any picture mode (it's on by default in Game picture mode) that enables a low input lag mode. With it on, input lag measures 32.4ms, which is pretty good for casual gaming – most people probably wouldn't notice much if any lag especially when playing single-player games. If you're an Overwatch or Call of Duty: Black Ops fan, some other players might have a slight advantage over you.
Some smart TV interfaces are better than others, and the Q7 Pro's Android TV interface is smack in the middle as far as its functionality and ease of use. Controls are decently responsive and there are plenty of apps available through the Google Play store. I find the organization to be a tad overwrought, with multiple top menus that can show splash screens that aren't quite the same but close enough to be confusing. Getting in to the settings for the TV itself can take some involved navigation, too. As an example, to get from the Android TV home screen to the Local Contrast Control setting involves 1) navigating to the Settings button at the top right, 2) scrolling down and selecting Device Preferences, 3) scrolling down and selecting Picture, 4) scrolling down and selecting Advanced Video, 5) scrolling down and selecting Local Contrast Control, and 6) choosing the setting you want – Off, Low, Medium, or High. While this is an extreme example, most menu navigation is still cumbersome.
The remote can alleviate some of that with its voice-activated Google Assistant, but it won't get you in to submenus, so there's still multi-step navigation that has to happen. Asking Google Assistant to open Mindhunter in Nexflix works brilliantly, though. The remote is light and fits well in the hand, with a basic but easy-to-use layout, although without a backlight (if you're familiar with Vizio remotes from 2019 and 2018, the Konka remote is virtually identical).
How does the Konka Q7 Pro perform?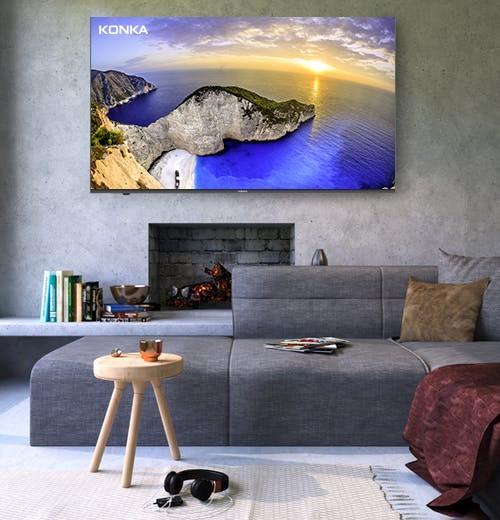 The Konka Q7 Pro's most accurate out-of-the-box picture mode is Movie, with Gamma in the Middle setting and Local Contrast Control set to Medium. There aren't any unique modes for HDR content; instead there's an HDR toggle switch. The vast majority of the time that turns on automatically when the Q7 senses an HDR signal, but on one or two occasions it didn't and I had to turn it on manually. When there isn't an HDR signal, the toggle isn't available.
Using my X-Rite colorimeter profiled with an X-Rite spectrophotometer, a signal generator and Calman color calibration software from Portrait Displays, I measured a grayscale average DeltaE value of 4 (DeltaE signifies how close to perfect a display measures, with lower being better and under 3.0 considered very good). Gamma averaged 2.3, a good value compromise for watching in a dark room or one with a little bit of light. The Q7 doesn't have any local dimming, and because of that its contrast ratio is only 5,428:1. In Movie mode, the TV has decent color accuracy, although green and red are both visibly oversaturated, which causes trees to look a bit unnatural and people to look like they've been in the sun an hour too long. P3 color gamut coverage in SDR measured 88.6 percent and, impressively, 96.1 percent in HDR.
In Movie mode, the Konka's light output of 359 nits (measured in a 10-percent window) is average for an LCD in this price range. HDR brightness was barely higher – 361 nits – which means the pop we've come to expect from explosions or bright specular highlights was missing.
While it's a couple years old at this point, I find David Fincher's Mindhunter on Netflix to be an excellent test for handling of skin tones and warm colors overall. The series uses the color palette to great effect to solidify it in the late 1970's. Altoona, PA, in season 1, episode 5 had a suitably drab feel that echoed the psyche of the residents who orbited the murder investigation. The oversaturated reds could be seen in the skin tones of everyone, but it wasn't overly distracting.
MINDHUNTER Trailer SEASON 1 (2017) Netflix Series
The 60Hz panel had some difficulty handling quick motion, which made watching films like Star Wars: The Force Awakens a somewhat less than wholly satisfying experience. As Rey and Finn run through Niima Outpost while being chased by First Order Stormtroopers and TIE Fighters flying overhead (and the subsequent chase in the Millennium Falcon), there was extra judder with fast-moving pans. When the image was more static, detail was very good, but any appreciable amount of camera movement resulted in a choppy picture overall.
The Downside
There really is only one picture mode out of the box that's worth watching – Movie mode – at least without tweaking or calibration. The others are far too blue, with gamma all over the map. On less expensive displays I think most of us don't change picture modes much, except for turning on gaming functions, so one mode should suffice.
The lack of any local dimming on the Q7 led to some blotchiness with black screen images, and there was some light bleed from the edges near the corners of the screen (this will be different from sample to sample). It also uses a VA panel that has limitations in viewing angles. At more than 20 or so degrees off axis, the image starts to become washed out and colors lose their vibrancy.
As a general rule, I always recommend getting a soundbar or (better yet) a discrete surround sound system with an AVR instead of relying on a television's built-in speakers. That recommendation cannot be overstated when it comes to the Konka Q7 Pro. I try to avoid any hyperbole in reviews, but the Konka's speakers are the worst I've heard in many years. There's almost no bass response (not completely surprising for a television speaker), and it sounds like the speakers were tuned with only dialogue in mind. And even then, voices sounds disconnected and uninspired no matter what sound mode or downmix option I chose. And I had to leave the Disney+ app in order to change any of those settings. Which brings me to…
Most remote control functionality is lost when apps are opened through the Android TV interface. While watching Alton Brown discuss fish on Good Eats: The Return through Discovery+, controls were limited to the directional pad (which brought up show/episode name, a play/pause button, and a timeline), volume, the dedicated Netflix and YouTube app buttons, and the back button to exit the program. I couldn't change the sound mode, picture mode, or open the menu to change any settings whatsoever.
How does the Konka Q7 Pro compare to the competition?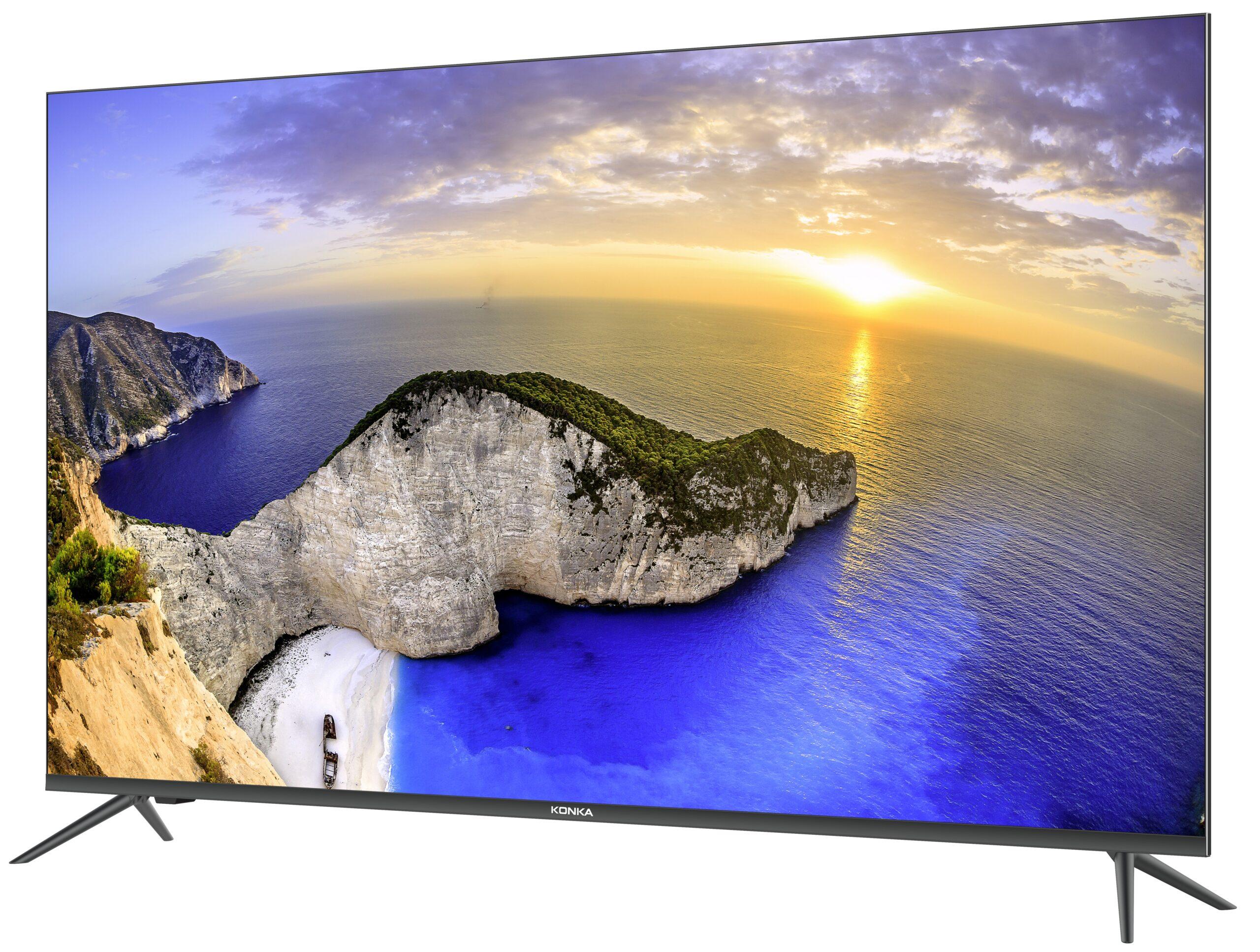 At $430 for a 55-inch, the Konka Q7 Pro is $40 cheaper than a TCL S535. The TCL outperforms by Konka by a bit, mostly thanks to full array local dimming. It's also brighter with SDR content (and about the same with HDR), and is probably a better fit for gamers, with its lower input lag and auto low latency mode (ALLM).
The Konka is a far superior TV to the new Vizio V-series, which is $40 cheaper than the Konka. Neither set has local dimming. Other than the Vizio's gaming features and Dolby Vision support, the Konka Q7 Pro is better in all other ways and a better choice, even for the extra $40.
Final thoughts
As a first-time competitor in the ultra-low-budget TV marketplace here in the U.S., the Konka Q7 Pro is a good place to start. There are strong building blocks, such as the inclusion of quantum dot technology, which could lead to Konka being a contender. But there are also some disappointments – namely the lack of any local dimming and gaming features that are starting to become necessities even at this price.
My hope is that we'll continue to see improved sets released from Konka over the next few years (and my interest is piqued for their OLED, expected sometime in 2021). With the company's investment in burgeoning display technology like MicroLED and it starting to get a foothold in the States, Konka could lead the way when MicroLED becomes less cost prohibitive. That alone is an exciting reason to keep an eye on their TVs.