The Paradigm Premier speaker line is probably best described as a trickle-down version of the company's highly lauded Persona Series. This product line is positioned as the first step into audiophile-level performance, with more approachable price points, while retaining the Crafted in Canada pedigree. The Premier series consists of six models: two towers, two bookshelf, and two center channel speakers. Under review here is the entry-level bookshelf model, the Premier 100B, with an MSRP of $399 each or $798 for the pair. (Available here from Audio Advice.)
The Premier 100B is a two-way bass-reflex design, with the port located near the top of the speaker's rear panel. Despite the "bookshelf speaker" designation, the 100B is engineered to sound its best atop a well-designed speaker stand. But the fact remains that it could be placed on a shelf or media console tabletop if desired.
The cabinet's 11.125-inch height, 6.125-inch width, and 9.125-inch depth makes it easy to place. It's constructed of three-quarter-inch thick medium density fiberboard (MDF) on all sides except for its one-inch-thick baffle, where the tweeter and midrange/bass drivers are mounted. A single set of binding posts sits at the speaker cabinet's bottom back panel. While most Premier line models have tapered cabinetry, the 100B has a simpler rectangle shape with all corners at 90 degrees. This is perhaps the most significant indication of the Premier series' budget status as compared with the Persona line.
At first glance, it would appear the 100B has separate factory-integrated speaker grills for both the tweeter and midrange/bass driver, which adds to an overall modern and sophisticated aesthetic. While these coverings do offer some form of driver protection, their actual purpose is to serve as a Perforated Phase Aligning (PPA) lens. The various shapes and sizes of the PPA and the cyclonic pattern of the cover for the mid/bass driver were carefully engineered to improved phase alignment. The 100B also comes with magnetically attached cloth speaker grills, but I found they gave the speaker a somewhat dated and more traditional look.
The 100B also benefits from proprietary drivers designed in-house and employ Paradigm's Active Ridge Technology (ART) surrounds. This technique molds the surround, also known as the suspension, directly onto each midrange/woofer cone, allowing for much greater and much more linear excursion, with a 3dB increase in output yet a 50-percent reduction in distortion. The suspension is made of an injection-molded thermoplastic elastomer, while the 5.5-inch midrange/bass driver is carbon-infused polypropylene. A one-inch dome ferrofluid-cooled tweeter, referred to as X-PAL, promises to deliver clear and accurate high frequencies well above the audible spectrum, resulting in a rated frequency response of 68 Hz to 25 kHz (±3dB).
Setting up the Paradigm Premier 100B
I positioned the Premier 100Bs on Sound Anchor speaker stands within my dedicated listening room and mated them with a pair of Pass Labs XA 60.8 mono-block amplifiers and an XP 12 Preamplifier. All interconnects and speaker cables are from Wire Worlds Gold Eclipse 8 product line and I relied primarily on my Oppo BDP 105 as the primary source to stream music from Tidal.
The Premier line offers three cabinet finishes: white, black, and a dark faux wood laminate referred to as espresso. I was impressed with the espresso finish's verisimilitude; however, a fine white hairline at the cabinet's edges became noticeable over time.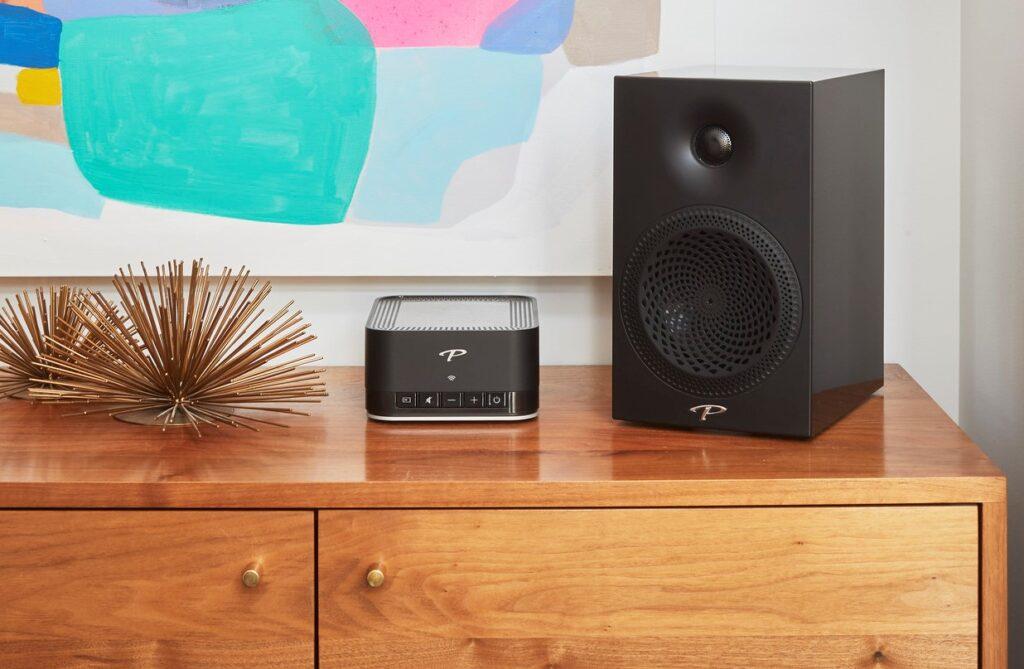 How does the Paradigm Premier 100B perform?
Streaming various songs by Sara K. was a perfect way to gauge the 100B's handling of acoustic instrumentation and the female voice. I was immediately impressed by the speaker's linear and well-balanced frequency response. The voicing struck me as neither fatiguing nor too laid back or uninteresting. Additionally, imaging was impressive, with an excellent center stage and perfect center placement of Sara and her guitar, with supporting instruments to the left, right, and behind her. Specifically, in the song "I Can't Stand the Rain," Sara's voice displayed texture when she projected it, along with a smoothness when she inflected it. Her acoustic guitar was delivered with an endearing quality floating mildly in front of me, adding to the overall experience.
Sara K - I Can't Stand The Rain
Next, I cued up "YYZ" from Rush's Moving Picture's, mostly to get a sense of the speaker's capacity for dynamics and transient response. Bass isn't, of course, one of the 100B's strengths, given its 68Hz low-frequency extension, so I added a subwoofer to the mix by employing the home theater bypass function of the Pass Labs preamplifier with a NAD M17 V2 preamp processor. With a Focal Sub-1000 taking over the reproduction of 80Hz frequencies and below, the whole soundstage opened up dramatically. Even though the 100Bs performed well in their own right, once I added the subwoofer, a more well-rounded and complete image emerged.
To push the 100Bs to extremes at both ends of their 68 Hz to 25kHz frequency response, I played a favorite torture test track: AC/DC's "Thunderstruck" from their The Razors Edge album. While I felt the upper frequencies and midrange performed well, this song made the speakers bass limitation more obvious. Engaging the subwoofer put a different spin on the 100Bs, making it sound substantial not just in the lower end but with more effortless mid-bass and midrange reinforcement.
AC/DC - Thunderstruck (Official Video)
Throughout all of my listening, the thing that stood out to me most about the Premier 100B is that within its frequency range no particular driver or band drew attention to itself more than another, leading to an overall pleasing and balanced presentation. High frequencies were rendered nicely with a touch of air, particularly noticeable with electric guitars and cymbals. Midrange and bass exhibited detail and control, blending nicely with the tweeter.
High Points
The Premier 100B borrows Paradigm's advanced technologies such as PPA and ART from the company's top-of-the-line Persona line at a more attainable price point.
The Premier 100B benefits from an exceptionally flat frequency response, allowing the original recording to reveal itself as intended, without any noticable coloration.
The speakers imaged extremely well during nearfield listening, creating an impressive center image, with excellent depth and forward staging.
The speaker's small footprint allows easy positioning on shelves or a media console when dedicated speaker stands are not an option.
The overall voicing and lack of distortion allowed for extended listening sessions without fatigue.
Low Points
As expected for any speaker at this size and price point, you'll need to add a sub to get much of the bottom end.
While this is a slightly noticeable issue, a fine light-colored line on the cabinet's edgework is visible on the dark espresso finish.
How does the Paradigm Premier 100B compare to the competition?
The competition is fierce within the bookshelf speaker category, but if you're shopping around at this price point, there are a few considerations.
Priced at $898 per pair, the GoldenEar Aon 2 is a bookshelf speaker with some serious hardware: a six-inch mid/bass driver and two 6.5-inch side-mounted low-frequency radiators, one on each side of the cabinet, along with a folded ribbon tweeter. GoldenEar claims an impressive frequency response of 35 Hz to an 42kHz, rivaling some tower speakers' bass extension and handily besting most speakers at the upper end.
The Revel Concerta2 M16 retails for $900 per pair. With a two-way ported bookshelf design that uses waveguide technology, along with design elements borrowed from Revel's highly regarded Performa3 line of speakers, the M16 is a great direct comparison to the Premier 100B. My experience with this speaker is somewhat limited; still, it was enough to leave a memorable impression of its audio performance and high-end fit and finish.
At $990 a pair, the Focal Chora 806 was an approachable alternative to the Premier 100B. This speaker's fit and finish is excellent, typical for Focal. Like the 100B, the 806 is a two-way ported bookshelf speaker. With a tweeter made of both aluminum and magnesium, and a slate-fiber midrange/bass driver, this speaker delivers bass extension similar to that of the Paradigm.
Final thoughts
The Paradigm Premier 100B proved to be a competitive entry-level with performance that should satisfy any audio enthusiast. With PPA and ART technologies borrowed from the Paradigm Persona line, the Premier 100B achieves a linear frequency response, with neutral voicing and excellent imaging, and lends itself to hours of unfatiguing enjoyment. This particular price point is highly competitive, with many manufacturers working diligently to earn your attention. True, that does contribute to the paradox of choice, but in the end, consumers benefit as competitors continual push the boundaries of price vs. performance, which is what I experienced with the Paradigm Premier100Bs.
Without reservation, if you are interested in bookshelf speakers within the $700 to $1,000 price range, I can enthusiastically recommend the Paradigm Premier 100B as a must-audition before making any final purchase decisions.