If I had a nickel for every time I've been accused of being a Roku shill, I could probably afford to buy that shiny new GAN 11 M Pro speed cube I've been drooling over and still have enough coins left to pay my Netflix subscription for the next six months. But while it's true that the Roku Ultra in particular has been my favorite video source device for a few years now, it's not as if I haven't been critical of the company's efforts. I thought, for example, that launching a new flagship media streamer in 2019 without Dolby Vision support was a monumental mistake, and one that ceded a bit of ground to Roku's rivals. Thankfully, the company has rectified that booboo by turning around and introducing a new Roku Ultra (Model 4800R, $99.99 at Amazon and Crutchfield) just one year later, a year sooner than many of us expected based on Roku's previous update cycles.
The most noteworthy changes from 2019 include support for Dolby Vision video and Dolby AC-4 audio, the latter being a newer, highly efficient audio codec that represents a substantial improvement over its predecessor, Dolby Digital+. AC-4 supports Dolby Atmos at up to 22.2 channels (although, the odds of any streaming servicer rolling out 22.2-channel Atmos anytime are probably slim to "whatever") and is capable of matching the fidelity of DD+ while using 50 percent less bandwidth, so you can probably expect it to permeate the streaming landscape relatively quickly.
One thing that's getting lost in all the brouhaha surrounding this new hardware refresh is that Roku has also added support for the open-source AV1 video codec. This may not be a huge deal right now, but it will become much more important as streaming services start to move beyond hybrid block-based video encoding. Netflix is already using AV1 on Android mobile devices now, and although the service is unlikely to abandon HEVC for set-top boxes and smart TVs anytime soon, other services might.

In terms of connectivity, things have been tweaked somewhat, but remain largely familiar. The model 4800R Roku Ultra features a 10/100 Ethernet port, and an HDMI 2.0b port with HDCP 2.2 support. Keen-eyed observers may notice the lack of a microSD card above the HDMI port in this year's model, but that is reportedly offset by an increase in internal storage, as well as the addition of a USB 3.0 port. Roku says that the 802.11ac dual-band, MIMO wireless antennas of the new Roku Ultra also have been optimized to deliver range improvements of up to 50 percent. Bluetooth has also been added to round out the Ultra's music streaming capabilities, and the chassis sports a slightly different aesthetic than what we're used to, with more sculpted edges and a matte finish.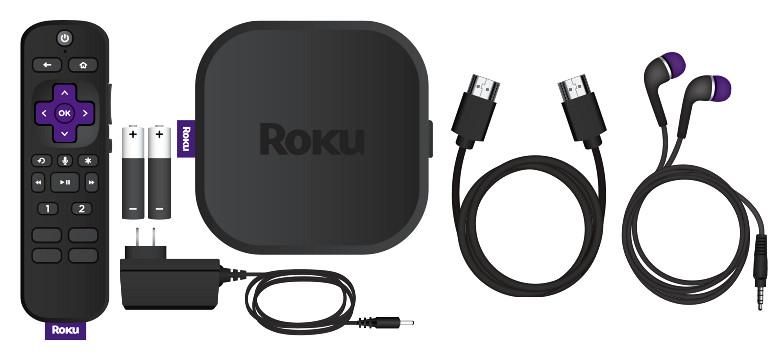 Long story short: if you've ever set up a Roku streaming, you know what to expect here. If you haven't, I'm of the opinion that it's the most straightforward and easy-to-configure media streamer -- at least in most respects. One advantage that competitors like Apple TV 4K and the NVIDIA Shield TV have is that both will import your passwords for most major streaming services, so long as you have those passwords stored on an iOS device or in your Google account. With Roku, you have to plug in each and every password individually, or use a browser-and-code login for those apps that support it. The good news is, if you already have a Roku account, the new player will import all of the apps you have on other Roku devices, so at least you don't have to re-install them.

The new Ultra relies on the same remote as last year's model, with the same voice control capabilities, the same four quick-launch buttons (with Disney+ joining Netflix, Sling, and Hulu in the favored slots this time around), the same two custom buttons that allow you to record and quickly recall voice commands, the same headphone jack for private listening, and so on. For more in-depth analysis of the Ultra's remote, check out Scott's review of last year's Model 4670R.
As many of you know, though, I don't use Roku's remote to control my Ultras. I instead rely on the company's excellent two-way IP driver for Control4, which not only integrates the player with the rest of my home theater system beautifully, but also gives me direct access to any and all streaming apps I have installed without having to visit the Roku home screen. The driver identifies each player by MAC address, not IP address, so adding the new player to my system involved little more than dragging the existing driver for my old Model 4660R Ultra from the media room to the master bedroom, adding a new driver to the media room, and using a drop-down box to select the new Model 4800R Ultra and bind it to its room. The entire process took two minutes, tops.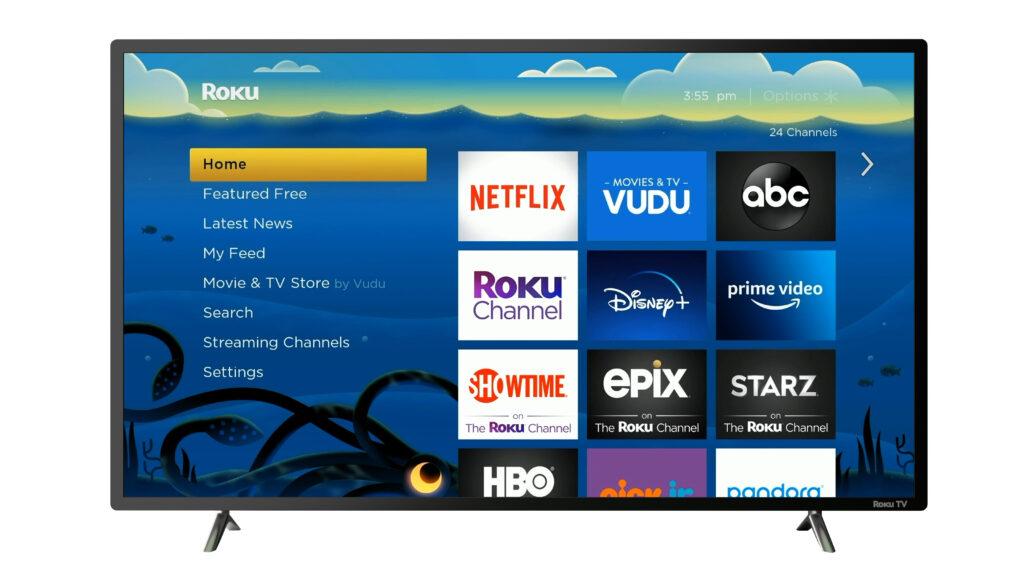 After that was done, all that was left was to pick a wallpaper for the new player (sorry, but the standard purple UI looks woefully out of date in 2020) and make a few minor adjustments to the default settings. One of the quirks (features?) of the new Roku Ultra is that if it detects a connection to a Dolby Vision-capable display during the initial setup process, it defaults to outputting all of its screens and all SDR video material as Dolby Vision.
Thankfully, the language used to convey this in the player's UI isn't nearly as convoluted as Apple's own explanation, so it's easy enough to turn this off. Why would you want to turn it off? Well, for one thing, it's just wrong. For another thing, it forces your TV to use more energy. The only real benefit of leaving the output to the default settings is that you won't have to deal with black screens as your display switches modes from SDR to HDR. I could also see it being potentially beneficial if you do your viewing in a sun-drenched room, but I don't.
I started my in-depth evaluation of the new Ultra with some quick speed tests, focusing not only on how quickly apps load, but also how long it takes for streams ramp up to fully bitrate. Compared with my old 4660R from 2017, the new Model 4800R Ultra launches apps much more quickly. Comparing my times with the Model 4670R from 2019, though, improvements were less substantial and not entirely consistent.
In other words, if you're thinking of updating from a 2017 model, the load times alone may be enough incentive to spend the coin on the new model. If, on the other hand, you're coming from a 2019 Roku Ultra, the enhanced speed alone isn't significant enough for me to recommend spending the coin.
What does make the new Model 4800R Roku Ultra worth the double-dip so soon after the last major hardware upgrade is the addition of Dolby Vision HDR, assuming you have a display that supports the format. One of the things that has made the Ultra my favorite video source device for years now is its image quality, and the upgrade to Dolby Vision makes that truer than ever.
That wasn't a given, mind you. The upgrade to a new quad-core processor with which I'm unfamiliar means that I felt it necessary to start at square one when evaluating video performance, especially in terms of the player's ability to decode more efficient video codecs like HEVC. To do so, I loaded up my go-to torture test for streaming video quality -- Episode 5 of the Netflix nature documentary Our Planet -- and did some hardcore A/B comparisons between the output of the new Ultra and my Apple TV 4K.
Our Planet | From Deserts to Grasslands | FULL EPISODE | Netflix
In the past, this comparison wasn't entirely apples-to-apples given the ATV4K's Dolby Vision support and the older Ultra's lack thereof. With both outputting the same video format, though, it's quite clear that Roku has a substantial edge here in terms of streaming video quality. Little chromatic aberrations and misplaced pixels that appear on the Apple TV are nowhere to be seen on the new Model 4800R Roku Ultra, and what minor artifacts there are to be seen under the microscope disappear when I get any farther than about 2.5 feet away from my 75-inch screen.
For more a more in-depth explanation of why I lean so hard on this scene in particular, along with some photographic evidence of the difference a good streaming media player can make, check out my article Home Cinema's Streaming Future Is Now.
That level of performance is echoed in every app I tested. Better-quality sources such as Vudu and Disney+ look spectacular via the new Roku Ultra; lower-quality sources such as Hulu and CBS All Access look the way they look -- effectively no better or worse than what you'd get from any decent streamer.
Other than the addition of Dolby Vision, not a lot has really changed about day-to-day operation of the Roku Ultra, given that Roku regularly updates its older players with new features and functionality. But there are some big new changes in the pipeline. AirPlay 2, for example, is being rolled out to 4K-capable Roku players as I write this. Oddly enough, it has already been added to my 2017 Model 4660R running software version 9.4.0 Build 4183. The new 2020 review unit, running 9.4.1 Build 4182, isn't AirPlay 2 compatible just yet, for whatever reason. But that could change by the time this review is published. [[Edit, Nov. 13, 2020: As predicted, Roku added this functionality to the new Ultra rather quickly. As of this week's update, AirPlay 2 and HomeKit functionality have been added to compatible 4K Roku devices including the Roku Ultra, Roku Streambar, Roku Smart Soundbar, Roku Streaming Stick+, and Roku Premiere.]]
The biggest benefit of AirPlay 2, for iOS users at least, is that it helps fill in a couple of key gaps in Roku's app lineup. I'm currently able to stream both HBO Max and Twitch from my phone or iPad to my older Roku Ultra in the bedroom with no issues. Contrary to some reports I've seen online, the video from HBO Max streams to my old Ultra just fine. Needless to say, I'm champing at the bit to be able to do the same in my media room and hope the 4800R receives this update sooner rather than later.
At this point, the only thing you could really knock the Model 4800R Roku Ultra for (aside from squabbles of the sort that leave it without HBO Max and Twitch for now) is the fact that the UI is starting to show its age. As far as functionality goes, I'll take the straightforward approach of Roku over the prettier mess of the Amazon Fire TV any day of the week. I have to admit, though, I would much prefer it if the Roku UI were as polished and well-designed as that of its biggest rivals.
High Points
In terms of setup, day-to-day use, and most importantly image quality, the Model 4800R Roku Ultra remains my absolute favorite media streamer on the market.
The addition of Dolby Vision is long overdue, but I'm grateful it's here now. I also love that Roku is getting ahead of the curve on Dolby AC-4 audio codec support. This should help future-proof the new Roku Ultra for at least a few years.
Although it's not a huge deal at the moment, the addition of AV1 video codec support should also help keep the new Roku Ultra relevant for years to come.
Roku's less-restrictive API means that advanced control systems like Control4 benefit from a world-class IP driver that enables all sorts of control tricks unavailable to other media streamers. Being able to launch Netflix (or Disney+ or Vudu) and fire up my entire home theater system with nothing more than the touch of a single button is a hell of a neat trick.
Speaking purely for myself here, I love that Roku maintains and app-first (rather than content-first) approach to UI design. If I want to watch something on Netflix, I know I want to watch something on Netflix, and I don't want the hardware manufacturer of my streaming media player shoving shows from its content-production division down my throat or giving them priority over everything else.
Roku's universal content search feature is intuitive and well-designed, and a perfect complement to the app-first approach of the UI. If I know I want to watch a specific show or movie and don't know which service offers it (either as part of a subscription or on-demand), the search box gives me the answer quickly.
So far, at least, I haven't experienced any of the HDMI handshaking issues that I have with older Roku units following big software updates.
Low Points
The fact that Roku still doesn't provide cloud storage of streaming app login and password information gives its competitors a slight edge in terms of setup. Granted, its most significant rivals benefit from being tied to mobile operating systems like iOS or Android, and I'm pretty sure the reason Roku doesn't offer this feature is purely a function of security. I get it. But trying to explain to the average consumer why Apple TV and Nvidia Shield TV know your Netflix password and Roku doesn't isn't easy.
The Roku interface, while simple and easy to navigate, is in need of a graphical overhaul by a seasoned UX designer. The wide selection of customizable themes and wallpapers do help a little, but the Roku home screen still looks like it belongs on a device from ten years ago. Combine the panache of the Apple TV home screen with the easy navigability of the Roku and you'd have a UI that would be hard to beat.
Given that Roku has added Dolby Vision support to its flagship standalone player after much begging and pleading on my part, I feel like a bit of an ingrate for grumbling about the lack of HDR10+ support, but here we are. Amazon Fire TV offers it. Roku should too.
While AirPlay 2 will fill in some of the gaps in Roku's app lineup, it's no replacement for native support. Roku needs to work out its squabbles with WarnerMedia and Amazon pronto so we don't need such workarounds for HBO Max and Twitch. I honestly don't know which party is more to blame here, but it doesn't matter to most consumers. The lack of these two apps is a bummer, no matter who's at fault.
How Does the 2020 Roku Ultra (Model 4800R) Compare to the Competition?
If video quality is your primary concern when shopping for a new streaming media player, the only one I've tested that matches the Roku Ultra Model 4800R in that respect is the $199 Nvidia Shield TV Pro (reviewed here). The Nvidia lacks the Roku's support for VP9 Profile 2, so it can't do 4K HDR streams from YouTube, but its AI Upscaling does give the Shield TV Pro a leg up when watching HD video on a UHD display. Since the Shield TV Pro is based on Android, though, and since Android doesn't play well with others when it comes to IP control, integrating the Nvidia with an advanced control and automation system can be a nightmare.
$199 will also nab you the 64GB version of the Apple TV 4K (or you could opt for the $179 32GB version). Although rumor has it that the ATV will be revamped sometime soon, for now the latest model is from 2017 (reviewed here). Despite that, it supports Dolby Vision, although the lack of VP9 Profile 2 support means it can't do YouTube in 4K HDR. The Apple TV 4K's decoding of HEVC isn't up to the quality of what you'd get from the Roku Ultra Model 4800R, either. That said, if you're a hardcore Apple devotee, the unit's integration with the iOS ecosystem is utterly spectacular, making your phone feel like an extension of the onscreen UI (and vice versa).
Amazon also has its Fire TV Cube at $119.99. I should go ahead and lay bare my biases here: I just don't like the Fire TV's content-first approach to UI design, nor do I like the fact that it pushes Amazon content to the top of the priority list. I also don't like that Fire TV products don't play well with third-party IP control. That said, the First TV's integration with Alexa voice control is simply fantastic.
Final Thoughts
Deciding which streaming media player to buy is often a very personal choice. If you've invested heavily in building up a collection of movies in iTunes, of course you're going to be better served by an Apple TV overall, as long as you aren't too fussy about video performance. And if you have a strong preference for the Android TV experience, you're going to naturally gravitate toward something like the Nvidia Shield TV.
But for most people, I still think Roku is the best streaming media platform out there, despite the fact that its UI is starting to look its age. It's simple to setup and configure, it's simple to operate, and it delivers video quality that's unmatched by most streamers and bested by none. So if you don't already have a horse in this race, it's easy to recommend a Roku and be pretty confident that you'll love it.
That said, when recommending a streaming media player to friends and family, I've always found the Ultra a hard sell given that Roku offers so many other players with 4K HDR support, all of them at much lower price points than the flagship model. The addition of Dolby Vision support at the top of the line makes the Ultra stand out much more distinctly as compared with its siblings in the Roku family. And although I probably won't use this as a selling point for my normie friends, the inclusion of AV1 decoding on the video side and Dolby AC-4 on the audio side is another big differentiator here. Both will become much more important in the coming years.
Simply put, I think the new Roku Ultra Model 4800R is one of the best home theater video source devices you can buy in 2020. And the fact that it sells for less than a hundred bucks makes it an incredible value.
Additional Resources
• Visit the Roku website for more product information.
• Check out our Streaming Media Player category page to read similar reviews.
• Read HomeTheaterReview's Streaming Media Player Buyer's Guide.