The Arrival
A few days after Christmas, FedEx rang my doorbell with a delivery. I accompanied the driver to his truck and he opened the rear door and unfurled the liftgate. From within, he moved a 27" x 26" x 13" "road case" encased in plastic shrink wrap on to the liftgate, lowered it, moved it into my driveway, wished me a happy new year and drove down the road.
The unloaded precious cargo weighed in at 115 lbs! Luckily, I still had a luggage cart left over from my days—many years ago—hauling cases of infant formula from Toys-R-Us. While it is said that good things come in small packages (think wedding rings and car keys) this particular large box contained my most anticipated Christmas "gift" signaling the arrival of Rotel's massive Michi X5 integrated amp—on loan rather than forever, but a gift from the audio gods nonetheless.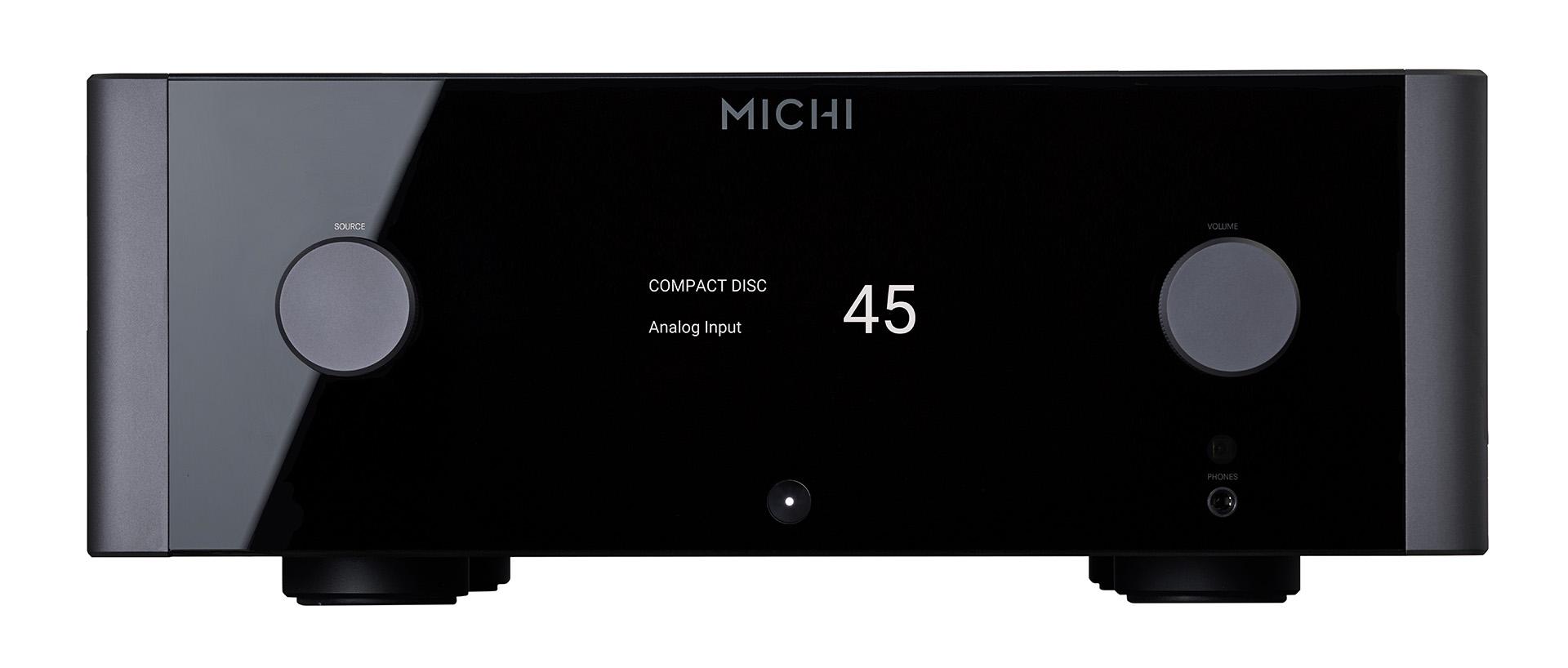 According to Rotel, "Michi" translates from Japanese to something like "path forward." When the original line was conceived in the early '90s it was the brand's "path forward" to truly world-class hi-fi. And the X5, at a penny shy of $7500, is begging to be seen as being far down that path.
Strengthened by adrenaline, excitement and anticipation, I pulled and tugged the cart up my six backstairs and through to my living room. On opening the case, I discovered reality. I wasn't hoisting the 95 lb. X5 out of the box and onto the table where it would sit in a place of honor without help. Fortunately, I was able to enlist the aid of an audio enthusiast friend, made the heavy lift, and my 2022 was off to a roaring start.
---
Anticipation (Features and Specifications)
So, why after decades writing about audio and audio components, was I so psyched about the X5? Hard to say exactly, but I was. Maybe it was the spec sheet that claimed 600 watts class AB power/channel into 4 ohms, 350 watts/channel continuous, with THD listed as <0.009% into 8. Or perhaps, the X5 being the only amp within my memory to list its BTU output (2194/hr.)!

Or, its "ready for anything" swagger, that includes XLR balanced inputs and PC/USB inputs, as well as phono input settings for both MM and MC cartridges. The back panel also sports digital inputs aplenty – three coaxial and just as many optical.

"Class" is in Session
For those young enough not to know and those old enough—I'm in that latter group—who do not to remember the relevant definitions, here goes: Class A/B amplification is generally considered the best compromise between efficiency and sound. Class A designs, by their nature, run at about a 50% efficiency rate. Class B designs can run at nearly 80% efficiency, but produce crossover distortion. Class A/B eliminates crossover distortion by operating in Class A (low efficiency) at low signal levels, and Class B (high efficiency) at high signal levels, optimizing efficiency and avoiding crossover distortion.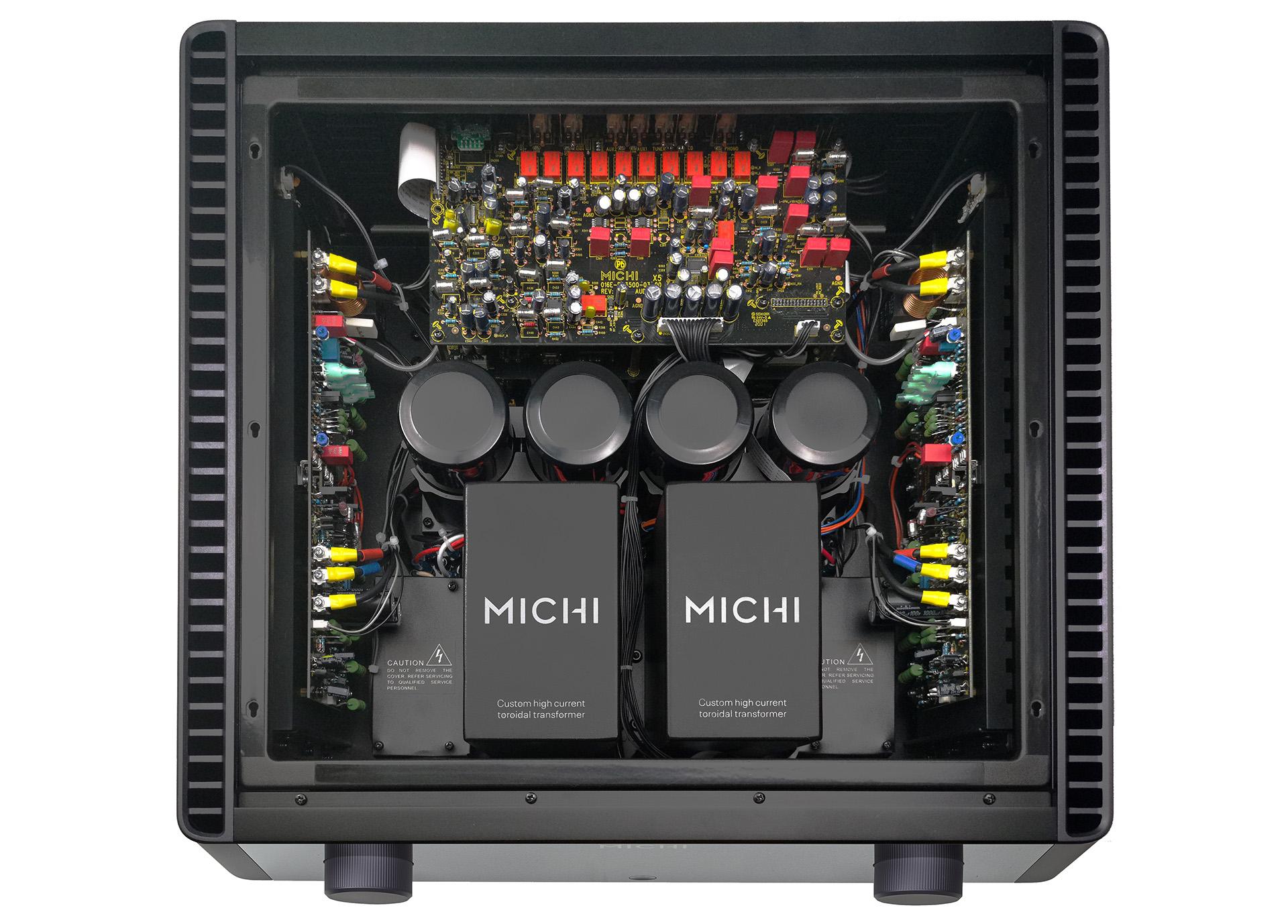 According to an engineering friend, 1 BTU—British Thermal Unit—is the amount of energy required to raise the temperature of 1 pound of water 1o F under specified conditions. It's a relatively arcane way to evaluate amplifier power, but the X5's 2194 BTU/hr rating is roughly equivalent to the more conventional 600 Watts (into 4 ohms) measure. (I was hoping that the amp might not only make music, but also moderate my winter heating bills.)

A Perfect Balance
As for the XLR balanced inputs, they are more often found on professional or performance gear. Typically, much of the componentry onstage at a Rock concert might be connected via XLR balanced lines. The principal reason for using the three-wire balanced configuration is that it permits longer cable runs by reducing the possibility of noise and other electromagnetic interference. A second benefit is that XLR connections lock into place, reducing the possibility of accidentally pulling a cable loose.
The solid rear panel speaker connections are well thought out and generously spaced. They are weighty 5-way binding posts that will accept heavy gauge cable as well as spade lugs, banana plugs, etc. There are two sets of posts/channel to allow easy bi-wiring – one set going to the high-frequency drivers, with the second going to the low frequency. The post spacing and designations make connections easy, but preclude the use of dual banana plugs.
The front panel is a statement of simplicity. Gloss black with two LARGE— nearly 2 inches in diameter—black knobs flanking a central display that is seamlessly dark when the unit is off, or in standby mode. The left knob is the input selector while the right is the incredibly precise and subtle volume control. Rotel has kept the volume in the digital domain for digital signals (using the MUSE chip), but also keeps it in the analog domain for analog signals, to avoid unneeded AD/DA conversions. The knob provides click-stop control that provides a clearly visible numerical readout of volume.

The control goes in increments of 1 from 0 to 96 (designated as MAX). The curve has been designed to provide 2-3 dB change at the lower end with steps getting smaller as volume increases. The side panels are massive heat sinks that barely got warm despite the amp chugging out music at high volume for many continuous hours.
The X5 also comes with a sleek, stick-shaped remote control that's used to activate the amp; make input selections; control bass, treble and balance; volume, mute the speakers completely and control the OSD. The buttons are well placed and their relative positions easy to memorize by touch.
---
The Proof of the Pudding (Performance)
On to the sound. If you've stayed with me this far, you have understood my excitement and expectations. The Rotel Michi X5 exceeded what I was prepared for. It raised a curtain that I did not know my living room or my audio system possessed. Suddenly, as if for the first time, there was nothing between the music and me. Make no mistake. I did not confuse my speakers for an orchestra, but I did have a sense of immediacy that what I and others judged pretty good sound did not provide. And—full disclosure—a friend whose husband was a classical guitarist reported that she felt the musician was "in the room" when I auditioned a piece from that genre for her.
Specifics? I put the X5 through its paces with the input sources I use most regularly: CD, phono and good old FM radio. I figured I'd start with radio, the technically lowest tier of those high-fidelity formats (the upper limit of FM broadcast is about 15,000 Hz). Perhaps it's because FM is generally ignored, but it tends to avoid the frequency response criticism heaped on MP3, which has an upper limit of about 18,000 Hz.
So, to my tuner I went, and dialed in the one classical station left in New York City (WQXR) and a Classic Rock favorite, WAXQ, 104.3 MHz—known as Q104.3 or just Q in New York. QXR provided a couple of lovely pieces of chamber music, including the Mozart Clarinet Quintet in A, K. 581. The small-scale work felt intimate and well scaled, with each instrument clearly articulated. Q offered up several fun songs: The Rolling Stones "She's So Cold," The Who's "Behind Blue Eyes," and Bon Jovi's "Wanted Dead or Alive." In all cases, the instrumentation and vocal separation was clear with each group "arrayed" left to right.
Next, my turntable got a whirl. Since the Audio-Technica AT-OC9X was still mounted in my trusty Yamaha PF-1000 'table, I switched the X5 to its MC phono input and dropped the stylus on a few discs. One was a perennial favorite, Lincoln Mayorga and Amanda McBroom's "Growing Up in Hollywood Town." It's a Sheffield "Direct-to-Disc" recording and I was particularly interested in two cuts: "The Rose" and "You've Lost That Lovin' Feeling."
For me, "The Rose" remains one of the most amazing cuts in my collection. The immediacy of the D-to-D process combined with Doug Sax's incredibly loving and careful recording, and Lincoln Mayorga's impeccable orchestration and musicianship, makes the song's few minutes a treat every time I put it on. And the X5 did it proud; starting out at a low volume level and rising to a powerful apex and then backing down again, "The Rose" is not only a beautiful piece of art, but it tests the system to present all parts effectively and smoothly. Again, the X5 performed as hoped for. The quiet opening showed the amp's ability to parse details at low volume and then, apparently effortlessly, lifted its game with its volume. The stereo imaging was clear and stable throughout and while McBroom's voice was clearly the focal point, each orchestral element was heard.
On "Lovin' Feeling," McBroom sits down and Mayorga's piano takes the spotlight in a fully up-tempo instrumental. Again the left-to-right spread of this smaller ensemble is both effective and pleasing while the piano masterfully holds the piece together.
Moving on to classical vinyl, I put my current favorite recording of Mahler's First Symphony on the 'table. The Nonesuch disc features Jascha Horenstein conducting the London Symphony Orchestra. The piece starts out low in volume and slow in tempo. No less an authority than Wolfgang Amadeus Mozart is quoted as saying, "The music is not in the notes, but in the silence between." The apparent silences in the work's opening minutes produces a gripping tension in the listener. Horenstein and his merry band get it and provide it and the X5 is able to maintain it and deliver it.
The Mahler uses an enlarged orchestra that the X5 lays out before the listener in a splendid and anchored vista. The last few minutes of Mahler's "Titan" proceeds like a toy being wound up, the spring gets tighter and tighter until the crescendo finally issues a release. The transparency and clarity of each orchestral section deliver Mahler with goosebump-inducing perfection.
I concluded my vinyl listening with a final piece of orchestral thunder: the Brahms Violin Concerto, with Joseph Szigeti and again the London Symphony, this time conducted by Herbert Menges. The Mercury Living Presence recording was a treat I had promised myself from the time the X5 was unloaded in my driveway.
For those unfamiliar with the "Living Presence" series, it was a catalog of classical and semi-classical works almost entirely recorded or supervised by C. Robert "Bob" Fine. The recordings were made from the mid-1950s through the early 1970s and depended on simple, but meticulous techniques. The resulting stereo albums had, well, "Living Presence." They seemed to be three-dimensional, with height and depth added to the horizontal sweep.
I was not disappointed. The orchestral spread maintained the power and majesty of Brahms's conception and Szigeti's fiddle playing was always upfront – at times insistent and bombastic and at others delicate as fine china. The recording and reproduction harmoniously created a virtual concert hall in my living room.
Following FM radio and black vinyl, I chose CD for the closing argument in my audition sequence. Despite its perceived shortcomings and decreasing sales, the format remains the most popular for those choosing hard-copy music.
For CD examples, I took two very different classical works and for Rock two very different pieces from the same album, "Layla and other Assorted Love Songs." The two Derek and the Dominos cuts were chosen because the title track is one of the more complex and massively produced pieces of Classic Rock. The second Derek entry, "Thorn Tree in the Garden," is just about the complete opposite: it's all acoustic, recorded live with the musicians sitting in a circle around a stereo microphone.
"Layla" not only uses electric instruments, it plays with conventional speeds in the tape mastering. It is a multi-take multi-microphone musical pastiche – a credit as much to the art of recording and editing as it is to brilliant musicianship. The X5 manages to hold all the disparate elements together so that the threads make a tapestry. The final section, Jim Gordon's piano, is as lyrical a piece of music as I know to exist and the X5 delivers it as delicately as it did the raucous opening a few moments earlier. Again, the spread, depth and definition are all in the room.
"Thorn Tree" is another story. Acoustic instruments simply, lovingly and brilliantly played. All are clear and sharply defined and we somehow feel united with the music-makers and their music.
A piano is a notoriously difficult instrument to capture and deliver realistically. The X5's realization of Jim Gordon's piano on Layla is matched by its ability to deliver the power, passion, delicacy and detail of Radu Lupu's piano playing the B-Flat Major Sonata of Franz Schubert, written nearly 150 years earlier.
For the finale to this exercise, I chose to turn back the clock even further, to 1749 and the B-Minor Mass of Johann Sebastian Bach. While not with the obvious dramatic power of a large-forces rendition of the "Hallelujah Chorus" of Bach's great contemporary Frideric Handel, the final chorus of the B-Minor, "Dona Nobis Pacem" delivers perhaps a more harmonious punch. The Gustav Leonhardt, et al 1985 CD turned my living room into a sanctuary, raising the ceiling and making walls disappear. The X5 was clearly up to its task.
---
The Downside?
Once you get past the price, there's very little to be unhappy with about the Michi X5. Again, I show my age and wish for larger OSD labels – and perhaps a few less pounds. But other than that, the amp is easy to operate, easy to listen to and provides ample versatility. The current chip shortage means that audio models from many manufacturers are on backorder status. Probably the best way to find a Rotel Michi dealer with a unit in stock or soon to be available is to check the Rotel Dealer Locator and call around.
And the Competition?
There's very little competition for the Michi X5. The Mark Levinson 5802, at $7700, (Best Buy/Magnolia) provides 125 watts/channel into 8 ohms and lacks a phono input. The McIntosh MA5300, at $6000 (Audio Advice), delivers only 100 watts/channel into 8 ohms. And the Anthem STR, at $4999.99 (Crutchfield) puts 200 watts/channel into 8 ohms, but with greater distortion.
---
Final Thoughts
The Rotel Michi X5 virtually invites the easy puns, "At 95 pounds, yeah, it's a real heavyweight!" Its power output might be considered overkoll at 350 watts/channel continuous into 8 ohms and 600/channel into 4 ohms. And its seemingly gratuitous listing of BTU output, plus the $7499.99 price make you wonder why the need for such overkill?
But seated comfortably in my living room, I was transported to venues large and small. I had famous musicians up close and personal, and if I closed my eyes they were playing just for me. I had grand orchestras and mighty choruses resounding in my ears. I heard them all with a clarity and transparency I have rarely encountered.

One possible reason for that, offered by my engineer friend, is a spec not provided by the X5's printed sheet – output impedance. My friend noted that output impedance varies with frequency and can interact differently with different speakers. It can, he said, affect the sound of the entire system.
While it was not the Holy Grail of an orchestra actually performing in my living room, this integrated amp moved me along on the continuum. It was a musical treat and a present providing pleasure untolled. And, yes, Rotel's Michi—Path Forward—has proved to be progress in the pursuit of sonic perfection.