If you're in the market for a good stereo integrated amplifier and you're not already sold on a particular brand, you could do lot worse than simply shopping around in Rotel's current lineup and picking the model that best fits your needs and your budget. As long as you don't expect your integrated amp to also serve as a full-blown media streamer, the company has something for everyone, starting with the amazing little A11 Tribute ($799.99) – which sports an all-analog design and sound tuned by industry legend Ken Ishiwata before his death in late 2019 – all the way up to the RA-1592 ($2,999.99), a beastly 200Wpc powerhouse with oodles of digital connectivity.
Somewhere in between those two extremes sits the RA-1572 ($1,999.99), which lacks some of the RA-1592's oomph (120Wpc instead of 200Wpc, both Class AB) and a few of its digital inputs (two optical and two coaxial digital inputs instead of three each), as well as one fewer line-level RCA input (four instead of five), but otherwise holds its own with Rotel's integrated flagship.
At the heart of the RA-1572 is an AKM DAC chip with DSD and 768kHz/32-bit PCM decoding capabilities, accessible via the rear-panel USB port. The optical and coaxial inputs can also handle PCM up to 192/24, and the front-panel USB is designed for compatibility with iOS devices.
The unit also features a Bluetooth antenna, although the only codecs it supports are aptX and SBC. One of its analog inputs also serves as a MM phono stage, and there's even a balanced XLR in.
Setting up the Rotel RA-1572
The one place Rotel definitely isn't going to win any awards is in the industrial design category. The RA-1572, in either silver or black, is hardly an eyesore, but its aesthetic could best be described as utilitarian, at least up front. Its façade is a flat but thick slab of aluminum that gets the job done, housing the LCD screen, volume knob, source-select buttons, speaker A/B switches, and menu controls.
Things are a little sexier around back, especially if you're a binding-post fetishist like me. The RA-1572's speaker connections are chonky and gorgeous, and should accommodate your preferred connection method. In my case, I mated the integrated amp with my pair of Paradigm Studio 100 v5 towers by way of a pair of banana-terminated ELAC Sensible Speaker Cables.
The RA-1572 is feature-rich in terms of control connectivity, with an RS-232 port, Ethernet port for IP control and firmware updates, two 12v triggers, a 3.5mm IR input, and Rotel Link inputs and outputs. The integrated amp also features dual mono subwoofer outs, as well as stereo preamp outputs, along with a Type-B USB port labeled "PC-USB."
In keeping with Rotel tradition, the amp features numerous setup options that allow you to customize and personalize it for your needs. In addition to the expected balance and bass/treble controls, the amp also benefits from niceties such as power-on volume defaults, auto-off timer presets (with your choice of 1, 2, 5, or 12 hours), and the ability to change its Aux, USB, PC-USB, Optical, Coaxial, and Bluetooth inputs to fixed volume.
By default, the PC-USB input is set to Class 1.0, meaning it won't decode anything higher than 96/24 PCM, but it's easy enough to switch it over to Class 2.0 operation via the menus. If you need drivers, Rotel provides them for Windows XP, Vista, 7, and 10 on its website.
How does the Rotel RA-1572 sound?
If you'll forgive me a bit of an aside here, allow me to break the normal flow of Home Theater Review's standard review template for a bit of real talk. I prefer to approach any new product review with a completely open mind. I don't read previously published reviews, if others have beaten me to the punch. I don't look at measurements. I even try my best to avoid letting my impression of other gear from the same manufacturer influence my subjective evaluation of any new product I'm reviewing. That said, I'm part of the larger consumer electronics enthusiast community. I hear things. And one of the things I've heard about the RA-1572 from certain circles is that it lacks something in terms of timing and dynamic punch.
Maybe you could clear that sort of accusation from your mind, but I'm not quite that mentally disciplined, so my first goal with this integrated amp was to gauge the validity of these claims. A great test for this – all of this – is "Spoonman" from Soundgarden's Superunknown (20th Anniversary edition via Qobuz, 192/24). Granted, this isn't exactly what you'd call audiophile bait, but especially toward the end of the track, as the cutlery and wood-block percussion start their chaotic swirl around and through the soundstage, if there's anything temporally awry, you'll hear it. You'll lose that holographic quality to the percussion. You'll lose that precise placement of the instruments.
The RA-1572's delivery of the track frankly fell short in exactly zero ways. I'm puzzled as to where these accusations of temporal muddiness originated, and after a few hours playing Superunknown again and again and again at nigh-uncomfortable listening levels, I'm ready to call shenanigans.
In terms of dynamics, I absolutely couldn't ask for more than what this integrated amp delivers, especially with the galloping percussion in the verses. The RA-1572 rocks. It swings. It has exceptional bass authority, a wonderful sense of coherence, fantastic transient response. Simply put, it gives what it gets.
It also does no editorializing. Frankly, that's my preference. I have, at times, extoled the virtues of integrated amps that inject a bit of their own magic into the music, but I always come back to components that neither add nor subtract. That does mean that albums with particularly poor mastering (I'm looking at you, Tesla's Mechanical Resonance) aren't always the most fun to listen to. The RA-1572's transparency and neutrality kinda reveal every flaw in this recording, especially its thinness and lack of detail, despite its shrill upper end.
The flipside to that is that really well-recorded and well-mastered albums sound all the sweeter. With the title track from Marvin Gaye's What's Going On (Qobuz, 192/24), you get to revel in that delicious sense of space and inimitable groove that simply don't translate via lesser gear. The specificity of the imaging on this track is simply astounding via the RA-1572, putting in in league with much more expensive gear I've auditioned recently, like Marantz's PM-KI Ruby, which sells for twice as much.
The downside
While the performance of the RA-1572 is exceptional across the board, I do have some nits to pick about a few operational quirks and a handful of disappointments in terms of the amp's feature set.
First things first, I really wish Rotel included AAC among its supported Bluetooth codecs. The significantly cheaper A11 Tribute does both AAC and aptX, so it's hard to shake the feeling that the RA-1572 should, too. LDAC along with some of the higher-quality iterations of aptX would be appreciated, but I think AAC and bog-standard aptX are the bare minimum for a product of this nature. It was really disappointing to cast to the amp from my iPhone and see the SBC logo light up.
Not that I would really use the Bluetooth input all that much. Like other Rotel gear I've auditioned, the RA-1572 self-mutes when you're on the BT input but no music is playing. This not only means that you miss the first second or so of a song, but the pausing and unpausing are also accompanied by an audible click.
I also wish the amp had a quarter-inch headphone jack instead of 3.5mm. And I wish that its headphone output automatically muted the output of the speakers when I plugged in a set of cans. If you want to listen to headphones and you don't want music to also pour out of your speakers, you have to use the A/B select buttons on the remote or the unit itself to mute the in-room sound.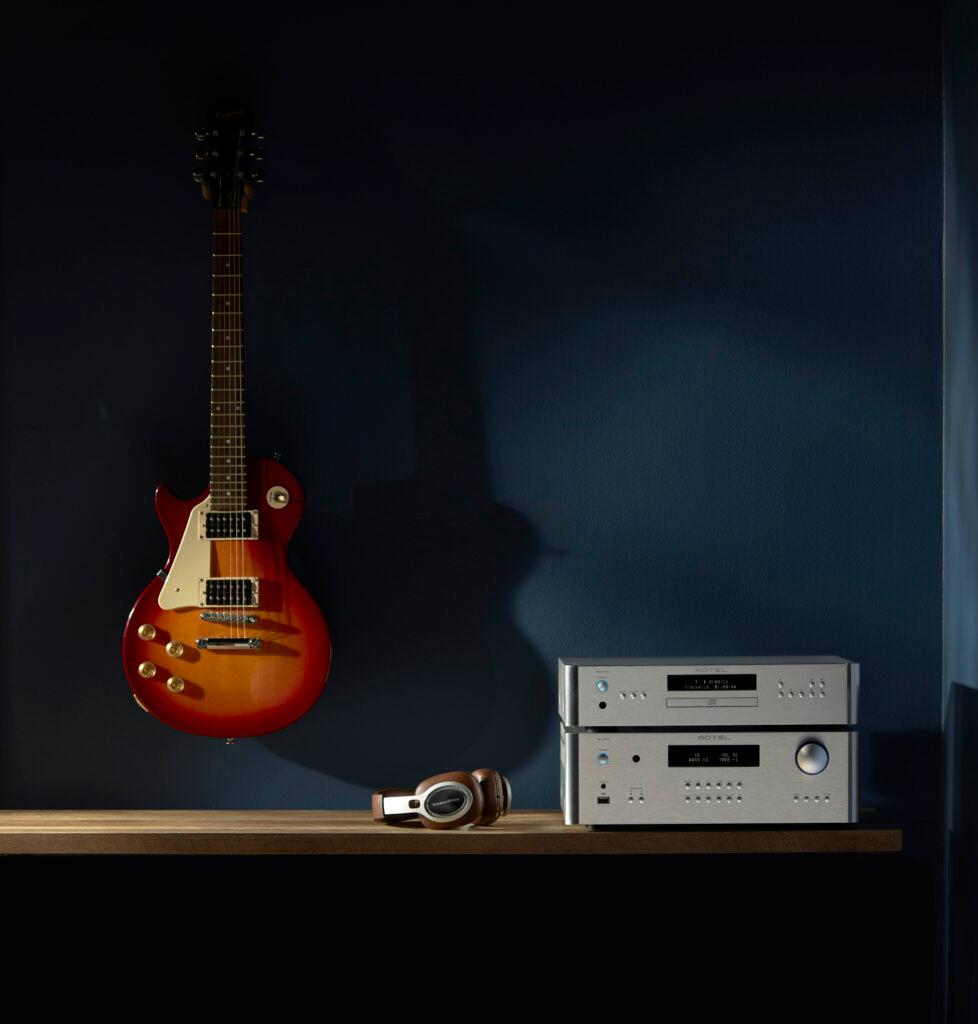 How Does the Rotel RA-1572 compare to the competition?
I mentioned the Marantz PM-KI Ruby above, so we may as well start there. At $3,999, it costs a good bit more than the Rotel piece, but it delivers very similar performance overall. The biggest difference between the two is that the RA-1572 lacks the PM-KI Ruby's pitch-black background. Then again, the Marantz piece lacks the Rotel's digital connectivity. If you want a USB input or any other form of digital connectivity, you'll also have to shell out for the SA-KI Ruby, which adds another $4,000 to the equation.
If that's a bit rich for your blood but you need a bit more than the RA-1572 delivers, there's also Rotel's step-up RA-1592 ($2,999.99), the details of which I covered in the introduction.
At or around the same price of the RA-1572, I also quite like Peachtree Audio's nova300 ($2,199), which relies on Class D ICEPower modules to deliver a staggering 300 watts per channel into 8 ohms. It also features a USB input designed for iOS devices, as well as a Type-B USB port for connecting to a computer, although it's a little more limited in terms of other digital connectivity, with only one coax and two optical inputs. Switching between Class 1.0 and Class 2.0 USB operation is also handled via a switch on the back of the chassis. It only has two line-level stereo inputs, one of them a MM phono input. But my goodness, this thing is gorgeous. In terms of the industrial design, Peachtree's products are among my favorites.
Final thoughts
I know I've used this line before here in the pages of Home Theater Review, but in my time with the Rotel RA-1572, I kept going back to that famous quip from Han Solo: "She may not look like much, but she's got it where it counts, kid!" Granted, nobody would accuse Rotel's mid-tier integrated amp of being a bucket of bolts, and it's certainly more reliable than the Millennium Falcon, but in every other respect, it has a lot in common with that mythical space freighter: It's got undeniable retro swagger, it's a little bit fussy to operate at times, but its performance is out of this world.