Rotel has been on something of an upgrade kick in recent months. In celebration of the company's 60th anniversary in July, they announced five new MKII models. The MKII version replaces the outgoing RC-1590 model, which has been in the lineup for the last five years. The other new MKII models include the A14MKII, RA-1572MKII, and RA-1592MKII integrated amplifiers and another stereo pre-amplifier, the RC-1572MKII.
Rotel leveraged technologies engineered for their flagship Michi line to implement dozens of component and design changes. The new preamplifier's power supply still features dual toroidal transformers manufactured in-house by Rotel and isolated to provide dedicated digital and analog supply voltages to critical circuits intended to eliminate distortion and provide an extremely low noise floor. Rotel decided to replace the AKM 32-bit/768kHz DAC utilized in the predecessor RC-1590 with a new Texas Instruments 32-bit/384kHz PCM DAC. According to Rotel, they found the audio performance of the Texas Instruments DAC to be exceptional and it is supported by external filter circuits and acoustically tuned components for a much better experience.
The Texas Instruments DAC does not support DSD or DoP playback. Rotel made the determination that support for DSD would be removed to ensure the new preamplifier realized the improvements from the new DAC and the improved supporting architecture. So those with large libraries of DSD files will need to utilize an external DAC for playback. Rotel has introduced rendering and decoding support for MQA and MQA Studio files in addition to PCM 32-bit/384kHz formats via the PC-USB input in the new preamplifier. The MKII is also certified "Roon Tested" to ensure maximum interoperability between the Roon app and the RC-1590MKII.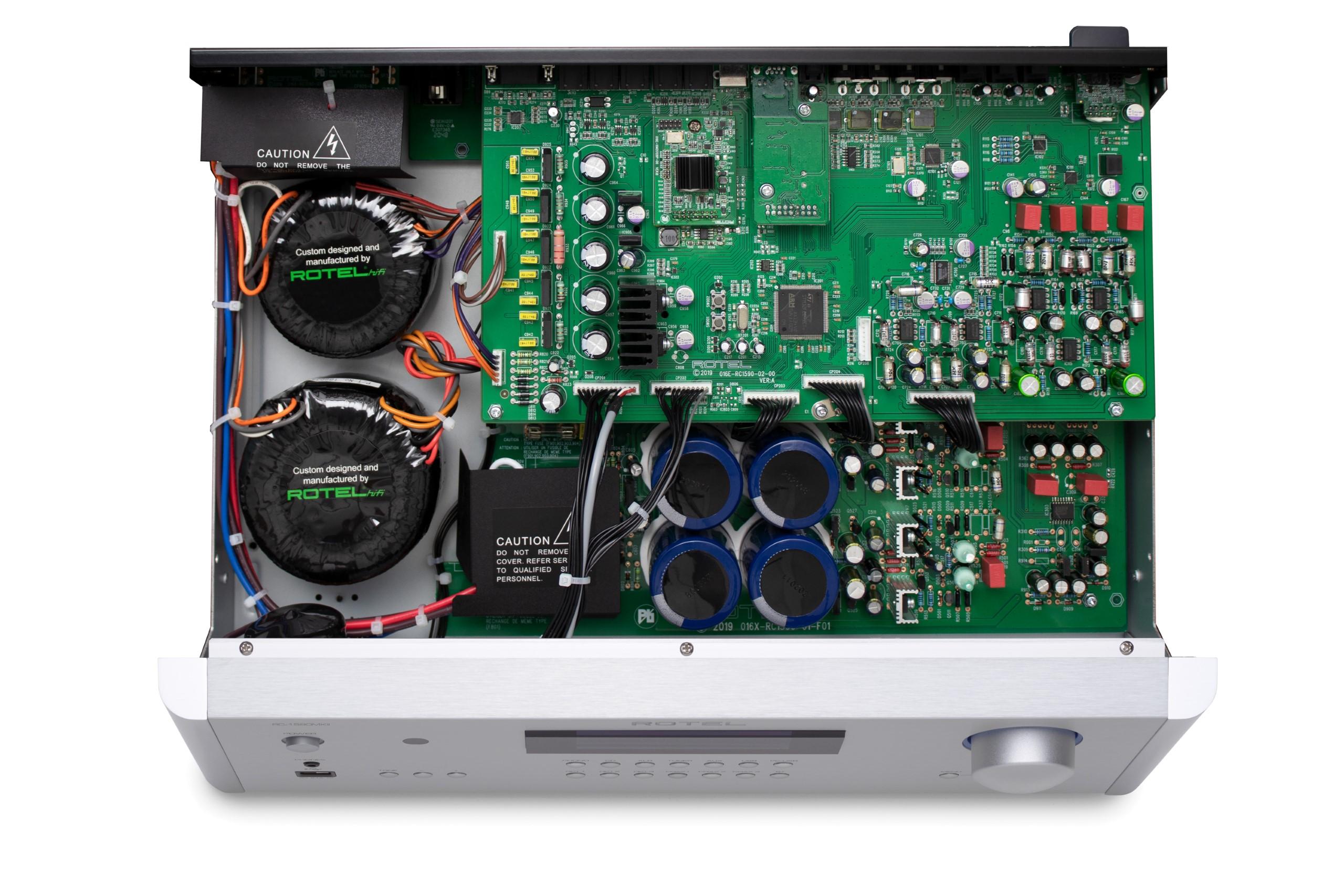 While I've auditioned Rotel products at audio shows in the past, this is the first Rotel product I've had in my system for review. Coming from my reference preamplifier, which cost considerably more, I was anxious (and maybe a bit nervous) to see what the Rotel would offer for the price.
Setting Up the Rotel RC-1590MKII
In the box with the Rotel preamplifier, you'll found the RR-AX100 remote control with batteries, a mains power cord, Ethernet cable, PC USB cable, RCA interconnects, and a USB thumb drive. On the drive were files for the owner's manual and Windows-based PC drivers (more on that in a bit).
At 17 inches wide by 5-7/8 inches high and 13-3/4" deep, and tipping the scales at a weight of 20.3 pounds, the RC-1590MKII is, in terms of its form factor, virtually identical to its predecessor. There are rack ears available separately for those who need them, and the preamp is available in either brushed silver or black finishes and is backed by a five-year warranty for peace of mind.
Taking a look at the MKII's beefy aluminum faceplate, you'll find the power/standby button on the upper left side with a 3.5mm headphone input and a USB connection for connecting an iOS device below. Just to the right are the remote sensor and tone control buttons. The tone control allows you to increase or decrease the treble or bass output up to 10 dB in either direction to suit your listening preference. The instruction manual recommends using the tone control sparingly, and only if needed, in order to preserve the purest possible sound and avoid additional load on the amplifier and loudspeaker drivers. The tone control is adjusted temporarily using buttons on the remote control, or adjustments can be saved permanently by going into the Menu using the buttons on the lower right of the faceplate. Satisfied with the sound out of the box, I left the tone control in the factory-default bypass mode.
In the center of the faceplate is the display positioned above fourteen buttons for selecting one of the available digital or analog inputs. The display indicates the source selected, file bit rate, sampling rate, and type, as well as volume level and tone settings. Moving to the right, there is a large volume control knob located above four buttons for accessing the settings Menu to make adjustments or to download software updates via the internet.
On the back panel, from upper left to right, you'll find the Bluetooth antenna above the Moving Magnet phono stage inputs. Moving right, there are six digital inputs (three coaxial and three optical). The Rotel is capable of decoding signals up to 24-bit/192kHz via these inputs. There are also two digital outputs (one coaxial and one optical) for connecting to an outboard DAC. In addition, there is an RJ45 Ethernet port for network connection, a PC USB input for connecting a computer or other music server component, as well as two 12-volt trigger outputs for compatible component control, an external remote input for connecting an infrared receiver if the preamplifier is to be installed inside a cabinet, and an RS232 connector for integration with advanced automation systems.

From lower left to right, there are RCA line-level CD, Tuner, and Aux inputs, as well as one set of line-level outputs, two RCA mono subwoofer outputs (right and left channels are summed), and two sets of RCA preamp outs. Moving right, there is a set of balanced XLR inputs, two sets of balanced XLR preamp outputs, and the mains power cord connector. There is no power on/off switch on the rear panel, and since the front panel Power button places the unit in either the "Standby" or "On" mode, the mains power cord needs to be unplugged to completely remove power from the unit.
For setup of the Rotel RC-1590MKII in my reference system, I passed on the provided connection cables and instead used WireWorld cabling to make all connections. While it's nice that Rotel includes cables, I doubt very many purchasers of a preamplifier at this price would opt to use any of them beyond the standard power cable, except in a pinch.
I connected my Esoteric K-03 CD/SACD player to the balanced XLR inputs of the preamplifier. Likewise, I used the balanced XLR outputs to connect the preamplifier to my Classé Delta series amplifier. By the way, Rotel offered a companion stereo amplifier to the RC-1590MKII for the review, but I opted to use my reference Classé amplifier. I don't like to introduce more than one new component into the system at a time.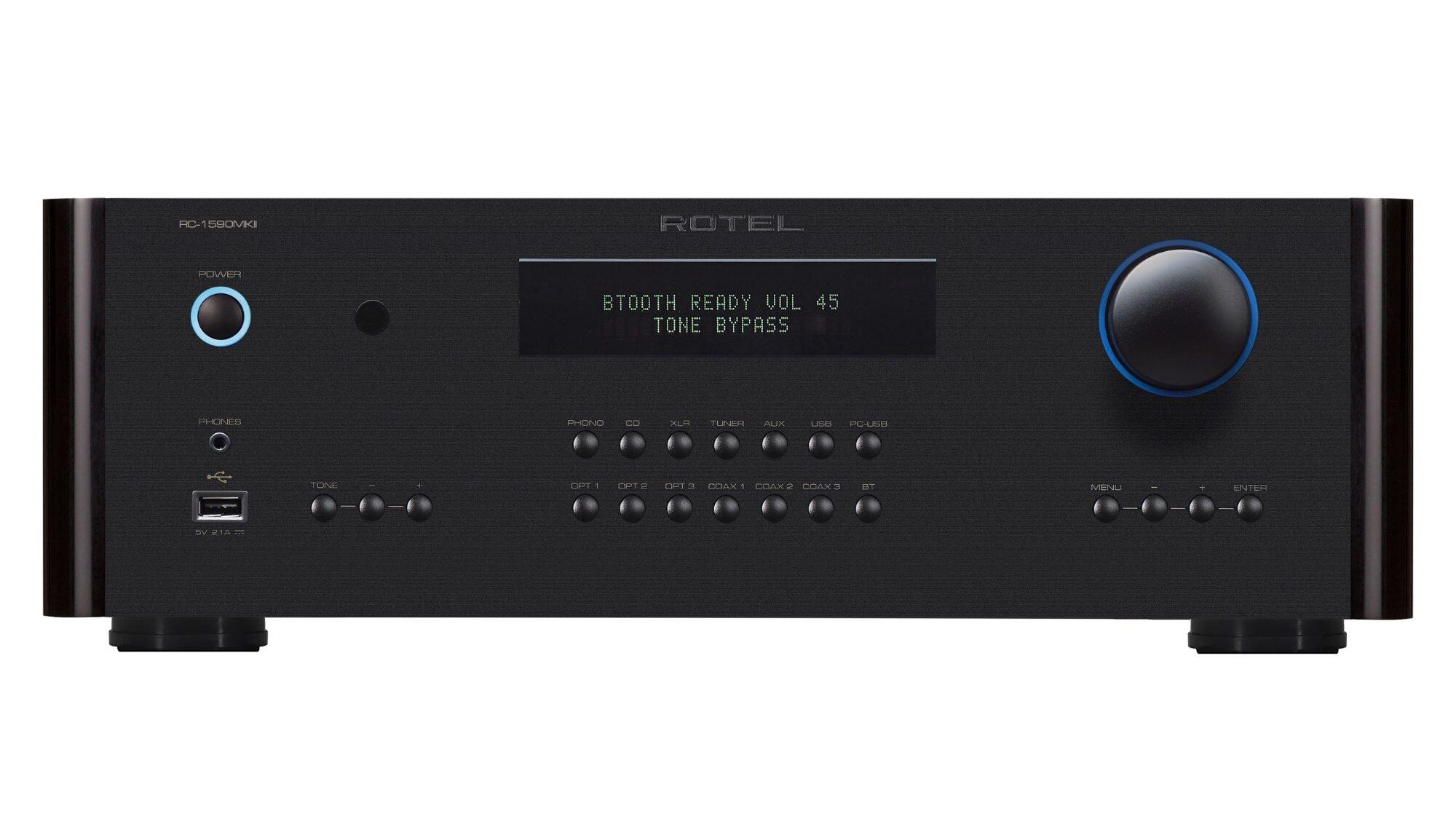 I connected my Mac Mini music server to the preamplifier with a USB 2.0 cable for streaming from music services Qobuz and Tidal, as well as from my NAS (Network Attached Storage). My NAS is hard-wired to my network router, which is connected to the Mac Mini via ethernet cable. Finally, I also paired my iPhone 12 Pro via Bluetooth to test out that playback option. Since the just-reviewed B&W 702 Signature speakers were still in place and their sound was now very familiar to me, I used them for all of my critical listening.
Now, a bit more about that Windows driver. While the Rotel's factory default setting is for USB Audio Class 1.0, the preamplifier also supports the USB Audio Class 2.0. Windows computers don't require installation of a special driver for USB Audio Class 1.0 and support playback of audio files up to 96kHz/24-bit. However, Windows users will need to install the supplied driver for decoding of files up to 32-bit/384kHz. USB Audio Class 2.0 is also required for MQA or MQA Studio file support. There are no special drivers needed to connect a MAC computer for streaming in either mode. Since I listen to a lot of high-resolution music from Qobuz, Tidal, and my NAS, I opted for the USB Audio Class 2.0 playback mode. To do so, you have to manually switch the setting on the Rotel RC-1590MKII by pressing the Menu button on the front panel until "PC USB Audio Class" appeared on the display, selecting 2.0 using the "-" button, and then pressing Enter to confirm.
Another change from the predecessor is that Rotel has discontinued support for the Rotel remote apps with the introduction of the new MKII models. According to Rotel, their customer survey data found that the customer use case was limited, so the company felt the investment cost was better utilized on the products themselves. Indeed, several manufacturers that rolled out similar remote control apps a few years ago have also dropped support for their apps. I tried several of them, but found myself opting for the physical remote over the manufacturer's mobile app for control.
I found the included physical remote to be intuitively laid out, making it easy to use except when the room was dark due to the lack of a backlight feature. The RR-AX100 remote control has direct access buttons for each of the fourteen inputs, which I prefer to the cycling approach used by some to reduce button count. There are also buttons to adjust bass, treble, and balance. There is a button to adjust the brightness of the LCD screen too.
One additional caveat about the factory default settings: The factory default setting for max volume is 45, which is also the volume setting that the preamplifier first turns on at when you hit the "Power/Standby" button for the first time. I recommend turning the volume down before sending a music source to the preamplifier or you'll get an unexpected surprise like I did. Additionally, a setting for Home Theater bypass is available – it allows for a fixed volume level (unity gain) on both analog and digital source inputs. Independent settings can be configured for the USB, Bluetooth, and Digital inputs, eliminating a "dual volume" scenario if that suits your configuration needs.
How Does the RC-1590MKII Sound?
For music playback, I first used an iPad Pro to access Roon's software installed on the Mac Mini to control playback of my integrated music library stored on my NAS as well as from streaming services Qobuz and Tidal.
Immediately, I noticed that the Rotel brought a certain extra energy to music playback. It made me sit up a little straighter and listen more intently. I've got to tip my hat to I Rotel for their choice of DAC and supporting architecture. It really provides something special in terms of sonics. On properly recorded material, the soundstage was expansive and deep. Instruments and vocals were accurately placed within that three-dimensional space, with plenty of air between them.
One such recording that highlighted the energy the Rotel brings to the performance is "I'll Take Care of You" by Joe Bonamassa and Beth Hart from their album Don't Explain (J&R Adventures) streamed from Tidal (44.1kHz/16-bit). While energy and dynamics are inherent in Beth's vocal and Joe's stellar guitar playing on this track, the Rotel brought that little bit of extra sparkle and soul to the recording, making it seem as though I was sitting in front of the performers rather than a pair of loudspeakers. With the Rotel and B&W combination, all of the raspiness and grit in Beth's bluesy vocal came through with terrific clarity and emotion.
While the Rotel preamplifier revealed all of the details available in recordings, the presentation was always smooth rather than analytical, leading to long listening sessions without any fatigue. Bass dynamics were exceptional, too. Bass was always tight and controlled, even on tracks with deep synthesized bass. For example, on The Weekend's hit song "Blinding Lights" from his album After Hours (Republic Records) streamed from Qobuz (44.1kHz/24-bit), the synthesized bass was very deep and powerful, but tight throughout, never muddying the midbass. On lesser systems, the synthesized bass on this track can sound a bit smeared. The bass clarity the Rotel delivered to this high energy track made it that much more fun to listen to.
On the flip side: Thin, overly compressed recordings had nowhere to hide when played through the Rotel. But personally, I characterize this trait as a strength, preferring the truth from my electronics (YMMV).
On the other hand, listening to Steely Dan's "Hey Nineteen" from their Gaucho album (Geffen*) streamed from Qobuz (96kHz/24-bit) was just one illustration of what a large three-dimensional soundstage the Rotel is capable of presenting. This two-channel high resolution recording could have easily been mistaken for a multi-channel surround recording, with backing vocals and electric guitar notes seeming to come from the walls directly to either side of my listening position rather from the two B&W tower speakers in front. There were also keyboard flourishes that seemed to originate from several feet behind the speakers, providing a sense of depth to the soundstage. Paying this familiar track through the Rotel reminded me how great this recording can sound when played through the right electronics, leading to me playing the track over and over.
A strength claimed by Rotel and confirmed by my extensive listening sessions is the extremely low noise floor of the RC-1590MKII preamplifier. Silences within recordings like "Angel" by Sarah McLachlan and "Gravity" by Sara Bareilles were just inky black. Perhaps it was the low noise floor combined with the expansive soundstage that allowed me to still hear all of the musical details of recordings at low playback volumes without the soundstage collapsing significantly. Or maybe it was just the great synergy between the Rotel preamplifier and the B&W 702 Signature speakers. Whatever the reason, I've rarely encountered a combination of equipment in the past that allowed me to enjoy music so much at such low listening levels.
The Downside
I'd like to see an HDMI eARC input added to the nearly complete stable of digital inputs to better support TV connectivity. In addition, there is no bass management for the subwoofer outputs – crossovers will need to be managed from the subwoofer itself, however most newer subs have dedicated controls these days. Finally, there is no support for DSD or DoP decoding, so enthusiasts of those formats will need to either add an external DAC or look at other preamplifier options.
How Does the Rotel RC-1590MKII Compare to the Competition?
There seems to be almost as many feature set combinations as there are two-channel preamplifiers on the market. There are analog only preamplifiers, preamplifier/DACs, preamplifier/DAC/Streamers, preamplifier/DAC/Network Players, to name a few. The products that will work for you depend upon your individual use case.
A couple of products in the same general price range as the Rotel RC-1590MKII are the NAD Masters Series M12 Stereo Preamp/DAC ($3,290) and the Parasound Halo P6 Preamplifier DAC ($1,595).
The well-regarded NAD M12 is quite a bit more expensive, offering additional connection options, including connections for a hard drive or memory device. I mention it here because, in my opinion, the Rotel competes sonically with the NAD M12, but at a much lower price point.
The Parasound Halo P6's DAC is capable of decoding DSD, and the unit has bass management capabilities, but it has fewer inputs and outputs than the Rotel RC-1590MKII, so if you have multiple digital sources, it may not work for you.
Final Thoughts
The Rotel RC-1590MKII excels sonically in several ways, including providing an expansive, rock solid soundstage, a detailed-yet-smooth presentation in the midrange and upper frequencies, and dynamic bass that is precise and well-controlled. The Rotel RC-1590MKII has an extremely low noise floor and maintains its expansive soundstage even at very low listening levels.
The combination of the Rotel RC-1590MKII preamplifier with the B&W loudspeakers was a terrific match, sonically speaking. Based on its performance characteristics, I would anticipate the Rotel RC-1590MKII preamplifier would be a great match with most loudspeakers. The robust feature set provided by the Rotel RC-1590MKII should meet the needs of most enthusiasts in the market for a stereo preamplifier/DAC and, at its price point, it represents a tremendous value to boot.