The AV industry seems to be built on sustaining buzz year after year, despite the fact that consumers rarely replace their components nearly that frequently. That's especially true for display tech. 3D, 4K, HDR, quantum dots, HDMI 2.1—they've all had varying degrees of impact on the home viewing experience (well, except for 3D, which has thankfully fallen by the wayside for the most part). We enthusiasts always want to be able to consume our content—be it TV, movies, or video games—in the highest possible quality. Or at least the highest possible quality that we can afford. And that's truer than ever before with us all stuck at home right now.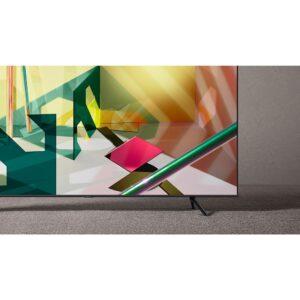 So, the trick for the manufacturers is to deliver on that "highest possible quality" by implementing the best technology they can for increasingly lower prices. Sometimes it takes time for the cost of technology to be feasible in lower-tier TVs. Quantum dot technology, originally only in top-of-the-line models, has filtered down into most entry-level displays from major companies and it's now hard not to buy a 4K television. But sometimes to stay competitive, brand new tech needs to be included even if it's in a limited capacity, such as HDMI 2.1. And there are still inherent problems with display technologies that need to be mitigated or solved. Samsung has attempted to address all of the above with the Q70T.
When it comes to LCD-based technology, the main issue impacting performance is still black level—and by extension, contrast. To address this, Samsung has added in a new technology called Dual LED with the 2020 series of TVs on less-expensive sets, both the Q70T and Q60T. Note that this shouldn't be confused with the identically named technology employed by companies like Hisense and Panasonic a few years ago. Both the Q70T and Q60T product lines use edge lighting instead of full-array local dimming (FALD). With Dual LED tech added to that edge lighting, instead of a bunch of blue LEDs, there are two sets of LEDs at different color temperatures, one cooler (bluer) and one warmer (redder). This allows the TV to fine tune the image's color temperature and is designed, according to Samsung, to allow for better contrast and viewing angles.
Even though they're still difficult to get hands on them, the release of the PS5 and Xbox Series S/X really pushed the implementation of HDMI 2.1 into TVs and AVRs to allow for 4K gaming at 120Hz. Of the four HDMI inputs on the Samsung Q70T, one of them (HDMI4) is HDMI 2.1 compliant. The remaining three are HDMI 2.0. With the current crop of TVs, having a mix of HDMI 2.1 and 2.0 is normal, although can be frustrating for reasons I'll address in a moment.
The HDMI 2.1 port on the Samsung is designated as its Game port. When a video game is detected, the TV automatically enables Game Mode. The Picture Mode is switched to Game and extra processing is turned off to bring input lag down.
If you've managed to get both an Xbox and PS5 over the past few months, you won't be able to get the 4K/120Hz benefit from both without an AVR that will pass a 4K/120Hz signal. Not really a huge issue on its own, but here's the frustration I alluded to earlier. eARC is only available on HDMI3. And the only way to get audio out from either console is via HDMI. Both Sony and Microsoft opted to remove digital audio outputs. So if you want full video and audio capabilities from your Xbox Series S/X and PS5, you'll need two HDMI running to/from the TV (one in HDMI3 connected to your AVR for the audio return via eARC and one in HDMI4 connected to one of your consoles for 4K/120Hz). Then you'll need to switch the console HDMI cable back and forth depending on which console you're playing. If you plan to only have one of the consoles, it's not as much of a nuisance, but you'll still need to run an extra HDMI cable.
(At the moment with the Xbox Series S/X, this issue is a bit academic. When the Xbox is connected to any TV and uses ARC to send audio to the AVR, anything beyond a stereo audio signal has significant enough delay to make any game unplayable. Hopefully this issue will be solved by Microsoft soon, but considering it was also an issue with the Xbox One X, I'm not holding my breath.)
This year's Samsung models continue to use the Tizen user interface. It takes up the lower third of the screen when it's up, much like LG's webOS. The main interface is more responsive that it has been in the past. Major apps like Netflix, Hulu, Amazon Prime Video, and Apple TV+ are pre-installed, as well as Samsung's TV Plus app—a subscription-free service with 160 channels. It has a modest selection of news and TV shows, although the interface is a bit sluggish.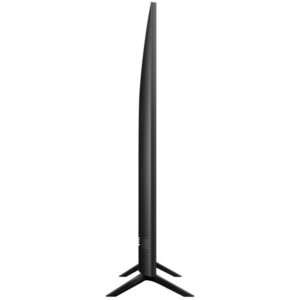 I always find Samsung's Smart Remote to be comfortable to hold. The slightly curved shape is a nice break from traditional flat bricks that come with most TVs. There are three dedicated app buttons—Netflix, Amazon Prime Video, and Samsung TV Plus—and the expected buttons like home, back, and a directional pad. There's also a dedicated Ambient Mode button that turns the Q70T into an art display. It's a feature I'm sure some find attractive, but I'd much prefer a button that brought me straight to settings or input select instead of having to navigate through the home menu to change sources easily.
How does the Samsung Q70T perform?
As mentioned earlier, LCD TVs inherently have problems with black level—edge-lit LCD displays doubly so. Any light produced by the backlight needs to be blocked by the LCDs and they can't block 100% of the light, so naturally the black level is a bit elevated. But the Dual LED tech seems to be doing its job in at least ameliorating this. The Q70T has a really good black level. The darkness of the Maw in Chapter 36 of Solo is deeper than I've seen from most LCD displays, especially those around $1,000. In HDR Movie mode, the light output is a little underwhelming at just under 500 nits, so the lightning flashes around the Maw and the engine ignition of the Millennium Falcon doesn't have the pop you'd hope for. There's some slight light leakage from the screen edges where the LEDs are located, but it's nowhere near excessive.
Solo: A Star Wars Story Official Trailer
I didn't see any evidence of improved viewing angles. Color vibrancy, especially reds, diminished pretty quickly once I moved off axis. The light leakage at the corners is also more prominent when off-axis.
One of the draws of the Samsung Q70T is its support for 4K at 120Hz, and it looks excellent. There are only a few current games that support such high refresh rates, but Gears 5 looks absolutely gorgeous. Gameplay is incredibly smooth, with no evidence of tearing (FreeSync is automatically turned on with Game Mode when a compatible source is detected). Input lag in Game Mode was very low and caused no issue at all.
GEARS 5 - OFFICIAL LAUNCH TRAILER - THE CHAIN
I used Calman color calibration software from Portrait Displays, an X-Rite colorimeter profiled with an X-Rite spectrophotometer, and a signal generator to check the grayscale and color accuracy of the Q70T. Out of the box, both measured very well. Red was a bit oversaturated and the luminance of red, blue, and magenta were low, which led to an average DeltaE of 4.5 for the primary and secondary color points. Grayscale measured a little better, with a DeltaE of 2.5. In this case, the gray midtones were under the luminance curve. After calibration, grayscale was virtually perfect, with a DeltaE of only 0.2 and no visual deviation from the luminance curve. Color improved to a DeltaE of 2.4, with red, blue, and magenta again still having the highest values.
High Points
The black level of the Q70T, especially for an edge-lit LCD, is excellent.

Playing games at 4K/120Hz is intoxicating, and the Samsung does it with ease, even if only one of its HDMI ports is HDMI 2.1 compliant.
Low Points
While the Q70T supports HDR10+, which uses dynamic metadata, there is no support for Dolby Vision, the more widely supported dynamic metadata HDR option.

The viewing angle is narrower than on comparable TVs.
How Does the Samsung Q70T compare to the competition?
The Samsung Q70T has an MSRP of $1,300 but can be found on Amazon for $1,100. For a couple hundred less you can get the Sony X800H I reviewed at the end of last year. Both are edge-lit displays, but the Samsung has a better black level and is better suited to next-gen gaming thanks to its HDMI 2.1 functionality (the X800H is limited to HDMI 2.0).
The Hisense H9G (review upcoming) is in a similar boat as the Sony, being without HDMI 2.1. The Hisense is an FALD display, though, with Dolby Vision support and a much higher light output than the Q70T for more HDR pop.
Then there's the TCL 6-Series with mini-LED FALD. If you don't need next-gen gaming support, the Hisense or TCL offers more bang for your buck.
To get the gaming support and a better HDR experience, you'd have to step up to the Samsung Q80T, the Sony X900H, or a Vizio P-Series Quantum. But all of those will cost at least a couple hundred dollars more than the Q70T.
Final thoughts
The Samsung Q70T sits in a land between the higher-end entry-level displays from Hisense and TCL, and the true midrange sets from Sony, Vizio, and Samsung itself with the Q80T. It has HDMI 2.1 compliance, which is necessary for forward-thinking gamers, a great black level for an edge-lit TV, and pretty good accuracy out of the box.
But the increase in performance you could get for a few hundred dollars more from a full array TV could lead to FOMO. That isn't to say the Q70T can't be a satisfying purchase, especially for a gamer who just dropped $500 on a new console and doesn't have that few hundred extra dollars. It has a pretty picture and pairs well with a new Xbox or PS5.