The Neo QLED QN90B from Samsung is the company's flagship 4K model for 2022. It is a tremendous performer among 4K TVs and a model that builds upon the strengths of the already-amazing QN90A. Thanks to the adoption of 14-bit processing, it achieves a higher level of picture quality than its predecessor and delivers on the picture quality potential of Neo QLED display technology.

Last year I reviewed the QN90A and found it to offer the best combination of performance, value, and size among premium 4K TVs. The new QN90B takes the same hardware as its older sibling and ups the performance by upgrading the video processing from 12-bit to 14-bit.

TV makers like to tout the improvements achieved through advanced video processing, which translates a raw video signal into the best image the TV can create. The required processing varies: Depending on the source, it can involve deinterlacing, upscaling, noise reduction, banding reduction, motion interpolation, local contrast enhancement, sharpening, tone mapping, and color adjustments. Furthermore, the processor has to control the backlight array and synchronize it with the quantum dot panel to create the final image. All this needs to be done at incredible speed and resolution: Up to 120 times per second in 4K (2160 x 3840 pixels).
---
It's All About Bits
First, a bit of background. Video like what you watch on cable TV or an HD Blu-ray, SDR video is "only" 8-bit, which means luminance is expressed in 256 steps. Today's HDR video is 10-bit, with 1024 luminance levels. Notice how with each additional 2 bits, the number of available video levels increases 4X. So, with 14-bit video, the TV now has 16,384 for the processing algorithms to work with.

So, why does 14-bit processing look better than 12-bit, even when the source is only 8-bit or 10-bit? It's thanks to mathematical granularity; with more steps at its disposal, greater precision is possible. The TV can better control the panel and backlight, creating a higher contrast image while concurrently showing more detail. This is not just in theory, it's plainly visible with real-life content: The QN90B precisely renders challenging footage and extracts subtleties found in regions that often pose a challenge to even the best TVs, like keeping the details in deep shadows and extreme HDR highlights.
---
Aiming for a Perfect Picture
Samsung demonstrated the benefits of 14-bit processing using 4K HDR clips. By comparing it to the same source with 12-bit processing, you can spot differences in the overall image, particularly in the details. Overall, the QN90B offers a bit more "pop" thanks to perceptually deeper blacks in the shadows—and brighter highlights—all while avoiding the "crushed blacks" that tend to obscure shadow detail and effectively reducing or eliminating FALD backlight artifacts like clouding and halos.

A closer look at deep shadows reveals how, even with the same QLED panel, 14-bit processing produces a smoother transition to absolute black. With 12-bit processing, that last step to pure black can be a bit rough and noisy, so you should see a clean transition or a smooth gradient going into black. Instead, you can spot a bit of graininess. Without
Without another display to compare, you might not even notice it, or you are tempted to say what you see is in the source. However, a side-by-side comparison quickly put those thoughts to rest. Not only is the 14-bit processing cleaner, but it also does a better job of teasing out the subtlest details that can sometimes be lost when using lesser processing.

What's going on—inside the TV—is the voltage used to light up the screen's pixels is better tuned and more precisely controlled, thanks to 14-bit processing and the extra luminance steps. It's not that the TV consumes more power—Samsung says the QN90A and QN90B use the same amount of power; it's that the better processing allows for finer control over individual pixels; especially in the extremities of bright highlights and deep shadows.
---
Test Scenes
The real-life consequence of this improved processing manifests in one of the more difficult test scenes that I regularly use with displays I review: The moment in Harry Potter and the Deathly Hallows Part II where Voldemort assembles his minions on a mountaintop at night and launches an attack. I'm not a Harry Potter fan, but I'll likely be using this scene to evaluate displays until the day I die.
I've studied this particular scene in forensic detail, on dozens upon dozens of expertly calibrated, top-of-the-line displays, even while comparing them to mastering displays. Many TVs and projectors have been tripped up by the demands of this scene, quite often rendering it to dark, or with crushed shadow details, or with a dull low contrast look to it. When a TV handles things properly, the scene should be dark—the scene takes place at night after all—but with no black crush, and when called for, some rather brilliant highlights.
The 65" QN90B is clearly on a mission to master the translation of a difficult scene such as this, and it scores a home run in terms of how it handled multiple aspects. For example, there's a lot of film grain in this scene, but that grain should never, ever come across as digital noise, nor should a TV's processing try to correct it as if it is noise, nor excessively accentuate that grain. No worries here; the QN90B and its 14-bit processing plus 120 Hz panel—which smoothly handles 24p cinematic video—faithfully reproduced the cinematic qualities of the movie.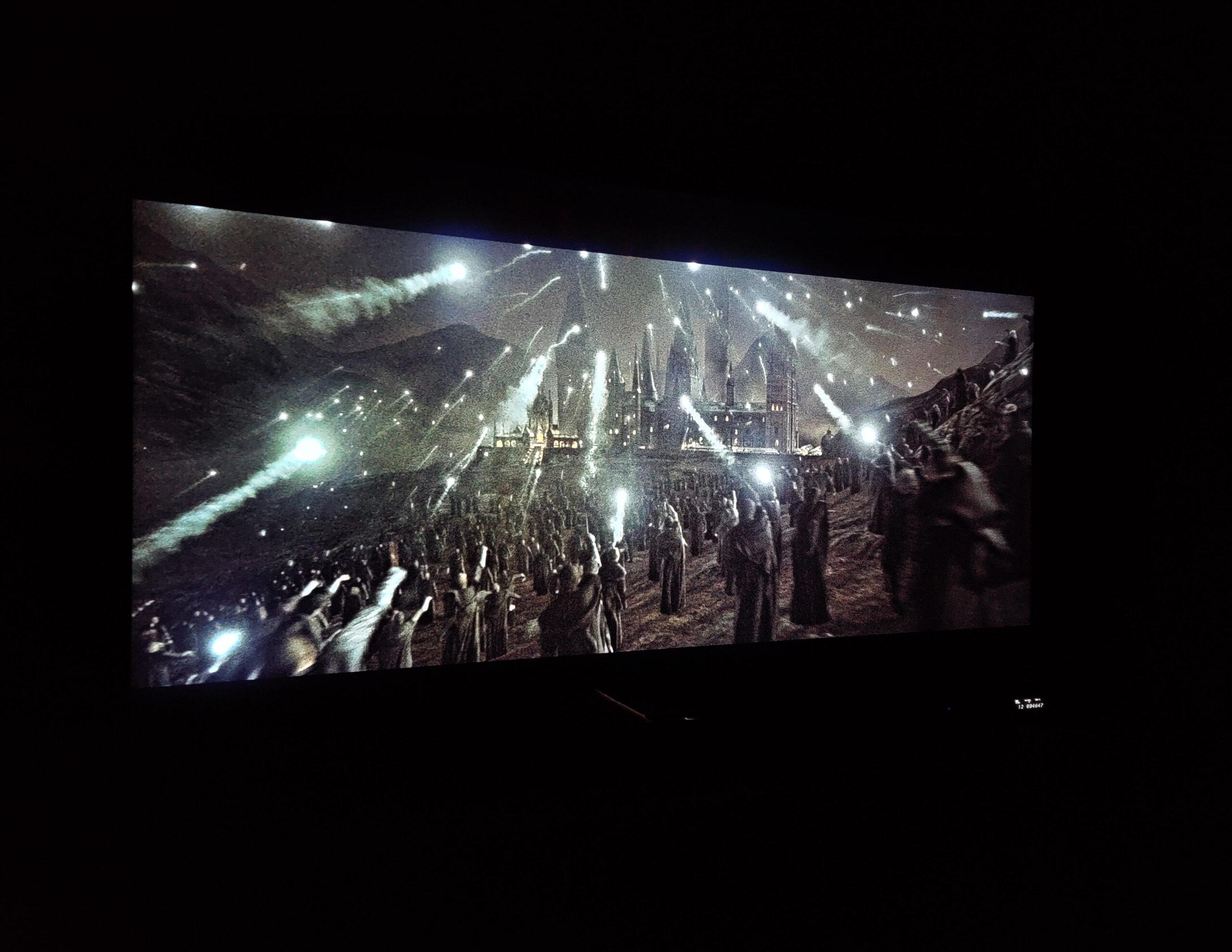 The smooth swooping camera move could easily have triggered judder, but it didn't. Deep shadow details could have been lost, but they weren't. And once the attack begins, the fireballs could've triggered FALD artifacts, especially along the letterbox bars. But they didn't. In all, I was extremely impressed with the performance of this TV, even with the lights out and while playing a known difficult scene. The picture quality of the QN90B is more than just home theater-worthy. It represents a superior viewing experience where one can appreciate the combined qualities of 4K resolution, HDR's expanded dynamic range, and vivid wide color gamut saturation thanks to Neo QLED's 100% Color Volume capability.

Samsung showed typical 'eye-candy' 4K clips that pushed the TV to its picture-quality limits. It looks like the same sort of video loops I'd see at CES (the Consumer Electronics Show, held each January annually in Las Vegas). But since I did not attend this year, this was my first time seeing the new model running full-blast, which is to say in its Vivid mode. The resulting image is so bright it can even overcome an all-white room flooded with broad daylight!

To help judge overall picture quality, I played HDR test clips from the Spear & Munsil UHD Benchmark Ultra HD Blu-ray. The QN90B did some of its finest work with the 1000-nit mastered HDR10 content, which played back with "textbook" image fidelity in the TV's Movie mode. Sunsets, cityscapes, horses in winter, dripping honey over a black backdrop are all scenes designed to test the mettle of a display, and the QN90B powers right through all of it/

You can easily appreciate the detail Samsung extracts from the high-quality source material with 14-bit processing. This TV goes out of its way to preserve highlight detail in HDR content and get the mid-tones just right so that the picture does not appear too dark overall—as can happen with HDR on some TVs. With this Samsung, everything looks bright, crisp, colorful, detailed, and most importantly, realistic.
---
The Greatest Gaming TV
Samsung ensured that gamers would find a lot to like in the QN90B. Gamers can use the Game Bar, which combines gaming functions into a single menu. This TV even has a 32:9 Super Ultra-Wide Game View mode. This isn't just a cropped view—you get an ultra-wide perspective and can move the image's active part around the screen.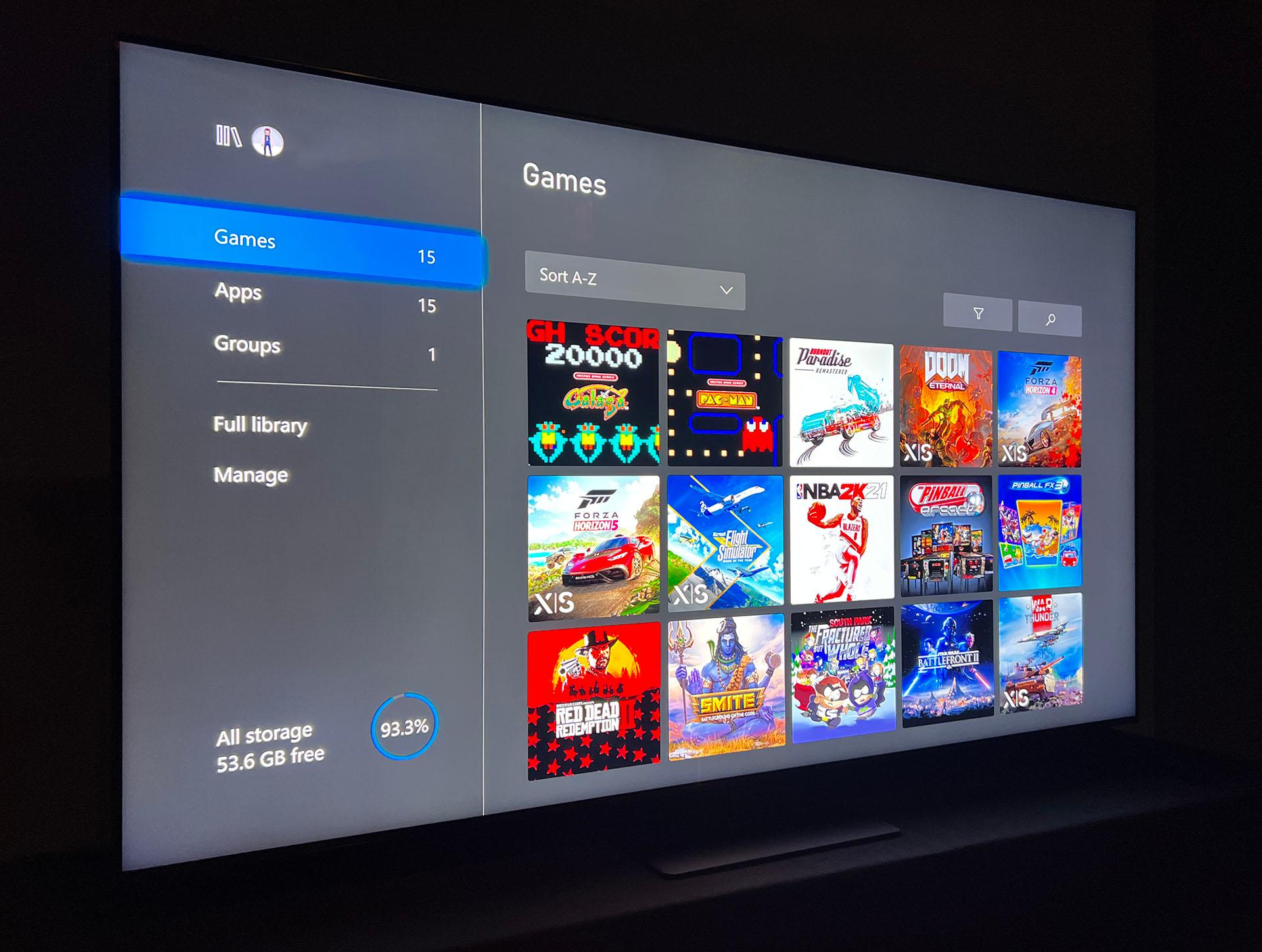 I played some Forza Horizon 5 using an Xbox Series X that I brought to the demo. This state-of-the-art driving game has it all when it comes to great graphics: 4K, HDR, and up to 60fps. Overall, gaming felt excellent, just like it does on the QN90A. And it looks as picture-perfect as such things get, with lighting effects that take on a hyper-realism thanks to the high-performance HDR of the 14-bit QN90B.
---
The Best TV for Living and Family Rooms Gets Even Better
Samsung's Neo QLED QN90B is the overall best 4K TV for the living room, picking up where the QN90A left off. 4K Neo QLED means you get spectacular performance for a very reasonable cost in a TV line that includes sizes ranging from 43-inches right on up to a gigantic 98-inches.

There's a new remote for the QN90B, and it is battery-free and self-charging via solar and RF harvesting. This sleek remote uses radio signals such as Wi-Fi (now ubiquitous in most homes) for trickle-charge, so even if used in complete darkness, it won't die on you. Besides, if RF and visible light aren't enough to keep the remote charged, a quick topping off with USB does the trick. The goal? Eliminating the use of disposable batteries.

You can also control the TV with voice commands and even use it as a Smart Home hub. It has broad compatibility with IoT support and SmartThings compatibility.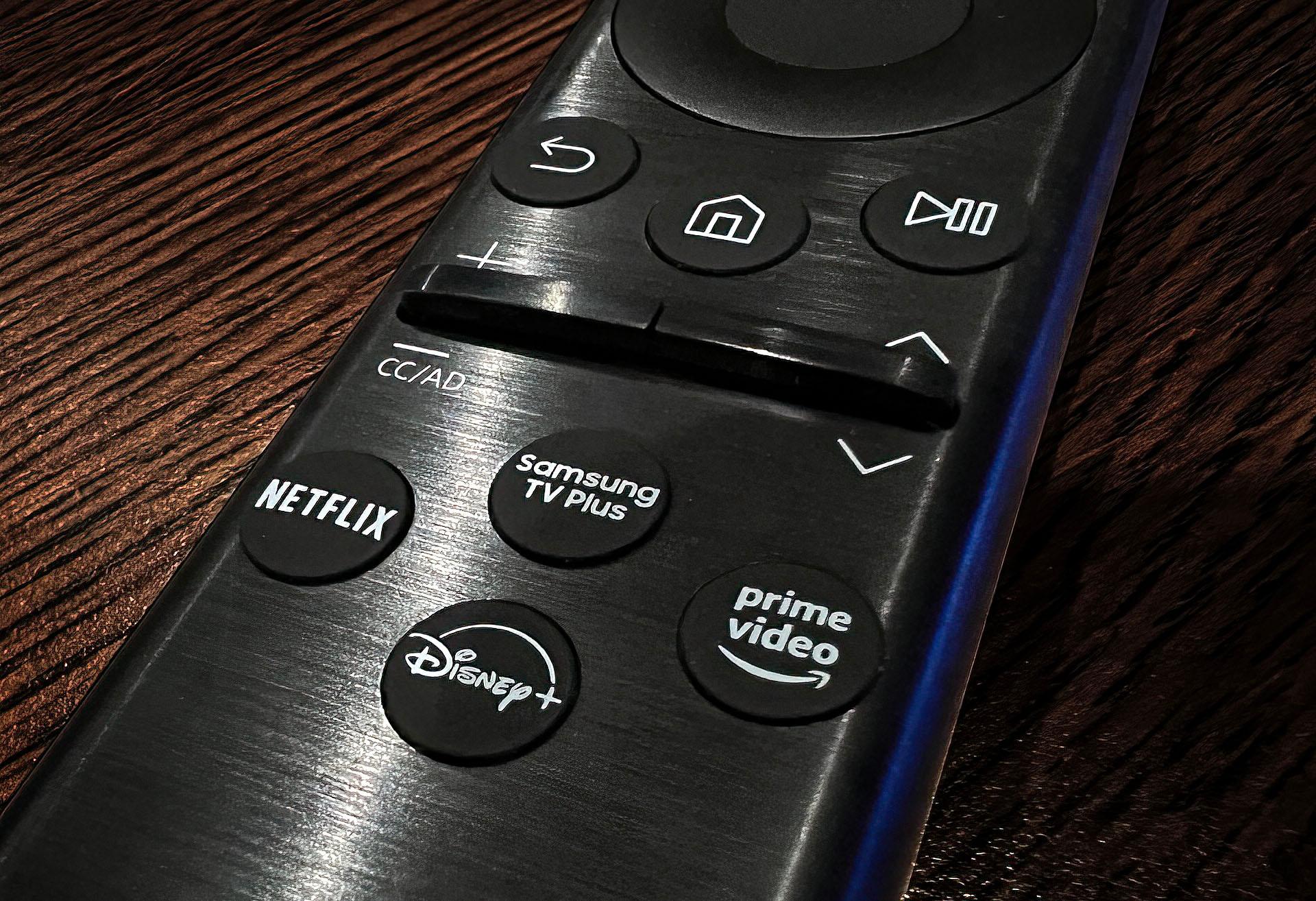 The QN90B is the best 4K TV for living rooms with good reason. While you can certainly make an argument for OLED when watching TV with the lights out, that technology is not capable of getting nearly as bright as a Neo QLED TV. Neo QLED can get around 3X brighter than an OLED when showing full screen white. The contrast advantage of OLED is based purely on black levels, a benefit of that technology that quickly melts away once you turn the lights on.

In a bright room, when watching a daytime football game, baseball, a golf tournament, or an episode of a favorite show over lunch, maybe taking a video game break, it's that extra full-screen brightness making the difference between a so-so picture and an image that pops off the screen. Plus, Samsung provides a highly effective anti-reflective coating on these screens, drastically reducing any room reflections. The combination of brightness and effective anti-glare makes Neo-QLED look so good, no matter how bright the lighting is in a room.

Although I always recommend adding at least a soundbar, this TV offers 4.2.2-channel built-in audio, including Dolby Atmos. When I checked out the audio, I found the tuning impressively neutral, and the bass was surprisingly decent! The TV offers OTS+ object tracking sound, which uses the speaker array to track where the sound should appear on the screen and replicate that. The Q-Symphony function lets you add select Samsung soundbars and still use the QN90B's built-in speakers, which acts as one cohesive system.

There's so much more to this TV's features, from mobile mirroring to 360 video playback to TV Sound on Mobile. Plus, it has Samsung's Ambient Mode+, which adapts the TV to its surroundings—including color, lighting, and textures—so it does not just look like a big black rectangle when you are not watching.
---
EZCal for Accurate Color
Samsung has improved its EZcal app, making it easy to achieve more accurate colors. You can fine-tune the picture with a compatible phone without needing a professional calibrator. All you need is a compatible phone like the select Samsung Galaxy models. Plus, Samsung says EZCal will soon work on iPhones.
---
Conclusion
The 65" Samsung QN90B Neo QLED 4K TVs is highly recommended for its uncanny ability to handle a broad variety of content and make it look good under just about any lighting conditions. You'll find similar performance at the other screen sizes but with the improved 14-bit processing. Meanwhile, gamers who want a personal display have the option to "go small" with a 43", 50" or 55" version, and still enjoy all the advanced features Samsung packed into this impressive TV series.

Dollar for dollar, the QN90B Neo QLED is the best choice among premium 4K TVs. It is the superior choice as the main TV, whether installed in a living room, family room, AV room. It easily outshines OLED TVs and UST projectors in mixed lighting environments. It provides the visceral video quality you can only get from a TV that has the brightness to reproduce HDR properly, as well as the 14-bit control needed to harness that power. Regardless of what you feed it, with its 14-bit processing, you will get the best possible image out of this exceptional Neo QLED 4K TV making it a Home Theater Review Editor's Choice for 2022.