Samsung's The Frame is a brilliant concept. It's a high-quality TV that is designed to show off artwork when it's not in use. It features a glare-free screen that's almost paperlike in appearance, so when you look at the artwork, it appears authentic. It is as if you are looking at real art on paper or canvas, and not a TV screen.

The 2022 edition of The Frame sports a new matte screen surface. In addition to being paperlike in texture, its efficacy at combatting glare is quite remarkable. I've only ever seen this quality and effectiveness from a matte screen surface on laptops and PC monitors, never before on a TV of this size.
Although I review quite a few TVs as part of my job, my interest in The Frame transcends that work and touches on my hobby, photography. In particular, its utility to showcase large format architectural, cityscape, and landscape photography as well as my digital artwork: High-resolution photo paintings that are derived from images I capture.

In years past, I would showcase my art by making large format prints, either on canvas or watercolor paper. However, recently, with flat panel TVs having achieved 4K resolution and beyond, I stopped making big prints and started using high-resolution displays to show my images and art.

So, with that as background, in all the TVs that I have used and reviewed, only Samsung's 2022 The Frame displays artistic images in a manner that truly reminds me of the look of a high-quality large format print and renders photography as if printed poster-size on matte photo paper. That is such a strikingly different capability than what other TVs can achieve, and it is new for 2022.
---
Features and Specifications
For the in-depth scoop on the complete feature set of The Frame 2022, we recommend checking out the product page on Samsung's website; it delineates all of the features of this TV. Here are some of the highlights:

• The Frame offers options to customize the bezel and match your decor while making this TV look more like a picture frame.

• The Frame series of TVs are available in a wide variety of sizes, ranging from 32 inches up to 85 inches.

• This TV has Samsung's Ambient Mode+, a feature that can blend your TV into its surroundings, like a chameleon. It also provides information, or simply shows you artwork, depending on how you set it up. The idea behind ambient mode is that it replaces turning off the TV, so you don't have a big dark gray rectangle on your wall if you're not watching it.

• Art Mode shows off your imagery, up to 6GB worth in My Collection, as well as artwork and photography that's available by subscription through the Art Store.

• Edgelit QLED provides 100% color volume in the DCI/P3 color space. That capability means it accurately reproduces the rich colors you'll find in today's 4K HDR videos, all the way from the deepest shadows to the brightest highlights and everything in between.

• Dual LED edgelit technology uses warm and cool color temp LEDs for improved performance. The TV can adapt the color temperature by adjusting the balance of warm and cool. It is said to improve both contrast and color accuracy.
• This TV supports basic Smart Calibration, which lets you use compatible cell phones to achieve greater color accuracy in a matter of minutes.

• The Quantum Processor 4K makes the most of whatever video content you feed this state-of-the-art TV.

• The matte screen surface ensures practically zero light reflection, regardless of the room environment. You won't see windows or indoor lights reflected off of the screen.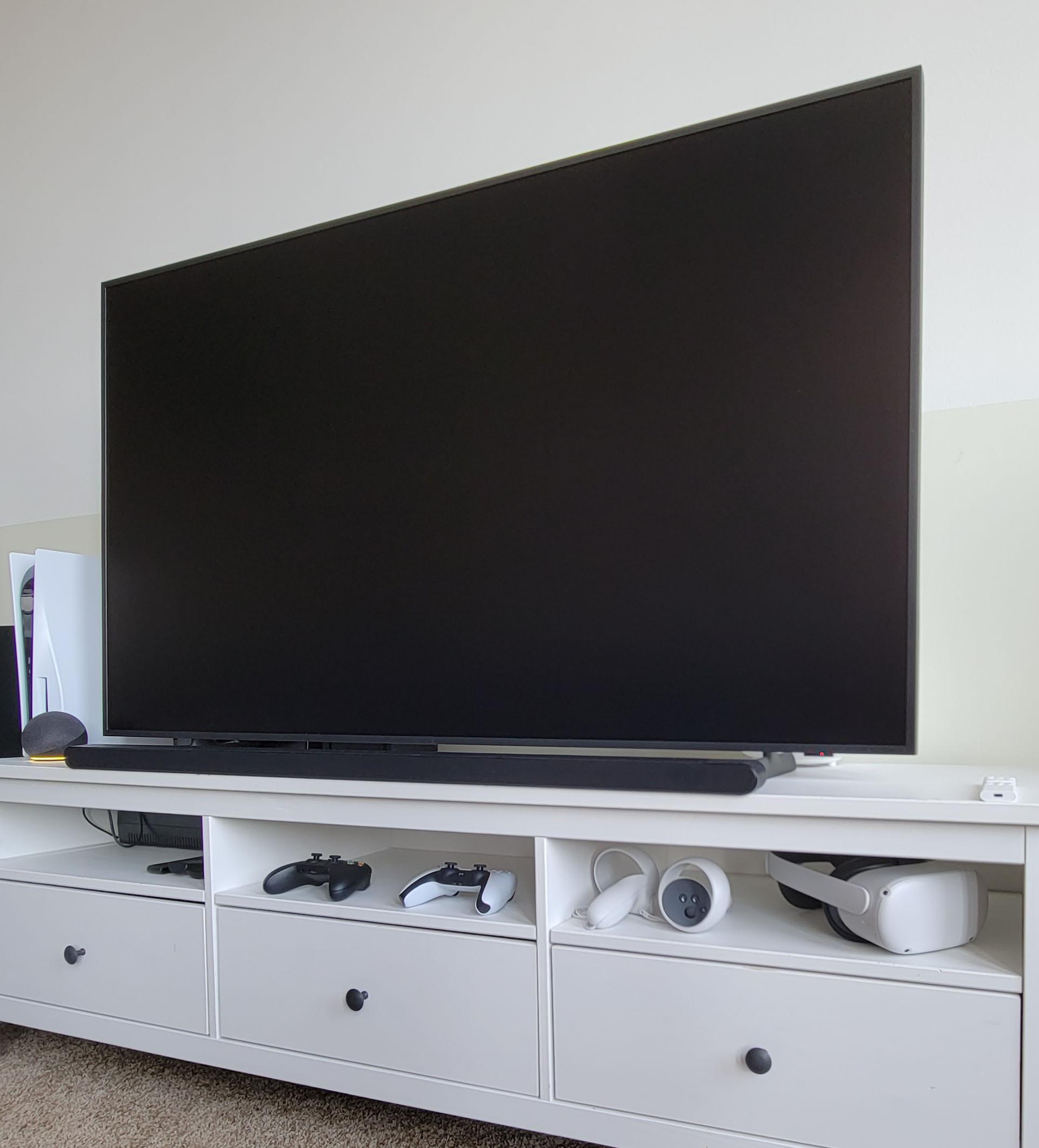 • It ships with Samsung's Slim Fit Wall Mount. This is a TV that's optimized for wall mount applications.

• This is a full-fledged Samsung smart TV powered by Tizen. It offers compatibility with voice assistants, in particular Google Assistant and Amazon's Alexa, as well as Samsung's Bixby.

• Gamers will love The Frame; it comes with the Samsung Gaming Hub feature and offers console-free, streaming Xbox games (requires a subscription).

• This TV also offers gamers FreeSync Premium Pro variable refresh rate technology, and low latency. It even has the Super Ultrawide Game View feature that turns the TV into a 21:9 PC display, that your PC will recognize at that resolution and render an ultra-wide and immersive perspective.
• Also great for gaming, The Frame 2022 sports a 120 Hz refresh rate and 4K 120 Hertz input through the HDMI 4 port. It'll support the latest gaming consoles at the fastest 4K settings they offer.

• The Frame 2022 includes Samsung Health, which is a sophisticated set of tools that, with the help of a camera, can't even coach you and encourage good form and higher performance. Yes, a TV that makes you sweat.

• For audio, there is support for Dolby Atmos and Samsung Q-Symphony, which uses the TV's speakers in conjunction with supported Samsung soundbars to provide a superior sonic experience.
---

Setup
Unlike its other TV models, Samsung includes a TV wall mount for The Frame. It's specially designed for this TV, and has an ultra-low profile that allows the TV to sit flat against the wall, as you would expect from a piece of artwork. Combine that with the stealthy nature of the One Invisible Connection cable and you've got a TV that is at once easier to install and better looking than just about any other wall-mounted option.

However, because this is a review where I only have the TV for a limited time, I decided to skip the wall mounting (plus the holes it would create) and used the supplied feet instead, placing it on my IKEA TV stand.

The modern minimalist aesthetics of The Frame are a perfect match for Samsung's futuristic, ultra-low-profile S800B Dolby Atmos soundbar system. That combination—which you can see in the images in this review—looks slick on my TV stand and provides a shockingly good listening experience, especially considering the ease of installation and the minimal space that it consumes.

For the cleanest-looking installations, the option exists to connect the sound bar to the TV wirelessly, which means that you only have to run the power cord to the soundbar, but you can skip the HDMI or optical-digital cable you'd typically use with a soundbar. Look at this photo, the power cord is berly noticable.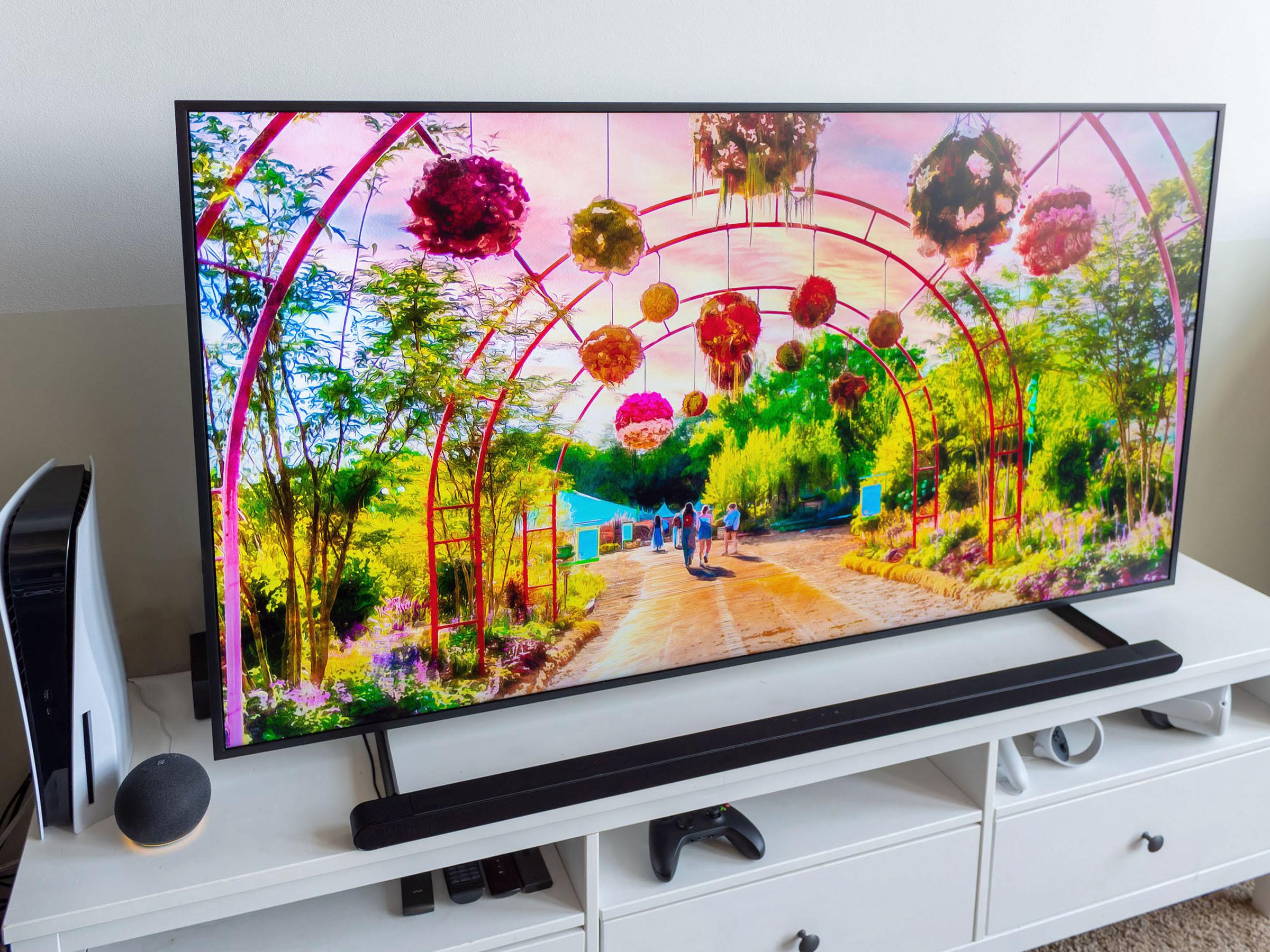 Overall, the setup process for this TV was fast, easy, and simple. I'm quite familiar with the routine, having reviewed other Samsung TVs recently, but I think it's well thought out and should be intuitive for most consumers.

The actual setup is classic Samsung, which is to say that if you smartly use the SmartThings app, it'll be fast and painless in terms of getting the TV online. If you use the remote, you'll have to do some password entry and such. If you already have a Samsung account and other compatible Samsung TV's, you can even restore custom settings from the account during this stage. The TV will also attempt to recognize connected devices and offer the option of controlling them with the TV remote.

The general ease of dealing with The Frame starts with unpacking and assembly; even though this is a 65-inch model, I was able to handle it myself. One reason for this is how easy it is to attach the feet, no screws are required they just slide in. And once that is done, it's really a matter of finding a spot for the TV, connecting the display to the One Connect box—a standalone component that contains the power supply, processing, and computing hardware, as well as inputs for the TV.

You connect the display to the One Connect module with a slim One Invisible Connection cable that carries both the power and the video signal. The brilliant thing about this arrangement is it allows for a very clean install without having to run cables inside the wall, and it greatly simplifies connecting source devices by having the one connect box near them, instead of having to run multiple HDMI cables to the TV itself, as you do with conventional TV designs.

During setup you get to choose the virtual assistant you want to use for voice control. My house basically runs on Amazon Alexa, go that's what I went with, and I put an Echo Dot next to the TV to pick up the voice commands. But, Samsung's remote is also very handy, nicely thought out. Plus, it has solar charing and RF harvesting plus USB C, so no need for batteries and it acts as a universal remote.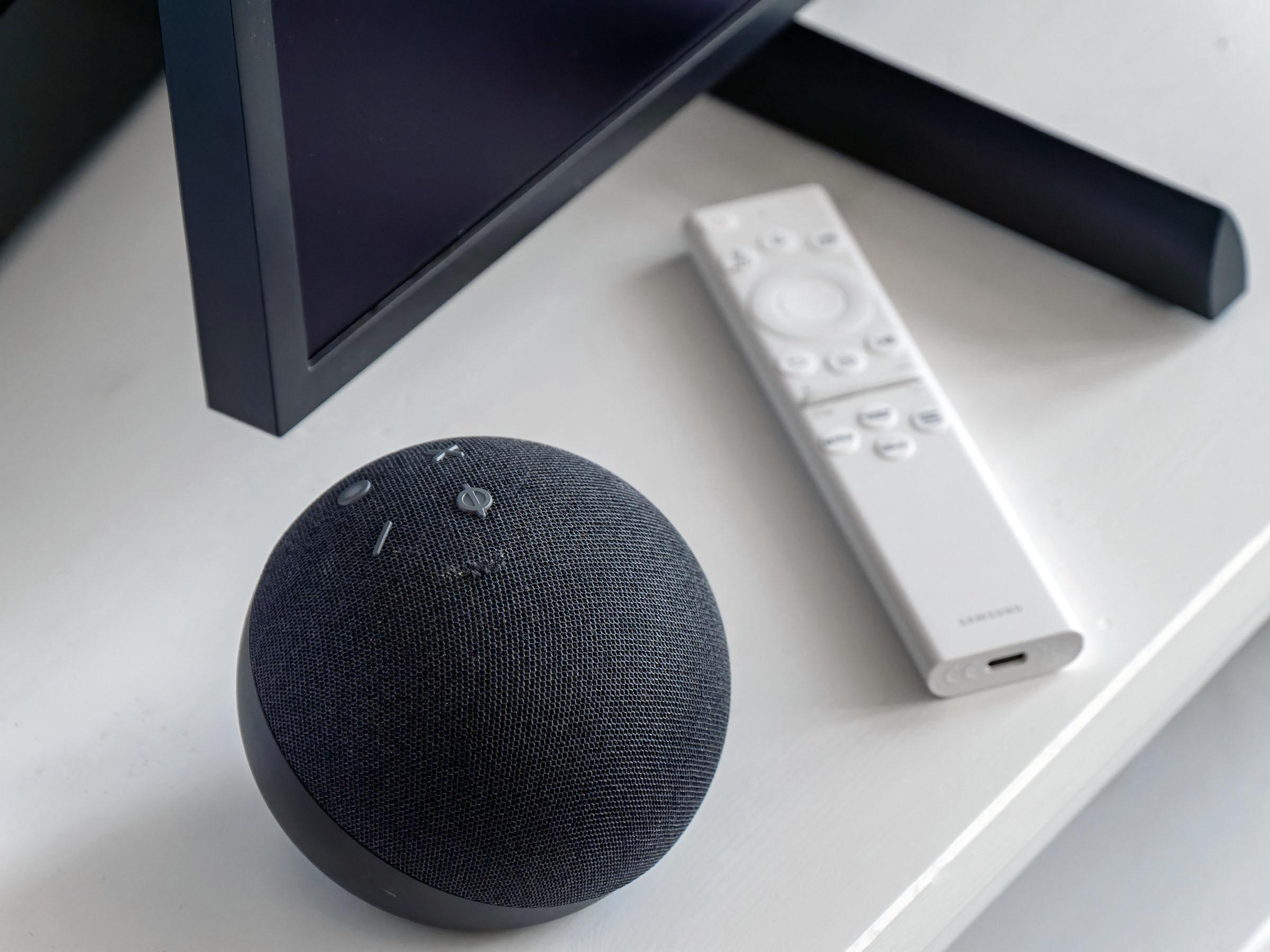 The Frame recognized my Xbox One X and PlayStation 5, no problem. It also picked up my AVR, where I use eARC to get Dolby Atmos and other uncompressed surround sound formats from the TV to my full-sized audio system.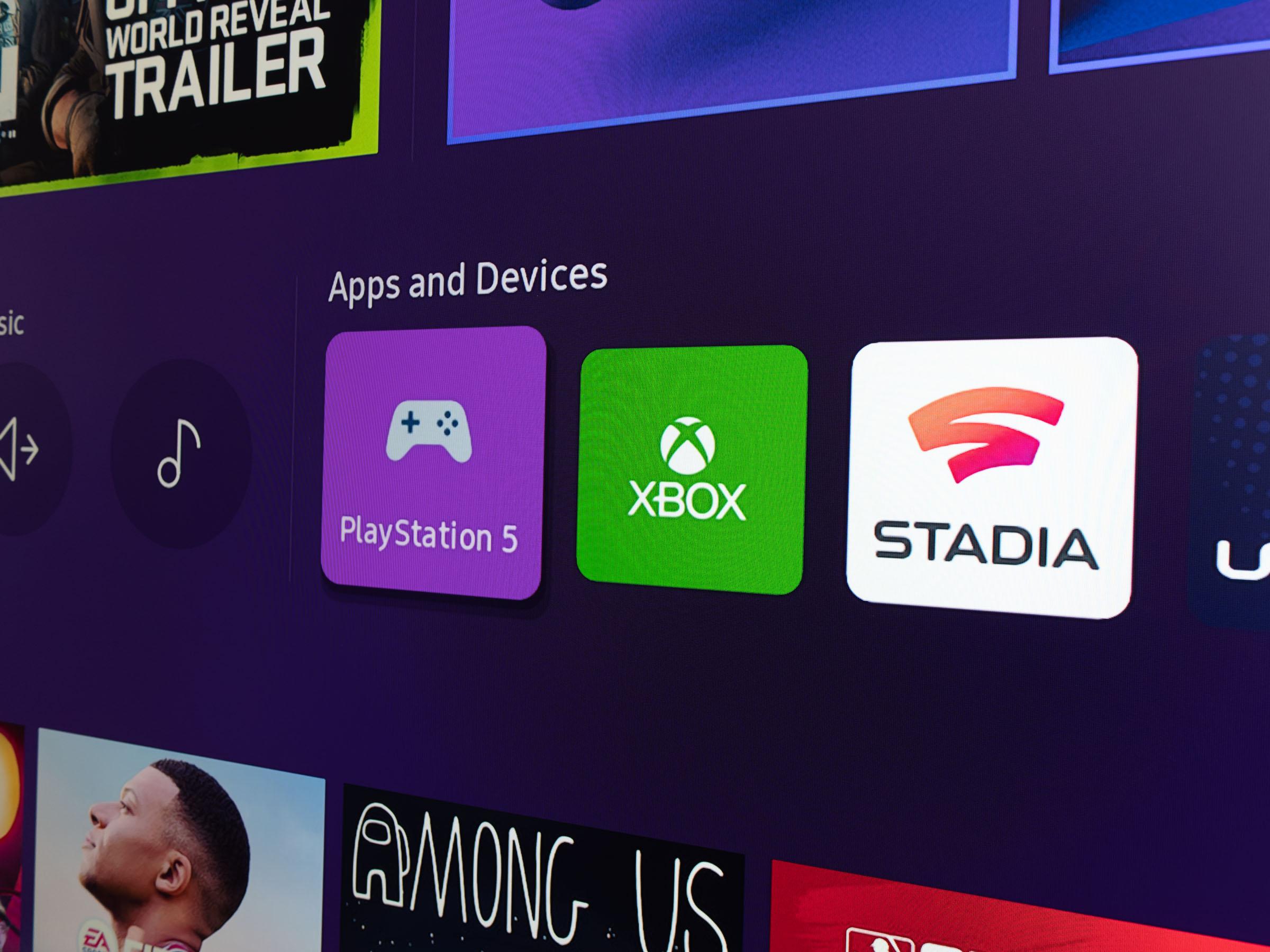 While you can use The Frame to show off your art and photos—which is what I chose to do since I have tons of it—you can also opt for a monthly subscription to curated art and images, which is $20.
---
Hands-On
The Frame 2022 is essentially a high-performance edge-lit QLED LCD TV that has numerous design, hardware, and programming/software elements that allow it to serve its dual role: Showing both art and entertainment. This is a TV designed to thrive in a living room environment, but it is not the TV that you would buy if you're exclusive goal is to get the highest-performance, home theater-ready TV. Samsung has better Neo QLED options for that specific goal, TVs that use a mini-LED backlight array to create brighter areas of focused highlight intensity.

But, make no mistake, this is a great TV. It has a high native contrast ratio that gives it a picture with plenty of depth to it. In a bright room, it has perceptually deep blacks. And while it does not achieve the high peak brightness of the FALD options, its overall brightness is excellent, which is the key to a vibrant TV image in bright rooms.

To get technical for a moment, the way edgelit works, the TV's peak luminance is no brighter with a 2% window than it is full screen. That behavior is essentially the opposite of either OLED or FALD TVs, which can achieve higher brightness in smaller areas of the screen than they can full screen. Pragmatically speaking, what this means is that The Frame can get twice as bright overall as an OLED.

Regarding picture quality, it's a good thing this model has a high native contrast (around 6000:1). This ensures that even with the edge-lit technology, you get an image with deep blacks regardless of lighting conditions. In fact, I'd argue that the perceived depth of the black levels is among the best of any TV in brighter environments, due to the anti-reflective screen.
This is an exception TV for watching live sports. No qualifiers are needed; it's an absolute beast at handling this task. It leverages its high brightness and glare-free qualities, along with Samsung's upscaling and picture processing, to create a fantastic show out of live HD sports broadcasts.

Sports events play out in the daytime and at night, but with The Frame, it really doesn't matter because the TV can adapt to room lighting conditions if you set it to do so. It is very adept at this; when using Intelligent Mode Adaptive Picture, you can "set it and forget it" when it comes to the screen brightness, and The Frame 2022 compensates quite competently, and it definitely helps reduce eye strain when its dark.

With most TVs, in the daytime, the dark areas of the image turn into mirrors, even TVs with very effective anti-reflective qualities. The Frame 2022 is on a whole another level regarding reflection suppression, and its contribution to overall picture quality is very significant. See the comparison below.
The matte screen surfaces my favorite feature, I feel it should be an option on other TVs. Of course, it depends strongly on the ambient lighting and viewing conditions, but I found the matte screen more effective at mitigating reflections than any other screen that I have seen.

Even when compared to previous iterations of The Frame, the difference the matte screen makes is night and day, with the new model looking far more natural, with the glare-free qualities of unprotected art hanging in a gallery or museum. By comparison, the old model looks like a frame with a sheet of glass between you and the art. Check out this side-by-side of a Samsung display that features 2021 The Frame on the left, 2022 on the right (and note the SB800 soundbar):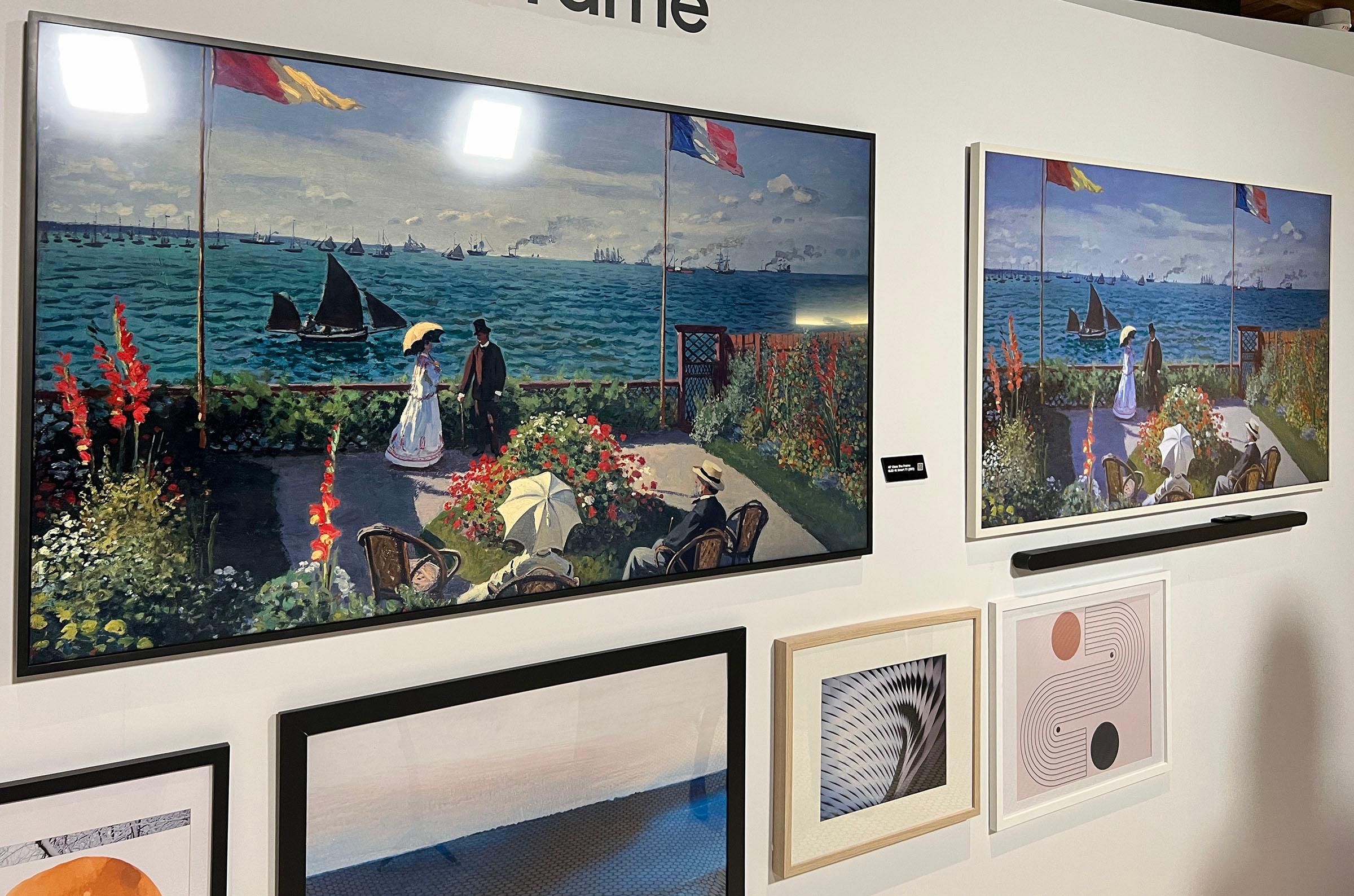 What's interesting about this TV is that the initial design achieved popularity by repackaging existing display technologies in a way that resonates with design-conscious TV shoppers. It's almost amusing that this TV has a somewhat substantial bezel, given the general trend among TV makers toward making the bezel disappear. But the reason is simple enough, the bezel offers the opportunity for customization, and that's part of what makes it look like a picture frame.

While I am excited about the potential of this tv to show digital art, I also love video games, and the secret alter-ego of The Frame is that of a kick-butt giant 4K gaming monitor. Which it truly is!

Moreover, today's state-of-the-art visuals make it so that many video games are, in essence, interactive artwork. I would certainly claim that to be the case for Horizon: Forbidden West, a marquee title for PlayStation 5 that shows off that console's graphics prowess. And while the HDR did not reach the eye-popping highlights of the recently reviewed QN900B, it has rich colors and fast, smooth motion. But more than anything, it somehow lets you see the gaming graphics as if there was no piece of glass between you and the virtual world, instead, it comes across as a completely transparent portal through which you can clearly see the game world that you are in.

Color accuracy is really good on this TV. I'm a fan of using the Warm1 color temp. This requires a quick visit to the settings menu. I tend to use that setting, regardless of what mode I'm in, because it looks very natural and works with bright rooms during the day—where the ambient daylight has a relatively cool color temperature—as well as at night with indoor lighting that is typically much warmer.

Naturally, I use the Game mode for gaming, a no-brainer given the low latency and VRR support (with compatible devices). And I use the Movie mode for everything else.

Please note that you can fully calibrate this TV, all the tools are there, and if you do, the reward is a highly accurate picture, both in terms of tonality and color accuracy. But, choosing Warm1, and adjusting Dynamic Contrast to taste yields a solid, realistic but punchy picture that I am extremely happy with, and I suspect most owners would feel the same. Using Movie mode ensures the defaults of other key settings are generally favorable for faithful playback of both movies and TV shows.

And if you want something even more "purist," The Frame also offers a Filmmaker Mode that locks in the technically correct settings for watching movies, it shuts off just about all image processing and chooses the warm2 color temperature, which is set for 6500K (but that typically needs calibration to be exactly spot-on). The point is you can set this TV up for movie watching, and to be perfectly frank, most scenes—even in HDR mastered content— do not use the full peak brightness HDR offers.

Speaking of calibration, even a simple 2-point adjustment that takes minutes provides high accuracy on this TV, and

A perfect example of what this TV can do, if you are one to appreciate visual art, is how it plays back Spider-Man: Into the Spider-Verse. This animated feature film is truly a work of art, and the animation itself has incredible detail and texture. Watching it on The Frame, it's quite an interesting experience because you naturally expect animation to look like print, for the artwork to have that matte texture. Pausing the film, you'd think you were looking at poster-size prints of original artwork from a graphic novel.

While I keep saying this TV's screen looks like printed artwork, it reminds me of something else. It reminds me of a projected image. Because when you look at a projection screen, there is never a chance that you'll see any kind of reflection, it'll never act as a mirror. Just like The Frame, and unlike almost all other TV's.

The qualities of the matte screen had their complementary effect on my favorite animated TV show, South Park. And not only did it enhance the look of the TV show, it elevated the experience of playing the video game South Park: The Fractured But Whole—which is an amusing turn-based role-playing video game that my PC can render at maximum quality and frame rate. And so, I ran the game at 4K/120 Hz, and the results look like nothing I've seen before. It's as if the animation has come to life with vibrant color, fine textures and details, impressive sharpness, and smooth motion that's beyond what you see when streaming the show itself. Crucially, it has that look of animated art, not of video game pixels—an effect which is largely lost when you go from The Frame to a TV with a reflective or glossy screen.

I found most HDR scenes I watched turned out to be well within The Frame's ability to render a compelling image. The color intensity and contrast are enough to provide that visual pop which gives two-dimensional imagery that three-dimensional feel. In brighter rooms, the perceptual depth of the black levels is deeper than on TVs that technically measure better in a lab, but in real life, the benefit of the matte screen is self-evident.

When in a bright room, you cannot go my metered readings of deepest blacks, you have to account for how the ambient light affects those black levels, and with FALD-LCD and OLED TVs, the effect of bright light eradictaes the benefit of that technology's ultra-high native contrast.

In the image you see above, The Frame offers much deeper perceived black levels in the area where it is suppressing the reflection of the window. Yes, you see a slight haze in the top right hand corner of the screen, but it is nothing compared to the clearly visible reflection of the window itself in the glossy screen on the right.

OK, so aside from the cap on peak brightness, which can impact some HDR content, it certainly needs to be mentioned that this TV's optimal viewing angle—essentially how far off center you can sit before the image starts to lose contrast—is somewhat modest. This is a typical trade off when you've got a LCD panel that offers high native contrast, as is the case with this model.

---
Conclusion
First impression? What a shockingly great TV! I was genuinely surprised at how the design of The Frame complements the cool QLED technology inside. In a very real sense, the design of The Frame 2022 achieved the greatest trick of all, it made me forget about the "TV-ness" of this display. The focus is the screen, which is beautiful.

The image this TV produces differs from the flagship TVs that win the shootouts. First and foremost, it makes artwork and photography look ugorgeous, and realistic. To the point where it plays tricks on your brain, the matte screen is such a dead ringer for physical media that you wind up sticking your nose up against the screen, marveling at the details.

But it also delivers as a premium TV where and when it counts. With SDR HD, which is the vast majority of broadcast TV and much of what streams, it simply looks good because of the totally reflection-free screen. It gets very bright, so that combination basically overcomes any room lighting conditions.

And seriously, gamers will trip out when they realize this is a giant PC monitor, with awesome contrast and color and speed and the "look" of a real monitor thanks to the matte coating.

So, what we have here is an Editor's Choice TV, but not for the usual reasons of it being an HDR overachiever. The best thing about The Frame 2022 is it serves its dual roles so well, it looks amazing as art, and it performs extremely well as a living room TV.

Finally, I just want to say this: If I could afford to do so, I really would buy a dozen of these TVs in various sizes, to show my artwork. And that day may very well come, fingers crossed. If you are an artist who creates digital illustrations, your jaw will drop when you see your work shown on The Frame 2022.