The Samsung Odyssey Neo G9 57-inch monitor is an absolute gaming titan, dwarfed only by its own monstrous size. With a curved 8K (technically dual 4K) display spanning an ultra-wide 57 inches, this is a monitor designed to overwhelm your senses and fully immerse you in virtual worlds. After a few weeks of putting the Neo G9 through its paces, I can confidently say this display marks a new high point in gaming technology. Read on for a comprehensive look at what makes the Neo G9 the most advanced gaming monitor ever made.
Unboxing and Setup
My journey started with the challenge of unboxing the Odyssey Neo G9. At 41.9 lbs, this is no lightweight display. Definitely requiring an extra pair of hands, we gingerly lifted the monitor and snapped on the sturdy aluminum stand with its unique wide V-shape base. Stability was rock-solid and adjustments including tilt, swivel and height alignment allowed us to dial in the perfect positioning.
Despite its size, the base doesn't extend much past the display's front edges to maximize desk space. The back of the monitor looks nearly as good as the front, with a large removable panel to hide cables and connections. With a peak power consumption up to 300W, I was relieved the monitor didn't get too hot even after lengthy gaming sessions. Setup was straightforward, but the Neo G9's sheer size means an extra helper and patience are recommended.
Display Technology
Let's dive into what makes the Odyssey Neo G9's display so groundbreaking. It all starts with the incredible 7,680 x 2,160 resolution stretched across the expansive 32:9 aspect ratio. This is equivalent to two crystal clear 4K UHD monitors seamlessly joined together without any distracting bezels obstructing your view. This level of detail is unmatched by any single display in the gaming monitor space.
But resolution is only part of the story. The Odyssey Neo G9 is also one of the first monitors to support DisplayPort 2.1 and HDMI 2.1 connectivity, unlocking up a blistering 240Hz refresh rate. To achieve the full dual 4K resolution at 240Hz refresh, you'll need a compatible graphics card with DisplayPort 2.1 or HDMI 2.1 outputs, as these new standards provide enough bandwidth for the ultra high data rates.
Specifically:
DisplayPort 2.1 supports up to 80 Gbit/s bandwidth via the UHBR 13.5 link. This has enough capacity for uncompressed dual 4K 240Hz.
HDMI 2.1 tops out at 48 Gbit/s bandwidth via the FRL 6 link. This is also sufficient for the full dual 4K 240Hz signal.
With a supported card, the Neo G9 can deliver unbelievably smooth gameplay free of tearing, stuttering or input lag at the cutting-edge combination of high resolution and high refresh rate. Older cards are backwards compatible, but you'll likely find a lower maximum refresh rate.
The VA panel driven by Samsung's Quantum Mini LED backlighting delivers 2,392 local dimming zones for pixel-level brightness control that simply outclasses traditional LED monitors. Mini LEDs allow the Neo G9 to deliver searing highlights beyond 1000 nits brightness while maintaining inky blacks. This creates a near OLED-like contrast for vivid scenes full of fine detail in both bright and dark areas, without the worry of OLED burning or ghosting.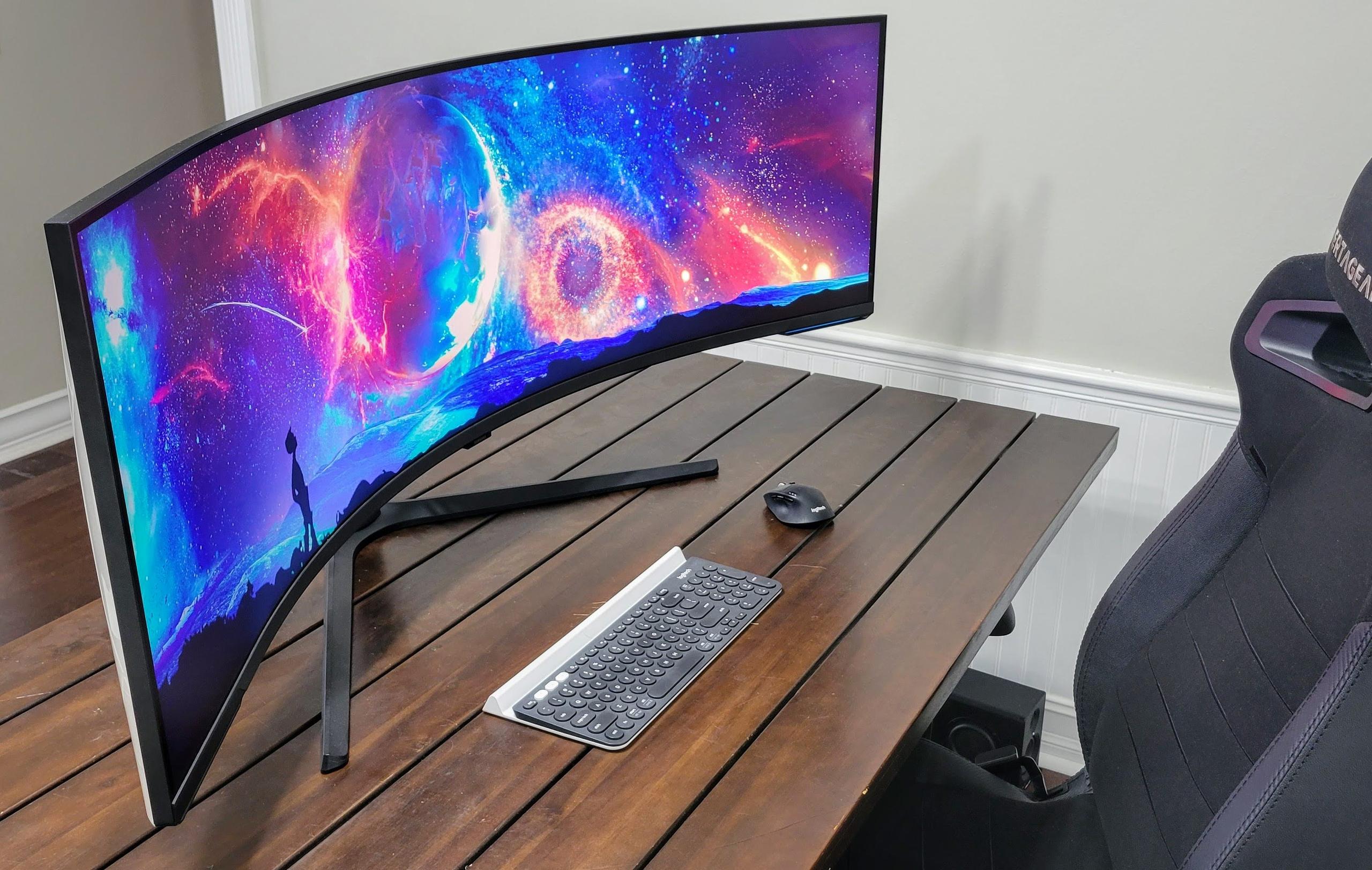 The monitor's maximum 1000R curvature and matte anti-glare coating work together to fully wrap your peripheral vision for maximum gaming immersion. This intense curvature matched to human vision pulls you into the action unlike any flat screen display. At one point during testing, I went back to my older 32" screen, and I was shocked by how dull and lifeless and average display can be. Overall, the Neo G9 provides visuals and fluidity never before possible in the gaming monitor space. It's a display engineered specifically to overwhelm your senses and pull you into virtual worlds. It needs to be experienced, sitting at the epicenter eliminates distraction.
Gaming Performance and Features
Of course, all of that cutting-edge display technology would mean little if it didn't translate into amazing real-world gaming performance. Rest assured, the Neo G9 delivers stunningly smooth, responsive and immersive gameplay. I tested a variety of games across different genres on a powerful gaming PC system.
The test configuration was powered by an XFX Speedster MERC310 AMD Radeon RX 7900XTX graphics card, AMD Ryzen 9 7950X 16-core processor, 32GB of DDR5 RAM, and a 2TB Western Digital SN850 PCIe 4.0 NVMe SSD. This high-end hardware allowed me to fully exploit the monitor's capabilities across a variety of demanding modern games.
In open-world adventures such as Elden Ring, the Neo G9's expansive aspect ratio unfolds landscapes like a vast canvas, stretching the horizons and guarding against surprise ambushes from lurking foes. The monitor's coverage of a whopping 95% of the DCI-P3 color spectrum, and its 10-bit color depth, conjures over a billion colors. This means sunlit meadows and shadowy dungeons are painted in a rich tapestry of details you might've missed on other screens.
The magic doesn't end there. Enter the Quantum HDR tech. This feature ensures the display shines at over 1000 nits for those piercing bright moments while plunging into the inky depths of 0.001 nits for the profound blacks. This sweeping contrast breathes life into scenes, from the subtle play of light and shadow on medieval ruins to the intense glint of sunlight on a knight's armor. Even the dance of a torch's flame against the cold dungeon walls feels more alive, its glow more lustrous. Whether you're navigating sun-drenched fields or exploring mysterious underground labyrinths, the Neo G9's visuals don't just show the game – they immerse you.
Fast-paced shooters like Overwatch 2 felt incredibly responsive thanks to the 1ms gray-to-gray response time, with my whip-fast aim adjustments translating on-screen instantly. The quantum mini-LED backlight really shined in chaotic team fights, allowing me to distinguish allies and enemies in nuanced lighting conditions. I gained a real competitive edge with the Neo G9's fluidity and clarity.
Cinematic games were also elevated. Cyberpunk 2077's dystopian future city came alive on the Neo G9, again with the HDR contrast and searing neon highlights creating visual pop. Night City's dark alleys maintained detail thanks to the local dimming zones. Ray tracing reflections were rendered precisely across the ultra-wide display for added realism.
The monitor includes a robust suite of gaming features and adjustments as well. AMD FreeSync Premium Pro ensures smooth variable refresh rates when paired with compatible graphics cards. The intuitive OSD menu provides quick access to gaming settings and displays refresh rate, response time and black equalizer levels. CoreSync rear lighting can project colors to match the on-screen action, surrounding you in ambient lighting as you game.
Productivity Performance
With its expansive display area, the Odyssey Neo G9 also offers compelling productivity advantages for work and multitasking. The sheer amount of screen real estate allows multiple full-size windows to be snapped side-by-side. Video editors in particular will appreciate the ability to view timeline and preview windows simultaneously with no scaling necessary.
The massive screen was great for referencing documents and monitoring email while keeping an eye on the in progress tasks. I also liked having Spotify controls and Discord visible while gaming without obscuring the main action. It even has a built in USB KVM switch, allowing the sharing of a single mouse and keyboard to multiple computers.
To test versatility, I connected the Neo G9 to an older Lenovo laptop using the HDMI and DisplayPort cables. This allowed me to leverage picture-by-picture mode to essentially use the monitor as two seamless 4K displays side-by-side despite the laptop's older integrated graphics. Gaming and multitasking were excellent across the dual UHD views.
Having the two views perfectly aligned without a distracting bezel is so much more comfortable than trying to align two separate monitors. The Neo G9's stand ensures perfect height and angle alignment every time. No more fiddling with tilting monitors - even without the latest tech, you can benefit from its massive ultra-wide workspace.
Design and Adjustability
The Neo G9 maintains Samsung's refined yet gamer-friendly aesthetic. The rear panel mixes matte white plastic with an RGB lighting ring that can be configured using CoreSync to create ambient lighting effects. The wide V-shaped stand is both sturdy and space-efficient. Build quality feels premium and designed to last.
Ergonomics are well executed - I was surprised given the size and weight by how much adjustability was achieved. The stand provides 15 degrees of swivel and 4.72 inches of height adjustment to dial in your perfect viewing position. You can also tilt the screen forward and backward effortlessly. Combined with the significant 1000R curve, it's easy to minimize eye and neck strain even during longer sessions. The matte display coating also reduces distracting glare.
At just 27.9mm thick, the monitor maintains a relatively slim footprint given the expansive display. And while the Neo G9 dominates whatever desk or surface it inhabits, the lack of bezels helps maintain your focus on the content.
Connectivity and HDMI 2.1
The Samsung Odyssey Neo G9 sets a standard for gaming monitor connectivity, as one of the first displays to fully support the cutting-edge HDMI 2.1 and DisplayPort 2.1 specification. This future-proofs the monitor to take advantage of the latest graphics cards and console hardware.
HDMI 2.1 represents a major leap over the previous HDMI 2.0b standard. Bandwidth is increased to 48Gbps, allowing support for higher resolutions and refresh rates. The wider gamut and dynamic range produce stunning cinematic visuals that really make movies and games pop on the Neo G9's Quantum HDR display. Auto low latency mode (ALLM) also ensures optimal lag-free settings when gaming.
The Samsung Odyssey Neo G9 includes three HDMI 2.1 ports, ensuring full support for both modern gaming PCs and the latest consoles like the PlayStation 5 and Xbox Series X. With multiple 2.1 ports, you can easily connect multiple high-performance devices without needing to swap cables, and auto-switching make for less time using the OSD.
Rounding out the connectivity is DisplayPort 2.1 which utilizes the UHBR 13.5 link to provide up to 80 Gbit/s of bandwidth for uncompressed 8K visuals. It ensures seamless compatibility with next-gen GPUs. There is also a USB3.0 hub, a 3.5mm audio jack for display audio, and two USB ports to connect a keyboard and mouse. Additionally, you get two USB Type-A ports which allow the monitor to function as a KVM switch when connected to multiple devices. Controls were easy and complete, allowing me to choose which display connection the audio jack output from and tweak display settings to my heart's desire.
Final Words
The Samsung Odyssey Neo G9's combination of cutting-edge display tech, incredible gaming performance and immersive ultra-wide design leave no doubt - this is the most ambitious and advanced gaming monitor ever created. The visual experience enabled by 57" of dual 4K resolution, 240Hz refresh rate, incredible color gamut, HDR contrast and 1000R curvature is simply stunning.
Make no mistake, this level of performance demands an investment. The Neo G9 costs a hefty $2499 (Until Oct 1, 2023 you'll get a $500 gift card back) and you'll need some serious GPU power to take full advantage of what it can do. But for gamers seeking to push limits and fully immerse themselves in virtual worlds, no other monitor comes close. The Odyssey Neo G9 doesn't just raise the bar - it obliterates it and leaves competitors in the dust. This is the future of gaming displays, available in the here and now for those ready to embrace it.