High Points
Beautiful OLED panel with deep blacks
High refresh rate and low response times for smooth gaming experiences
Great SDR performance
Easy and quick set-up
Sexy design and sturdy build
Low Points
Brightness limits HDR performance
Gaming Hub and Media sections don't get best from monitor
Introduction
Samsung's curved gaming monitors are among the most renowned around, with good reason, but until now the company has avoided using OLED display technology. Fortunately, that changes with what Samsung claims is the world's first curved ultrawide OLED gaming monitor. The 49-inch Odyssey OLED G9 (also known as the G95SC) announced at CES 2023 to much acclaim, is now here, and is poised to be a game-changer at $2,199.
Thanks to the switch to OLED, from mini LED on the Odyssey Ark for example, we can expect some deep inky blacks, excellent color and contrast performance and tremendous visibility across that 49-inch diagonal panel which curves back towards the viewer for a more immersive gaming experience. However, it's a big ol' beast and you're probably going to need a bigger desk. Not that it's not worth it.
Samsung pitches this as more than a PC gaming titan. There's the Gaming Hub I've seen on Samsung TVs, loaded with cloud services and plenty of media streaming apps. With Multiview, Samsung even believes it can lend a hand for productivity.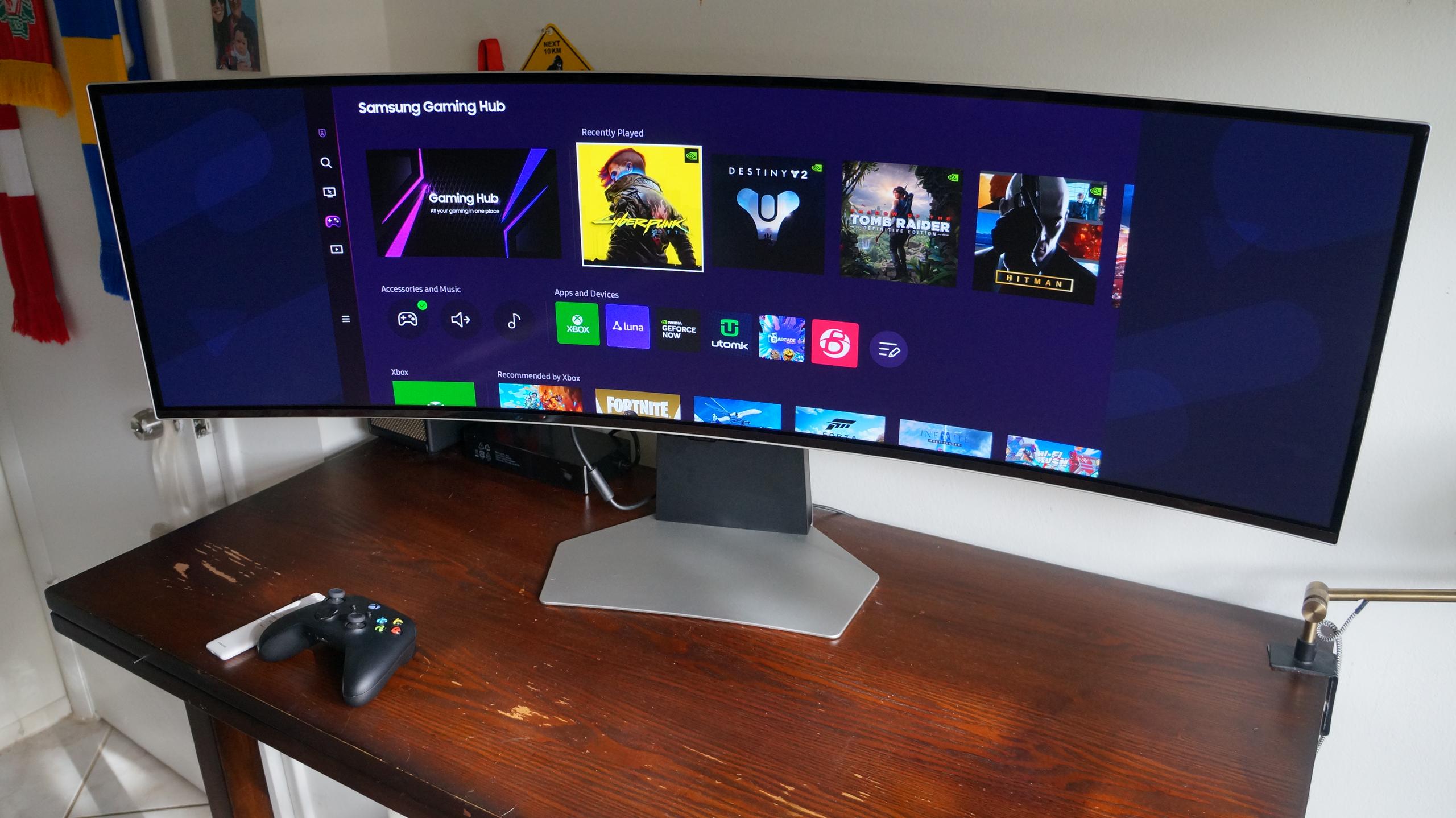 Features and Specifications
Samsung has been cagey with the spec sheet thus far, right up until the review embargo lifting. We know it's a 49-inch, 32:9 OLED panel with a resolution of 5120 x 1440p. There's a max refresh rate of 240Hz, which in theory means it'll handle almost all of what you can throw at it. Response time is a zippy 0.03ms.
Ideally, this should hit plenty of sweet spots for gamers without breaking the bank with 4K or pushing the demands so high you need the very best GPUs to take advantage. With HDMI 2.1 and a DisplayPort 1.4, you're all set for connecting your rig and other devices with high quality connections, while the 5W stereo speakers on the rear of the monitor performed beyond expectations.
Unpacking, Setup and Design
The Samsung Odyssey G9 is nothing short of a visual spectacle as you liberate it from its packaging. Its sheer size can command an audible gasp. Yet, Samsung proves that mammoth doesn't mean complex. The company has perfected the art of a breezy setup across its Odyssey series.
The monitor clicks into a circular mechanism at the rear with a satisfying snap, whisking you from boxed to booted in mere moments. The base, stout and solid, anchors the colossal screen, coupled with a power brick that flexes its muscles without apology.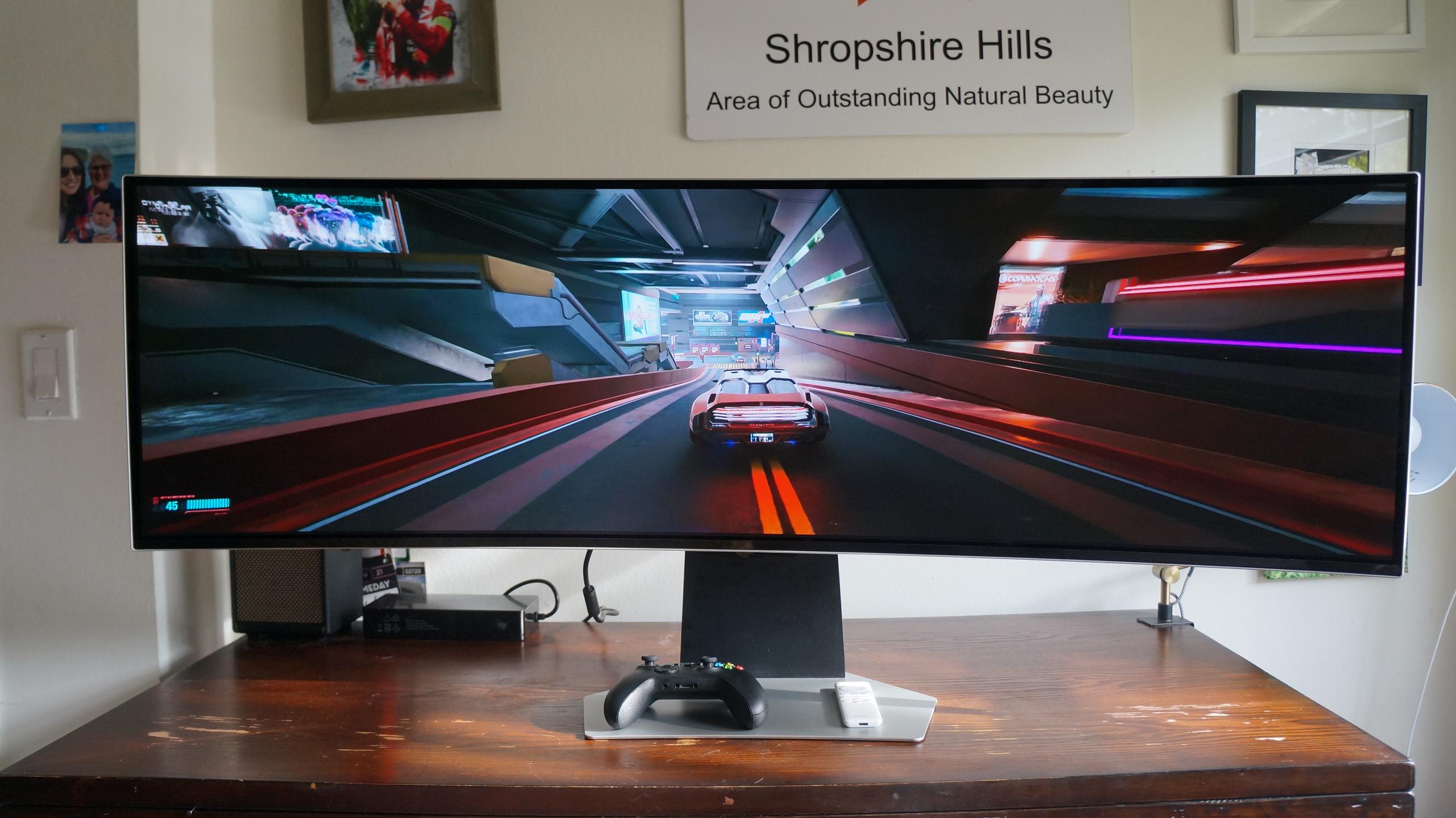 Samsung has streamlined the process of adjusting height and tilt, transforming it into a simple slide-and-set dance, offering up to 8 inches of vertical play. However, if you're hankering after Odyssey Ark-style flipping between portrait and landscape, you're out of luck.
Equipped with an HDMI to Micro HDMI cable and a display port cable, Samsung ensures that connecting your digital behemoth to your computer or console is as straightforward as a summer breeze. And then comes the on-screen rendezvous with the Tizen operating system, navigated effortlessly through the included USB-C remote.
The design hits almost every mark with precision. The bezels come tantalizingly close to edge-to-edge, interrupted by a slim silver-colored metal frame with a minuscule gap. While some may consider the absence of buttons or volume rockers a miss, it's a deliberate choice by Samsung to maintain the monitor's pristine aesthetics.
However, the hidden ports tucked away behind the display, snug in an indented alcove, present a minor hiccup. While they may maintain the sleek facade, their location can prove a bit cumbersome if you plan on regularly using the ports. A minor drawback in an otherwise triumphant design, it's a testament to the thought Samsung has poured into crafting this gaming giant.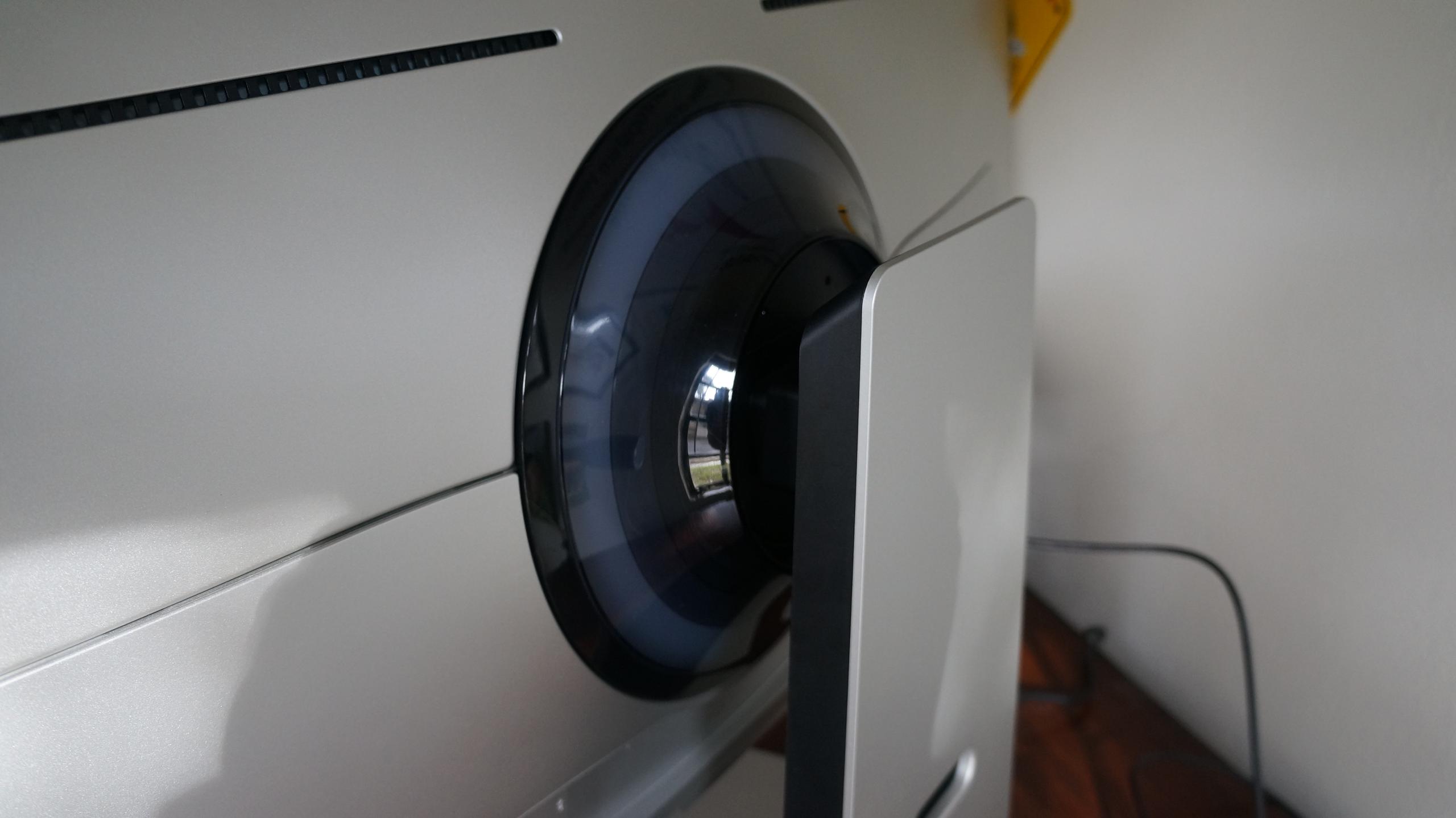 Hands-on Experience
As a newcomer to ultrawide monitors, I didn't take to the Odyssey G9 OLED quickly. In-fact for a couple of days, it sat engulfing my desk and I fled to the kitchen table to work. It is quite imposing so give it time to grow on you. Or you can grow on it.
However, when testing, I began to see the appeal. There's just so much room for activities! The OLED screen delivers as advertised and the subtle 1800R curve still added immersion. The curve isn't quite as pronounced as the curve on some of Samsung's 1000R Odyssey monitors but at a suitable distance it kept the edges of the display within the field of vision, without those edges feeling too far away.
I found the OLED display delivered those pitch, inky blacks and that played out in testing, delivering a black level of zero and ensuring key details were still visible within dark scenes. Contrast performance was also great, exceeding the capabilities of our colorimeter during testing.
When testing games like Cyberpunk 2077 and Fortnite, those overtly neon colors really jumped out of the screen, especially when playing the former. With the display engulfing your field of vision, Night City felt like taking a walk down the Las Vegas strip. This was at standard dynamic range (SDR). However, when I switched the monitor to HDR mode, I didn't get the anticipated jump in the experience. More on that in the performance section.
Elsewhere, I loved the added versatility offered through Samsung's smart TV and gaming ecosystems. It was great to see the Gaming Hub make it, which gives access to cloud gaming from Xbox, Nvidia GeForce Now (with Steam library syncing) and others.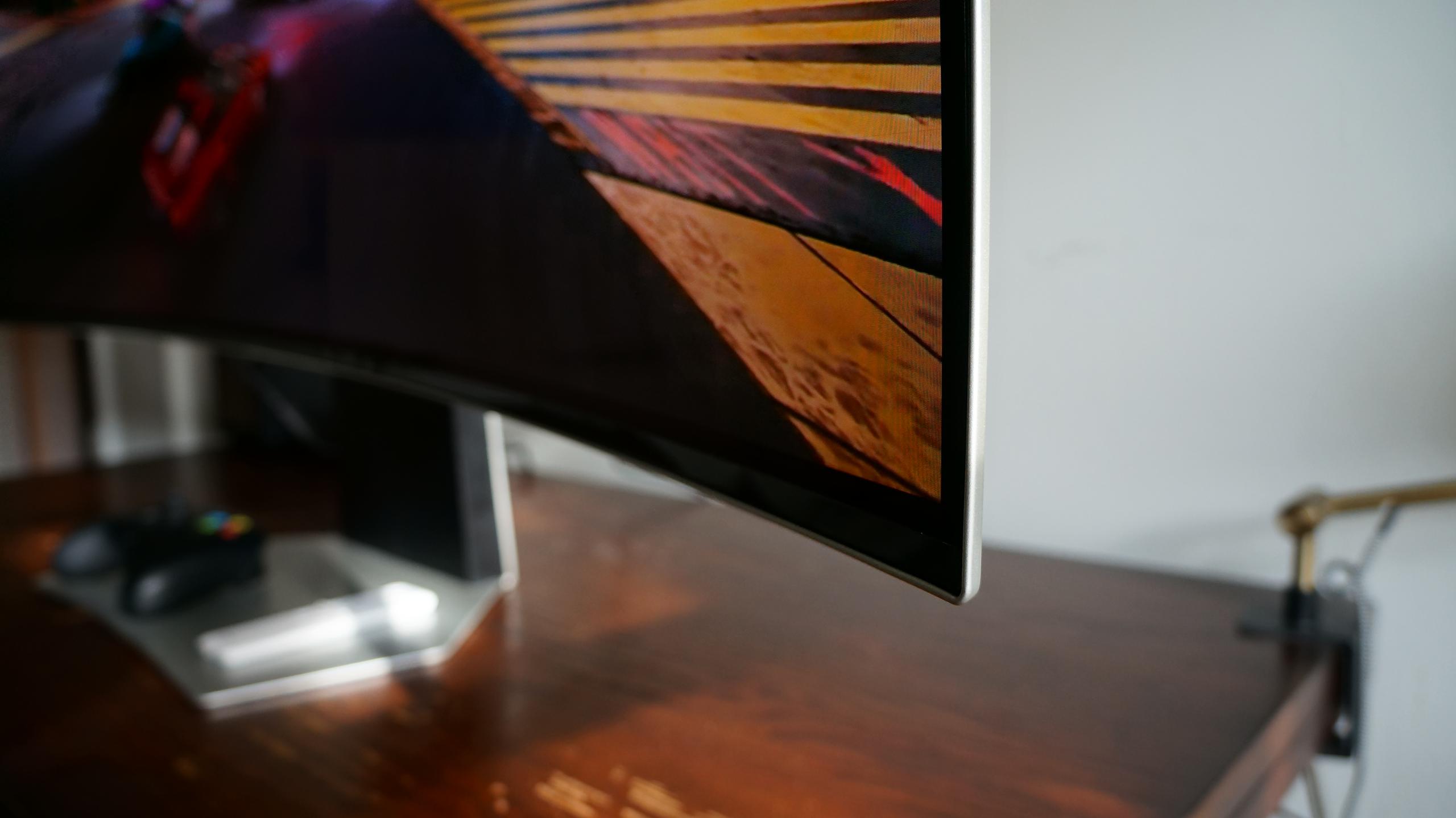 However, this was both a blessing and a curse. Accessing those cloud libraries is great, but I found it to be more frustrating because they don't come close to getting the best out of this monitor. Xbox cloud gaming, for example, won't get you above 1080p resolution, 60 frames per second and 16:9 aspect ratio.
Even with GeForce Now's Ultimate tier that offers a serve based RTX 4080 GPU rig, the version of the app for Samsung had similar limitations. Games like Cyberpunk 2077 that do offer ultrawide compatibility on PC don't within this particular app setting.
Cloud gaming apps are largely for when you don't have access to your primary screen via the console or PC so it feels like the Odyssey G9, with its massive black windows either side of the 16:9 display, is overkill here.
You'd probably fair better using GeForce Now on your PC through the monitor, but then you won't need the Samsung-based app anyhow. You won't see much benefit from plugging your Xbox Series X or PS5 in here either because those experiences remain completely optimized for television.
Remember though, you're not going to get ultrawide performance from every PC game you load up from your gaming laptop or desktop either, but the ones that do comply makes this monitor feel like a worthy investment.
Take the PC version of Forza Motorsport 5, the wider view of the building and scenery around you really adds to the sense of speed as you whiz past. Especially if you enjoy the in-car view, because you usually don't see much outside of the beyond the wing mirrors.
The same complaint about overkill applies to the Samsung Smart TV apps like Netflix, Prime Video and Disney+ which have dedicated buttons on the remote. I don't really want to watch Apple TV+'s Ted Lasso on a 32:9 display.
From a productivity standpoint this is better because of the Dual Quad HD resolution. You can have windows on the left and right side of the display, or a document and a video side-by-side for instance. Easy wireless casting via the native Windows and Mac methods also helps with this.
There's a SmartThings IOT hub too, as well as Alexa and Bixby voice assistant capabilities. These are, I suppose, nice to have, but it feels like just a case of Samsung throwing as much as they can at this monitor to enhance the proposition.
Bluetooth and Wi-Fi performance was flawless and I had no problems syncing our games controllers, speakers and other accessories through a well thought out interface that offered quick access to settings like picture modes, game mode and more.
Performance
This monitor can handle a lot. It doesn't have the 4K + 240Hz killer combo of the LED-based Odyssey Neo series for example, but the configuration of that monitor is also significantly smaller at 32-inches. However, there's plenty on the spec sheet to ensure a brilliantly detailed experience at 1440p.
The 240Hz plus AMDs FreeSync Premium Pro technology means that the Odyssey G9 can sync the experience to match blisteringly fast frame rates, resisting those pesky screen tears. Also, the advertised response time of 0.03ms is resistant against motion blur and low enough for hardcore gamers.
With OLED tech it's to be expected, but the brightness levels aren't as high as some recent LED competitors. Samsung advertises a spec of 250 nits, and our measurements indicated this to be accurate. Samsung says this OLED panel has the Vesa DisplayHDR True Black 400 certification - when testing in HDR mode I was able to measure that to 406.5 nits. Samsung's previous LED-based monitors, with greater HDR performance, have been able to achieve upwards of 650 nits. With OLED, contrast is maintained even with lower peak brightness, and in darker rooms this can be an advantage. That said, if you've got direct sunlight on the screen, every bit of brightness helps.
Things take an uptick again when it comes to accurate color reproduction. Tests showed 100% sRGB, 99% Adobe RGB, and 98% DCI-P3 results, meaning it can be relied upon for users where those lifelike colors are paramount. Photo or video editing, for example. I just can't see many people buying this monitor for that purpose, unless they also happen to be avid gamers.
In terms of the color temperature, the Odyssey G9 was as expected for a target of 6500K. The tests revealed a 6550K score.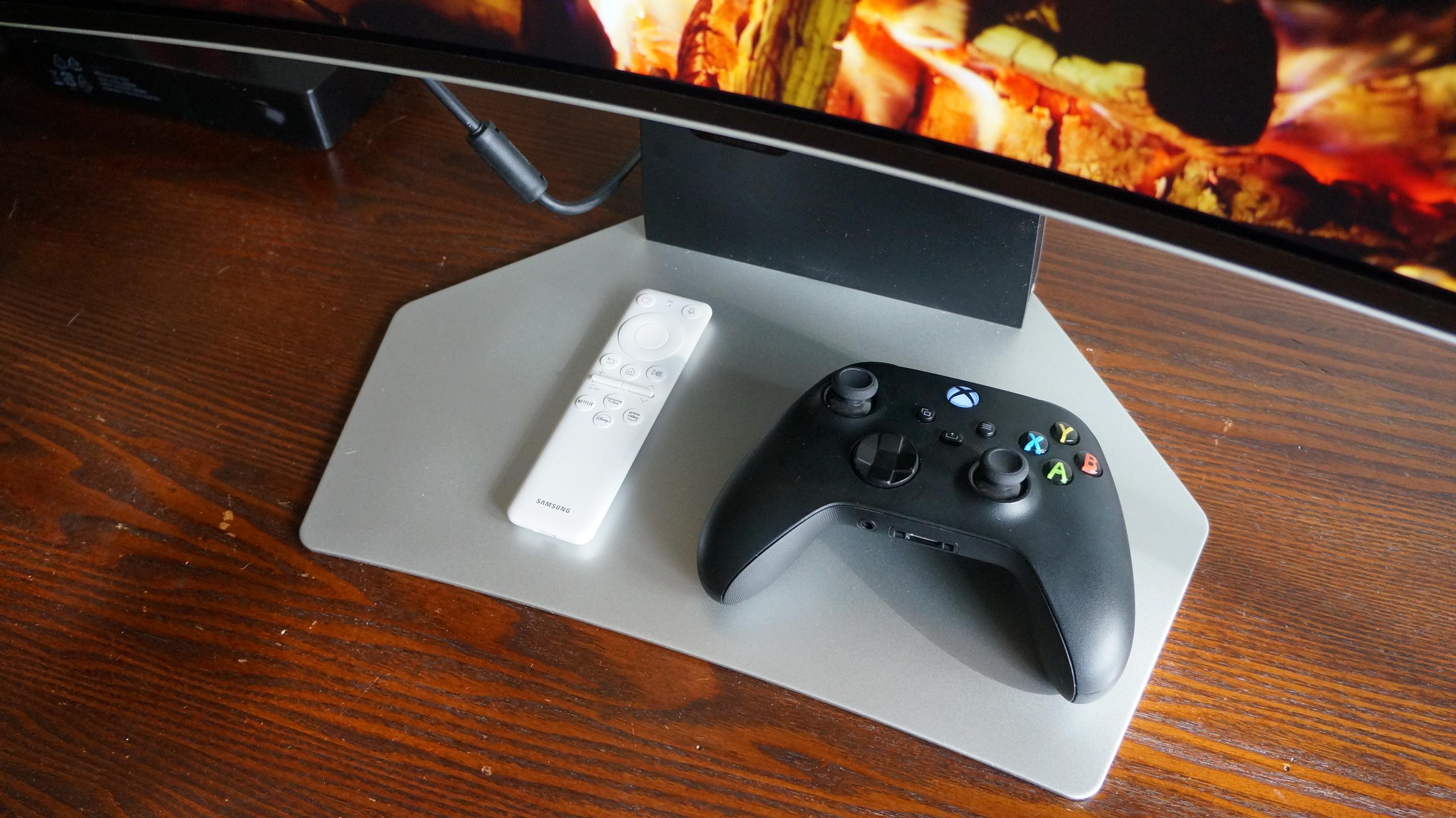 Conclusion
Samsung has smashed it out of the park with the Odyssey G9, a gaming titan that turns heads with its colossal build and sturdy stand. It brings OLED technology to gamers, intensifying ultrawide gaming with a mesmerizing curve. If ultrawide is your passion, then this monitor is a no-brainer.
Samsung's LED-based Odyssey Neo G9 or QHD 49-inch model may be more up your alley if you are if you're after a extremely bright HDR experience.
In essence, for hardcore gamers, the Odyssey G9 OLED is a thrilling must-have. The contrast and deep blacks of this OLED display, combined with the epic size and curve, provide a stunning, immersive experience.