Samsung's latest and greatest flagship soundbar, the Q990B ($1899.99), is a true technological marvel. It packs a tremendous amount of technology—including 11.1.4 sound with Dolby Atmos and DTS:X—into an easy-to-install, attractive, and 3D immersive system consisting of only four components: Soundbar, subwoofer, and a pair of wireless surround speakers.

The result of all these drivers and sophisticated processing is a surround sound experience that truly envelops the listener. Getting something similar out of an AV receiver system is a lot more complicated and involves running hundreds of feet of speaker cable. The soundbar is an aesthetic win, in addition to offering the simplicity of installation, as well as ease of operation.
---
Features and Specifications
The Q990B offers real 11.1.4 Dolby Atmos sound, meaning there is a driver dedicated to each listed channel, rather than relying upon virtualized surround-sound. In fact, there is a grand total of 22 drivers in this system! The sizeable and solidly built main soundbar measures 1232.0 x 69.5 x 138.0 mm.

Perhaps the single most important feature of this soundbar is that it is in the Samsung SmartThings ecosystem. Therefore, if you are smart, you will use the app to set up and use this soundbar. The SmartThings app not only makes the setup process simple, but it also lets you make the most of all the features.

The soundbar's chassis houses nine discrete channels, including two of the four elevation channels, the left, center, and right channels as well as four side-firing speakers—two per side—that bounce sound off the side walls to help create a wider and more expansive soundstage.

The wireless satellites add two more standard surround channels, two height channels, as well as two additional side-firing channels. The satellites are the key to the full audio envelopment achieved by this system and are how the system reaches its 11.1.4 channel count. These compact wireless wonders measure 129.5 x 201.3 x 140.4 mm and are wall-mountable. They are wireless but they do need to be plugged into AC power.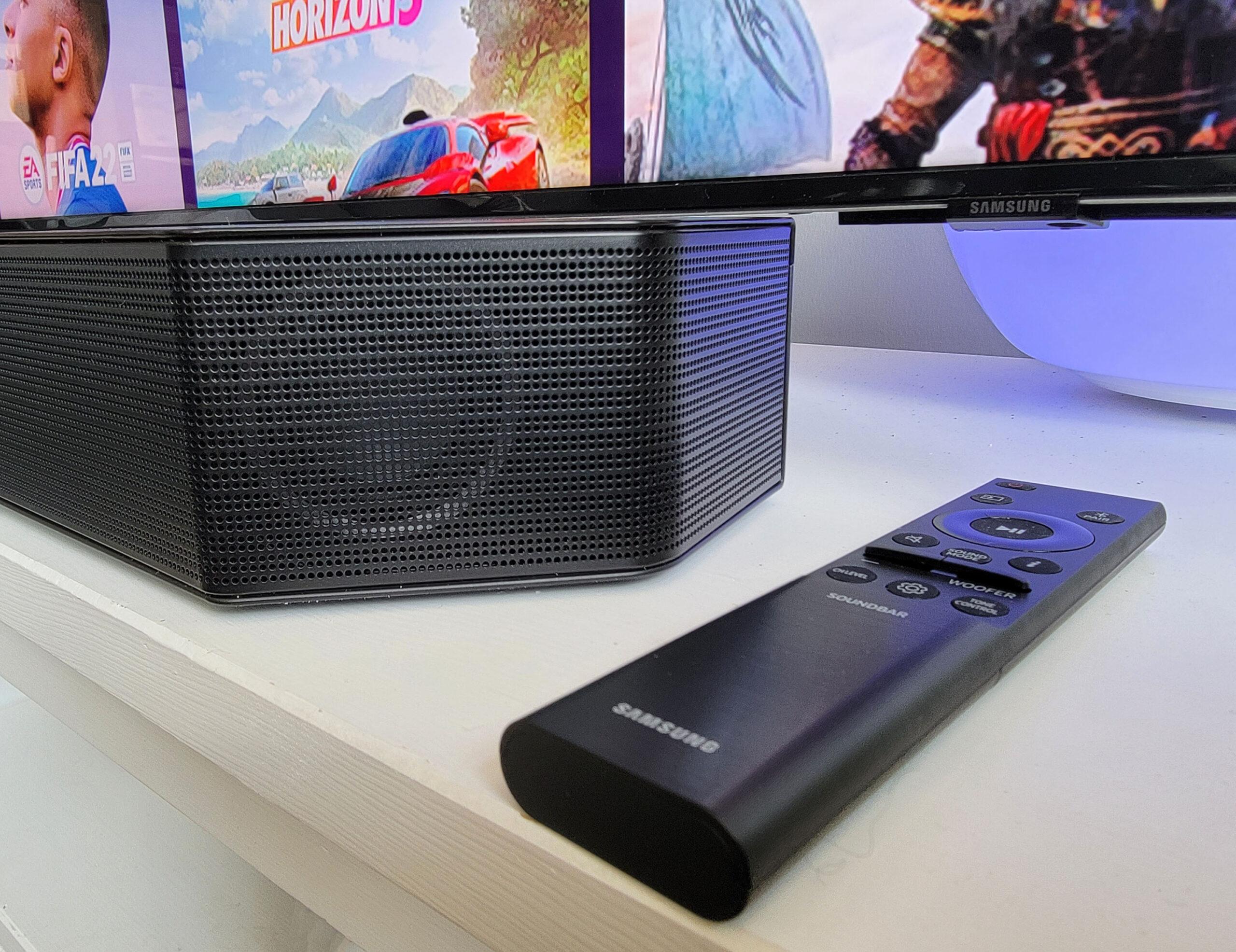 The Q990B comes with a wireless subwoofer that's relatively large and robust (for a soundbar system). It's a ported design with an 8" long-throw woofer and 200 W of amplification. The cabinet measures 220.0 x 413.0 x 410.0 mm.

Wireless Dolby Atmos via Wi-Fi is an exciting new feature that connects compatible Samsung TV's and delivers the full 3D immersive sound experience without having to physically connect the soundbar to the TV. This is a fantastic option for any installation where you want a clean look, with no cable connecting the TV and the soundbar.

The Q990B has a total of three HDMI ports, two of which are for external sources and one for connecting to a TV. These ports support 4K up to 60 fps including HDR. The TV connection supports eARC, and that is the primary connection I used throughout this review.

SpaceFit Sound+ is a room correction feature that helps you get better sound by adapting to the unique qualities of your listening area. According to Samsung, it detects the room environment and optimizes the sound accordingly. It is seamless and automatic, you just turn it on.

The soundbar also offers Auto EQ. This function focuses on the subwoofer, ensuring that it offers an even response in your listening space. Auto EQ requires a calibration routine that takes a minute to run and that the room be silent, but otherwise, it is hands-off and uses a microphone built into the sub itself to take the room readings.
Adaptive Sound is a mode that offers dynamic audio optimization depending on content. If you don't want to be constantly switching listening modes, you can simply set it and forget it. The Q990B also has a Game Pro Mode, it is designed to take the surround sound from video games and upmix it so that you get 3D audio that is fully enveloping. This functionality works with select TVs as well as gaming consoles like the Xbox Series X and the PlayStation 5.

This soundbar directly supports AirPlay 2, for easy streaming with iOS and other AirPlay compatible devices. It also offers support for Spotify streaming. Meanwhile, Alexa built-in allows this soundbar system to hear hands-free voice commands, without the need for a separate Echo device. The built-in far-field microphones pick up your voice commands.

You can also connect via standard Bluetooth pairing, or use a digital optical cable. But HDMI and Wi-Fi are the superior approaches for connecting if you're looking for maximum quality.

Active Voice Amplifier (AVA) is an interesting feature that addresses a major pain point, it senses when there is a lot of noise—for example a leaf blower or a vacuum cleaner—and dynamically boosts voices to ensure they are heard over the background sounds. This is a separate feature from the Voice Enhancement function that is designed to clarify dialogue all of the time, regardless of background noise conditions.

This soundbar is easily mounted on a wall and includes a pair of very minimalist brackets, a template, and the screws required. It only takes two screws firmly anchored to the wall to hang the Q990B.
---
Setup
Although what this soundbar system does with sound is extremely sophisticated, the point of such a system is simplicity. So, it is imperative that the setup is intuitive. And that starts with something as simple as the packaging: Some soundbars come in these guitar case-shaped boxes that feel like you're unfolding a piece of complex origami to get to the system inside. This soundbar comes in a nice rectangular box that's easy to handle and easy to unpack.

I strongly recommend utilizing the SmartThings app for setup because it will get that soundbar connected to your Wi-Fi in no time, plus allow you to check on the soundbars status and adjust settings with ease and granularity that is simply not attainable using the minimalist display on the soundbar itself.

Now, that's not to say that you must use the app to set it up, the remote supplied in the box lets you access menus and make adjustments. The remote certainly is nice to have, is useful for daily operation like source selection, volume adjustment, and picking a sound mode.

The included remote looks and behaves almost exactly like the remote that comes with Samsung TVs. However it takes batteries, rather than the solar-powered and RF harvesting with USB-C charging that the TV remote now features. There is no microphone on the soundbar remote because the soundbar itself has a far-field mic that works with Alexa.

Something I truly love about Samsung soundbar remotes is the dedicated switch for adjusting the subwoofer level, it is right next to the standard volume control.

You can also control soundbar functions with a compatible Samsung One Remote that comes with its TVs, and you can even set the soundbar to accept volume adjustment signals from IR remotes made by numerous other manufacturers.

I used the Q990B in conjunction with the 65-inch version of Samsung's flagship 8K TV, the QN900B. I simply placed the soundbar on the TV stand, right in front of the TV. Samsung supplies rubber feet that make it a perfect fit over the pedestal base of the QN900B.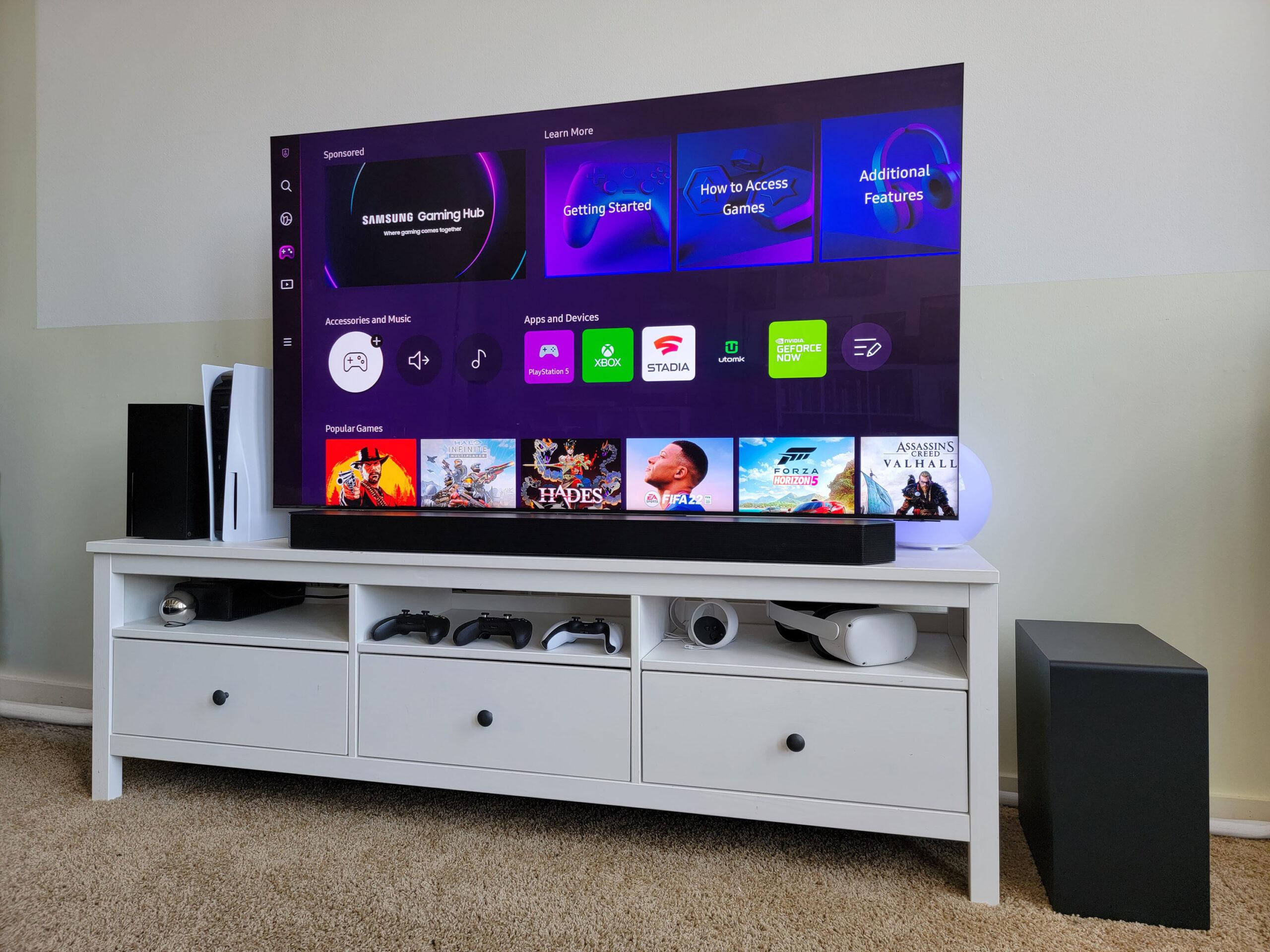 I placed a subwoofer to the right of the TV stand, mostly because it's a good spot for it, but also because in soundbar systems, I like to keep the subwoofer as close to the bar itself as possible because I feel it makes the sound more cohesive. That position also matches what Samsung suggests in the manual's recommended speaker layout.

The only hiccup I had with the setup was the length of the provided power cables. Samsung supplies four in the box, they are all the same length, but while there were outlets within reach of the subwoofer and the soundbar, those chords were not long enough to place the satellites where I wanted them, so I had to get extension cords. They are standard power cords, and you can easily order longer ones from Amazon for just a few bucks. I had simply not anticipated that need, but if it was a permanent installation that's what I would do.

I've moved since the last time I did a soundbar review, and my new space is quite large compared to my previous living room. I especially wondered how the soundbar would do considering I have 13-foot ceilings, but it turns out that's more advantageous than disadvantageous because it allows the reflected height channel sound to bounce in a more optimal fashion, I think the higher ceiling actually improved the height effect.
One thing I've grown used to in reviewing Samsung soundbars is that the sound quality is usually close to spot on right out of the box. Despite the dramatically different room, the overall sound signature of this system is balanced and reminds me of my carefully tuned AVR-based system, in terms of the overall EQ. And when I activated Auto EQ and SpaceFit Sound+, the character of the sound did not change much, indicating that the default tuning is a good general match for your typical living room type space and that the room correction calibration routines essentially get you a bit closer to ideal but don't have to work too hard to get you there.

Of course, I wanted to get Q-Symphony working, because that's one of the key advantages of combining a 2022 Samsung Q-Symphony-supporting soundbar and TV, they essentially become one consolidated system that uses all the speakers—both on the TV and the soundbar—to create sound. Consider that the TV already has Atmos support and side-firing as well as up-firing speakers, so it is well equipped to add to what the soundbar offers.

But, of course, you can use the Q990B on its own, with any brand TV. But ideally, a TV with eARC since a non-Samsung (or an older Samsung) TV will not have the wireless Atmos support. Besides, if you want to use the HDMI inputs on the soundbar then you need to connect to the TV via HDMI as well, in order to carry the video signal.

So long story short, I checked to make sure wireless Atmos worked reliably via Wi-Fi, and it did. You can even have Wi-Fi and Q-Symphony working together. The sophistication of the wireless integration between soundbar and TV in essence makes it operate like a single device.

And then, I switched to an eARC connection and made sure that worked, and I hooked up an Apple TV 4K to the soundbar's HDMI 1 input, which I used for both streaming movies and playing Dolby Atmos music. The reason I did this instead of using the Wi-Fi functionality is in addition to the Apple TV 4K, I also have a PlayStation 5 and an Xbox Series X, both of which are connected directly to the TV along with a Chromecast Ultra. So all the HDMI inputs are used up! Thanks to eARC, I am able to enjoy 3D immersive sound from either one, or from the built-in apps on the TV, but also have the Apple TV in the mix, with room for yet another source on the soundbar itself.

There was not much else to the setup. I can't promise everyone's experience will be like mine, but I encountered no glitches in terms of system connectivity or setup. There were no deep dive menus, no need to press some hard-to-find button for 10 seconds or whatever, just plug and play and set everything up with the app.
---
Hands-On
Samsung has reached a point with its top-of-the-line soundbar where what I hear coming out of it is so good, it's a bit shocking. Accurately describing the quality of the sound invites incredulity among the skeptics. But the joke is on them, because you really have to erase any preconceived notions you might have about what is a soundbar listening experience can be. The multichannel 3D immersive capabilities of this system literally and figuratively elevate it to a higher plane of performance, one that's usually associated with AVR-based audio systems.

Dolby Atmos and DTS:X sound are a true boon for home theater, and with their inclusion on soundbars, they have forever changed the living room as well. And the fun of listening to a great Dolby Atmos mix longer just applies to Movies and TV shows and video games, with Atmos music there's a whole universe of fascinating new audio experiences to explore, and this is one of the biggest differences in 2022—music is now immersive, too.

If you feed the Q990B 5.1 surround, depending on the mode, it will upmix the content for you. This is usually desirable because it results in a richer and fuller sound. If you use the adaptive sound feature, this will pretty much be the default for all the non-Atmos and non-DTS :X content you feed it.

But if you are a purist and want to hear how this soundbar handles unmodified 5.1, you can do that too by simply selecting the Standard mode. This is the mode to choose for essentially unprocessed sound, all other modes upsample everything to 11.1.4. And here is a shocker, I did not use standard mode. I found it rather convenient to leave the system on adaptive sound, which seemed to do the trick in terms of picking the right settings. The whole point of a soundbar vs. an AVR is to get quality but also have that simplicity, so it's nice that you can just leave it on Adaptive Sound and not sweat it.

Dolby Atmos Movies and games behaved as expected, with the degree of 3D envelopment that escapes other soundbar systems. All those real drivers do real work to fill the room with real sound. I watched Dr. Strange in the Multiverse of Madness on this system and the sound tracking is shockingly effective, with effects swirling around the room, almost as if I was in a dedicated home theater packed with speakers. It's a particularly great movie for at most because there are scenes in the multiverse where the sound mix conveys the notion of floating in a tripped-out alternate dimension where there is no up or down.

For gaming, the week I received this soundbar is the same week I finally got a PlayStation 5, and what I opted for is the Horizon Forbidden West bundle. So, while normally I'm hung up on Grand Theft Auto Online, I thought I'd give the new game a shot, especially because recent reviews have highlighted the high production value of the audio in the game. When it comes to game sound, one of the most important features is that the surround sound is cohesive, in other words it's consistent for a full 360 circle.

This is crucial in games because when your perspective changes, so does the whole soundfield. If you spin around 180 degrees, a sound that was in front of you can suddenly be behind you, and you want it to basically sound the same. This is impossible to achieve with strictly virtual surround sound, and frankly, I have not heard any other soundbar system that can pull off this trick as convincingly as the Q990B. It avoids the trap of having sounds appear to bounce from speaker to speaker and instead is able to project sounds accurately into 3D space.

This system can play shockingly loud for a soundbar. Despite the larger size of my listening space, the soundbar had plenty of headroom with music and movies. Unless you live in a mansion, the Q990B likely gets as loud as you need for a living room system.

Stereo Music can still sound excellent on this system, although it is perhaps the least "impressive" application. But I wouldn't be saying any such thing if it weren't for the fact that Atmos music sounds so superb, so if there's a choice between the stereo version of something you like and an Atmos version, and you have this soundbar, then it's a no brainer to go with the Atmos mix. But for plain stereo, you're still not gonna be able to beat a good pair of speakers and a traditional audiophile setup.

Dolby Atmos Music is where it's at! Listening to 10,000 Hz Legend by Air remixed in Atmos is an absolute trip. Sound effects that would normally just be panned left or right are now able to intentionally spring up in surprising places, located anywhere within the dome of sound created by Atmos. It's so much more expansive, immersive, and just plain enjoyable that I'm a bit surprised it took this long for me to try it, now I am hooked.

For one Atmos music listening session, I queued up some absolute classics, including "People are Strange" by The Doors, "Lucy in the Sky with Diamonds" and "Here Comes the Sun" by The Beatles, "Another One Bites the Dust" by Queen, and "Mo Money Mo Problems" by Notorious BIG. Each track was delicious in its own way, but to my ears, the revelation is what Atmos does for The Beatles. I've heard them remastered so many times, mono, stereo, whatever. Would you believe I got excited to hear them through a soundbar? Because I was blown away. Atmos on the Q990B was one of the best renditions of their music I have heard, bar none. Clean, accurate, detailed, punchy… yet velvety and smooth.

It's not just the surround sound effects that make the Atmos mix sound better (to my ears). It's also the dynamics, the intensity. The music sounds like it's a higher quality recording than the stereo version upmix. It's been a while since I had so much fun listening to music and a total surprise to hear how Atmos elevates what I thought were familiar, famous classic tracks and breathes new life into them.
---
Conclusion
Samsung keeps raising the bar for what you can do with a soundbar system. When you see a claim like 11.1.4 channel Atmos sound, the system has a lot to live up to. But this Samsung is the real deal, it creates real sound—using real speakers—and truly envelops the listener.

$1900 is a major investment in any audio system. But while that might be a high price in soundbar land, the Q990B delivers audio experiences that more than justify ask. Whether it's TV or movies or games or music, this soundbar delivers an audiophile-quality, enveloping sound field with almost no effort required to install or set it up. The Samsung Q990B 11.1.4-channel Dolby Atmos / DTS:X soundbar system is an Editor's Choice award winner, the days when a soundbar could not approach what an AVR-based system of similar cost offers are behind us.