Samsung is an established and well respected name in the world of TVs, and the QN90C shows why. The QN90C combines sleek design, a streamlined user experience, and outstanding picture quality into one, semi-affordable package. If you are looking to get a new TV, and aren't on a super tight budget, the QN90C proves to be a strong option. Read on as we test and review the 55" version that Samsung sent our way.
High Points
Very high brightness output and strong contrast.
Beautiful picture quality with vibrant, natural-looking colors.
Minimalist design makes the viewing experience more enjoyable.
User-friendly UI that is easy to use and navigate
Very little light-bloom when light sources clash with dark areas of the TV.
Low Points
The split screen feature feels a bit novelty and is confusing to use at first.
Build and Design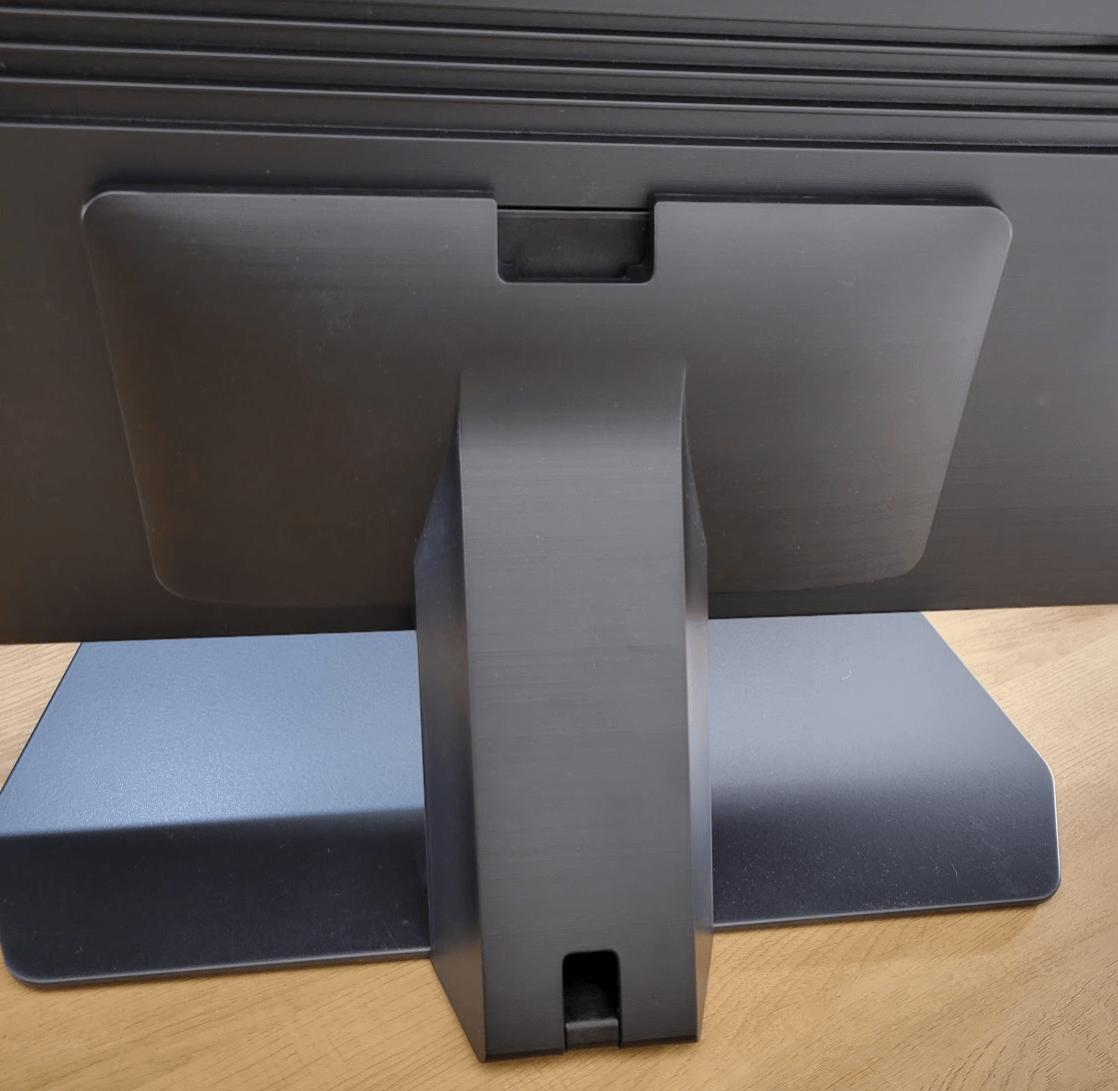 The QN90c is well-constructed, and has an aesthetically appealing, sleek and minimal design that is easy to integrate. The metal base and supporting arm of the TV is actually very small, smaller than from other similarly sized TVs. It leaves room for different peripherals such as soundbars or game consoles, which is a nice benefit.
While the compact base is a plus for saving space, it can make moving the TV feel a bit precarious and I felt like I needed to be extra careful when balancing it. This didn't prove to be a huge issue, though. The thin bezel framing the screen is a plus, as the amazing display on the QN90C is given all the room needs to shine without an intrusive or distracting frame.
On the front panel, a small additional piece houses the Samsung logo, which is well-integrated and doesn't disrupt the overall design. The TV also sports an anti-glare screen, which makes the viewing experience pleasant even at moderate off-angles in well-lit rooms.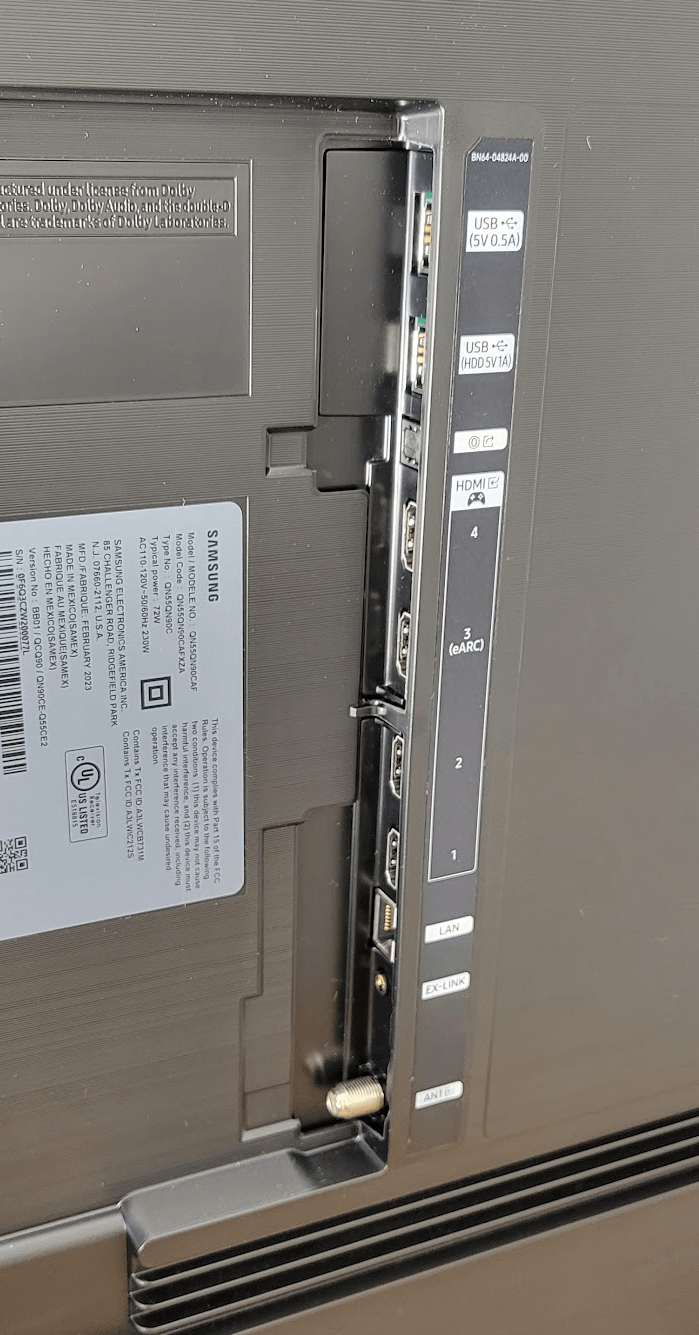 On the rear panel, you'll find an array of connectivity options, including 2 USB ports, 4 HDMI 2.1 ports (one with eARC support), a LAN port, a digital optical output, and a coaxial input. The QN90C is available in seven different sizes, ranging from 43 inches to a massive 98 inches. Despite its size options, the TV remains relatively lightweight and easy to maneuver.
The remote that comes with the QN90C is a neat addition. It is entirely solar powered, which is very convenient. The design of the remote is very typical for a TV of this kind, and feels responsive to inputs.
Visual Performance
The visual performance of the QN90C is nothing short of impressive. With 4K resolution, stunning contrast, and brightness, this TV delivers jaw-dropping picture quality. The Mini-LED technology, combined with local dimming, enables the creation of near-perfect blacks that create a very strong contrast in the image.
During testing, the Mini-LED dimming worked very well, avoiding the light blooming issues often seen in other similar products. For instance, when watching "The Lighthouse" (2019), a black and white movie with a lot of very dimly lit scenes, the QN90C performed exceptionally well, with no noticeable light blooming and impressive brightness even in well-lit rooms and off-angles.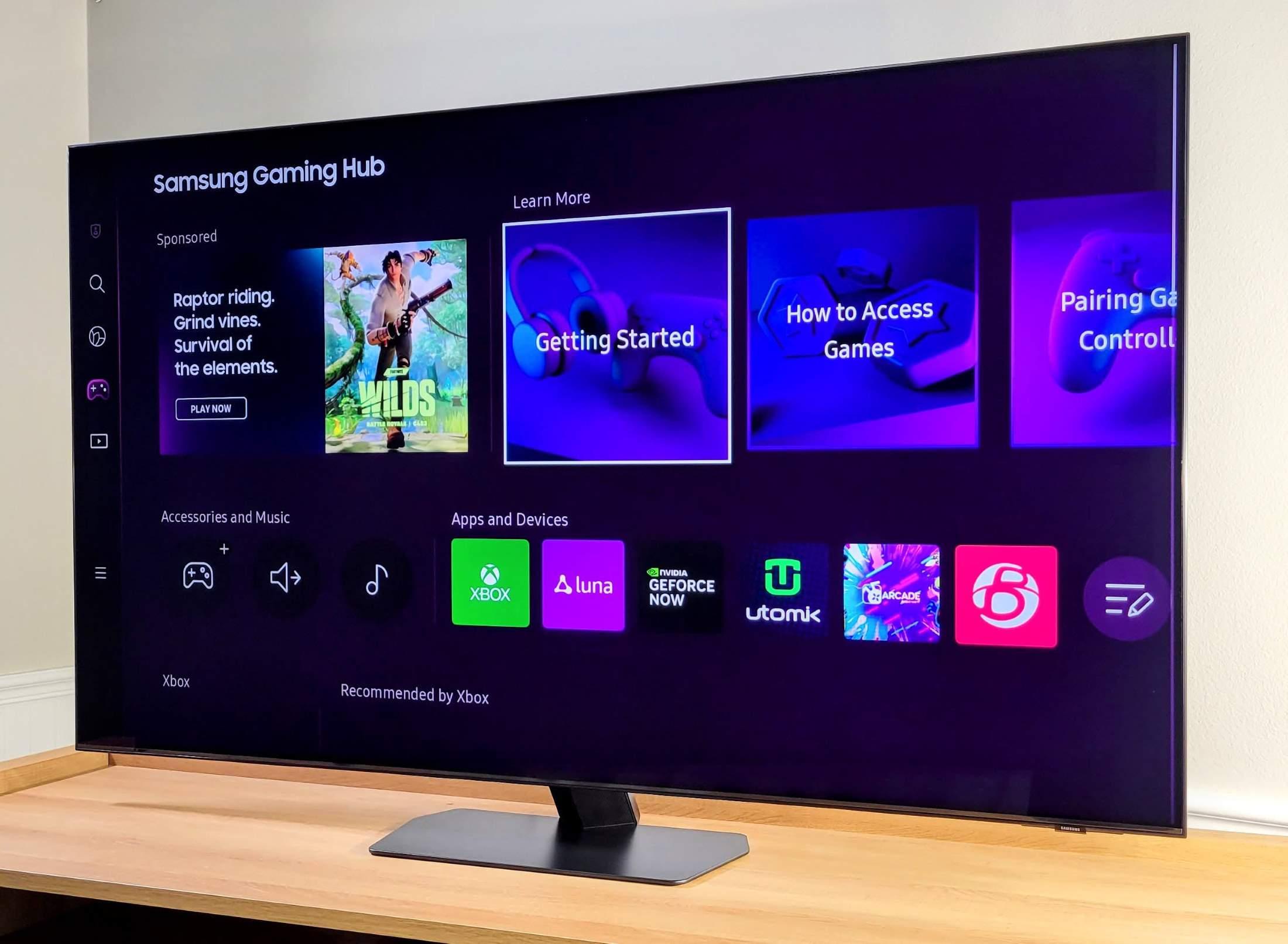 The contrast of the movie looked great, with no muddying of the picture being noticeable. Texture is a big aspect of what makes the movie look so great, and none of those details are lost on the QN90C.
The TV's anti-glare screen works in great synergy with its strong brightness output, resulting in a pleasant viewing experience in various lighting conditions. I found that even in very dim scenes, the image was highly visible while retaining their atmospheric quality, even in well-lit rooms.
HDR content shines on the QN90C, with rich and vibrant colors that bring movies like "Spiderman: Into the Spiderverse" to life. The kaleidoscopic colors of the final act of the movie look amazing and are full of so much depth. The QN90C also handles the balance of moodier scenes such as the cemetery scene with so much delicacy. The balance between the warm reds and cool blues look great, and the white of the snow looks very natural.
Additionally, the TV handles scenes with challenging lighting conditions, such as those in "Interstellar," remarkably well. A scene that comes to mind is the black hole sequence, which features very bright orange lighting.
The QN90C also excels in sports viewing, with its high resolution, color balance, and high frame rate. The action looks great and is easy to follow. Moreover, the TV can upscale lower resolution content effectively, making a visible difference in picture quality for older shows and movies which haven't had many high resolution rereleases.
Audio Performance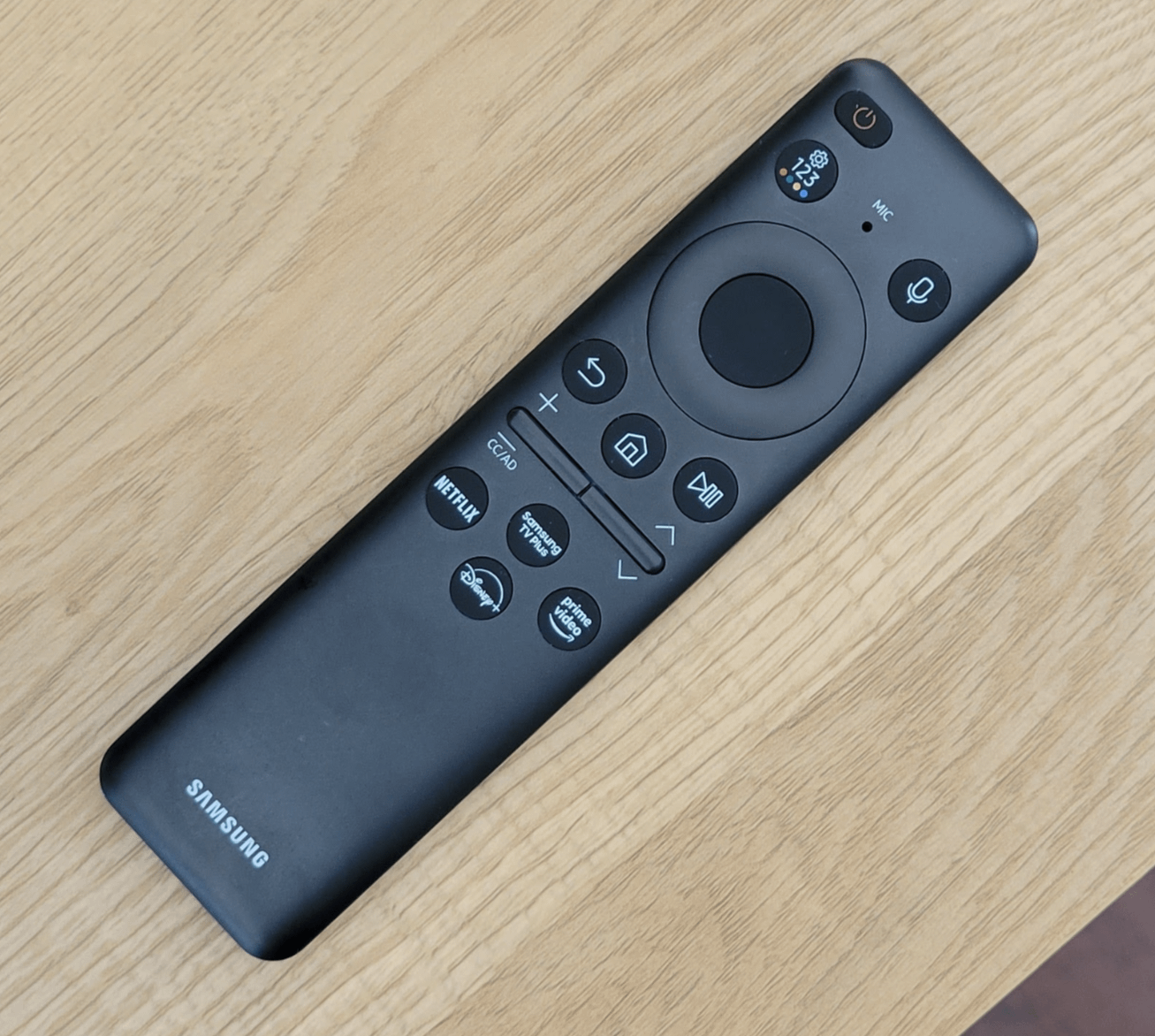 The audio output on the QN90C is about what I expect from a built-in TV speaker. It does its job well enough. Most importantly, it has a strong volume output and is able to fill a room with no issue, even at a relatively low setting.
Dialogue sounds very clear on the speakers, and there is room for the finer details in sound to come through. However, the bass output on this TV isn't great, which is to be expected. For optimal sound, I'd recommend an external setup, either with a soundbar or speakers and a subwoofer.
Features
The UI on the QN90C is well streamlined and easy to navigate, and has a familiar and sleek look. The TV also offers a variety of neat features, including a multi-screen function that allows you to use two apps side by side, though with smaller screens and only one with audio. This function is also compatible with your mobile phone, and camera.
This feature was fun in testing, but it mostly seems like a novelty. Swapping between the two screens was surprisingly annoying at times, and the smaller size of the screen made it seem impractical for side-by-side video use. Although, I could see it being useful for music and phone integration.
Gaming Performance
The Samsung QN90C is a great tv for gaming, exhibiting extremely low input lag, quick response times, and support for variable refresh rates - everything needed for an exceptional experience. Gamers who enjoy single-player action or adventure titles will be thrilled with what this TV can deliver.
Samsung's Game Bar makes a return, accessible by holding the pause button while a gaming device is connected. From here, you can view current settings like framerate and resolution, and manage how the TV interacts with your gaming system. The QN90C's gaming menu is on par with LG's for the most intuitive interface.
HDR games look fantastic, with highlights on metal pieces so bright they may make you squint - a testament to this stellar panel.
The QN90C also has built-in cloud gaming support, allowing you to play supported services like Xbox Game Pass and Nvidia GeForce Now without needing a separate console. While resolution is compromised some due to streaming limitations, Xbox Cloud Gaming's recent bump to 1080p means the QN90C's issues with low bitrate blockiness are less apparent.
For those seeking an easy way to game or enable kids to play without buying a console, the Samsung QN90C is a superb choice. Being able to pick up an Xbox controller and play Halo or Minecraft right from your couch, no console required, is tremendously convenient. The QN90C's cloud gaming capabilities add outstanding value. If you want top-notch gaming performance without the premium price tag, the Samsung QN90C absolutely delivers.
App and Setup
Setting up the QN90C is relatively simple, with physical assembly being a two-man job in my case. When you start your setup, you are given two options: a remote-based setup, and a phone-based one.
The remote-based setup is streamlined and straightforward. The only somewhat tedious aspect of it was setting up an account, which needed a QR scan and felt a bit awkward. However, opting for the more straightforward option of setting up the TV through your phone reduces the number of steps needed.
I enjoyed the way the app was integrated into the QN90C. It is designed in a way that doesn't make it an absolute necessity to use if you don't want to, as the convenience features aren't strictly built into the app. The app has a very neat and organized look that is pleasant to use and navigate
Notably, the app features a smart calibration option that uses your phone's camera to determine the best picture quality calibration for your room.The TV has a built-in feature similar to this, so again, it's not a necessity to download the app if you so choose.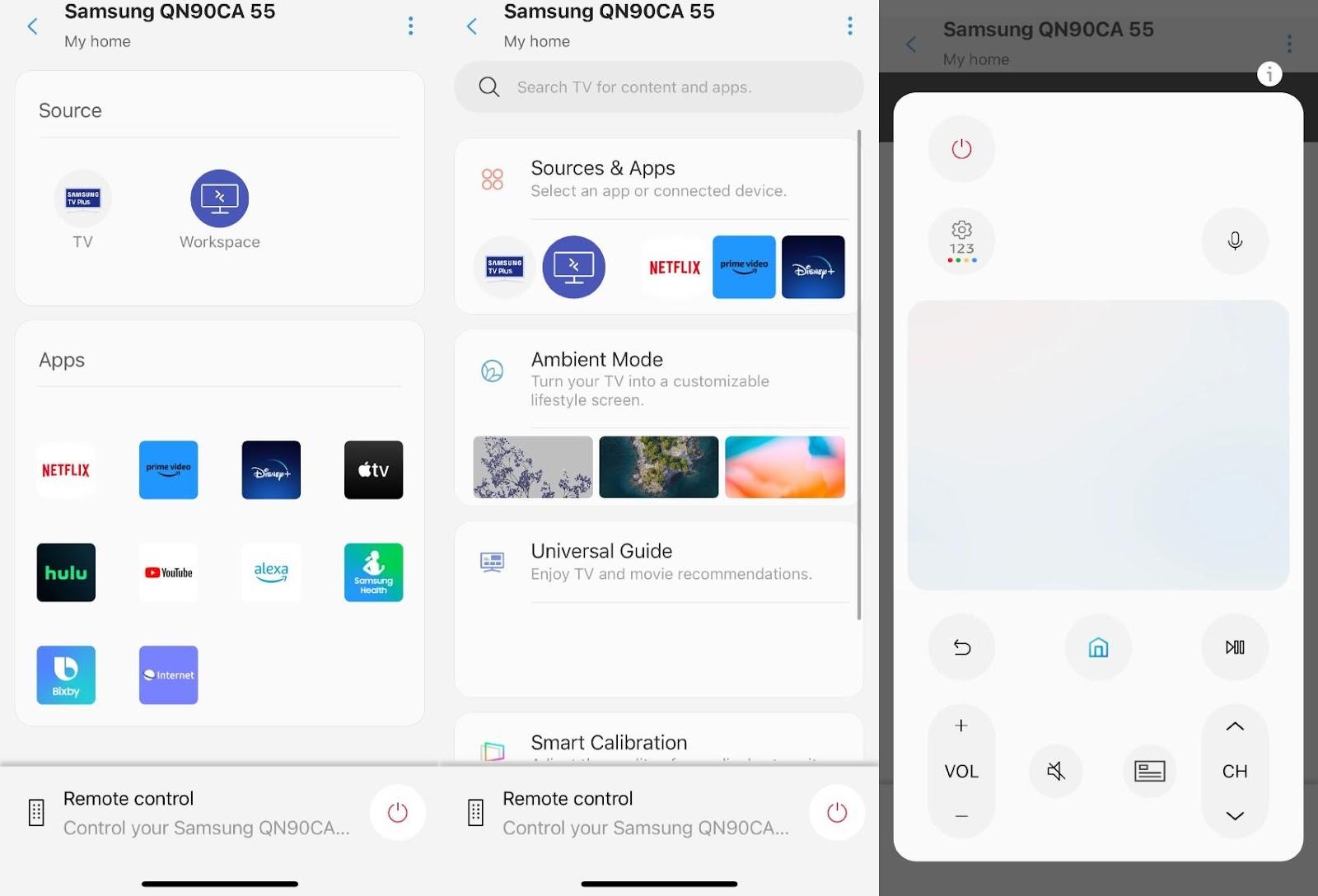 The app also has a remote control option for your mobile device. The device works well, although my biggest complaint with it is the touchpad censor. It gives you the ability to use swipe controls, but I found that it leads to misinputs somewhat frequently, because the button also doubles as the select button.I found it easier to use the physical remote most of the time, although the virtual remote is a nice convenience option.
Comparisons
A TV that I found myself comparing the QN90C to while testing is the TCL QM8. When comparing the QN90C to the QM8, both TVs offer impressive visual performance at a similar price range. The QM8 takes a slight edge in brightness and black depth, while the QN90C stands out with its superior HDR display and user-friendly interface.
Colors on the QN90C look more vibrant and rich, and off-angled viewing feels more pleasant. The QM8 offers a lot of different fancy integration features with Google Home, which is also a nice benefit to it. Ultimately, when it comes to the QN90C, you're choosing it for its amazing contrast and colors and streamlined accessibility. If it's in your price range, it's an incredible option.
Final Thoughts
The Samsung QN90C is a powerhouse of a TV for both gaming and bright room viewing. With its affordable $1,600 MSRP price tag (currently an absolute steal at just $1,399), this TV delivers truly exceptional performance. The brightness output is staggering, providing images with unparalleled vibrancy. The color reproduction and contrast are simply magnificent - some of the best I've ever seen on a TV at this price point. And with Samsung's user-friendly interface, the QN90C offers that familiar and intuitive experience their products are known for.
For shoppers seeking top-tier quality within a midrange budget, the Samsung QN90C is a phenomenal choice that delivers premium performance. It's versatility is unmatched, thriving equally well in bright and dark environments. With jaw-dropping picture quality, intuitive usability, and incredible gaming capabilities, the QN90C has earned my highest recommendation and a Highly Recommended award. If you're looking for well rounded excellence, this Samsung TV is an absolute winner.