Samsung has just announced its lineup of TVs and soundbars for 2022. This year's selection includes a variety of new models that are sure to appeal to a wide range of consumers. Samsung has you covered, whether you're looking for a high-end 4K, or 8K TV—including a new OLED—or are searching for a quality soundbar.
---
Samsung's Quantum OLED TVs Debut
The big news for 2022 is that Samsung is back in the OLED TV game. Its new S95B 4K TV is available in 55" and 65" screen sizes offering takes the technology to a higher level than ever, with picture quality that's essentially unprecedented in a consumer display.

Why is this new OLED different? Because it uses quantum dots to create pure red, green and blue pixels. This OLED dispenses with the extra white pixel current WOLED panels need to achieve a high peak brightness. That means Quantum OLED can produce much more intense color at high levels of brightness than competing OLEDs.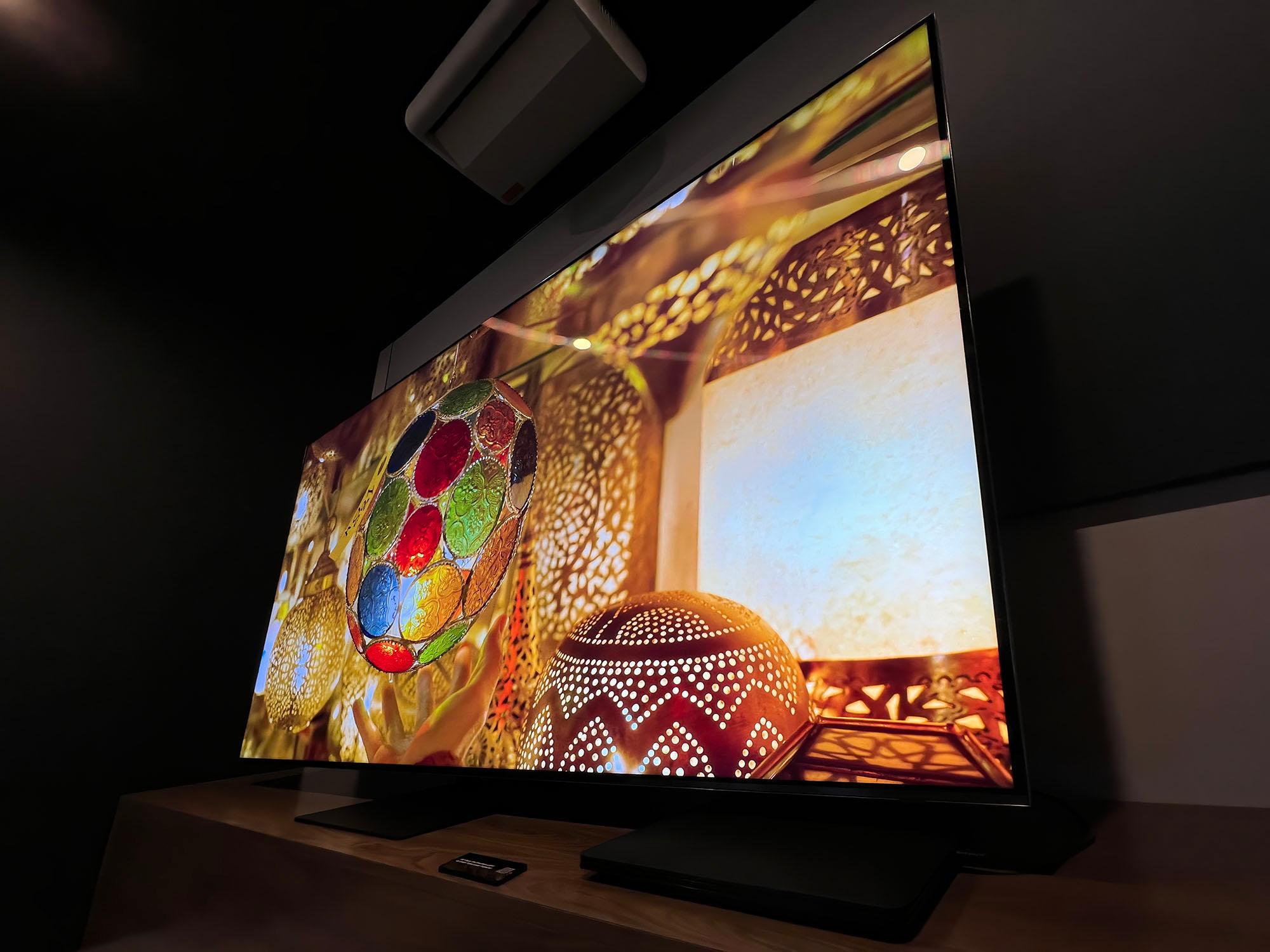 Another advantage of quantum OLED is it outperforms current OLED TVs for viewing angles. OLED was already considered excellent for off-axis performance but Samsung's OLED is clearly better, with practically no perceptible shift, in contrast, hue, saturation, or brightness—even when viewed from an extreme off-angle position.

I had a chance to see one in person at the Samsung 837 facility in New York City, and without question, it offers the contrast you expect from OLED—but also next-level color intensity the likes of which you've not seen from a consumer TV before.

The S95B provides an incredibly lifelike picture using cutting-edge Quantum OLED technology, which uses quantum dots to convert blue OLED pixels into the red and green pixels needed (the blue pixels need no conversion). This pure color, combined with OLED's signature ultra-deep blacks, is the recipe for next-level picture quality.

Whether you're gaming, watching your favorite blockbuster movie, playing live sports, or streaming your favorite show, the picture quality of this exceptional TV ensures you'll find yourself immersed in the action like never before.
---
A Shockingly Slender Soundbar & More Atmos Channels
With its new S800B, Samsung takes the familiar soundbar and shrinks the height and depth to a shocking extent. The result is so slender it practically disappears when mounted under a TV. And yet this is a full 3.1.2 Dolby Atmos soundbar featuring up-firing drivers.

A radical redesign is not the only trick of this soundbar's sleeve. According to Samsung, it is the first Dolby Atmos soundbar to offer a wireless connection to compatible TVs. This makes for an even more unobtrusive installation. Furthermore, with Samsung's Q Symphony feature, when you pair a compatible Samsung soundbar and TV, they combine into a single sound system that uses all of the speakers, on both the soundbar and the television.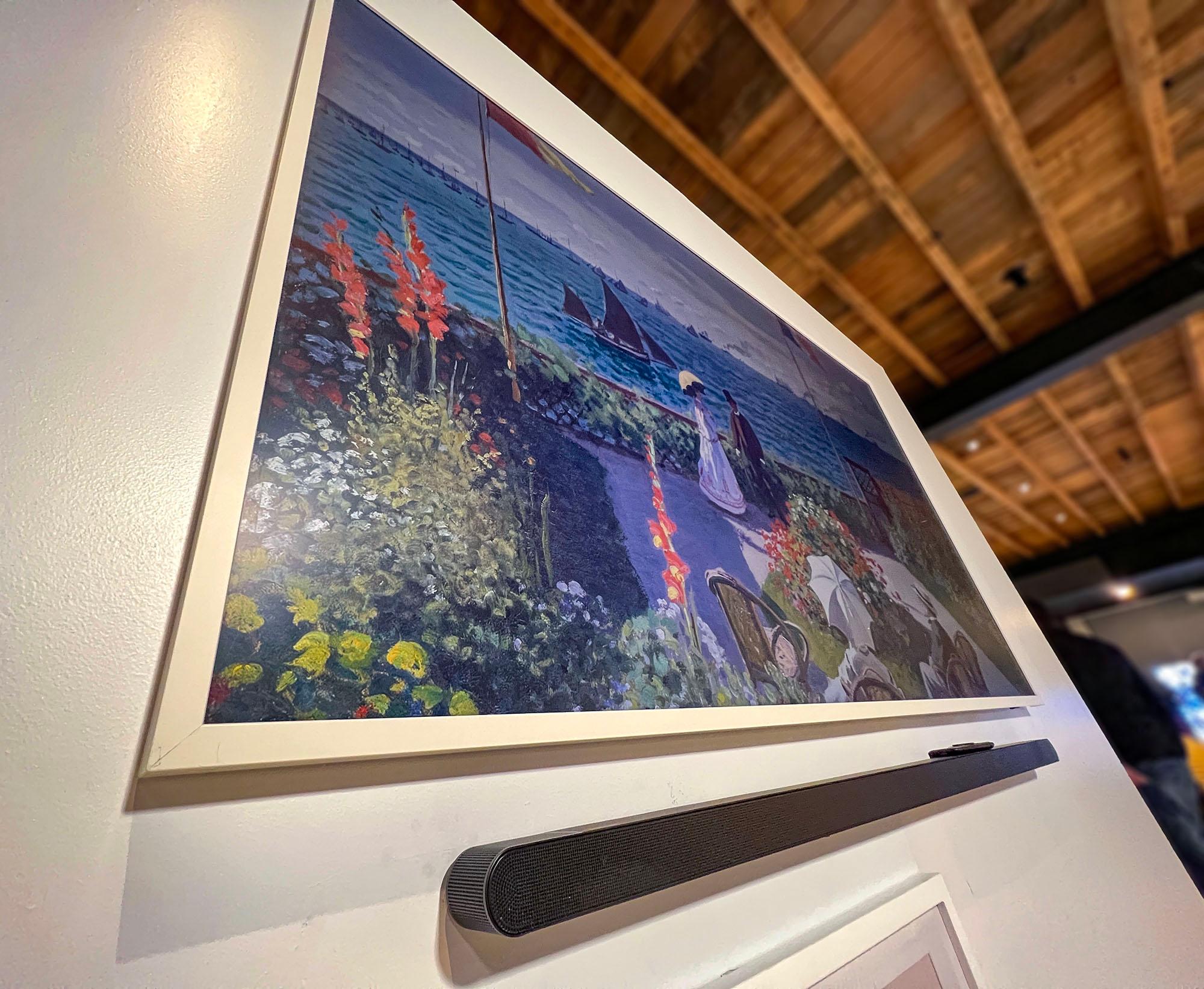 ---
4K and 8K Neo-QLED TVs
Samsung has updated its Neo QLED lineup to offer 14-bit processing. These new models are able to achieve a higher level of expression within deep shadow details as well as bright highlights, by applying sophisticated 14-bit processing. The result is an enhanced perception of contrast, as well as tangibly more visible detail in shadow and highlight areas that previously might have been clipped or obscured.

We took an early look at the 4K QN90B, you can read up on its performance here. The benefits of 14-bit processing apply to both 4K and 8K Neo QLED TVs.
Another change for 2022 is a new remote control that not only dispenses with the need for disposable batteries, It doesn't even need exposure to light to charge (it does have a solar cell). With RF harvesting this new remote can trickle charge off the energy from wireless RF signals, like Wi-Fi. And if all else fails it has a USB port.
---
The Frame Looks Like Art
With a new anti-reflective matte finish screen, Samsung's The Frame has the ability to make digital images look like printed artwork. I witnessed this new screen in person at Manhattan's Samsung 837 facility, where the company had arranged lights so that you could see the dramatic improvement in anti-reflectivity the new surface provides.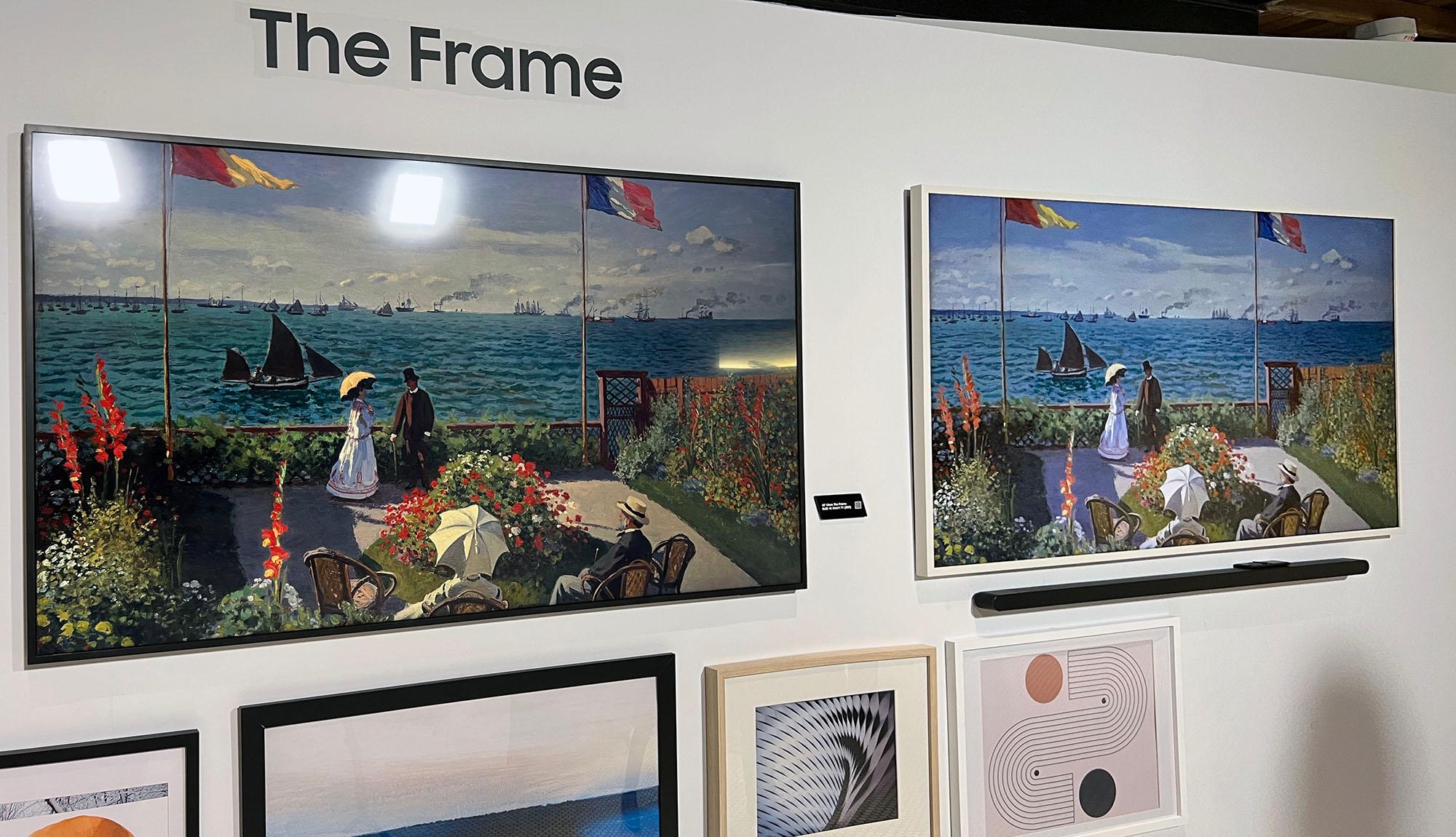 ---
Full Pricing and Availability
The main point of this post is that the 2022 Samsung TVs and soundbars have arrived.
2022 TV Line
Neo QLED 8K
Samsung's Neural Quantum Processor 8K with AI powers Samsung's Neo QLED 8K to deliver the best viewing experience yet. Samsung will release two new Neo QLED 8K TVs in 2022. The QN900B and QN800B will be available in 65", 75", and 85" sizes in the US.
The QN900B (85", 75", 65") will be available in mid to late April.
The QN800B (85", 75", 65") will be available by early April.
Neo QLED 4K TVs
To deliver an unrivaled 4K viewing experience, Samsung's Neo QLED 4K TVs use Quantum MiniLED technology. The QN95B (available in the US for the first time), QN90B, and QN85B will be available in sizes ranging from 43" to 85". Invisible Connection cable and One Connect Box are standard on the QN95B.
The QN95B (85", 75", 65", 55") will be available in early May.
The QN90B (85", 75", 65", 55", 50", 43") is available now.*
The QN85B (85", 75", 65", 55") is available now.
Samsung OLED
The S95B OLED TV from Samsung allows consumers to further customize their viewing experiences. In addition to the Neural Quantum Processor 4K found in the flagship Neo QLED 4K models, the S95B features technologies that improve brightness and color fidelity that previously was unavailable from OLED TV technology.
The S95B (65", 55") will be available mid-April and can be pre-ordered today.
QLED 4K TVs
Samsung's QLED 4K series, including the new Q80B and Q60B TVs, round out Samsung's premium TV lineup in a wide range of sizes.
The Q80B (85", 75", 65", 55", 50") is available today.*
The Q60B (85", 75", 70", 65", 60", 55", 50", 43") is available today.*
All Samsung 2022 screens are shipping between now and late June, depending on specific model.
---
2022 Lifestyle Screens
Samsung aspires to cater to customers' needs, preferences, and style. The Lifestyle TV category offers screens to match any style or decor.

The Frame now has an antireflective matte finish that gives the art displayed on screen a unique texture for a more realistic visual experience.
The Frame (85", 75", 65", 55", 50", 43", 32") will be available mid-April.*
For a bolder personal statement, in 2022 The Serif features this same anti-reflective finish to complement its iconic design.
The Serif (65", 55", 43") will be available in late May.
The Sero brings mobility into the picture with its unique ability to play content in horizontal and portrait modes from a mobile device. Alongside built-in impressive sound quality, The 2022 Sero will also feature the new anti-reflective finish found on this year's Frame and Serif models.
The Sero (43") will be available in June.
The Freestyle, the versatile and smart theater to-go unveiled at CES 2022, completes Samsung's new Lifestyle TV portfolio for 2022.
The Freestyle is available now.
The Premiere (120", 130") projector and The Terrace Partial Sun (75", 65", 55") and The Terrace Full Sun (75", 65") outdoor TVs will be carried over from last year.
---
2022 Soundbars
Samsung soundbars are updated for 2022 with new models and features. The 2022 Q and S Series feature wireless Dolby Atmos technology, allowing sound to be output from Wi-Fi enabled TVs without cables. Q-Symphony can connect, enable, and optimize audio with up to 22 audio channels using all the speakers on the soundbar and a compatible TV.
Q Series

HW-Q990B
HW-Q910B
HW-Q800B
HW-Q700B
HW-Q600B
HW-Q60B

S Series

HW-S800B (Black) & HW-S801B (White) Ultra-Slim Soundbars
HW-S60B
HW-S50B

B Series
All Samsung 2022 soundbars are shipping between late April and late June, depending on specific model.
---

See the "Unbox and DIscover" video that accompanied the launch...