Normally, when people say, "you have a beautiful TV," they're talking about the picture quality and not the television itself. The Frame, one of Samsung's most stunning lifestyle TVs, is an exception.
Created to look like a piece of wall art, The Frame – which goes for nearly $1,300 for 50-inch version on amazon's site – manages to appear both unassuming and stunning at the same time. (The 75-inch 2020 version is nearly $2,800 at audioadvice.) What makes the recent announcement of an updated 2021 Frame model so exciting is how Samsung has improved on a relatively simple design.
The new 2021 model is much thinner — just a shade over an inch — and is designed to sit flush against a wall, meaning it has become even better at tricking guests into thinking it's just another piece of deco.
With access to thousands of pieces of digital art from the Samsung art store, The Frame also is a chameleon, able to adapt to and fit your artistic and design tastes. But it doesn't stop there – The Frame also comes with a bevy of bezel options, which give the consumer more customizability to the shape, size, and style of the TV frame.
This trend of providing more options extends from the frame down to the stand. Samsung has added an option for an easel-inspired Studio Stand. It might seem a bit silly to add a stand to something that's supposed to hang on a wall, but the Studio Stand manages to add modern panache without killing its classical vibes and really transforms The Frame into a high-end gallery piece. The only thing odd about this stand is that its simplistic, modern design encroaches slightly on the aesthetic of another Samsung lifestyle model, The Serif.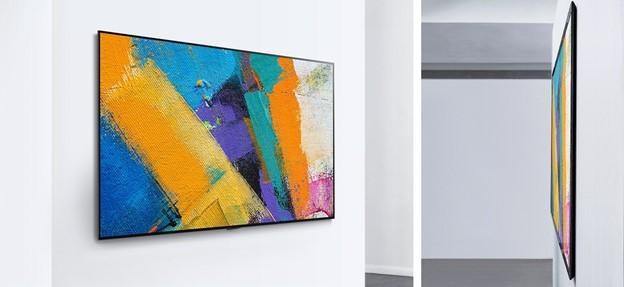 The idea of blending opposite shades of bold and bashful is a large part of The Frame's identity. If you prefer a simpler approach, the LG OLED65GXPUA, which also self-identifies as a "picture frame" TV, might be more to your liking. But, if we're being honest, LG created more of a poster-frame television than a true work of art.
But that's not even LG's thinnest television offering. In the fight to make the most discrete TV, LG's WX OLED has dispatched with ideas of wall art and taken the wallpaper approach. Its 65-inch WX LG OLED TV with ThinQ® AI is the thinnest on the market, slimmer than the cellphone in your pocket. Seriously, take off your phone case and hold your mobile device up to the wall and then try to imagine a 65-inch TV that's about half as thick. It's bonkers, and redefines the idea of the unobtrusive television.
The Wallpaper isn't cheap (more than $4K for the 65-inch version on amazon.com), but if you're looking for a gorgeous TV that can hide on any wall, it's worth checking out. But The Frame's customizability and ability to accentuate and complete a room's décor are more enticing than a supermodel-thin TV that's simply trying to blend in with the wall.
While we love everything The Frame stands for – and on – we must concede that it isn't a strictly good value-buy. It does have a gorgeous QLED 4K display, but your money is really paying for The Frame's edge, not the "cutting-edge." Lifestyle televisions will always trail flagship TVs as they tend to make technological sacrifices on the altar of aesthetics. If you only care about picture quality, the LG GX and WX will both beat out The Frame on most metrics. If, however, you are an advocate for flex over specs, or a feng shui aficionado with ideas of passing off your TV as a Van Gogh, take a look at The Frame.