Seatcraft is one of the leading brands in the home theater seating industry. Apart from a vast selection of sectionals, loveseats, and single seats, this brand is very proud of its ergonomic and luxurious design.
Read our comprehensive review to discover more about Seatcraft theater seating and how it can elevate your home theater experience. Sit back (pun intended) as we take you on a guided tour through Seatcraft's world-class offerings.
Pros
Variety of Seating Types: Seatcraft provides a range of seating options to cater to varying needs including power recliners, loveseats, sectionals, and single recliners.
Ergonomic Design: The ergonomic design and lumbar support features ensure comfort over prolonged periods.
High-Quality Materials: Seatcraft uses top-grain leather in their products ensuring not just comfort but also durability.
Technological Innovations: Built-in USB charging ports, wireless charging capabilities, and motorized headrests add functionality and convenience to your viewing experience.
Stylish Aesthetic: Designs are versatile with different themes in mind, providing a stylish yet functional addition to any home theater room.
Cons
Weight Limitations: Some models such as the Seatcraft Pantheon have weight limits which can be less inclusive for larger individuals.
Potential Installation Requirements: While installation services are available for Seatcraft theater seating, setting up the seats may require professional assistance.
Brief Overview of Seatcraft and Reputation in the Market
Seatcraft, a specialized company in crafting top-tier home theater seats, sofas, and sectionals, holds a solid reputation across the market.
With superior material usage and rigorous construction standards applied to every product line - from the Apex Row of Home Theater Seats with its luxurious powered headrest to Sanctuary's budget-friendly features - Seatcraft has successfully established itself as an industry leader.
The company's products have not only resonated well among cinema enthusiasts, but also achieved high praise within comprehensive reviews of various models' entertainment possibilities.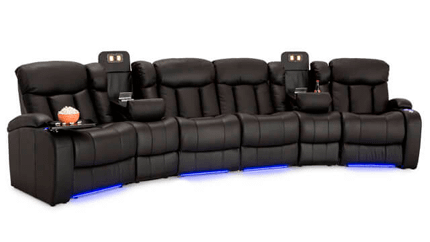 Known for their meticulous attention to detail and use of premium materials, Seatcraft consistently delivers high-quality seating options that enhance our customers' home theater experiences.
Furthermore, by offering replacement parts as part of their customer service charter, they are demonstrating a commitment to ensuring long-term support for all Seatcraft users out there.
Overall Quality of Seatcraft Theater Seating
As frequent movie enthusiasts, we appreciate the fine quality that Seatcraft brings to our home theater experience. Crafted with superior materials and rigorous construction standards, Seatcraft's theater seating embodies a harmonious blend of comfort, durability, and style.
Their seats are made using top-grain leather known for its superb grain texture and feel. The Rialto Frontrow Theater Seating is a prime example of its outstanding craftsmanship – featuring gently curved armrests for added elegance and comfort.
A significant part of Seatcraft's quality promise lies in its ergonomic design features such as lumbar support and power recline options. These details not only enhance the viewing pleasure but also take care of our posture during those long movie marathons.
Equipped with high-density foam padding ensures longevity without compromising on comfortable cushioning - an essential factor when choosing your perfect seat. We can't forget to mention the advanced technology enhancements like built-in USB ports allowing us to keep devices powered up while we unwind with our favorite films.
All these elements together speak volumes about the overall excellence that Seatcraft theater seating provides.
Product Range and Features
Whether you're looking for single seats, loveseats, or sectionals for your home theater, Seatcraft has models across all categories to cater to their customers' needs. Each model has its own unique features, along with a range of common features that are shared among various model types.
Key Features
From single seats to sectionals and loveseats, Seatcraft's products have several standout features worth noting. Here are some of the common key features you can find in their various assortment:
Power Recline: Each seat in Seatcraft's home theater seating comes with its own power recline mechanism, allowing you to find the perfect seating position at the push of a button.
USB Charging Ports: The seats are equipped with built-in USB charging ports, allowing you to conveniently charge your devices without having to leave your seat (our personal favorite).
LED cupholders: The LED-lit cupholders create an ambient lighting effect while also providing a convenient place to keep your drinks within reach.
Single Seats
Moving on to individual products, the Seatcraft single seats include several great features that might catch your attention. Here are some of the features to expect: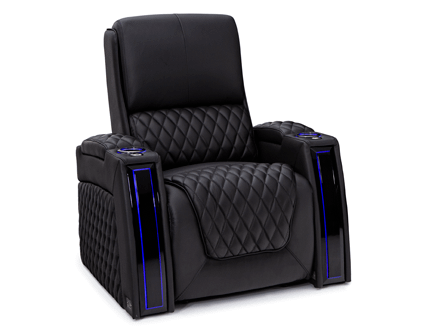 Adjustable Headrests: All Seatcraft seats are equipped with motorized headrests that can be adjusted to provide optimal neck and head support while watching movies or TV shows.
Lumbar Support: The seats feature built-in lumbar support to ensure proper spinal alignment and reduce strain on your lower back.
Top-Grain Leather Upholstery: The single seats are upholstered in top-grain leather, providing both luxury and durability. The leather upholstery is easy to clean and maintain, making it ideal for everyday use.
Space-saving Design: Single seats have a compact design, making them suitable for small home theater rooms or spaces where maximizing seating capacity is essential.
Sturdy Construction: Seatcraft single seats are built with high-quality materials and sturdy frames, ensuring longevity and durability even with regular use.
Loveseats Key Features
Similarly, Seatcraft loveseats come with a set of unique features that can ultimately enhance the home theater experience. These features include:
Hidden storage: Similarly to their single seats, The Seatcraft Colosseum loveseat includes hidden in-arm storage and a spacious storage console lined with top-grain leather upholstery. This allows for convenient storage of remote controls, snacks, and other essential items.
Powered headrests: The Seatcraft Republic loveseat and Anthem sectional both feature powered headrests that allow you to adjust the angle of your headrest for optimal neck support and comfort.
Free tray table: Loveseats such as the Seatcraft Republic loveseat come with a free tray table that can be easily stored on the armrest when not in use. This provides you with a convenient surface to place snacks, drinks, or even a laptop while watching movies.
Sectionals Key Features
Last but not least, the Seatcraft sectionals are created with comfort in mind. Here are the most notable features of these sectionals:
Configurations: Seatcraft sectionals come in various configurations, allowing you to choose the setup that best fits your space and seating needs.
Storage Compartments: Some Seatcraft sectionals feature storage compartments in the armrests or consoles, providing space to keep remotes, magazines, or other small items within reach.
Ambient Lighting: Some models offer ambient lighting features, adding an extra level of ambiance and style to your home theater setup.
Additional Features (Customization: Materials, Colors, etc)
Customization is one of the key advantages given by the Seatcraft home theater seating. The brand offers a wide range of options for materials, colors, and additional features to ensure that customers can create their dream home theater setup.
When it comes to materials, Seatcraft uses top-grain leather 7000 upholstery for their seats, providing both luxurious comfort and durability. As for colors, black is the primary option available.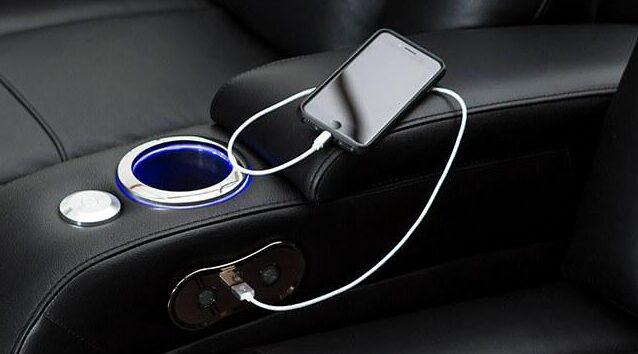 In addition to materials and colors, Seatcraft also allows customization in terms of features. For example, some models offer built-in USB charging ports for convenient device charging during movie marathons.
Wireless charging is another innovative feature offered by Seatcraft, allowing users to charge compatible devices without the need for cables or adapters. Moreover, motorized headrests are available in certain models of Seatcraft home theater seating, providing personalized neck and head support at the touch of a button.
Comfort and Ergonomics
Seatcraft's home theater seating options prioritize comfort and ergonomics for an enhanced movie-watching experience.
Seatcraft's Ergonomic Design and Lumbar Support Features
The seats are carefully crafted with ergonomic design and lumbar support in mind to provide optimal comfort, with a focus on supporting the natural curves of the body.
The built-in lumbar support ensures proper alignment of the spine, reducing strain and fatigue during long movie sessions. Additionally, Seatcraft's power recline feature allows users to find their preferred seating position for maximum relaxation.
With adjustable headrests and power-adjusted lumbar support, all controlled by one convenient switch, Seatcraft prioritizes user comfort and convenience. These thoughtful design features make Seatcraft Theater seating a standout choice for those looking to enhance their home entertainment space with luxurious comfort.
Padding and Cushioning for Prolonged Comfort
The padding and cushioning in Seatcraft theater seating are designed to provide exceptional comfort for prolonged viewing sessions. With high-quality materials, the seats offer plush cushioning that molds to your body's contours, ensuring a cozy and supportive experience.
This is especially important for those who enjoy marathon movie nights or extended gaming sessions. The ergonomic seat cushions also play a role in protecting against cervical and lumbar disorders, promoting muscle relaxation, and preventing strain on joints.
So whether you're reclining back for an action-packed movie or settling in for a long gaming session, Seatcraft theater seating will keep you comfortable throughout the experience.
Reclining Mechanisms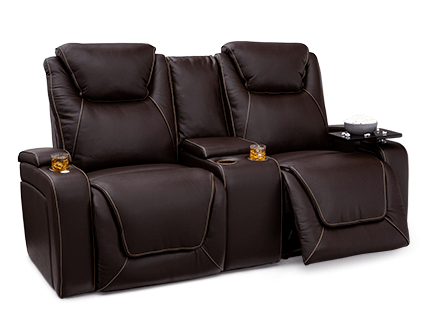 Seatcraft home theater seating is equipped with advanced reclining mechanisms for ultimate comfort and relaxation. With the touch of a button, you can effortlessly recline your seat to find your perfect position.
With several recline options available, Seatcraft's powered reclining mechanism allows you to easily adjust the angle of your seat to suit your needs. The recliners also feature separate controls for the headrest and lumbar support, so you can customize your seating experience even further.
These innovative mechanisms are designed to provide smooth and quiet operation, ensuring that you can enjoy your favorite movies without any distractions.
Construction and Durability
The construction and durability of Seatcraft theater seating are at a premium level, ensuring a long-lasting investment for your home theater. The high-quality materials and sturdy frame contribute to the seats' overall build quality, providing stability and reliability.
Therefore, with the manufacturer's warranty and excellent customer service, you can trust in the durability of Seatcraft's products.
Material and Frame Quality
The material and frame quality of Seatcraft theater seating is top-notch, ensuring long-lasting performance. The seats are made with high-quality materials such as top grain leather 7000 upholstery, which not only looks luxurious but also adds to the overall comfort.
The frames are constructed with solid hardwood, providing a sturdy foundation for the seats. By following rigorous construction standards and using superior materials, Seatcraft ensures that its theater seating can withstand years of use without compromising on quality.
This attention to detail in material and frame quality is what sets Seatcraft apart from other brands in the market.
Build Quality and Sturdiness of the Seats
Seatcraft takes pride in the build quality and sturdiness of its home theater seats. These seats are constructed using superior materials that are built to last. The frames are made from durable hardwood, ensuring stability and strength.
The upholstery is crafted with high-quality leather or fabric options, providing both comfort and durability.
In addition to their robust construction, Seatcraft pays careful attention to detail when it comes to the overall build quality of their seats. From reinforced stitching to strong mechanisms, these seats can withstand regular use without showing signs of wear and tear.
Manufacturer's Warranty and Customer Service
As consumers, we want the assurance that our purchases are protected, and when it comes to home theater seating, warranties play a crucial role. Seatcraft understands this need and offers a comprehensive one-year warranty for all components of their seats.
This includes not just the materials used but also the foam, frame parts, and mechanisms. It's reassuring to know that if anything goes wrong with your seat within that first year, Seatcraft has you covered.
Moreover, Seatcraft also prioritizes customer service. We tried getting in touch with their team of dedicated support staff, and they were quickly able to provide assistance.
Technology and Innovations
Seatcraft home theater seating offers a range of innovative aspects, including built-in USB charging ports, wireless charging capabilities, and motorized headrests for ultimate comfort and convenience.
Built-in USB Charging Ports
One of Seatcraft's their standout features is the built-in USB charging ports. These innovative ports help you easily charge your devices without having to worry about finding an outlet or using bulky adapters.
The USB charging ports are strategically placed within arm's reach, allowing you to keep your phone or tablet charged while enjoying your favorite movies. It doesn't matter if you want to browse social media during intermission or stream a movie on your device, Seatcraft has got you covered with its USB charging ports that seamlessly integrate technology into your home theater experience.
Wireless Charging
Wireless charging eliminates the need for cables or physical connections when charging devices. It works by using electromagnetic induction to transfer power from a charging pad to a compatible device.
This means you can simply place your smartphone or other QI-enabled device on the charging pad, and it will start charging without any hassle. Seatcraft has incorporated this convenient feature into their home theater seating, allowing you to easily charge your devices while enjoying a movie or TV show.
Ultimately, with wireless charging, you can say goodbye to tangled cords and enjoy the convenience of effortless power replenishment for your portable devices.
Motorized Headrests
Motorized headrests offer users the ability to adjust their head and neck positions with ease. This allows for personalized comfort and helps reduce strain on the neck and shoulders during long movie marathons.
With just the push of a button, you can find your perfect viewing angle, whether you prefer sitting upright or lounging back in relaxation mode. The Seatcraft Apex and Equinox models both offer motorized headrests, ensuring that you can enjoy your favorite films and shows in ultimate comfort.
Say goodbye to stiff necks and hello to a luxurious home theater experience with Seatcraft's motorized headrests.
Aesthetics and Design
Seatcraft's theater seating is designed with aesthetics in mind, offering sleek and stylish options that can seamlessly integrate into any home theater theme. The designs are sleek and sophisticated, making them a visually pleasing addition to your entertainment space.
Seatcraft's Design Aesthetics
Seatcraft's design aesthetics are carefully crafted to enhance the overall visual appeal of your home theater.
Whether you prefer a contemporary or traditional look, Seatcraft offers a variety of upholstery materials, including luxurious leather, that not only adds elegance but also durability to their seats.
Additionally, their space-saving and modular designs allow for easy customization to fit different room layouts, ensuring maximum comfort without compromising on style.
Compatibility with Home Theater Themes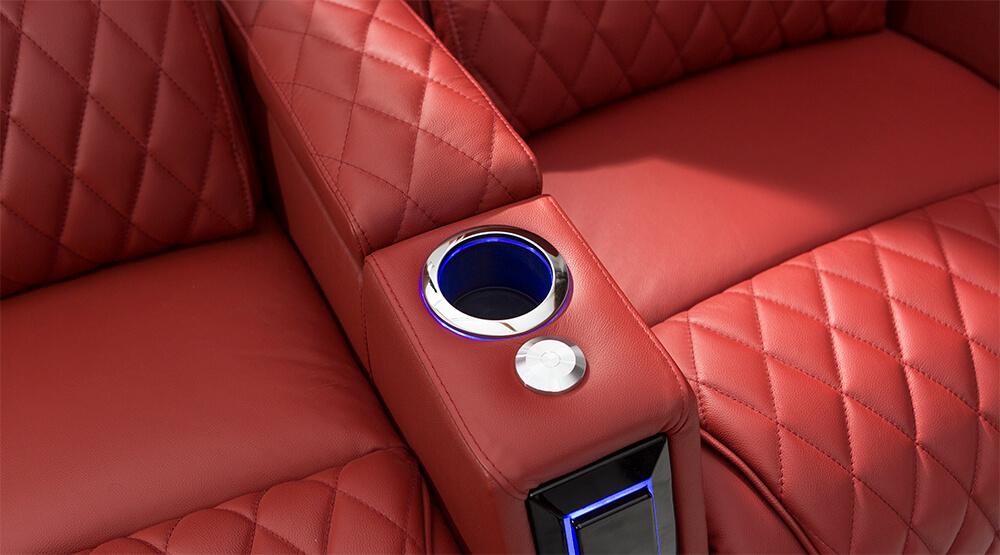 Seatcraft theater seating offers a wide range of options that are compatible with various home theater themes. Seatcraft has seating models and customization options, therefore easily fitting into classic, modern, and contemporary designed rooms.
Since many models offer the customer to choose materials such as leather and fabric available in different colors, you can easily match your seating with the overall aesthetic of your home theater room. Additionally, Seatcraft's space-saving and modular designs allow for flexibility in different room layouts, ensuring that the seating blends seamlessly with your chosen theme while maximizing comfort and functionality.
Space-saving and Modular Designs for Different Room Layouts
Seatcraft understands that not every home theater has the luxury of a large space, which is why they offer space-saving and modular designs for different room layouts. These designs allow you to make the most out of your available space while still enjoying the ultimate in comfort and functionality.
Their modular seating system called Pipeline allows you to create different configurations by easily moving and rearranging the individual backrests. This flexibility allows you to maximize your seating capacity without sacrificing style or comfort.
Price and Value for Money
A wide range of home theater seating options are available at varying price points, ensuring that there is something for every budget. The features and quality of the seats justify the price range, making Seatcraft a worthwhile investment for anyone looking to elevate their home theater experience.
Seatcraft's Pricing
Seatcraft aims to provide excellent value for money by offering high-quality materials, comfortable designs, and advanced technologies. They also frequently have promotions, discounts, or package deals available to help customers save even more on their purchases.
With Seatcraft's diverse range of prices and ongoing offers, there is an option that suits every budget without compromising on quality or comfort.
Do Features Justify the Price Range?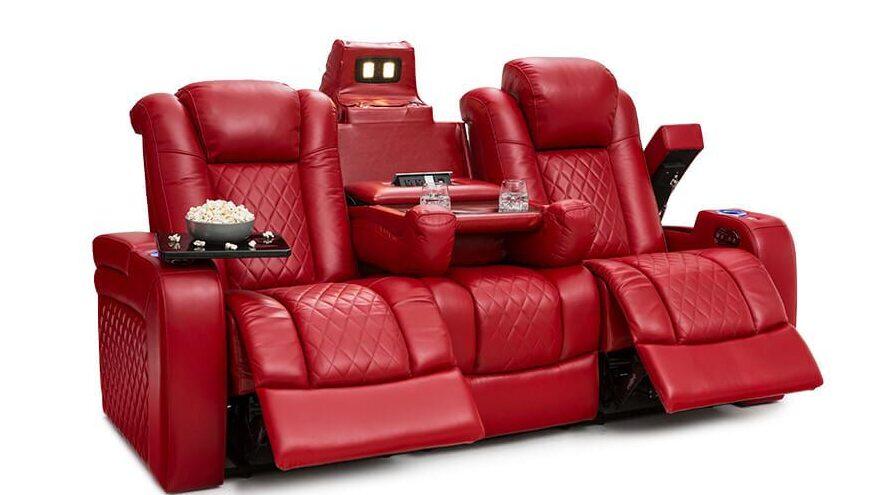 The price range of Seatcraft theater seating is to be expected considering its impressive features and high-quality construction. These seats often include luxurious options such as powered headrests, lumbar support, and reclining mechanisms. Seatcraft seats undoubtedly provide unparalleled comfort for movie nights at home.
The customizable materials and colors also allow you to create a seating arrangement that perfectly matches your home theater decor. Two more additional features include built-in USB charging ports and wireless charging capabilities, which add convenience to your viewing experience.
While the cost of recreating a home theater setup can vary, investing in Seatcraft's feature-packed seating ensures that you're getting excellent value for your money.
Ongoing Promotions, Discounts, or Package Deals
Seatcraft often offer ongoing promotions, discounts, and package deals. These promotions allow you to save money while still enjoying the luxury and comfort of Seatcraft theater seating.
Whether it's a discounted price on a specific model or a special package deal that includes additional accessories, there are always opportunities to get more for your money with Seatcraft.
So if you're looking for high-quality home theater seating at an affordable price, be sure to check out Seatcraft's ongoing promotions and discounts.
Customer Reviews and Feedback
Customers have consistently praised Seatcraft's home theater seating options, with many highlighting the comfort, durability, and luxurious features as standout qualities. We were pleased to find a wealth of customer feedback and reviews on the Seatcraft website, giving us valuable insights into the experiences of other users, which have, similarly to ours, been overall very positive.
Many customers praised the overall comfort and quality of Seatcraft theater seating, with several mentioning the ergonomic design and lumbar support features that ensure a comfortable movie-watching experience.
Others appreciated the padding and cushioning, which provided prolonged comfort during long screenings. The built-in USB charging ports and wireless charging capabilities were also highly regarded for their convenience, which is something we personally enjoyed quite a lot as well.
On the other hand, some criticisms include occasional difficulties with assembly or delivery delays. Even though most of those seem to have been resolved, it's still something worth noting.
Despite the fact that some customers had minor issues with delivery or assembly, Seatcraft's responsive customer service helped resolve these concerns promptly. Overall, the positive customer feedback reaffirmed our confidence in Seatcraft as a reputable brand for elevating your home theater experience.
Conclusion and Overall Assessment of Seatcraft Hometheater Seating
Seatcraft offers a wide range of high-quality home theater seating options that are designed to elevate your movie-watching experience. Without a doubt, Seatcraft stands out with its ergonomic design, luxurious features, and customizable options, as well as providing both comfort and style for your home theater.
Apart from the ergonomic and sleek design, the durability and construction of these seats ensure they will last for years to come.
We were thoroughly impressed with Seatcraft's range of home theater seating options. From their single seats to loveseats and sectionals, they offer a variety of models that cater to different needs and room layouts.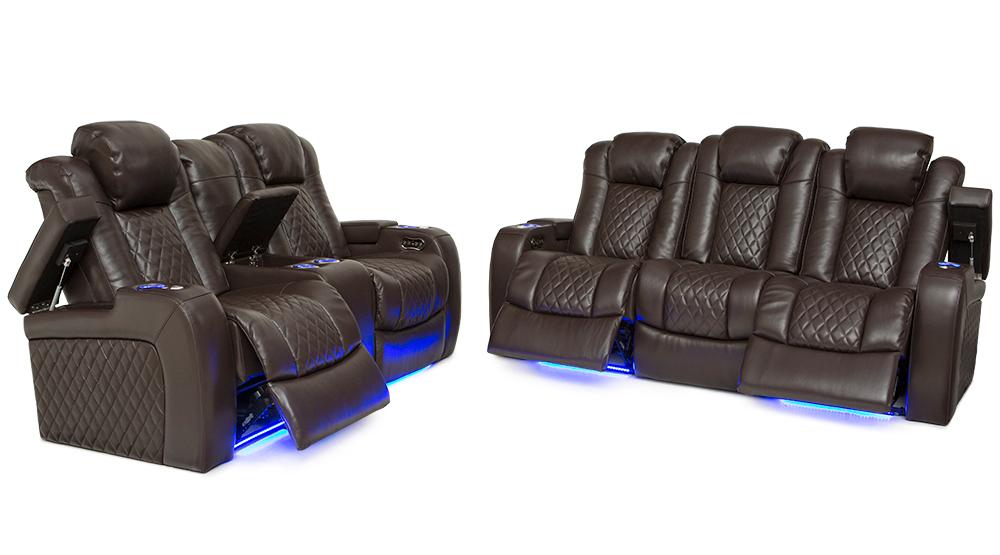 The overall quality of the seats is exceptional, with superior materials and sturdy construction that ensures durability for years to come. We especially appreciated the customization options available, allowing you to choose from various materials, colors, and designs that best suit their personal style and home theater theme.
We found Seatcraft's technology and innovations such as built-in USB charging ports, wireless charging capabilities, and motorized headrests to be a fantastic addition for modern convenience. The aesthetics of Seatcraft's seating also deserve mention as they not only provide luxurious comfort but also complement different home theater styles seamlessly while offering space-saving modular designs for practicality in smaller spaces.
Seatcraft has garnered positive customer feedback on its website regarding both product quality and customer service experiences. With an emphasis on attention to detail, along with a strong warranty package and nifty technological features, we understand why many customers have chosen them above competing brands like Valencia or Palliser, and we are inclined to agree.
FAQs
1. What makes Seatcraft a good option for elevating your home theater experience?
Seatcraft offers a range of high-quality seating options specifically designed for home theaters, with features such as ergonomic design, customizable configurations, built-in sound systems, and luxurious materials to enhance comfort and immersion during movie viewing.
2. Are Seatcraft seats suitable for all types of home theater setups?
Yes, Seatcraft offers a variety of seating styles and configurations that can be customized to fit different room sizes and layouts. Whether you have a small intimate space or a large dedicated theater room, there are options available to suit your needs.
3. Can I personalize my Seatcraft seats to match my existing décor?
Absolutely! Seatcraft understands the importance of aesthetics in creating an immersive home theater experience. They offer customization options such as different upholstery materials, colors, and finishes so you can match your seats to the rest of your décor seamlessly.
4. Is assembly required for Seatcraft seats?
Assembly requirements vary depending on the specific model of seat you choose from Seatcraft. Some models may require minimal assembly like attaching legs or armrests, while others may come fully assembled and ready to use out of the box. The product descriptions will provide details on any assembly requirements.