A few years ago, I was lucky enough to enjoy a listening session with Sennheiser's HE1 "Orpheus" headphone system. The sound quality was amazing and it was one of the most enjoyable demonstrations I have had in the more than two decades of reviewing audio gear. Unfortunately, the $59,000 price tag puts it far out of reach. Sennheiser's HD 800 S Anniversary edition is priced significantly less at $1,699. I will not go into Sennheiser's anniversary or why this model was selected as that is covered in detail in the Q&A sidebar.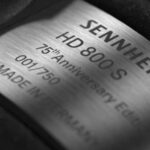 The is the pinnacle open backed headphone in Sennheiser's audiophile HD line. The Anniversary edition is limited to 750 units and features an exclusive matte gold color and engraved serial number plaque on the headband. The headphones come in a fitted box with single-ended and balanced cables, cleaning cloth, manual and a USB drive. The USB drive includes files including a copy of the manual and a PDF of a certificate of that exact headphones' measured frequency response.
The chassis or frame of the headphones is some sort of polymer (aka plastic) but feels and looks very well made. The band is layered plastic and metal. Overall, the HD 800 S is sturdy while being very lightweight. The microfiber padding looked a bit small at first and I was worried about hotspots developing during extended listening sessions but the light weight, combined with good balance and relatively low clamping force kept the headphones comfortably in place even during multi-hour listening sessions. The transducers are fifty-six millimeter ring radiators set into an open back frame. So far, this sounds pretty familiar to those familiar with the HD 800, where the HD 800 S differs is the addition of an absorber that tames the high frequency peak of the HD 800's that was the subject of much discussion on various audiophile websites.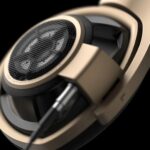 There is plenty more technology and specifications we could discuss but I would like to get to some listening. I cued up Tidal and Roon on my MacBook Pro which I connected to my Questyle CMA800i USB DAC and headphone amplifier with a Wireworld's cable. I did not replace the Sennheiser cables for this review and note that they appear well made and at nearly ten feet, provide enough room to move around a bit without worry. At 300 Ohms, proper amplification is necessary to drive the HD 800 S, do not think that a small Bluetooth receiver / amplifier or an adapter to your phone's output will work, you will be sorely disappointed.
Listening to "Don't Know Why" By Norah Jones off her self-titled album (Tidal, Blue Note) I was paying attention for any sibilance or harshness in the highs as I have on more treble forward designs. With the HD 800 S there was plenty of detail but no sibilance in the vocals and no harshness on the piano. The guitar, piano and drums were all detailed, tonally balanced and well positioned in their soundstage.
Norah Jones - Don't Know Why (Official Music Video)
Still wanting to check on whether the highs might be overly bright as some may say about the HD 800, I next listened to "Chokin' Kind" by Joss Stone from her album The Soul Sessions (Tidal, Virgin). There are several parts of the track, including the lyrics "It's a shame" that are subject to sibilance. When I listened through the HD 800 S, the lyrics were rendered with detail and delicacy but no sibilance.
Joss Stone - The Chokin Kind
"Bird on a Wire" Warnes from the Famous Blue Raincoat album (Tidal, Impex Records) has a very well recorded, yet modest sized soundstage. The soundstage through the HD 800 S was both appropriately large, but more importantly, well positioned. The individual elements were solidly placed in the proper positions.
Bird on a Wire (Digitally Remastered)
My listening continued with a variety of classic rock and more current pieces. My impressions after many hours of listening are that the HD 800 S, with an appropriate amplifier was dynamic, neutral and detailed while reproducing an appropriately sized soundstage. Bassheads will likely be disappointed as while bass extension was good, could reproduce deep and detailed bass but with a bit less weight (literally as well as figuratively) than the .
High Points
I found the HD 800 S to be comfortable for long term listening sessions. This is one of the more important points for me because no matter how good the headphones sound, it does not matter to me if they are not comfortable to wear.
The headphones were tonally balanced with a slight roll off at the upper treble region.
The soundstage produced by the HD 800 S, whether it be with an intimate, small scale recording or a large orchestral piece was well rendered with individual instruments solidly positioned.
Low Points
The slight treble roll off comes at the cost of losing some of the resolving detail that may be sought by those who are seeking to hear every last bit of information.
The HD 800 S are not easy to drive and their true potential will not be realized without a capable headphone amplifier.
How Does the Sennheiser HD 800 S Compare to the Competition?
This is a good time to be in the market for a luxury headphone. Over the past two years there has been numerous new audiophile headphones released to the market. Sennheiser itself has recently released its ($2,400) closed back headphone if you prefer a closed back design. The Audeze ($1,300) is another closed back design but utilizes a planar magnetic driver. It is significantly heavier that the Sennheiser models which makes it less comfortable for extended listening sessions. The ($1,800) is another high performance open back headphone and is easier to drive than the Sennheisers.
Final Thoughts
I found myself listening to the HD 800 S Anniversary Edition headphones for hours at a time and was sad to see them go when my time with them came to an end. If you are thinking of getting these headphones, I would not delay as there are only 750 of them being made. Thankfully, the will be available for quite some time but you will have to do without the matter gold finish.
Anniversary Edition or not, the Sennheiser HD 800 S is one of the truly great reference audiophile headphones that can be enjoyed by all. Listening to the HD 800 S does not require wearing a heavy or uncomfortable headset and does not have ruthlessly revealing treble that excitedly points out recording flaws. Rather, the HD 800 S provides a balanced and detailed presentation from the very low frequencies up to a slight roll off in the upper treble. This, coupled with exceptional imaging, provided me with many hours of listening enjoyment with a wide variety of material.