The Samsung Freestyle 2nd Gen with Gaming Hub is a unique portable projector that aims to take your entertainment experience to the next level by doing it all. With its bright, led-based video projection, integrated stand, and convenient automatic setup, this projector offers versatility and its launch is priced at $799. Additionally, it comes with a built-in speaker, office apps, all the streaming services you could hope for, voice-assistant functionality, and native support for popular gaming services, promising a console-quality gaming experience without the need for additional devices. In this review, we will delve into the various aspects of the Samsung Freestyle 2nd Gen to help you determine if it's the right choice for your family, home theater, and/or gaming setup.
Design and Build Quality of the Samsung Freestyle 2
The Samsung Freestyle 2nd Gen features a compact and portable design, making it easy to carry and set up in different locations. The outer white cylinder is actually a rubberized layer, giving the device some give and making it easy to hold on to. There is an included diffuser cap, which might be used to turn the device into a color-changing light bulb; however, I initially assumed it might serve as a lens cap, protecting the business end while being moved. This turned out to be a fairly bad idea, as I dropped the entire projector while removing the device from its bag during unboxing. If this wasn't bad enough, 30 minutes later, I put the cap back on and decided to move it to another room, and again picked it up from that top end. The cap is just thick enough to give you a hold, and the rubberized layer holds the cap on just enough to initially feel secure, but assuredly it is not snug enough to carry the projector by. Thankfully both drops were from less than 1 foot, and the projector survived without incident.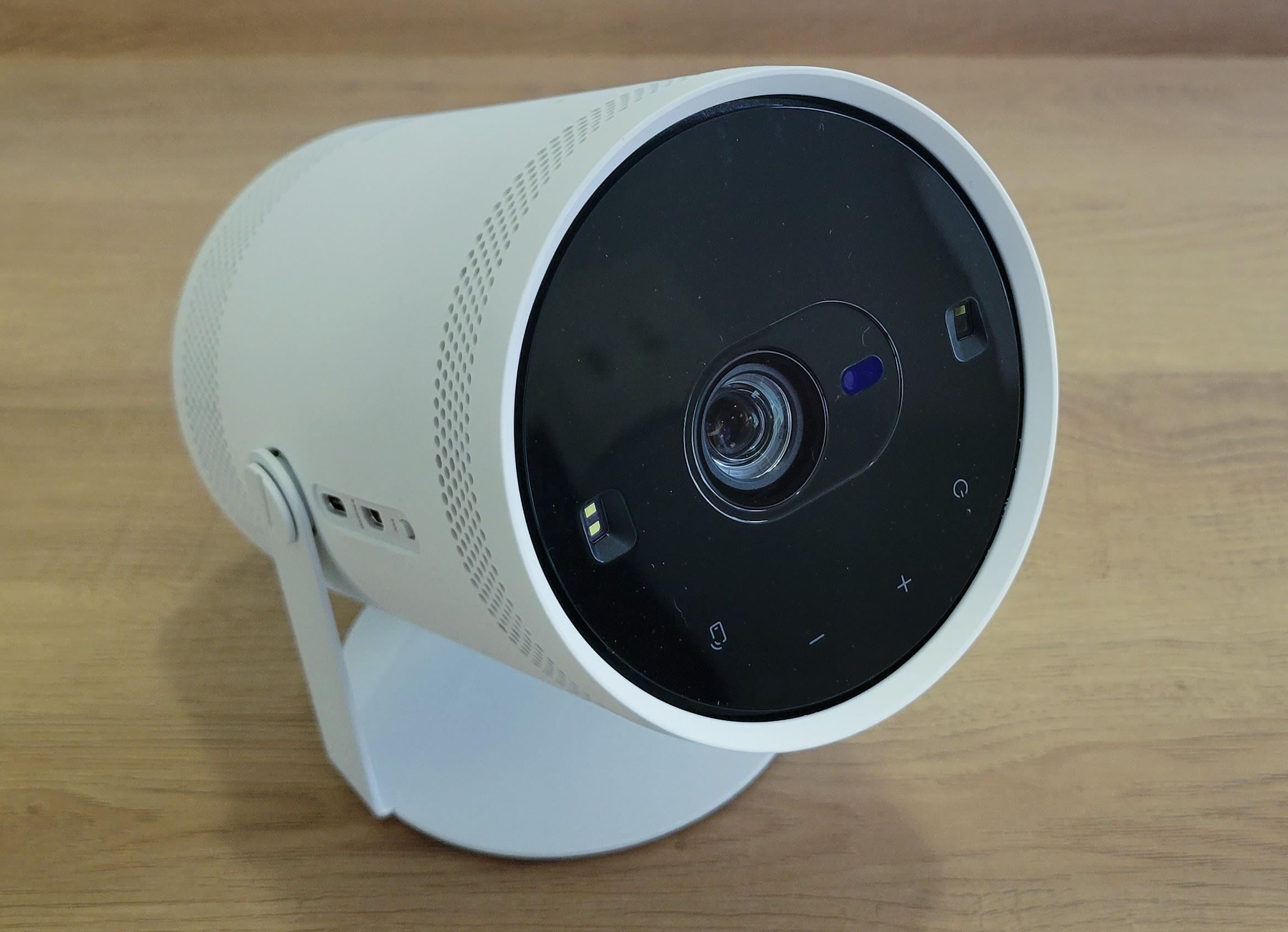 Some might say it looks similar to a lighting fixture; however, it really turned out to be smaller than I expected, and I found the design to be sort of timeless. Leaning into the light fixture idea, Samsung even sells a screw-in, light socket base that allows you to install the device in a standard bulb socket. This idea is designed for use without the adjustable base, which eliminates the possibility of putting it in an overhead can fixture and aiming it at a wall, which seems like the most obvious way to use it. If you'd like to aim it straight down at a table, this adapter has you covered.
The integrated stand is well-balanced and allows for effortless positioning, ensuring that you can easily adjust the projection angle to suit your needs. This flexibility really is a hallmark of the device, as you get the sense throughout the design that the device is likely to be moved from room to room frequently. Samsung additionally sells a battery base and carrying case. I did find myself immediately wishing the battery base was included, given how I wanted to try it out in many different rooms. The claimed battery life is 3 hours from the hefty 32,000mAh pack, which seems well sized, though pricey at $189.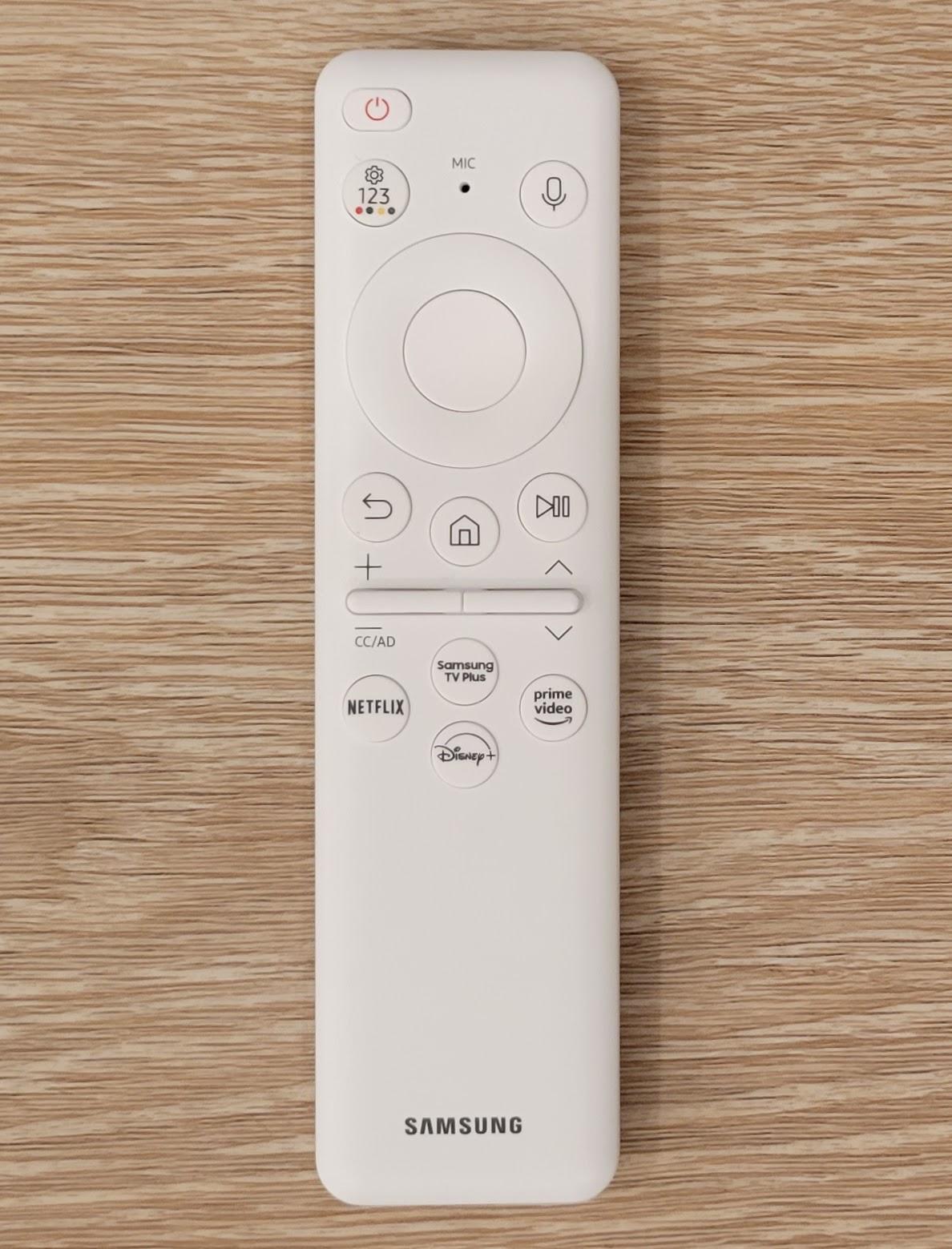 Finally, Samsung includes a nice radio frequency remote that is paired to the projector and a 50W USB-C power adapter. The remote is easy to use, with enough tactile feedback that you'll be able to learn to use it in the dark, even though it isn't backlit. It has a dedicated voice button, as well as a solar panel to trickle charge itself. Definitely an above-average remote, and voice links are always appreciated.
Freestyle 2nd Gen - Setup
The device is both simple to initially set up and is out of the box usable for nearly anyone. I was able to get viewing by just plugging it in and connecting to wifi - the remote pairing was automatic, and the autofocus and auto keystoning immediately give you a reasonable rectangular projection that makes it easy to start. If you reposition the device, the sensor detects this new aim and triggers the autofocus system once again, and the whole process is fast. Like 3 seconds fast, and you'll aim this device at everything, attempting to push the limits of what an automated setup and extreme angles you can set it up at. It does well with a few caveats- while it does have the most extreme flexibility I've seen, the lenses are just not reasonably set up to act as an ultra-short throw. Meaning if you want to put the device on the floor, aim it up at the wall at an angle from a couple of feet away, it isn't going to give you an even picture.
Trying a different position, on a table from a pretty extreme side position (about 45 degrees), I found much better results. While the device can focus with either end up and will auto-flip the picture, there is a preferred orientation that consistently gave more frequent quick setup success.
Dual Projectors and Advanced Configuration
I found it very friendly with the basic automated setup, from a front-on view on nearly any wall; it's a point-and-go experience that was enjoyable to use. That said, for more challenging situations, Samsung offers a plethora of advanced tweaks and settings, as well as some cellphone camera-based automated calibrations.
First, I tried the Smart Edge blending, which allows turning 2 projectors into one large screen. With both horizontal and vertical blending modes, this feature does give you some unique possibilities. The built-in slideshow function had me thinking about art-gallery type installations, and Samsung mentions that even video apps like Netflix are supported. I'm not sure why you'd watch Netflix on a panoramic screen; however, the slideshow was interesting. I put the two projectors on either side of the room and fired up the SmartThings app. It displays a calibration pattern, then using the camera, adjusts each projector to create one massive screen.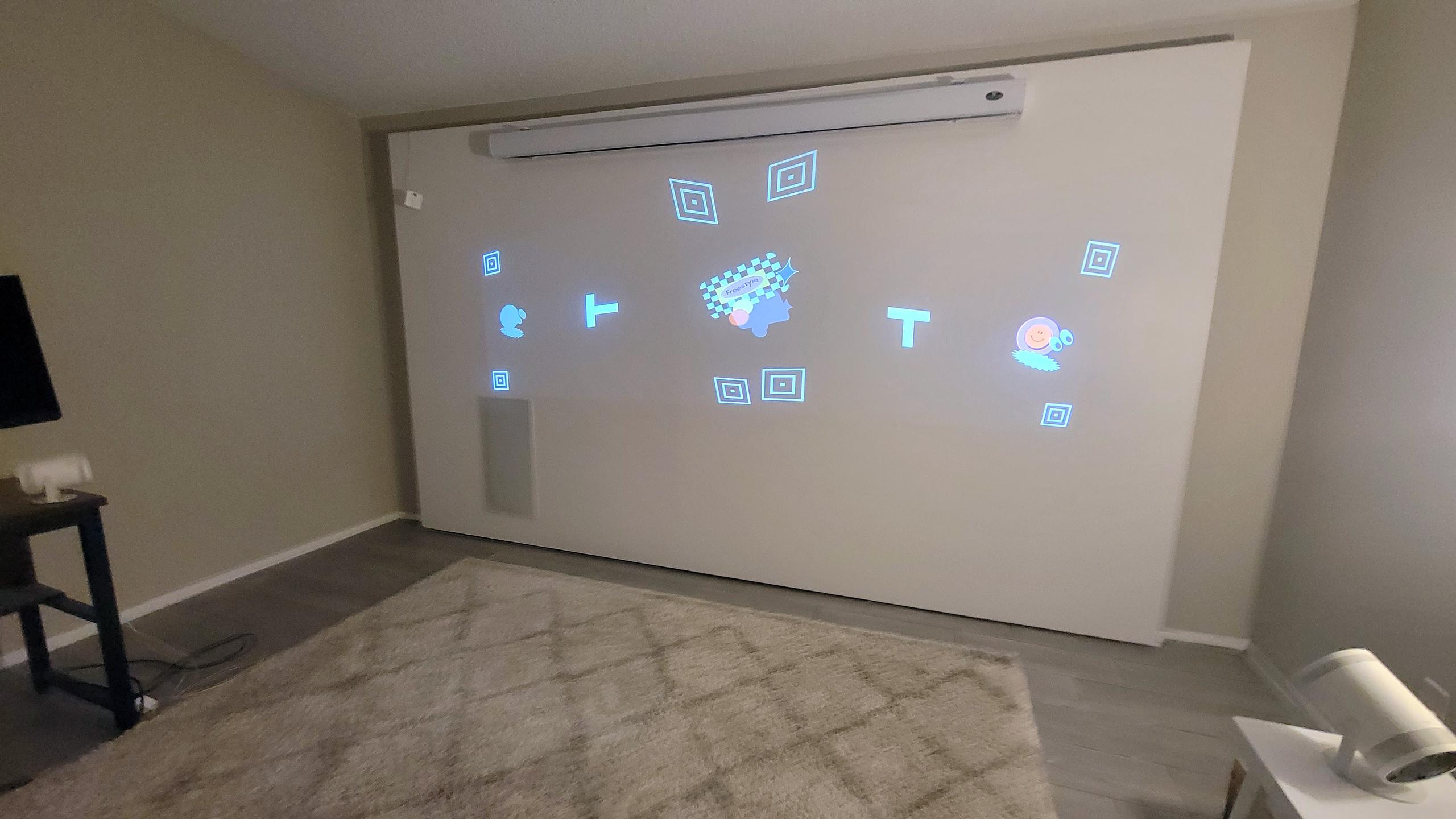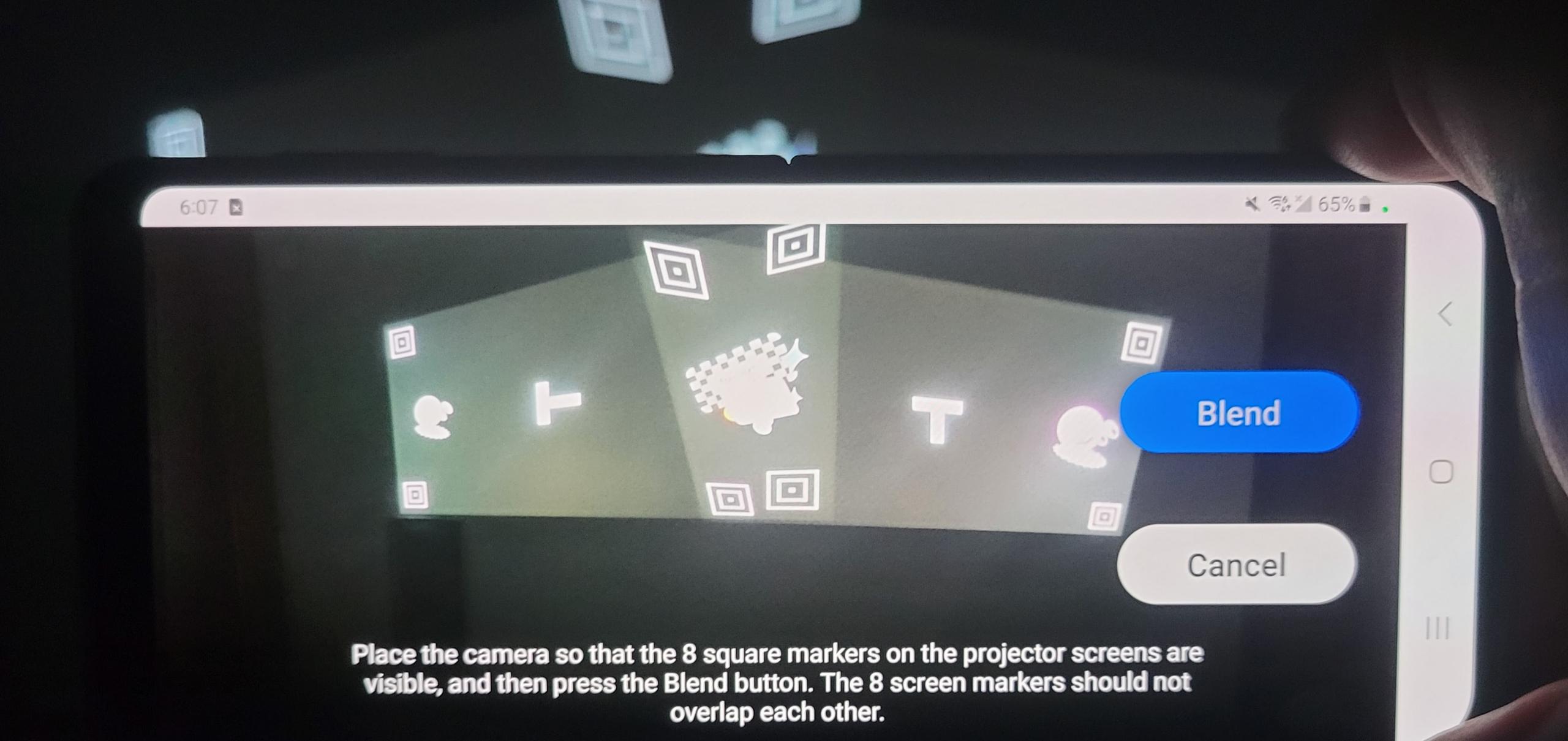 Later in the evening, I had a chance to try the other calibration modes. The first was designed to color correct if you are displaying on off-white or colored walls. Again, in the SmartThings app, you trigger a calibration sequence. I aimed the projector at a light yellow wall, and the camera on my phone recorded a series of flashing colors. In about 15 seconds, it was complete and gives you the option to view a test video of a white fox roaming a snowy outdoor scene. Even on my yellow wall, the image came out color-temp correct and made the picture that much nicer.
The last setup test was the toughest one yet. I placed the device on my nightstand and aimed it at the vaulted ceiling above. The combination of the side angle, plus the vault of the ceiling, made for a challenge. Here the auto keystone struggled a bit more, and I had to dive into the manual keystone adjustments. The stand needed a bit of help too - even though the projector is a cylinder, it can't be spun. I had a little notebook nearby, and like a wobbly table at a restaurant, I got a better result with a little extra wedge under one side of the stand. These adjustments got me to an acceptable screen, and if I hadn't noticed the final SmartThings feature, I probably would have stopped there
This last feature was called personalized keystone, and it involved another camera-based pattern. Four test pattern squares appear in each corner, and you take your phone camera, place the lens in front of your dominant eye, and start a calibration once again. This time the screen is keystoned dramatically to visually create an even screen, even on a severely angled surface. It took some getting used to as the ceiling was so angled away that the top of the screen was significantly closer, and my eyes had to almost refocus on a faraway plane at the bottom of the view. But the end result was effective, and somehow the lens system kept the whole screen in focus, and from the vantage of my bed, the image from my eye's view point was squared up nicely.
Video Performance Review of the Samsung Freestyle 2
With its 1080p resolution, the Samsung Freestyle 2nd Gen delivers a high-quality viewing experience. The lens system focuses quickly and automatically, using sensors built into the front of the unit, ensuring sharp and detailed images. There are numerous adaptive modes that tweak your picture quality, and thankfully they are easy to access and adjust from the quick settings menu.
When it comes to color accuracy, contrast, and sharpness, the Samsung Freestyle 2nd Gen performs admirably. The projector produces vibrant and well-saturated colors, creating a visually appealing image. The contrast ratio is also impressive, showcasing deep blacks and bright whites, resulting in a more immersive viewing experience. Additionally, the sharpness of the projected image is excellent, ensuring that details are crisp and clear.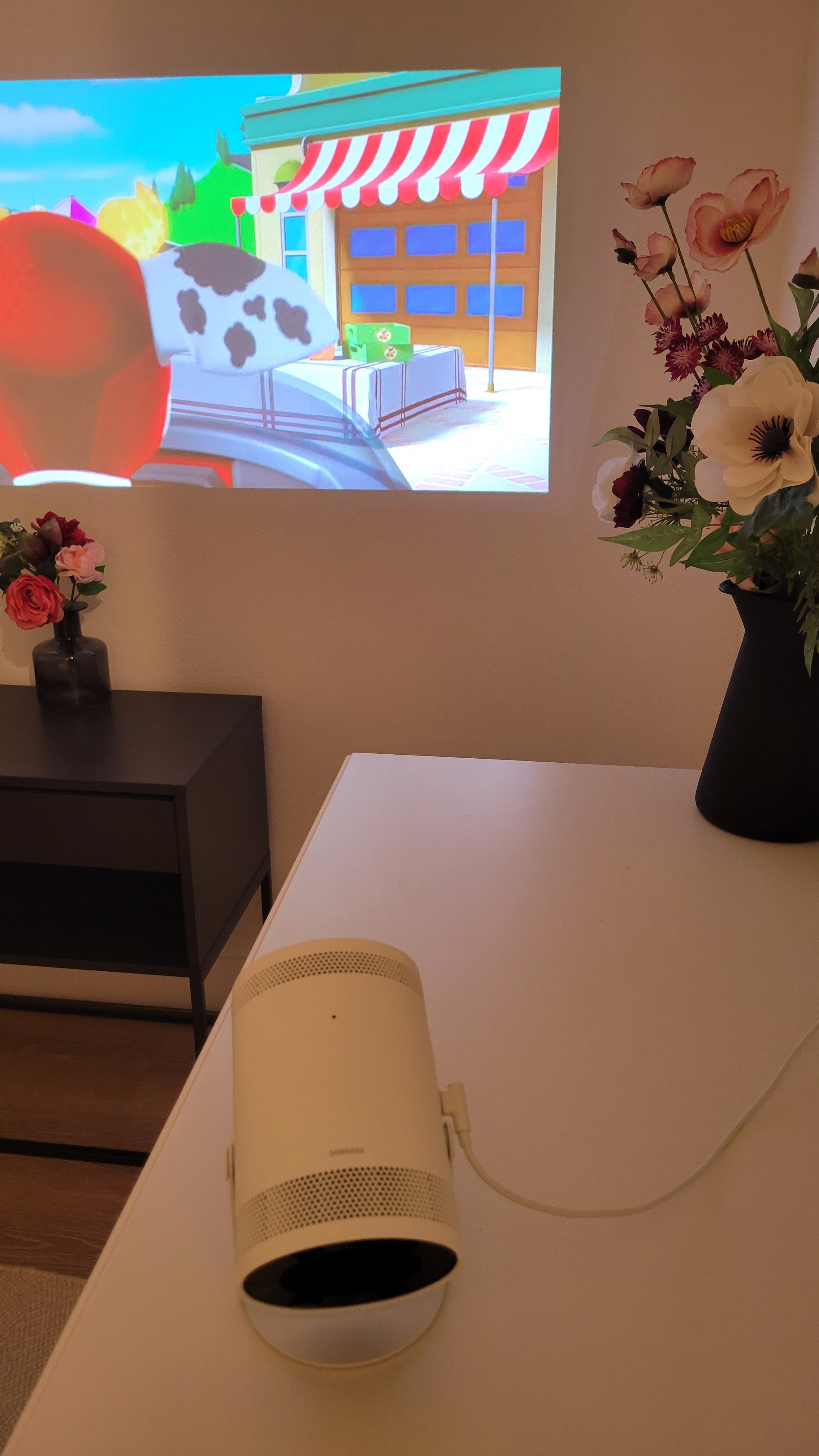 Brightness is listed at 230 ANSI peak lumens, and it was plenty in a dark room for the ceiling-projected 100" screen. It doesn't sound like much, and I found the picture brightness specs surprising when I read them later. In my kitchen under nearly daylight conditions, we tested a 30" or so screen, and there was plenty of power to get a bright image. Obviously, larger screen sizes in daylight conditions will wash out, yet being easily repositionable will allow you to move the projector to get a size that delivers a bright enough experience.
Audio
The built-in speaker of the Samsung Freestyle 2nd Gen provides decent audio quality for casual viewing and gaming. It offers clear dialogue and satisfactory, loud sound reproduction, but it lacks the depth and bass output that dedicated audio systems can provide. Thankfully, Samsung includes a number of wireless audio possibilities. Dual Bluetooth (5.2) connections could allow two viewers to wear earbuds or even connect to any Bluetooth speaker system. The HDMI port supports ARC, and there is built-in support for Samsung wireless soundbars and surrounds. For the most part, the built-in 360-degree speaker will be adequate, but it is nice to have these additional connection options.
Samsung Gaming Hub Features
One of the standout features of the Samsung Freestyle 2nd Gen is its native support for popular cloud gaming services, through their Gaming Hub. This means that you can access a wide range of games without the need for a separate gaming console or HDMI device. The projector offers a seamless gaming experience, with minimal latency and smooth performance, allowing you to enjoy console-quality gaming right from the comfort of your home. Just like any cloud gaming service, having a rock-solid and fast internet connection is a must.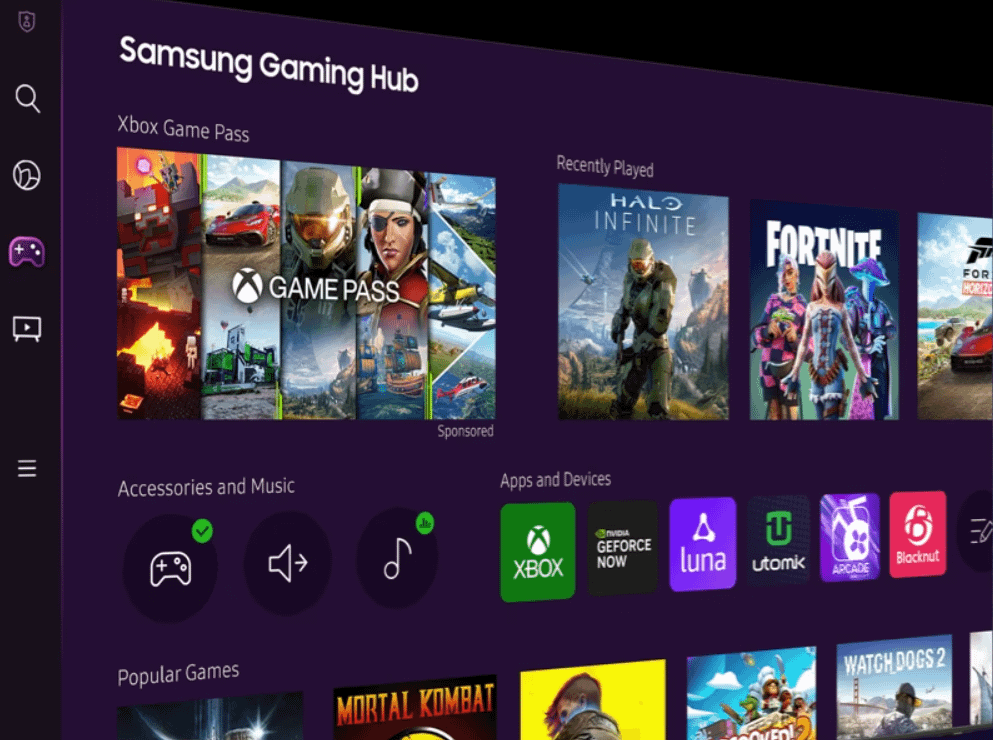 However, it's worth noting that to fully take advantage of the gaming capabilities, you will need to purchase a separate Bluetooth controller. There are quite a few Bluetooth controllers supported, and the Amazon Luna service supports a phone-based controller app. While this may be an additional expense, it does provide a more immersive and enjoyable gaming experience, especially for games that require precise control input.
Notable services included Nvidia GeForce NOW, which syncs with Steam, Epic Games Store, and Ubisoft, and also seems to support keyboard and mouse gaming. Xbox Live, Amazon Luna, Antstream Arcade, Utomik, and Blacknut round out your options. My testing on Luna was smooth, and with support for so many services, you'll likely have multiple options for accessing your favorite games. Missing in my mind were even some simple free games, as every service I tried demanded login and a paid account. At least Luna has some free titles if you are a Prime member, and some of the services offer free trials.
Voice Assistants and Workspace Features
The Samsung Freestyle 2nd Gen allows you to connect to Samsung's own Bixby, as well as Amazon Alexa. I tested both and found Bixby to be a bit smoother. The Bixby choice allowed for an always-listening wake word, however, Alexa would allow you to tie into the rest of their devices if your home already has them. Despite the overall improved performance thanks to its increased memory capacity, the voice assistants did hiccup at times. Overall though, the projector feels responsive and snappy, ensuring that you can navigate through menus and access your favorite content without any lag.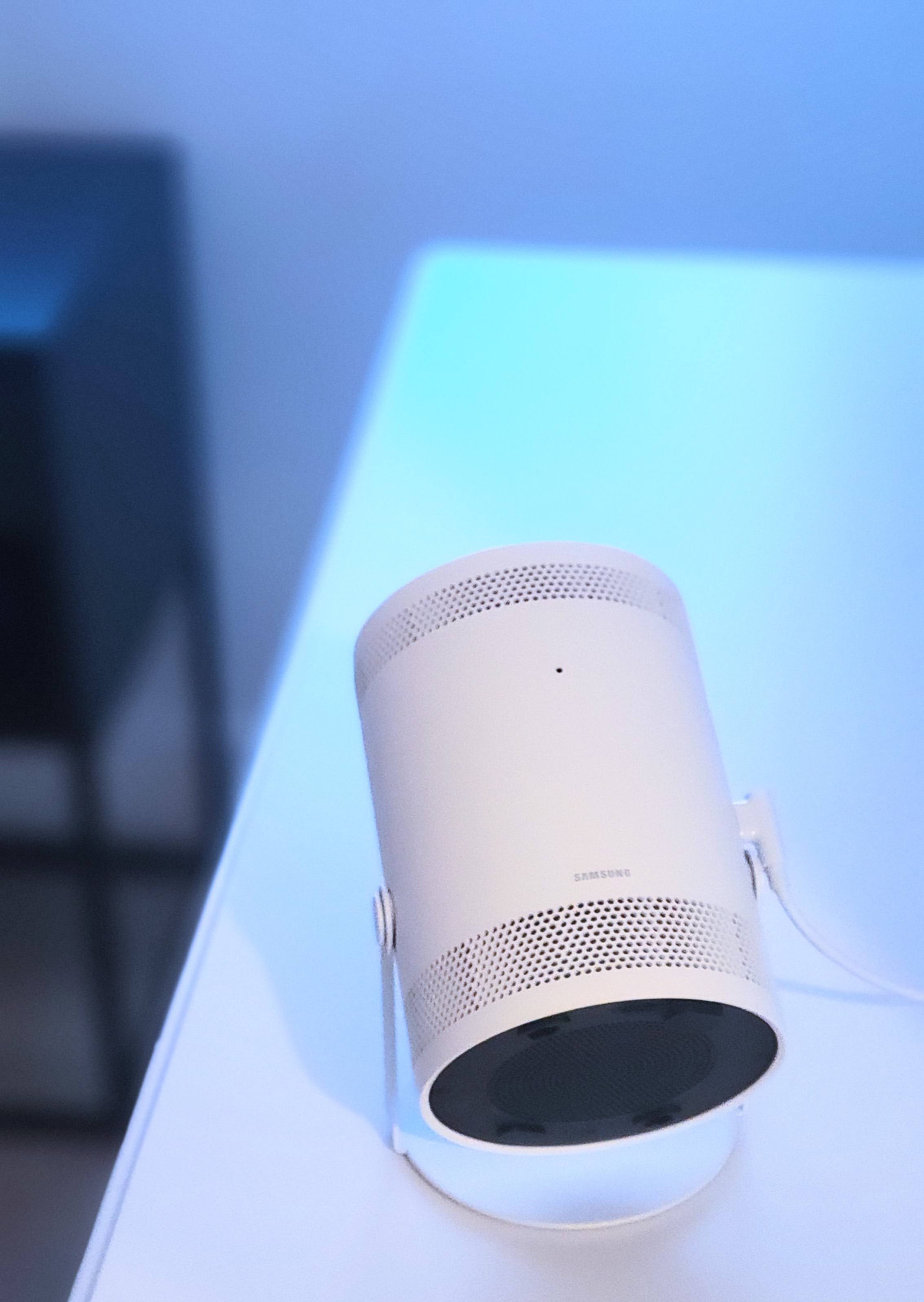 I was able to connect both a Mac Magic Keyboard as well as a Logitech bluetooth mouse, along with earbuds and gaming controllers. The device also has built-in support to access Microsoft Office 365 web apps, and numerous screen mirroring and remote connection options. Notably, there is both Samsung's downloadable remote access application for Macs and PCs, and a Microsoft Remote Desktop client. Both could allow you to connect to your main computer remotely from anywhere with an internet connection. The end result is a portable, large screen remote terminal to your desktop. It seems like Samsung wanted to make a do-anything device, and with these software capabilities, you won't be surprised they also added in some others, like a remote TV mirror of certain Samsung TV models as well as ambient wallpapers and video loops like a fireplace scene.
Final Words
The updated Samsung Freestyle is a do-it-all solution with both workspace and family-friendly convenience. With its automated setup and vibrant video projection, integrated stand, and USB-C power input, it provides a fun and flexible viewing experience. The built-in speaker, increased snappiness, and native support for popular cloud gaming services give you everything you need in one package.
Samsung smartly is offering this at a lower price than the 1st gen, while simultaneously packing better performance and a gaming hub. It's perfect for families that might move it around the house for movie nights and double up as an office tool when needed. Add in the portability option that the battery pack offers and cloud gaming, I could imagine many families where the device is in high demand. Given how the many features have been successfully implemented and the smooth automated setup, this device easily earns an Editors Choice as a portable projector.
Specs

Projector Size with Stand (WxHxD)(inch): 4 x 6.8 x 3.7
Stand Color: White
Lens Cap: Diffuser
Screen Size: 30~100"
HDR: Yes
Film Mode: Yes
HLG (Hybrid Log Gamma): Yes
Contrast: 100,000:1
Contrast Enhancer: Yes
HDR10+: Support
Picture Engine: Crystal Engine
Sound Output (RMS): 5W
Speaker Type: 360 Degrees
Bluetooth Audio: Yes
Dual Audio support (Bluetooth): Yes
Adaptive Sound: Yes
IP Control: Yes
OSD Language: English, Spanish, French
TV Access: Yes
Weight with Stand (lb): 1.8
Projection System:

Resolution: 1,920 x 1,080
Light Source Type: LED
Light Source Life: 30000hrs
Throw Ratio: 1.2
Screen Size: 30~100"
Digital Keystone Correction: Yes
Auto keystone Correction: Vertical, Horizontal, Level
Brightness: 230 ANSI Lumen (Peak)
Noise (dB): 30dB(A)

Focus: Auto
Scale and Move: Yes
Auto Power Saving: Yes
Auto Power Off: Yes
Refresh Rate: 60Hz
Operating System: TizenTM
Far-Field Voice Interaction: Yes (with Screen off AOV)
Built-in Voice Assistant: Bixby and Alexa
Web Browser: Yes
Samsung Health: Yes
Universal Guide: Yes (Tunerless) (US Only)
Media Home: Yes
Smart Features:

Multi Device Experience: Mobile to TV, TV Sound to Mobile, Sound Mirroring, Wireless TV On
Tap View: Yes
Music Wall: Yes (Lite)
Easy Setup: Yes
App Casting: Yes
Ambient Mode

Workspace: Remote Desktop: Yes
Wireless Dex: Yes
Web Service: Microsoft 365
HGiG: Yes
Gaming Hub: Yes (KR, US, CA, BR, GB, FR, DE, IT, ES)
Connections:

HDMI: 1 (Micro)
HDMI Audio Return Channel: Yes
WiFi: Yes (WiFi5)
Bluetooth: Yes (BT5.2)
Anynet+ (HDMI-CEC): Yes