About a year ago I replaced my iPhone 6 with an iPhone 8. While I enjoyed the added capabilities, better battery life, and speed of the 8, one thing I missed almost immediately was the headphone output jack. The 6 had one the 8 does not, so you are forced to either use a wireless headphone or add a lightning dongle or outboard DAC via the Apple lightning connection for personal listening. Since I upgraded to the iPhone 8, I've used an assortment of DACs, such as the AudioQuest Dragonfly Red, which require an Apple-certified lighting to USB adapter to operate successfully. I've also used a bunch of Bluetooth earphones, but so far the best combination of low price, convenience, and good sonics for my iPhone has been from a dedicated lightning connected DAC from S.M.S.L., the MFI-certified Icon ($54.99 MSRP).
I obtained my review sample from Drop (formally Massdrop) for the "deeply discounted" price of $47 with shipping. Not the biggest discount in the world, but I went for it because I was tired of having to hunt down one of several lightning to USB adapters to use an outboard DAC with the iPhone. I got it from Drop because Amazon was out of stock (with no idea when they would see more) and the only other sources were all China-based sales sites. While I've purchased successfully from AliExpress many times, I wanted some more local support options.
Setting Up the S.M.S.L. iCON iPhone DAC
To use the iCON DAC/headphone amp all you need to do is plug it in and attach a pair of headphones to its 3.5mm stereo mini output and you're done. Powered by the iPhone, the Icon was able to drive my most demanding headphones, the 600-ohm Beyer-Dynamic DT-990, to well above my own max listening levels with every commercial music release I tried. On a couple of my own recordings, I did have to max out the volume settings, but I heard no added distortion even at these maxed-out levels. With my most sensitive CIEMs, the 115 dB sensitivity Empire Ears Zeus, I heard no noise, hiss, or hum even when I turned the volume up to full with no music playing.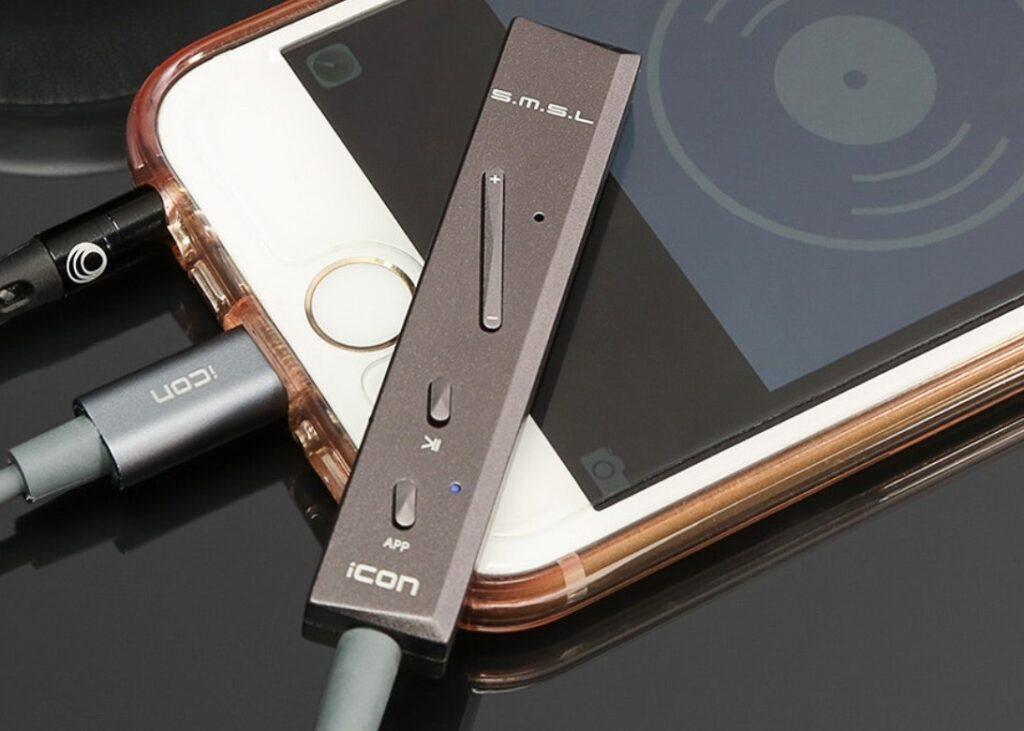 How Does the S.M.S.L. iCON iPhone DAC Perform?
The heart of the Icon is a Cirrus Logic CS42L42 chip capable of PCM up to 192/24 and DSD 128. It also includes provisions to sense whether your connected headphone has a microphone so you can accept phone while using the Icon. There is also an internal microphone for headphones without their own mic. The headphone amplifier is a class AB model that can modify its output depending on the incoming signal into a class H to conserve power. One feature that the SMSL Icon does lack is MQA capabilities, so Tidal users will have to settle for CD-quality. I was able to get 48/24, 96/24, and 192/24 output from Qobuz, however.
SMSL even created its own app for the Icon. For those without an alternative streaming/playback app, it will serve, but if you have Tidal, Qobuz, or Roon, you already have a better playback app than SMSL option. The Icon itself has an aluminum body. Its top panel has three buttons for volume up/volume down, play/pause, and app control. There's also a small blue light that lets you know whether it's getting power. When playing a music file, the light will blink. The 11.8-inch cable is permanently attached on one end of the Icon while the 3.5mm headphone output is on the other end.
Charlie Puth accompanied by Boyz II Men on "If You Leave Me Now" shows off the Icon's ability to place vocals precisely in the soundstage. Also, the Icon's presentation has enough detail to hear how Puth's vocals are processed with a pitch control while Boyz II Mens' vocals are not. You can easily hear how natural the second lead vocal is compared to the first lead by Puth.
On Mike Posner's "Cooler Than Me" via Tidal or Qobuz through the Icon with revealing earphones, you'llbe able to appreciate how well-recorded, -mixed, and -mastered the original recorded version is It has depth, imaging, and decent dynamics for a pop release.
High Points:
The beauty of the Icon is no additional dongles or adapters are needed for iOS devices equipped with a lightning connector.
The DAC/HPA delivers good depth and imaging, as well as the right amount of dynamic punch to make pop music sound much better than what you would get from the iPhone alone (using the Lighting-to-3.5mm adapter).
The overall sonic profile is natural and neutral, with plenty of detail.
The Downside
Unlike the AudioQuest Dragonfly DAC, which can be used both connected to a phone or a desktop DAC with a USB output, the Icon was designed to work only with an iPhone.
With highly sensitive earphones, such as the Empire Ears Zeus, you may find that finding the exact right listening volume as bit of a challenge. The Zeus requires so little output that the incremental volume increases may be a bit too great to find the ideal level. With Billie Eilish's "Therefore I Am" single via Tidal three pushes of the volume level results in a tiny bit lower level than I'd like, but the next increment upwards is too loud for me.
Unlike the Dragonfly, Chord Qutest, or IFI DACs, there is no easy color-coded way to know what the bit-depth and sample rate of a recording while it's being played back via the Icon without opening your playback app
How Does the S.M.S.L. iCON Compare to the Competition?
The S.M.S.L. iCON ranks as the least expensive no-worries and no-apologies iOS-centric DAC currently available. Sure, you can pay less and get the Apple Lightning audio adapter. But it does not perform as well overall, especially with harder to drive headphones.
HiDizs has a Dongle DAC ($49 MSRP), but it will require a Lightning-to-USB-C adapter for use with an iOS device.
You can pay more and move up to an AudioQuest Dragonfly ($99, $199, $299) or Helm Encore ($199). The Dragonfly line and Helm DACs have greater flexibility due to their more universal USB input. If you want a DAC that can go from phone to desktop PC, one of these would be a better option.
Final Thoughts
If you want to listen to music via your current-generation iOS device, you have two options: Bluetooth or an Apple-Certified Lightning DAC/headphone device. Bluetooth, especially when mated with aptX HD, can sound very good, but it is still a lossy format. Using the full capabilities of Qobuz it's possible to get bit-perfect lossless 192/24 files played back from an iOS device via the SMSL Icon. With Tidal, the Icon was only capable of 44.1/16 since it lacks MQA decoding. If you are a Qobuz subscriber, the Icon may well eliminate your need for an additional dedicated portable player for streaming high-resolution music.
If you want an inexpensive one-piece outboard DAC/headphone amp for your iOS device, I recommend the SMSL Icon. It's a pleasure to use, works with a wide variety of earphones, and provides an elegant and good-sounding single-box connection solution to the dilemma of using newer iOS devices with wired earphones. The Icon could be the perfect addition to your collection of iOS portable music essentials.
Check out other S.M.S.L products at the Apos Audio store.