We're in the midst of a sonic revolution.
That's according to multi-Grammy-winning engineer, and Sonos Soundboard member, Manny Marroquin. The bold statement came during a panel loaded with chart-topping producers and engineers as part of a two-day Sonos press event to unveil the brand's all-new smart speakers, the Era 300 and Era 100. The topic of the day? Spatial Audio.
Updated March 28, 2023: Check out our full reviews of the Sonos Era 300 and Sonos Era 100 now.
The "sonic revolution" that Marroquin, super-producer Giles Martin, and the other bona fide music tastemakers on the Sonos panel are so excited about is the increasing availability of music produced and played back in spatial audio formats like Dolby Atmos Music. It's an emerging new way to engulf yourself in sound. And Sonos wants to help lead the charge.
The new device tasked with bringing Sonos' spatial audio ambitions to life is the Era 300, a $450 speaker that looks like a futuristic sports arena and sounds pretty revolutionary in its own right – especially when fed well-mixed Dolby Atmos Music tracks. Utilizing a strategic collection of targeted drivers, the Era 300 beams multi-channel sound throughout a listening space with an impressive burst of power and immersion.
Interestingly, the other new speaker in the Era series, the Era 100 ($249), does not offer the same multi-channel listening experience. Serving as a replacement for the beloved Sonos One smart speaker, the Era 100 offers some impressive upgrades, but its sound is confined to traditional audio formats. It does share some Era 300 DNA, though, including new ways to play, upgraded controls, and a more sustainable design.
I got a chance to spend some limited time with both new Era speakers ahead of their March 28 release. Here's a sneak peek of what's to come from Sonos.
(You can pre-order the new Sonos 100 and Sonos 300 starting today.)
Era 300 First Impressions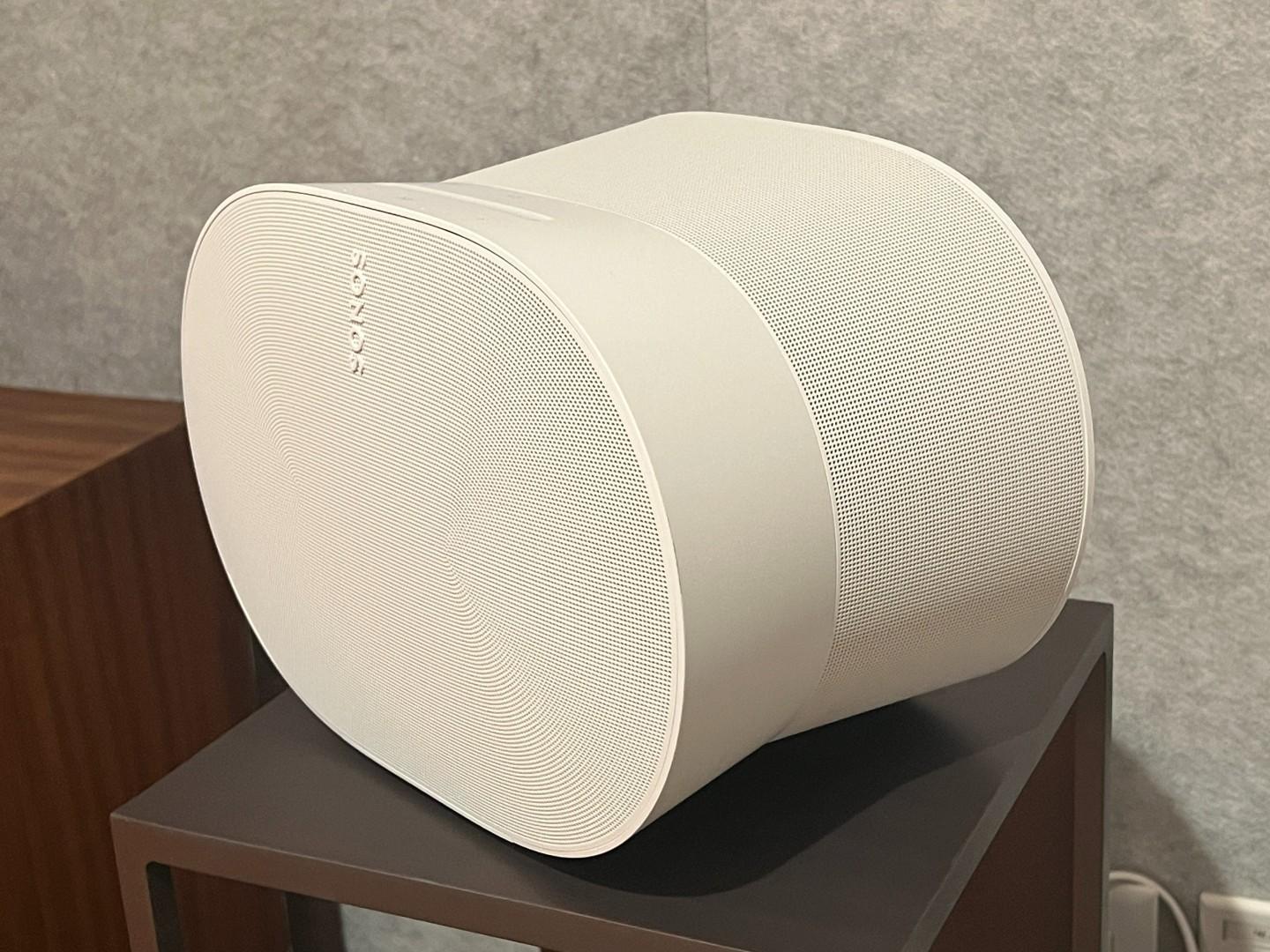 The Era 300 is easily one of the most unique speaker designs I've come across. Carved into a funky, futuristic orb, the speaker stands 6.3 inches tall, over 10 inches wide, and about 7 inches deep, making it a bit smaller than Sonos' Five speaker. The company says the 300 was built from the ground up to offer the best spatial audio experience you can get in a single speaker.
Wavey grilles along the 300's front and top overlay an efficient configuration of six drivers inside. Those include two woofers for bass, a front tweeter with a custom waveguide to optimize clarity, an upfiring driver to bounce sound off your ceiling, and two beamforming side drivers that utilize phase cancellation with the top driver to help get the most out of spatial audio formats like Dolby Atmos.
Both Era speakers share new controls, including a dimpled volume slider that Sonos reps assured us is specifically designed to keep you from accidentally blasting your eardrums, and a microphone mute switch to lock out Amazon Alexa. (Unlike other Sonos smart speakers, the Era line does not currently support Google Assistant.) The speaker's onboard microphones now let you calibrate the sound to your room directly, or iPhone users can use Sonos TruePlay for increased accuracy.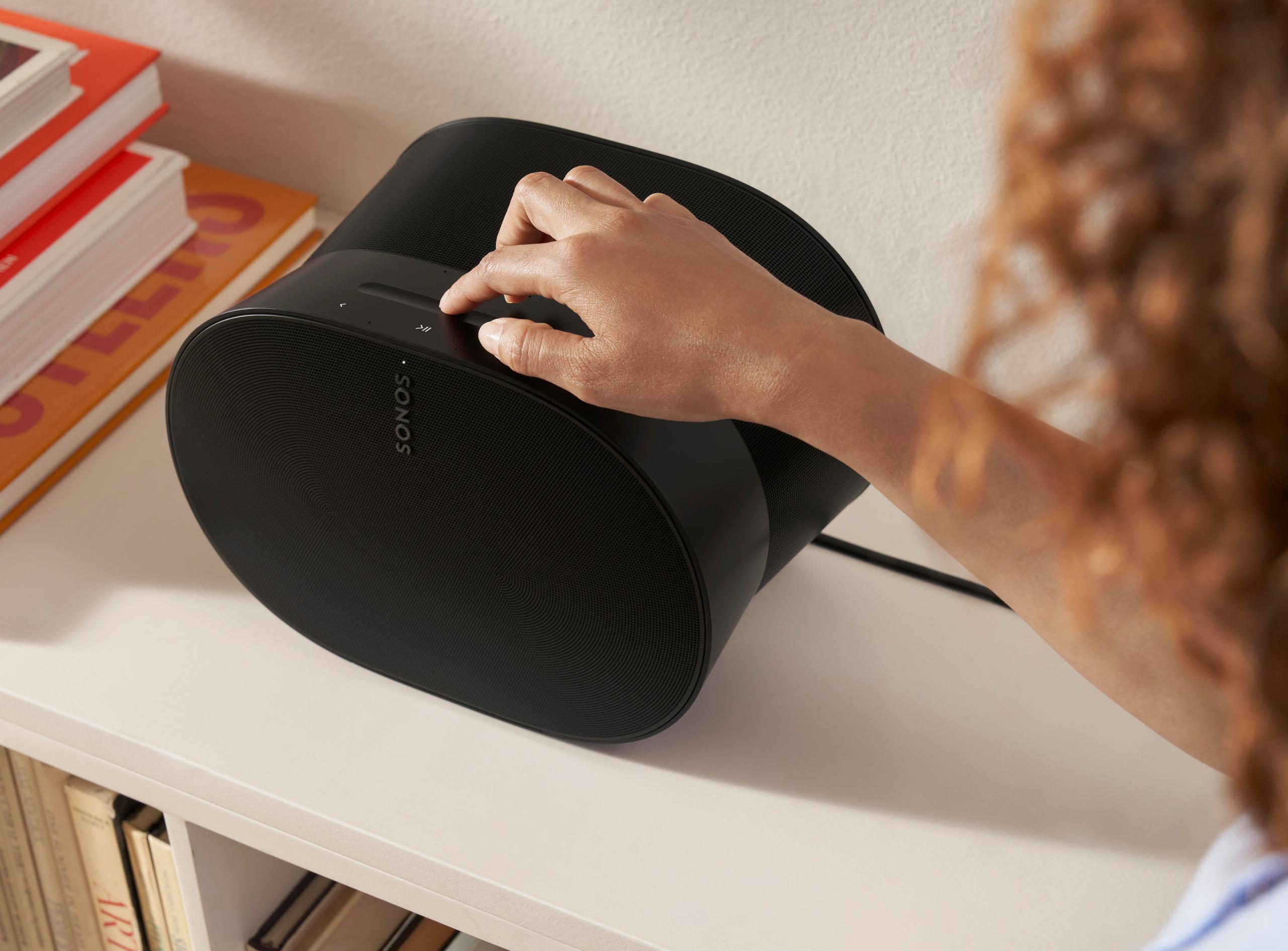 Sonos has also improved the connection options for the Era line, including Wi-Fi 6, USB-C to connect an analog device or Ethernet via an optional adapter, and Bluetooth connection (finally!). You can of course still utilize the Sonos S2 app to stream from multiple services, pair two Era 300s or two Era 100s together, or group them with other Sonos speakers or soundbars for multi-room audio or surround sound.
As for the sound performance, while I spent only a few minutes with the 300, I was immediately struck by its powerful and expansive sound for both Atmos and stereo music. An Atmos mix of The Beatles' "A Day in the Life" was served up with massive punch for the speaker's size, with big bass, a wide and detailed soundstage, and tightly balanced instrumentation that put vocals out front. Though the sound never fully reached behind me, the speaker deftly swirled the song's synth effects and strings out to the side and above it, with vocals vertically stacked on top of each other for a dimensional effect.
Trying another Beatles tune, "Come Together," I got a taste of the almost-live sensation that first got me excited about Dolby Atmos Music at a multi-speaker demonstration during CES 2020. The instruments were surprisingly well separated for a single sound source. I could feel my arm hairs raise a bit as the electric keys wafted toward me from far left and doubled vocals split apart, allowing the frequencies to play against each other in interesting new ways. Even in this small sample size, it was clear the 300 has serious skills, sounding more complete than most single speakers I've auditioned.
That visceral effect when the music is more deeply spaced and emanates from all around you is ultimately what Sonos hopes will draw people to the company's pricey new spatial audio vessel. But there are some limitations at this stage. The speaker can currently only access Dolby Atmos Music from Amazon's Unlimited service (though Sonos announced today that Apple Music Dolby Atmos support is coming ahead of the speakers' initial release). And though the Sonos board assured us most new music is being mixed in Atmos as well as stereo, Atmos tracks from any service are still in relatively short supply.
In addition, while you can connect analog audio devices, without an HDMI port or a viable workaround, like the HomePod's Apple TV connection, there's no way to source Dolby Atmos from your TV directly.
We did get to hear two Era 300s as surround speakers in connection with a Sonos Arc soundbar, and the resulting mix of upfiring and side-firing drivers at both the front and back of the room created spectacular immersion. This kind of setup would be poised to compete very well with premium Atmos soundbars like Samsung's Q990B surround system. But it would be nice if you could replace a Dolby Atmos soundbar with a single Era 300 (or a pair of them).
Era 100 First Impressions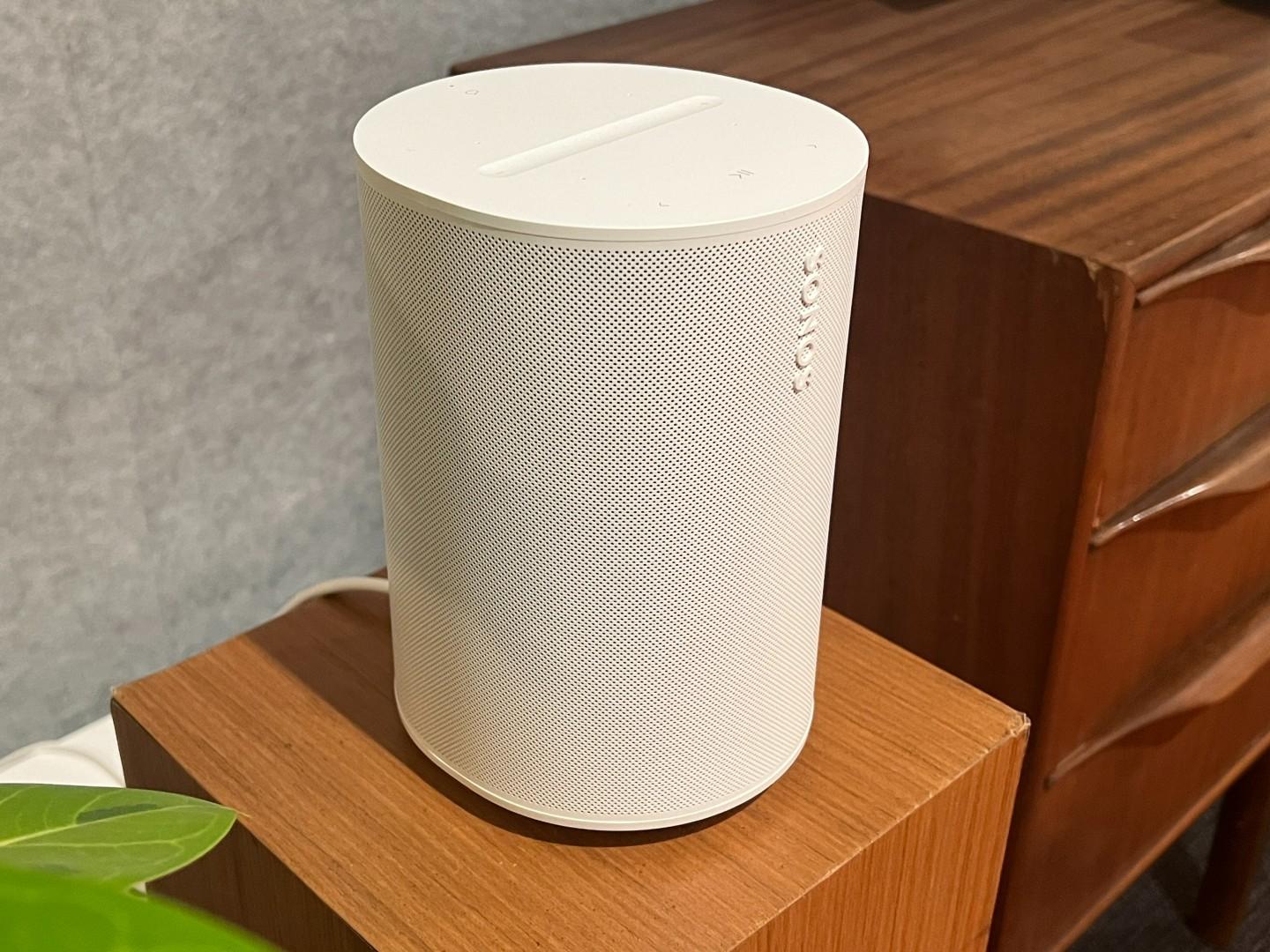 Spatial Audio is absent for the Era 100 and it was given less time in the spotlight than its sibling for much of the press event. That said, while it's exciting to see what the Era 300 does with a great Dolby Atmos mix, the Era 100 could make the bigger splash as a replacement for the incredibly popular Sonos One smart speaker.
Though it's nearly an inch taller, the Era 100's minimalist, pillar design is very similar to its predecessor, and Sonos says it's made to fit in virtually all the same places as the One. Like the Era 300, the 100 is currently confined to Amazon Alexa for smart control, too. However, improvements like the new onboard controls and upgraded connections in Bluetooth, Wi-Fi 6, and USB-C for analog or Ethernet input with a separate adapter add up to an impressive feature set for your money.
But it's the Era 100's shiny new drivers, including dual tweeters in stereo up top and a fully redesigned woofer, that could really seal the deal as a worthwhile upgrade.
In our initial demo, the Era 100 seemed to showcase a notable jump in clarity and articulation over its predecessor. Where the Sonos One's midrange can sound a bit smoothed over, the Era 100's came off more refined, making midrange and treble-forward instruments like guitar, piano, and especially vocals sound more present and impactful. Bass is also notably increased, and with the few songs I heard, it sounded more musical, too.
Again, these sound impressions are based on a very small sample size, but from my initial listening, Sonos' entry-level smart speaker seems to have stepped up its game. Though its price is slightly higher, that seems like a fair trade for upgraded performance and features. The only detraction at the moment is a lack of Google Assistant compatibility, but I'd be surprised if that didn't arrive down the line.
Sustainably made, built to last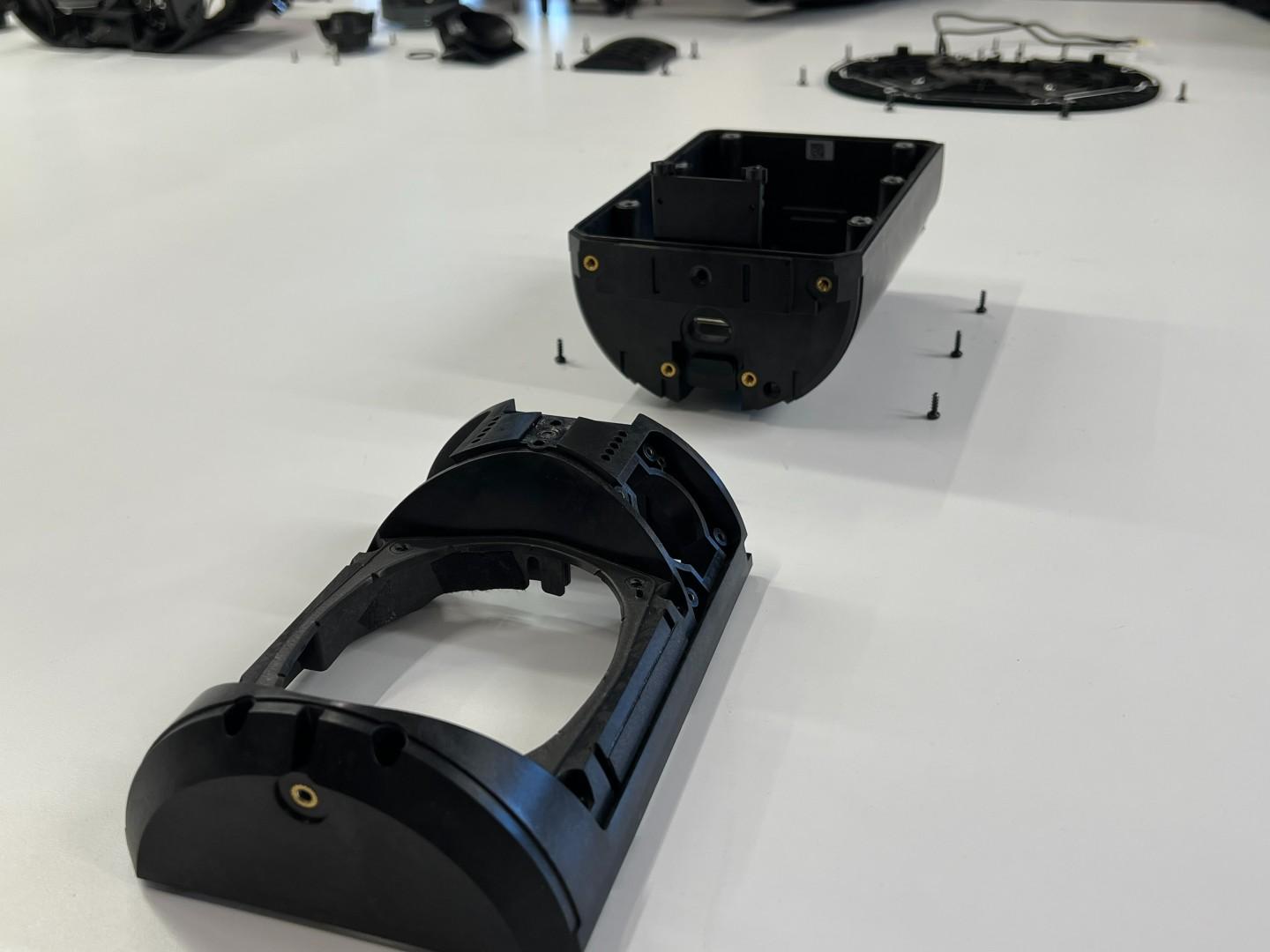 Sonos centered much of its Era speakers press event around Dolby Atmos Music, but it was evident that making its speakers better for the environment – and easier to repair for years to come – was just as important in the Era design philosophy. The company aims to be carbon neutral by 2030 and net zero by 2040, and the Era lineup represents a significant step toward that goal.
The new build techniques include everything from sourcing a different color of white that works with the new 40% post-consumer plastic exteriors to Sonos-branded screws that replace the vast majority of glued-together bits you'd find in Sonos speakers past. From the grilles to the motherboards, the new speakers are designed to be repairable inside and out.
Sonos engineers also told us they were able to reduce the amount of standby power the Era speakers draw by 2/3 over previous models. That equates to less than 2 watts of idle power, and a much lower carbon hit overall.
Conclusion
I'll need to spend much more time with the Era lineup, but this was an auspicious first look. They're designed for very different musical experiences, and there's no doubt that the Era 300 is a pricey venture at this stage in the Dolby Atmos lifecycle, but both devices showed off innovative design alongside impressive performance. I'm excited to get them in for a deeper evaluation but so far, whether in spatial audio or stereo, the future of Sonos speakers looks very encouraging.
Sonos has opened up pre-ordering for the Sonos 100 and Sonos 300 ahead of their March 28 release.