It's been nearly 10 years since Sonos introduced the original Play:1 speaker, helping usher in the multi-room audio age. Since then we've seen a string of design evolutions of varying degrees, from speedier processors to smart home features in the Sonos One. But each update kept the core speaker and drivers essentially the same. Today, the company's entry-level home speaker begins its next "era" with the aptly named Era 100 smart speaker.
The Era 100 ($249) arrives alongside the pricey new Era 300 spatial audio speaker. The 100 doesn't offer the Dolby Atmos skills of its larger sibling, but it boasts new features and connections (including Bluetooth), a more sustainable and repairable design, and all-new drivers for improved sound and bigger bass. While the price has risen, and Google Assistant is absent, the Era 100 is a worthy successor to its predecessors and a top choice for those seeking a sleek, versatile, and fantastic-sounding smart speaker.
High Points
Best-in-class sound
Improved controls and inputs
All the Sonos multi-room goodies
Bluetooth upgrade
Simple setup and voice control
Low Points
No spatial audio support
Where's Google Assistant?
Simple setup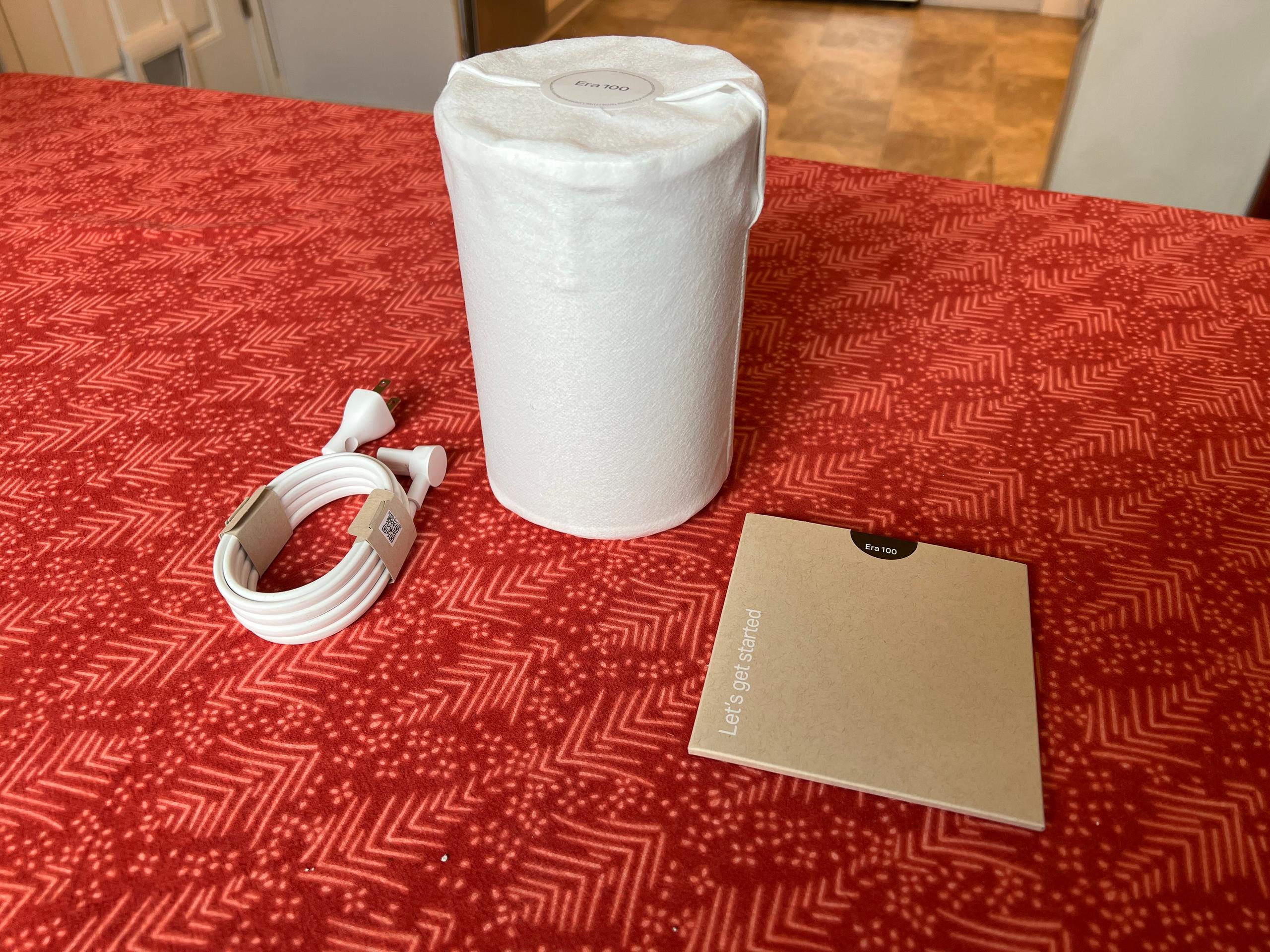 Sonos made its bones on simple setup when other streaming devices were putting users through a feat of engineering just to connect to their network, and the Era 100 continues that tradition. Just plug the speaker in, open the Sonos S2 app and either log in or create your account, and the app walks you through the rest.
I actually ran into a few misfires with initially locating the speaker – call it new-speaker jitters – but it still only took minutes to connect and update. It's not quite the easiest setup in the business; that title now goes to Apple's HomePod which requires almost no work at all (as long as you have an iPhone). Sonos doesn't have the luxury of a self-contained ecosystem, designed for both Android or iOS devices, so connecting the Era 100 required (gasp) entering my Wi-Fi password manually. Adding a second Era speaker was even faster, running neck and neck with Apple.
Once connected, you're invited to run one of two calibration methods to tune the speaker to your room, and here's where it still pays to have an iPhone. New for the Era series, Android users can utilize the speaker's built-in microphones to adjust the sound to your room, which seemed to add a slight improvement. But the more involved method of walking my iPhone around the room proved a notable upgrade for me, substantially improving presence, clarity, and balance.
It's unclear exactly why this method still isn't compatible with Android devices, but at least there's now some form of built-in calibration.
New speaker, same vibe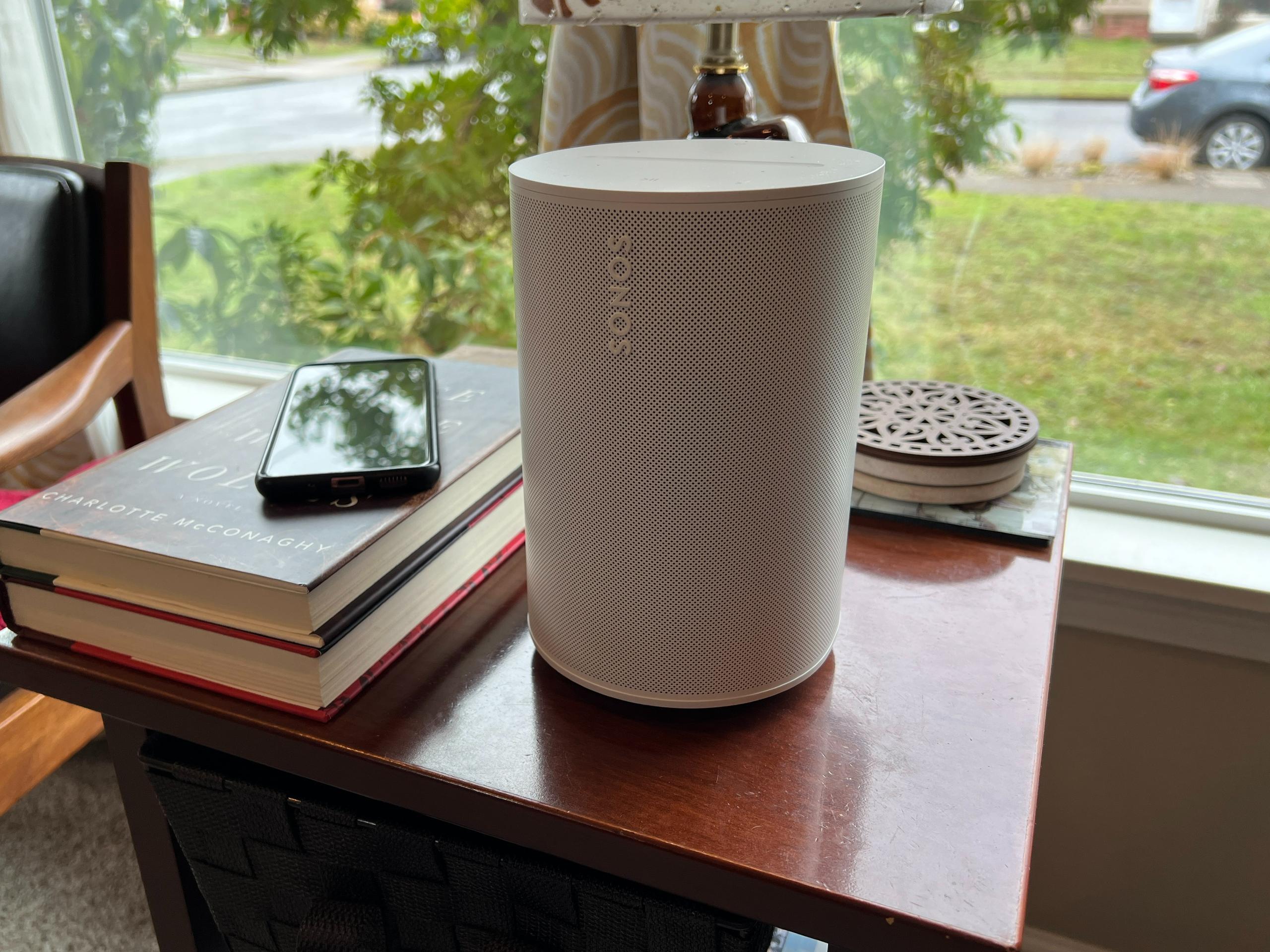 The phrase "something old, something new" feels fitting when describing the Era 100's design. It's both strikingly familiar and a fresh face. That starts with a larger, more tubular design that stands just shy of an inch higher than the Sonos One. The company says it's designed to fit in "all the same places" as its predecessor, and unless your One or One SL was wedged into a tiny cabinet that should be the case.
Beneath the rounded grille is where the changes really stack up. There are three new drivers, including two waveguided tweeters on top for some stereo separation and a larger woofer. Designed to be more sustainable and easier to repair, the Era 100 trades many of the glued-together bits found in the Sonos One for screwed-on components. It's also made from more recycled materials and uses a third of the power as the Sonos One in standby mode.
The top control panel, which can only be described as supple, is also new with a dimpled volume bar that lets you tap the sides for quick adjustment or slide right or left to control volume with slow, granular clicks that feel like a physical embodiment of the S2 app's volume control. As before, you'll find play/pause and song-skip as well as a microphone mute with a small LED that, unlike the front status light, is a bit tough to register from above unless you look at just the right angle.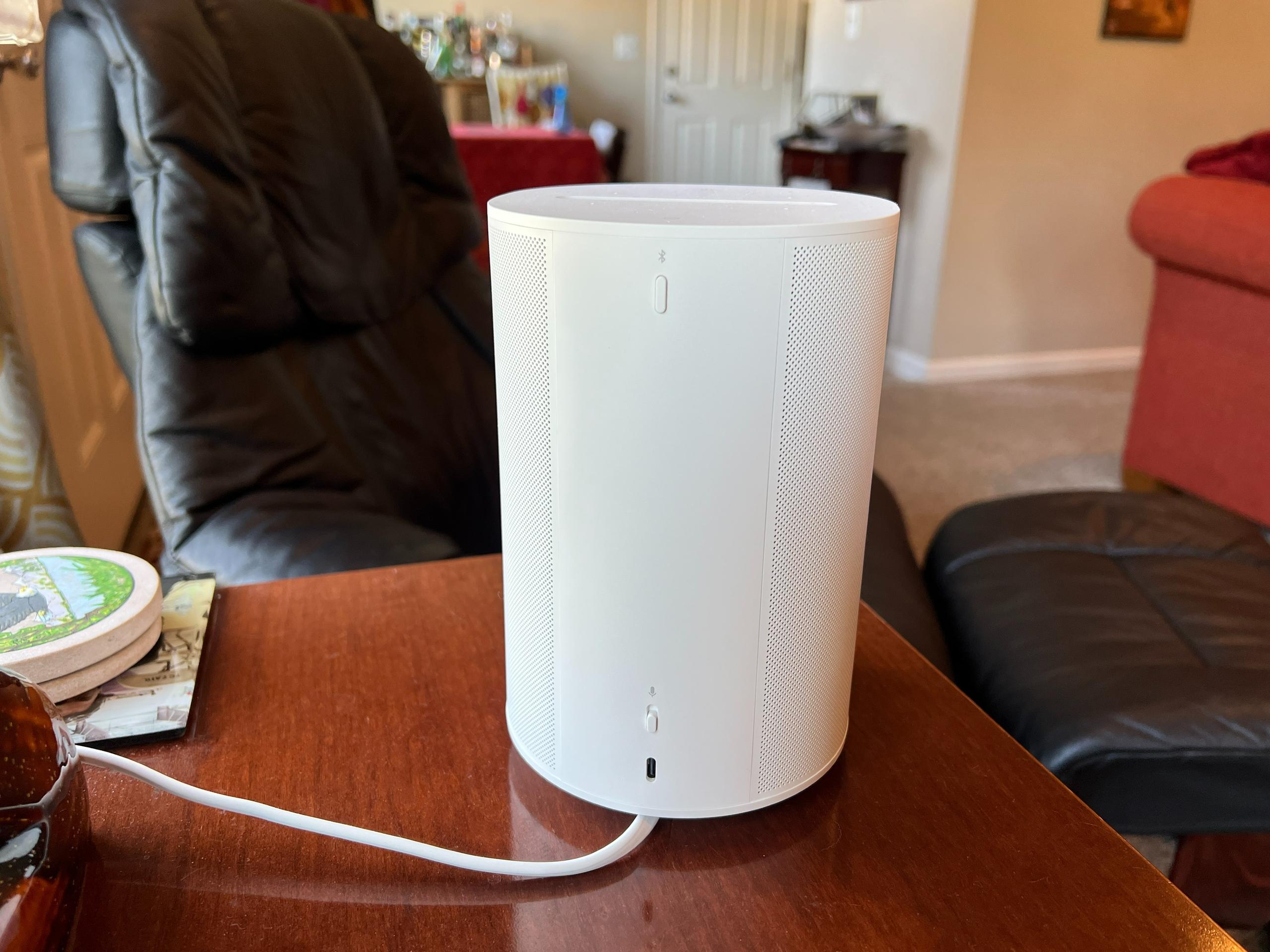 At the back of the speaker is another microphone control, this one a hard switch to physically disconnect the hardware for those who don't trust their privacy to a mute key. There you'll also find the new USB-C input which, with the aid of add-on adapters, allows you to connect analog devices like a turntable or Ethernet. Unfortunately, the adapters were not included, so I'll have to wait to test those features.
The final new control key is one Sonos fans have spent years clamoring for: A Bluetooth button. While Sonos' portable Roam and Move speakers feature Bluetooth alongside Wi-Fi (for obvious reasons), the Era speakers are the first in the home line to add it. Bluetooth pairing is swift and simple, and though you'll still get better sound quality over the Era 100's Wi-Fi 6 connection, Bluetooth lets you stream virtually anything on your phone or tablet.
Streaming and smart control
Sonos sees itself as a software company as much as a hardware maker, and the S2 app is its engine, driving the experience from setup to control. The app lets you pick from a wealth of streaming services, set up voice assistants, control EQ, and run your entire Sonos system from a central location. You can pair two Era 100s together in stereo (but not with a Sonos One), or group them with other Sonos speakers and soundbars like the Sonos Arc in surround sound or as a multi-room audio system.
The app's layout is relatively intuitive, though it's become a bit more complex as it adds more features. When I first added Spotify, the app also refused to let me browse music directly, though the speaker worked fine streaming from the Spotify app. After trying a few solutions, I was able to get it to work by simply deleting and reinstalling the Sonos app. After that, everything worked as expected, and I prefer the convenience of Spotify Connect anyway.
Along with staples like Apple Music and Spotify, you can use Tune-In for local radio, Tidal and Deezer for hi-fi, Audible, and scores of others. Add in AirPlay 2, Bluetooth, and the new line-in connection and you've got a ton of ways to stream across your system. As always, the more Sonos gear you add, the more you can capitalize.
The Era 100 and 300 are more limited than other Sonos speakers when it comes to voice control. They support Amazon Alexa and the new(ish) Sonos Voice Control (SVC), with none other than Giancarlo Esposito as its vocal ambassador. But unlike their siblings, they don't currently support Google Assistant, and it's not clear whether that will be resolved anytime soon.
While I enjoyed chatting with the Chicken Man himself for SVC, I was surprised to find it still doesn't fully support Spotify, among other services. That means you can't just call up, say, The Beatles from Spotify like you can with Apple Music. Alexa doesn't have this issue, and both voice services work well for basic commands like pause/play and volume control from any service. In testing, the features was responsive even from across the room.
As a third-party brand, Sonos speakers omit features like routines, calling, and Drop-in. But you do get core features like checking the weather and calendars, setting timers, and controlling Alexa-ready devices like smart lights and thermostats. The new Matter protocol means that Alexa should also have increasing access to a growing number of non-Amazon devices.
Top-notch sound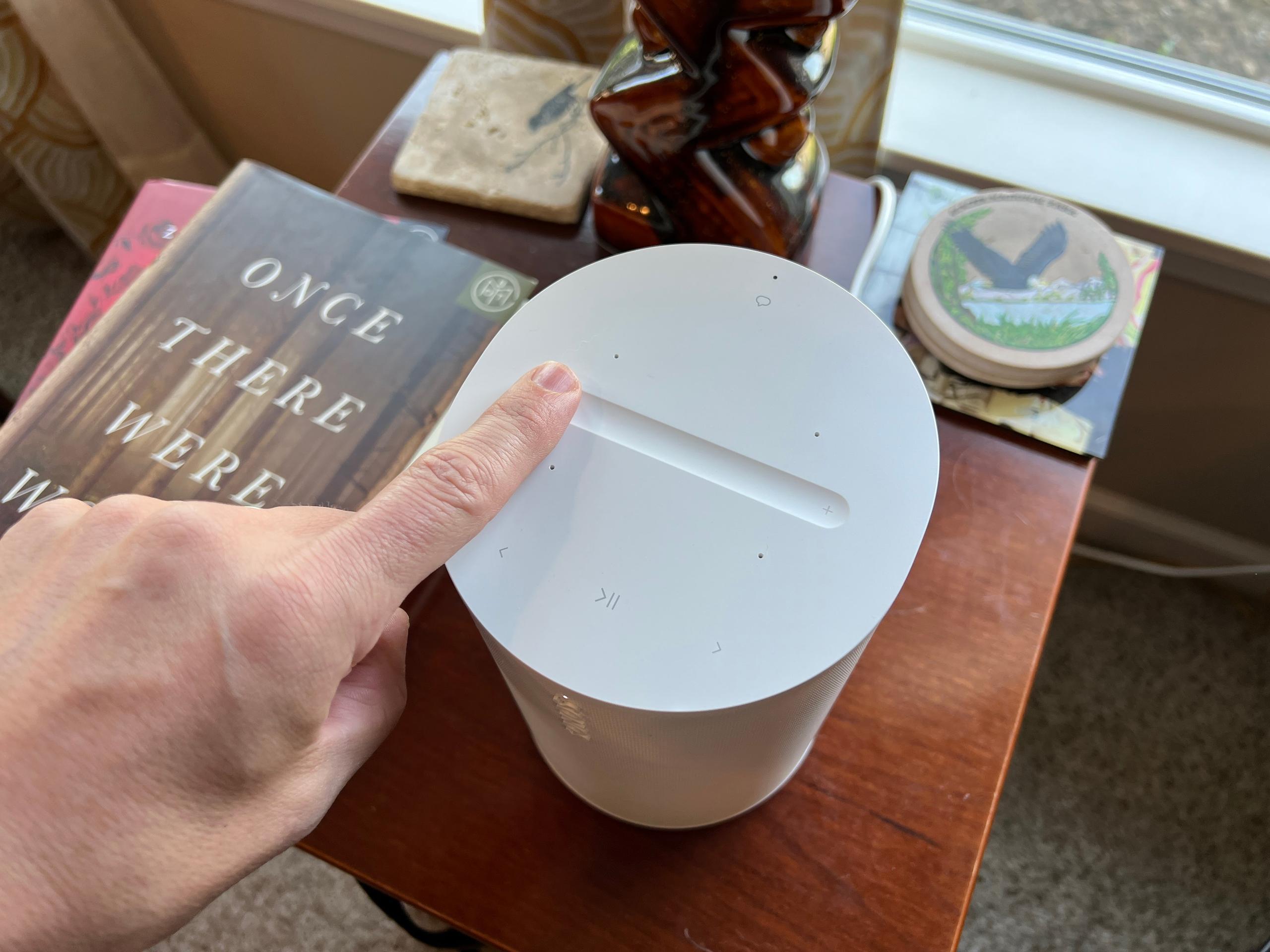 My favorite new feature of the Era 100 is unquestionably its improved sound quality. The upgrade seems subtle at first, but the more time I spent with the speaker, the more I found to like about those new drivers.
The bass hits significantly harder than before, and with better musicality. As you roll up the frequencies, you'll find the smooth and relaxed midrange that's a hallmark of the Sonos One, but it's now cleaner and more refined. That's even more pronounced in the treble, where you'll hear a crystalline burst in cymbals, laser-sharp synthesizers, and strings that flow across the treble register in lyrical ribbons.
As a pint-sized speaker, the Era 100's soundstage has its limitations, especially when compared to the spatial audio skills of competitors like the Amazon Echo Studio and the HomePod Gen 2, both of which strive for more immersion and a wider, more omnidirectional soundstage.
But I was pleasantly surprised at how good the Era 100 sounds when matched against the HomePod and other speakers in my arsenal. I first pitted it against my favorite Bluetooth speaker, Bowers & Wilkins' T7, thinking the match would be somewhat close. It was not. The T7 is still great for a portable, but the 100 offered much fuller and more expansive sound, vastly improved bass, and better clarity.
I next tried the HomePod Gen 2, auditioning several songs back to back. While the HomePod boasts bigger bass and a crisper flavor up top, the Era 100 serves up better balance, a fuller midrange, and a more natural touch across frequencies with less digital processing.
Dialing up one of my favorite test tracks, Go by the Chemical Brothers, also illustrated just how impactful the Era 100's dual tweeters are in terms of accuracy. The song has a telltale synth effect that sweeps through the upper frequencies from left to right as it leads into the chorus. On the Era 100, the effect is faithfully represented, but on the HomePod, the first part of the sweep is barely audible, masked by other frequencies before popping up as it reaches the right side.
The Era 100 may skip the spatial audio tricks, but its new drivers serve up a more precise performance for stereo music than anything I've heard in its class.
Competition and comparison
Apple's HomePod (gen 2) is an obvious alternative, though its Siri-based experience is designed for iPhone users. Advantages include a wider 3D soundstage as well as the ability to pair up with an Apple TV and a second HomePod for TV playback. The Era 100 only offers analog input, and its best means of connecting to your TV is as a surround speaker with a Sonos Arc or Beam soundbar. But the Era 100 offers more versatility as a multi-room speaker, and I prefer its more accurate and organic sound signature.
The Amazon Echo Studio is another top competitor. It doesn't sound as good as the Era 100, but it does offer more Alexa features, as well as some solid immersion from its upfiring driver when fed Dolby Atmos music. Unlike the Era 100, it can also connect directly to your TV via digital optical input, but that won't support Dolby Atmos shows or movies, and you'll get better sound from a similarly priced soundbar.
Finally, if you're a Google Assistant user, you'll likely want to look at the Google Nest, which offers good sound, intriguing design, and is surprisingly affordable at $100.
Conclusion
Sonos didn't design the Era 100 for spatial audio – if that's your bag, the company will happily point you to its high-performance Era 300 speaker. Instead, the Era 100 focuses on improving everything folks loved about the Sonos One. With better sound, more features, and improved build quality, I'd call it a roaring success on that front.
The one feature the Era 100 doesn't carry over is Google Assistant, which I'm still hoping will make its way to the speaker in an update. But otherwise, this is an impressive step up for one of the most popular speakers of its kind. If you've been patiently waiting to upgrade from your aging Sonos One or Play:1 speaker, your time has come.
You can order the Sonos Era 100 now.