Sonos' new spatial audio special, the Era 300, is a ringer of a speaker that serves up clear and expansive sound, a surprisingly stylish design, and all the multi-room skills you'd expect from Sonos – along with some new ways to play. And yes, it's also one of the few speakers from a major brand that lets you stream Dolby Atmos Music.
That last part is something of a work in progress; not because the Era 300 is lacking in spatial audio skills, it's impressive on that front. But because, regardless of Sonos' contention that we're in a sonic revolution, good Dolby Atmos tunes are still relatively hard to come by and Sonos, for now, restricts how you can source them. That's not as big a drawback as it might sound. Dolby Atmos Music is just one function of the Era 300, primed to improve over time.
Buy the Era 300 for the great sound and convenient features. Keep it for the spatial audio skills that will hopefully carry it, and you with it, into a new age (or "era") of musical exploration.
High Points
Clear and powerful performance
Big soundstage
Sonos networking fun
Bluetooth included
Striking design
Low Points
Sourcing Dolby Atmos can be a hassle
No viable way to connect to a TV
No Google Assistant
Sweet setup
I'll get to the Era 300's wild design below, but it's worth mentioning that, while the streaming world around it has improved over time, Sonos is still a leader in simplified setup. As I said in my review of the Sonos One replacement, the Era 100, only Apple's HomePod is simpler to get going, and just by a hair.
In fact, having already set up my Era 100, the Era 300 was much faster, seemingly bursting at the seams to get going. In less than a minute, I had the speaker connected and ready to run its Trueplay calibration system via the S2 app.
New for the Era line, there are now two ways to tune: the original Trueplay method of carrying around an iPhone as the speaker spits tones at you, and Quick tuning from the speaker's internal microphones, apparently developed for Android users.
I noted a pretty major difference between the two methods in the Era 100, preferring the more involved iPhone method for its remarkable performance upgrade. For the Era 300, I noticed less of a difference, but depending on your room I assume the more thorough method may improve immersion as the speaker bounces sound off the walls. So if you have an iPhone, use it.
Deceptively well designed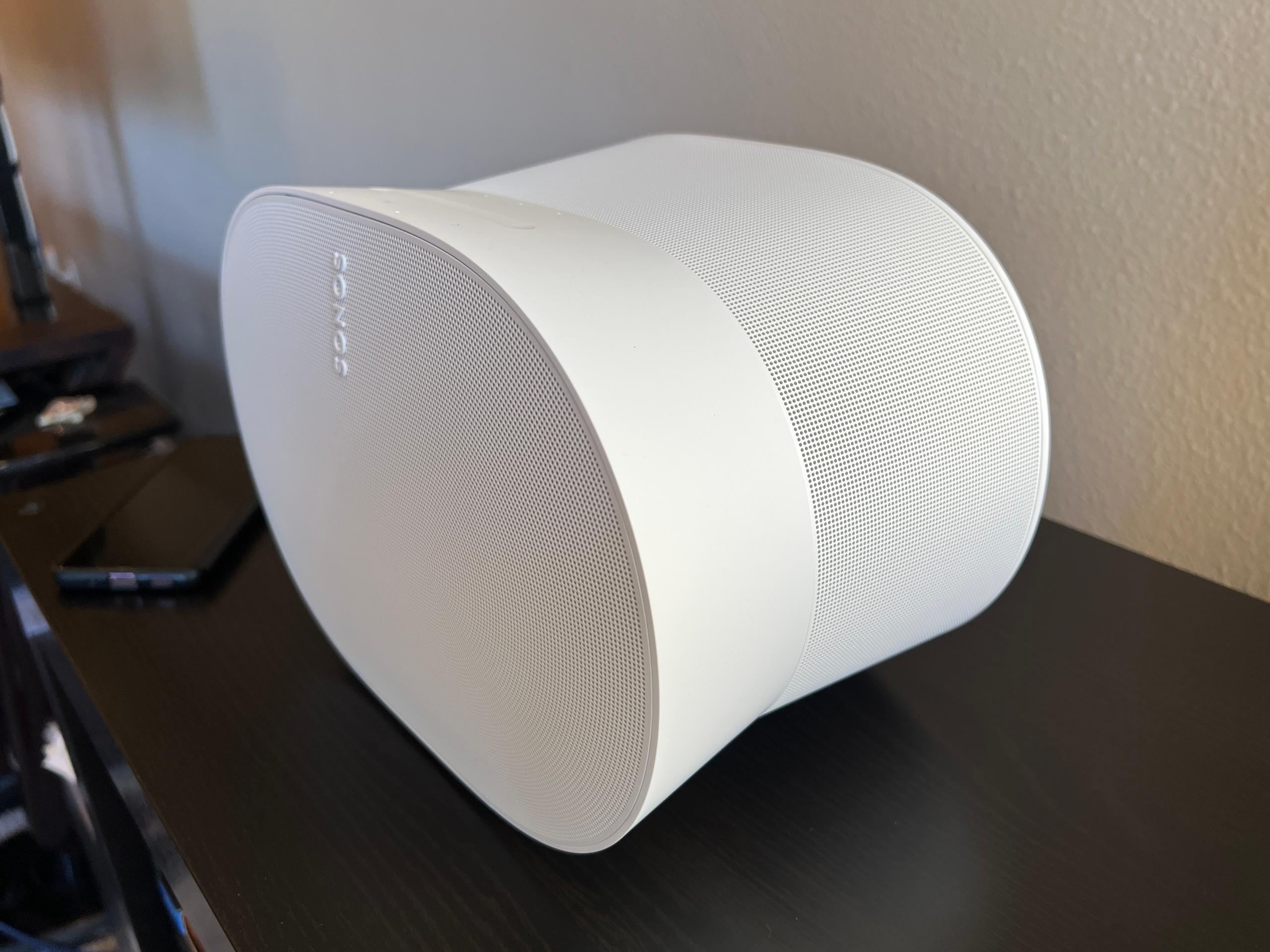 People have said some, well, unflattering things about how weird the Era 300 looks. To me, the speaker's wavy curves and perforated grilles are reminiscent of a futuristic stadium set on its side. And I dig that. Although I never considered the speaker ugly, it's more attractive in person than in photos, like a reverse dating profile. On my black record stand, it looks positively stylish.
From a sheer branding perspective, the 300 is an impressive feat, looking fresh and offbeat yet decidedly Sonos. That's embodied by the supple topside controls, which now include an intuitive volume bar alongside the usual pause/play, song skip, and mute keys. A familiar status LED sits up front, which is all the more useful now that Sonos has finally embraced Bluetooth in the Era line, turning from crystal white to blue when you swap. (Wi-Fi is also upgraded to Wi-Fi 6.)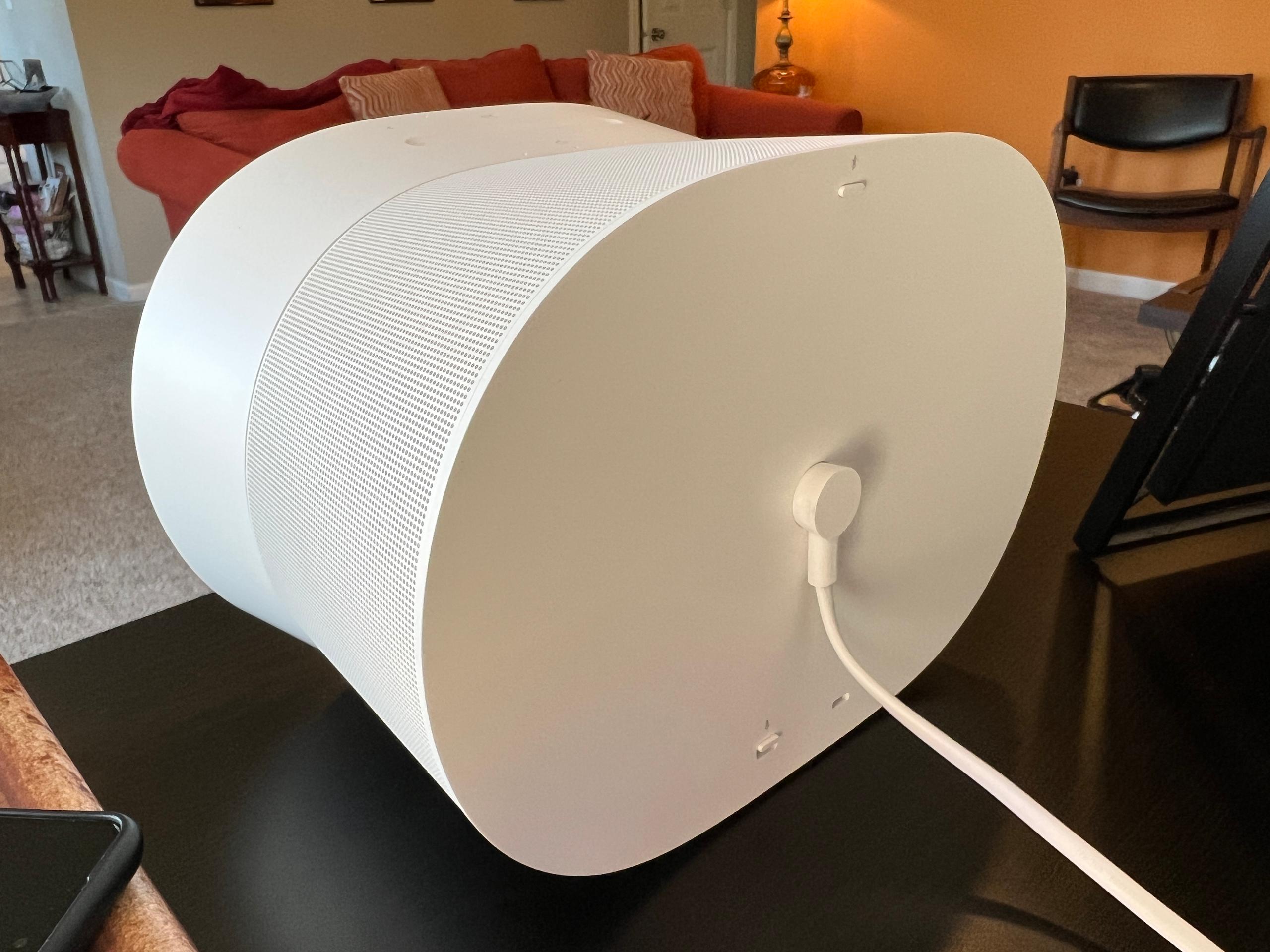 At the back of the speaker is another mute key, this one a hardware cutoff for the interior microphones. There you'll also find a USB-C input that accepts an analog device or Ethernet connection via separately sold adapters. Surprisingly for a speaker of this type and caliber, there's no HDMI or even optical input for your TV (more on that later).
Under the speaker's 6.3x10.3-inch front grille is a spiderweb of waveguides latticed around a single front tweeter. That's complemented by five other drivers, including two woofers for bass, dual side-firing drivers to expand the soundstage, and an upfiring driver that beams sound off your ceiling for overhead effects.
Like the Era 100, the Era 300's components comprise up to 40% recycled materials, and just as notable, it uses far fewer glued-together bits than previous speakers, trading glue for screws to be more easily repairable.
All the Sonos goodies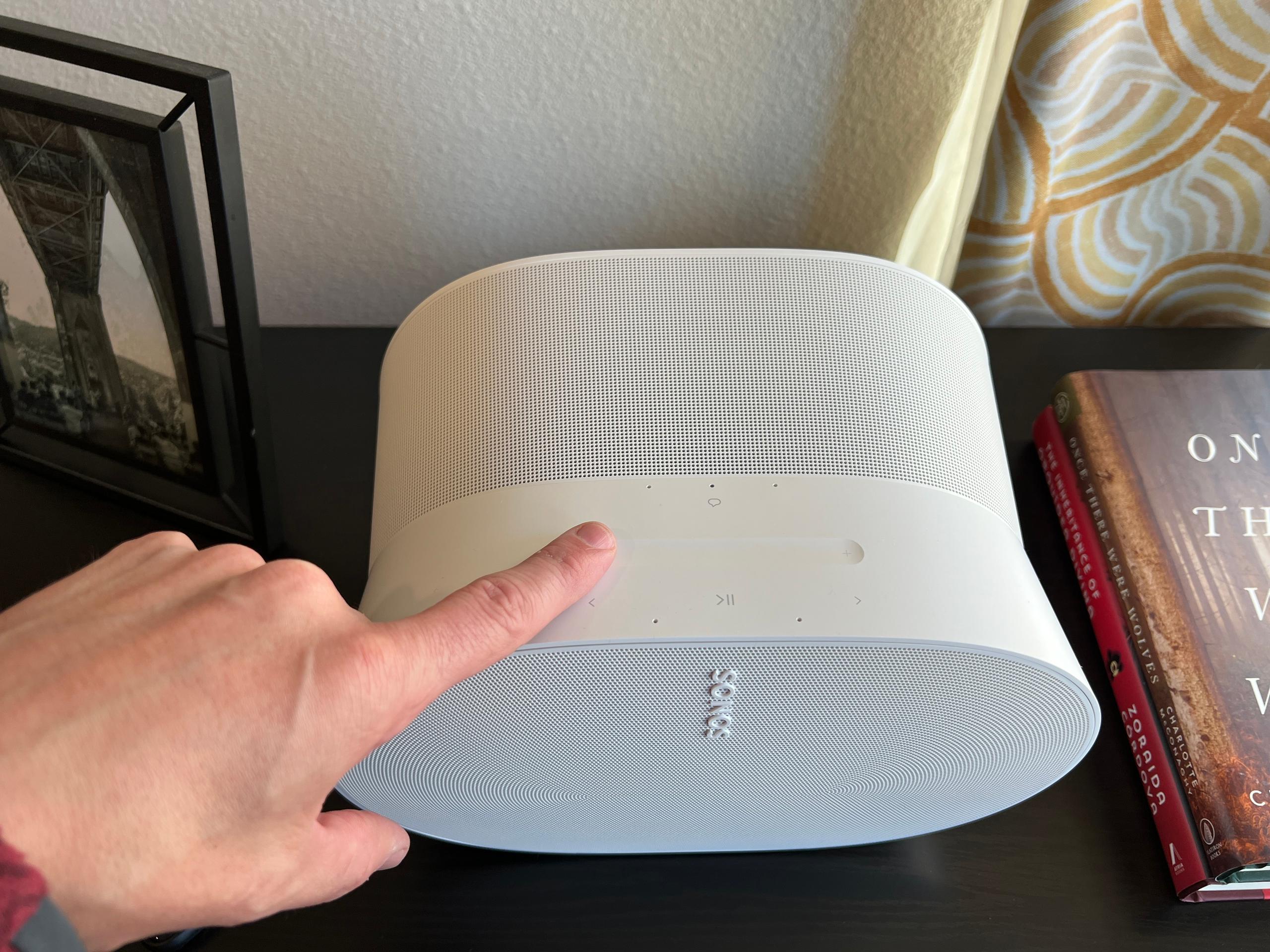 A major part of the Sonos experience is connecting with other Sonos devices; the more you buy, the more you can do. The S2 controller app lets you group the Era 300 with other Sonos speakers and soundbars in a multi-room audio configuration throughout your home, pair two Era 300s in stereo (though not with other Sonos speakers), or connect them in surround sound with a Sonos Arc or Beam soundbar.
I got a quick audition of the Arc surround setup, along with dual Sonos subwoofers, and the effect was equal parts explosive and immersive. It's a very pricey setup, and I can't help thinking that using the Era 300s in such a reduced sonic role is wasteful of their considerable skills, but it was quite a showcase nonetheless.
As for streaming, the S2 app hosts over 100 services like Audible, Spotify, Amazon Music Unlimited, Apple Music, Deezer, and Tidal to name a few. If your service isn't supported, AirPlay 2 is available, and for everything else, Bluetooth bats cleanup for a comprehensive streaming experience.
Solid smarts, minus one assistant
Unlike other Sonos speakers, the new Era speakers don't support Google Assistant, offering Amazon Alexa as their only smart home conduit. It's not clear whether GA will eventually arrive, as Google and Sonos have been sparring of late, but the Era 300 is also aimed more toward performance than smarts.
Sonos speakers (like other third-party offerings) can't do everything Amazon's Echo speakers can, but they still offer conveniences like checking the local weather and calendars, setting timers, and the ability to use your voice to control playback from streaming services. You can also use Alexa to activate a host of supported smart devices, and thanks to the Matter protocol, that should increasingly include non-Amazon devices.
There's also Sonos Voice Control, a local option for controlling the Era 300 free from prying ears. Helmed by the dulcet tones of Giancarlo Esposito, SVC lets you control basic playback from any service. You can also cue up artists, songs, or genre-specific requests from services like Amazon Music and Apple Music. Spotify remains incompatible with those more specific requests, but the service is compatible with Alexa for this use case.
With either voice assistant, response was snappy with few delays, and I had no trouble getting my point across even with music blaring.
Powerful, clear, and expansive sound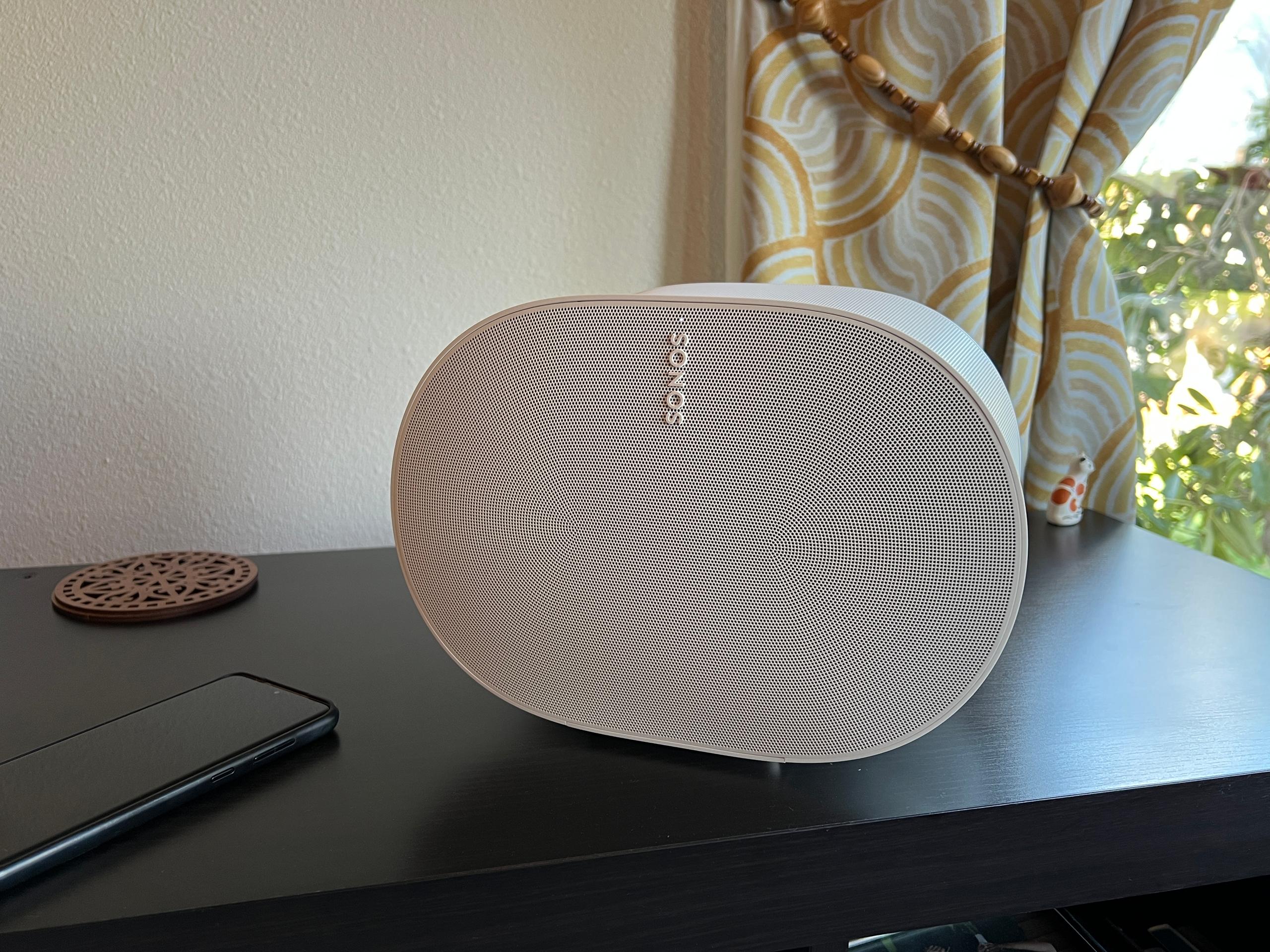 A unique speaker deserves unique music, so I started my listening in earnest with Radiohead's iconic melange of artistic pop experimentation, Kid A. And man, what a listen. From the jump, the Era 300 seemed to expand and contract with the same spectral presence as Thom Yorke himself in Radiohead's heyday.
While Sonos reps spoke to no end of the 300's immersive soundstage for Dolby Atmos Music, its side-firing drivers are also very adept at extending a stereo image well beyond its rounded frame, stretching the swirling synths in tracks like "Kid A" and "Everything In Its Right Place" across the front of my living room to dazzling effect.
I next dialed up Caroline Polachek's astonishing masterpiece, Desire, I Want to Turn Into You. Again, I was moved by how well the speaker handles complex pop, from Polachek's otherworldly wails in "Welcome to My Island" to the rich, punchy grooves of "Bunny Is A Rider." The Era 300 engulfed the room with a vortex of smooth and robust bass, precise upper frequencies, and dynamic power that edged toward distortion but never crossed over, even when I cranked the volume to 80 (from the safety of my kitchen).
Polachek's critical darling is a statement piece for the Era 300, and if you buy one, I highly recommend starting with this album to show the speaker off to the Joneses.
Things came down a notch when I turned to more organic fare like Nickel Creek, Sinatra, or Miles Davis, where the speaker's digital processing peeked out a bit from behind its waveguided curtain, making it sound a little synthetic. At times, the front tweeter also seems just mildly strained on sharper instruments like Davis' spritely trumpet in Kind of Blue.
That's really being picky, though. The speaker shows impressive sonic skills for any genre, from breathy woodwinds and crunchy Fender guitars to creamy piano and rattling standup bass. A good pair of bookshelves will still beat it for instrumental accuracy, but it's striking just how much a single Era 300 can do. Partnering with another in a stereo will no doubt up the ante significantly.
And Dolby Atmos, too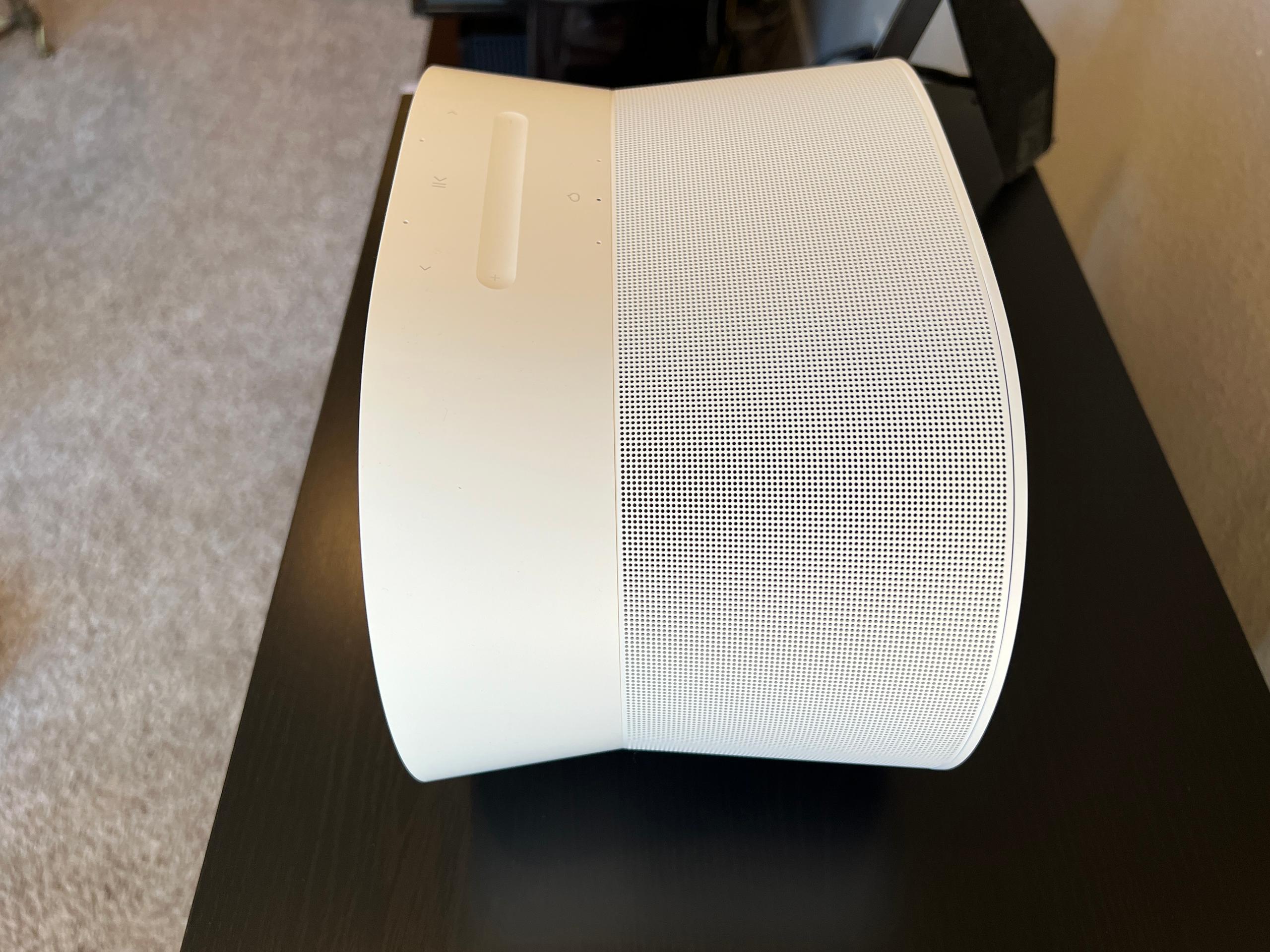 With stereo music satisfyingly proven, it was time to unleash some well-mixed Dolby Atmos Music – that is the Era 300's marquee feature after all. But that can be harder than it might seem at the outset.
First, while Apple Music will be added by the time this review publishes, only Amazon Music Unlimited was compatible during my evaluation. There, Dolby Atmos tracks aren't as easy to single out as expected, unless you're after a grab-bag of new pop. And even if that suits your tastes, not every producer knows how to properly utilize instrumental placement to make Dolby Atmos both impactful and structurally sound.
This is further muddled by the fact that, at present, you can only stream Dolby Atmos Music from within the Sonos app. I tried AirPlaying tracks directly from Amazon's app which seemed to work from a visual standpoint – I saw the Atmos logo and was even able to swap between Atmos and Stereo/HD. But sonically, it was obvious Atmos wasn't working.
Without a direct playback method, you're confined to browsing in the S2 app across services, which can further obscure an already difficult task. Sonos reps tell me Apple Music will be adding a feature plucked from its own app that should make this simpler. But will Apple's new classical music app, a prime use case for spatial audio, be supported? Currently, you're reliant on Sonos alone.
Once I found some Atmos tracks I wanted to hear, I was rewarded for my troubles. The Beatles' "A Day in the Life" in Atmos is pretty stunning. Mixed by Abbey Road Studios' Giles Martin, this is Atmos done right. The song's psychedelic string cacophony has never been more potent or emotionally punctuated, hooking my innards and virtually pulling me into the sonic rabbit hole like Alice. Other songs like "Mr. Kite" and "Good Morning" also felt new and exciting, which is really the point.
As with other Atmos systems I've auditioned, trying other tracks could be hit or miss as to whether Dolby Atmos was additive, but few of the new songs I cued up seemed to be worse in Atmos form. Tracks like Taylor Swift's "Anti-Hero" and Pearl Jam's "Dance of the Clairvoyants" still sounded good in Atmos, if not revolutionary compared to the stereo mix.
That's a good signal that 3D music is hitting a turning point, moving from a time when many remixed songs blanketed vocals and instruments in reverb to one where Atmos mixes old and new will just provide increased immersion to varying degrees.
Performance aside, my biggest question mark on the Atmos front remains the Era 300's lack of an option for TV connection. I think this speaker is worthy of investment regardless, but the lack of tapping into a whole other world of Atmos content seems like a missed opportunity.
Sonos isn't one to miss opportunities, so I predict we'll see a bridge device to connect a single or pair of Era 300s to your TV's HDMI ARC port at some point. We're seeing increasing ways to detach soundbars from cables, and this just makes sense for Sonos. If and when that happens, the Era 300 will be very hard to turn down.
Comparison and competition
The most capable Era 300 competitor comes, as it so happens, from Sonos. The Arc soundbar offers both side-firing and upfiring drivers for impressive Dolby Atmos Music streaming. And unlike the Era 300, it also supports HDMI eARC/ARC for Atmos-supported films and TV shows. It also begs exactly double the price.
Other options are limited, including Amazon's Echo Studio, which has a single upfiring driver, and Apple's HomePod, which offers only virtualized Dolby Atmos from its circle of five tweeters, with no upfiring drivers. Neither of these cheaper speakers can compete with the Era 300 for sound quality or immersion, but two HomePods can be linked with an Apple TV streaming box for a soundbar-like system that supports Dolby Atmos films and TV.
Conclusion
Sonos' new Era 300 is a fantastic new option, providing gripping performance, plenty of ways to connect, and all the convenience of a premium streaming speaker in the Sonos ecosystem. That's true no matter what you play, or how you play it.
Dolby Atmos Music is still on the edge of mainstream, as shown by the dearth of any major competition outside of Sonos, and emerging technologies always come with hassles alongside their benefits. No one can say if music is truly moving toward this format en masse, and for now, Dolby Atmos isn't as easy to source for the Era 300 as I'd like.
But even setting Atmos aside, this speaker has the skills and the looks (yes, I said it) to make it well worth considering for your listening room.
You can order the Sonos Era 300 now.