The renowned Italian brand, Sonus faber, has introduced two new additions to its Lumina Collection: Lumina II Amator and Lumina V Amator speakers. The Lumina II Amator, a bookshelf speaker, and the Lumina V Amator, a floorstanding speaker, promise a significant step forward in both style and performance.
Sonus faber is well-known for its minimalist aesthetic design and exceptional sound quality and has showcased its dedication to these principles in the Lumina II Amator and Lumina V Amator models. The Lumina collection, originally introduced in September 2020, has been expanded over the years to cater to a wider audience, and the latest additions continue to embody the brand's core values.
Sonus faber's Lumina II Amator and Lumina V Amator models maintain simplicity while introducing technical improvements and new finishes. The addition of the name "Amator" signifies a focus on delivering a unique and engaging listening experience, a characteristic associated with special models by the brand.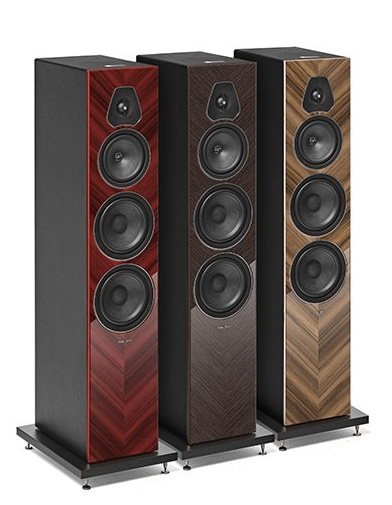 In terms of design, both speakers boast a 'Made in Italy' construction, emphasizing quality materials. The square design, a deliberate choice, highlights new wood front panels with a glossy finish, complemented by a 45° angle wood veneer. The speakers are available in three finishes: Glossy Red, Glossy Wenge, and Glossy Walnut providing users with options to match their home interiors.
The Lumina II Amator features a 29mm tweeter and a 15cm paper cone mid-woofer, while the Lumina V Amator floorstander incorporates a vented box design with a 29mm tweeter, a 15cm mid-range, and two 16.5cm woofers. Both models maintain the Lumina collection's iconic features, including the Damped Apex Dome (D.A.D.) tweeter, a 4-inch mid-woofer with a custom-made basket, 5-inch midranges based on Sonetto designs, and 5-inch woofers designed specifically for this collection.
Sonus faber's Lumina speakers are designed for modern lifestyles and various listening environments, offering excellent room coverage. The speakers are versatile, performing well whether placed close to a back wall, on a bookshelf, or in a multichannel system.
The Lumina II Amator and Lumina V Amator represent a technological advancement, with key improvements in the components of the crossover networks. The frequency of the crossover network for the Lumina II Amator is now up to 2600 Hz, and for the Lumina V Amator, it's up to 2850 Hz. These enhancements, inspired by the development of the new Homage collection, contribute to the speakers' adaptability and outstanding sound quality.
The pricing for these new models in Lumina collection is as follows:
Lumina Amator II: £1299 / €1499 / $1499 per pair
Lumina Amator V: £2999 / €3499 / $3499 per pair
These speakers will be available in Europe from December 2023 and globally from January 2024.