We're in the midst of a TV brightness war. The top OLED TVs from LG, Samsung, and Sony utilize new advancements like quantum dots and LG's Micro Lens Array (MLA) technologies to pair the rich blacks and deep contrast of OLED with dazzlingly bright imaging. Meanwhile, new LED TVs are measuring off the charts, and even lower-rung OLEDs have continued to push brightness to new levels.
Sony's second-tier OLED, the A80L (XR-65A80L), mainly eschews the brightening, focusing instead on picture processing with Sony's top XR processing tech aimed at delivering brilliant image quality without the need to punch up the nits. And for the most part, it works. While the A80L isn't the best choice for bright rooms, it offers spectacular color reproduction, clarity, and contrast alongside solid features and an intuitive interface for a luxe experience, brightness be damned.
Highs
Natural, vibrant colors and black levels
Excellent clarity and upscaling
Fantastic contrast
Intuitive Google TV interface
Solid sound and gaming features
Low
Lacks next-gen brightness
Only two HDMI 2.1 ports
Ultra-simple setup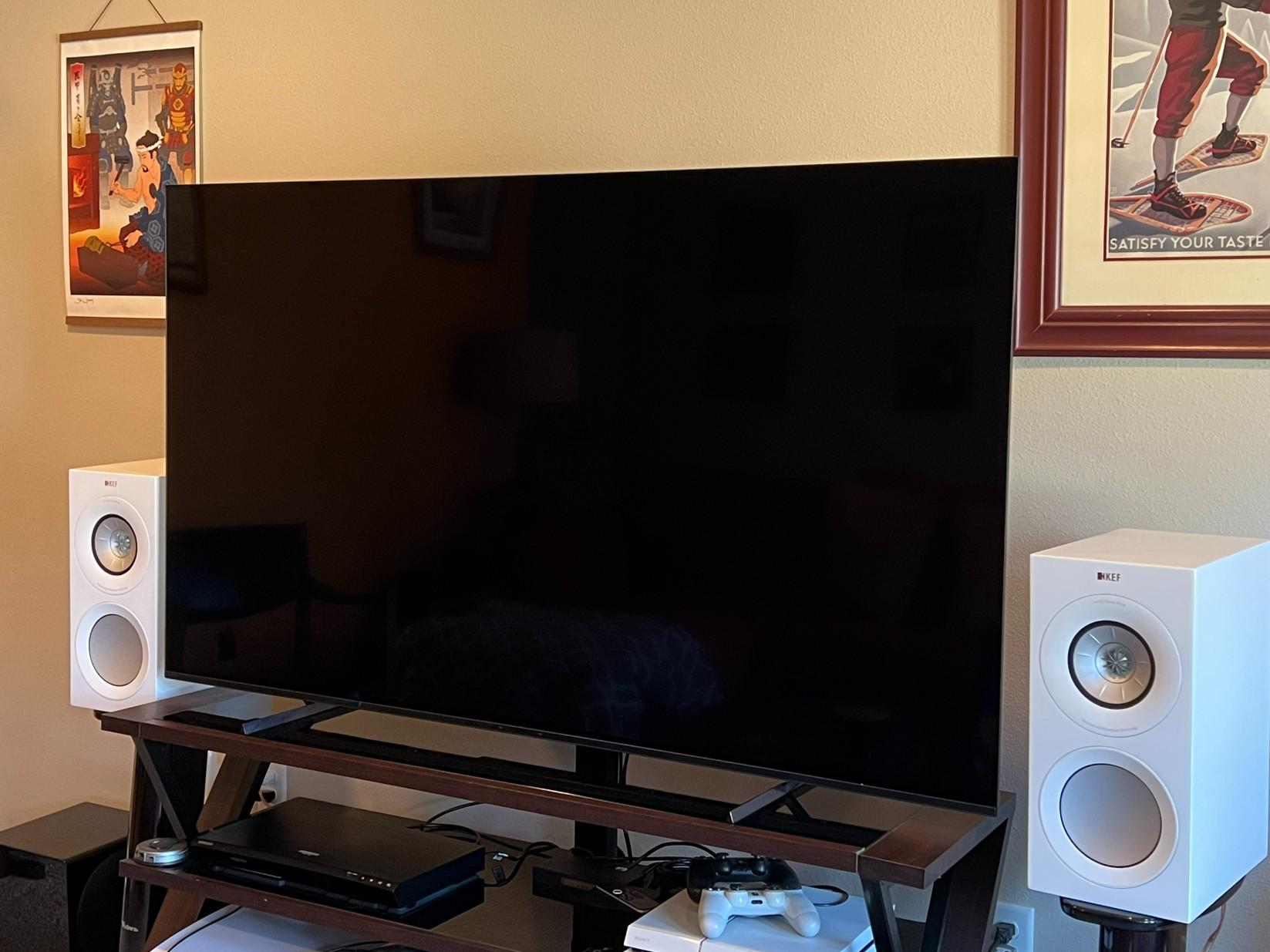 The A80L is among the easiest TVs to set up on the market, especially from a hardware perspective. Once you've pulled the TV from the box, choose your stand setup, slide in the legs until they click, and plug it in. Seriously, that's it. The TV's choice of three different ways to configure the legs means larger displays can fit on mid-sized consoles, and there's even an option to accommodate a soundbar.
Once set up, the TV looks pretty good on the shelf. The profile isn't as razor-thin as competitors like LG's C3, and the back panel's plastic has some mid-tier flare, but the slim bezels and deep black screen that resists reflection come together for a slick aesthetic from the front.
Setting up the smart interface is also pretty breezy, especially if you've ever used Google TV or other Google products in the past. Using the Google Home app, the TV found my network quickly and recalled the streaming apps I'd previously loaded in minutes. Other features like voice matching for Google Assistant were also ready to go from the last time I used them.
Good interface and smarts
Even if you're new to Google TV or Google in general (somehow), the operating system is simple and intuitive. Only Roku matches up in my experience. While Samsung's Tizen interface offers more features, including its excellent gaming hub for cloud gaming, Google TV outdoes both Tizen and LG's webOS for my money when it comes to easy navigation.
Sony's Google TV version offers some handy features, including the ability to quickly load Google Photos albums as screen savers. Unlike TCL's version of Google TV, Sony's mod serves up suggested content while in screensaver mode, including YouTube, weather, and other features. Alongside Google Assistant, the system is compatible with Chromecast, Apple AirPlay and Homekit, and Alexa.
There's also an available hands-free Google Assistant for smart home control and search that's always listening. Those worried about privacy will be glad to know you must manually turn this on with a physical switch to use it, and you can always just opt for the remote's voice button.
Speaking of the remote, it's compact and relatively easy to use, if a bit crowded up top. I like the "TV" quick key which can either call up cable or broadcast TV or be programmed to other inputs. I do wish some of the Sony-specific streaming quick keys like Bravia Core were also programmable, but every brand likes to push its software.
Other options include automatic pairing with Bluetooth devices like headphones, and an optional add-on Sony Bravia cam for features like proximity alerts, to keep kids away from the screen, and video calls (the camera comes free with Sony's top A95L and Z9K TVs).
Solid inputs and features
The A80L offers most of the premium features you'd expect, including support for Dolby Vision, HDR10, and HLG (Hybrid Log Gamma) HDR formats, leaving out only Samsung's still relatively rare Dolby Vision rival, HDR10+.
The native 120Hz OLED panel sourced from LG Display is enhanced with Sony's latest processing tech including its Cognitive XR processor, designed to analyze how we look at images and enhance them to match, and features like XR Clear Image, XR 4K Upscaling, and XR OLED Motion.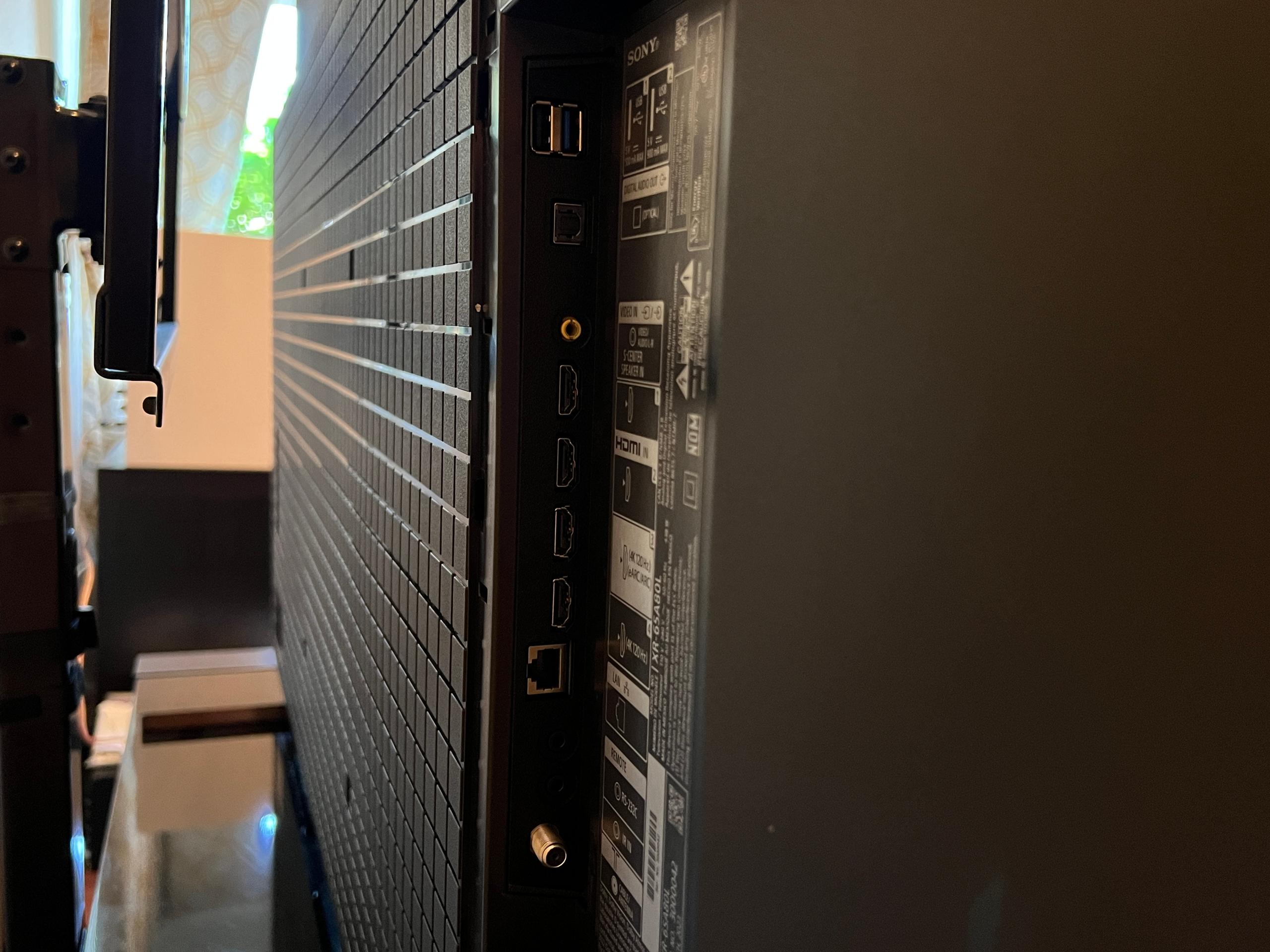 The A80L also offers a good helping of gaming features, including some specially designed to enhance (unsurprisingly) PlayStation 5 gameplay. Two of the TV's four HDMI inputs offer HDMI 2.1 support with VRR (Variable Refresh Rate) to match game speeds at up to 120Hz in 4K, and ALLM (Auto Low Latency Mode) to automatically read a gaming signal and switch to a low-input gaming mode.
For the PS5, the A80L supports Auto HDR Tone Mapping to optimize details and picture quality instantly, as well as Auto Genre Picture Mode, which can read whether you're gaming or throwing on a movie on your console and adjust the picture mode accordingly. New this year is Sony's Game Menu for easy access to settings like VRR and even customizable crosshairs.
That said, I would have liked to see an upgrade over last year's A80K to four full-bandwidth HDMI 2.1 ports like you'll get with the similarly priced LG C3. What's more, one of the A80L's precious two HDMI 2.1 ports is also the eARC port, so if you want to connect a receiver or soundbar for high-resolution transfer of formats like Dolby Atmos you're down to just one high-bandwidth gaming input. That could pose a problem for serious gamers who own multiple consoles/PCs for high-framerate gaming.
Other available inputs include two USB 2.0 ports, Ethernet, digital optical output, and a coaxial port.
Sound that doesn't suck
If you want to just go with TV sound and save that second HDMI 2.1 port for a gaming device, you'll be pleased to know that the A80L offers some of the best onboard sound I've heard from a TV. Sony's Acoustic Surface tech, which turns the entire screen into a speaker, provides impressively full sound when combined with the other speakers, including two onboard "subwoofers."
The result is relatively expansive imaging and smooth performance that mostly rebukes the tinny terrors of the majority of TV speaker systems. It's still not as good as a decent soundbar or speaker system, but it gets the job done to the point where you may even forget you're not using a dedicated audio setup.
Fabulous picture, familiar limitations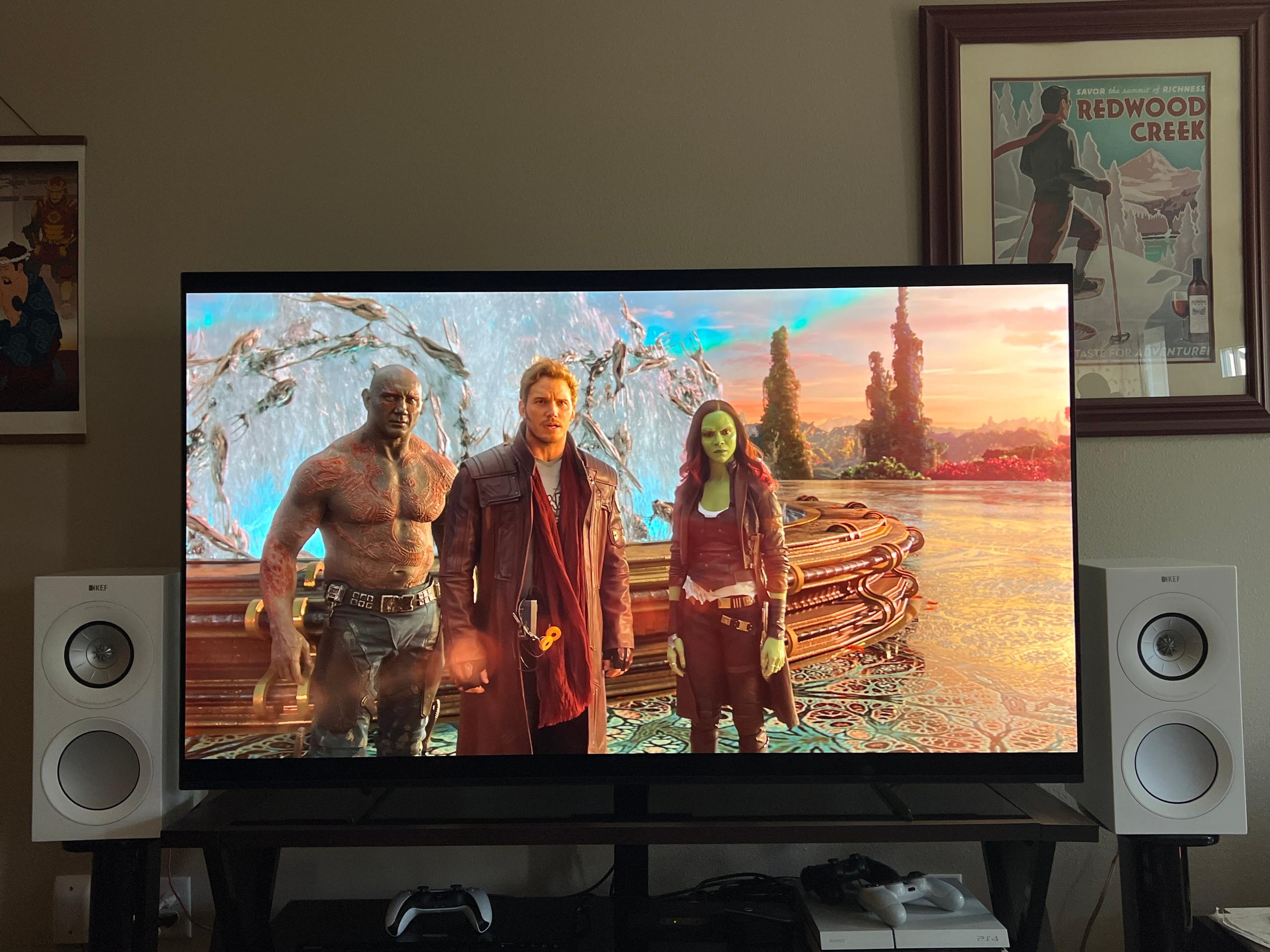 If you're already used to the pleasures of an OLED TV as your daily driver, you may not notice the A80L's spoils right away. When it comes to some specs, the TV offers only subtle upgrades over older OLED displays like my LG C1. But the specs don't tell the full story here.
For those curious, I spent most of my time with the TV in the Custom picture mode, with only minor tweaks including turning off ambient light settings and Motionflow processing.
Utilizing Sony's signature XR processing, the A80L does some spectacular things with black levels, clarity, and overall color reproduction – especially when it comes to your favorite HDR content. Pulling up Ant-Man in Dolby Vision, a movie I've utilized dozens of times for reviews, I found myself bewitched by the way the TV handles the colors, especially black shading. Scott Lang's black T-shirt, as he wakes up in Hank Pym's house, is loaded with color shades, reflecting sunlit golds, browns, and multiple blacks, almost to the point of distraction.
Similarly, Hank's lustrous brown vest seems to shimmer with lush colors, while Hope's pinstriped black blazer is awash in shades of greys, blacks, and silvers. True to Sony's claim, the characters seem to almost pop from the background, giving a rich sense of depth to the image that draws you in for a refreshingly engaging experience. This, all over a quick cup of tea in Hank's kitchen.
Moving to another favorite test film, Guardians of the Galaxy Vol. 2, I've never seen the dramatic golds and blues of the throne scene look more natural and yet spectacular. Queen Ayesha's sparkling face almost bursts with crystalline clarity. Her gilded gown is layered in micro shades of gold, providing a thick and lustrous coating that brings stark realism to the meeting between the Guardians and the Sovereigns. It's almost reminiscent of the first time I saw my C1 OLED do its thing, revitalizing that sense of awe for OLED's premium contrast, wide color reproduction, and striking clarity.
The A80L's clarity continues to be an asset as you roam through lower-quality content, including 1080i and even 720p broadcasts, where the display upscales newscasters, commercials, and even Judge Judy (still going strong) with virtually zero artifacts. The TV's 120Hz panel also does a great job with fast-moving sports content and broadcasts.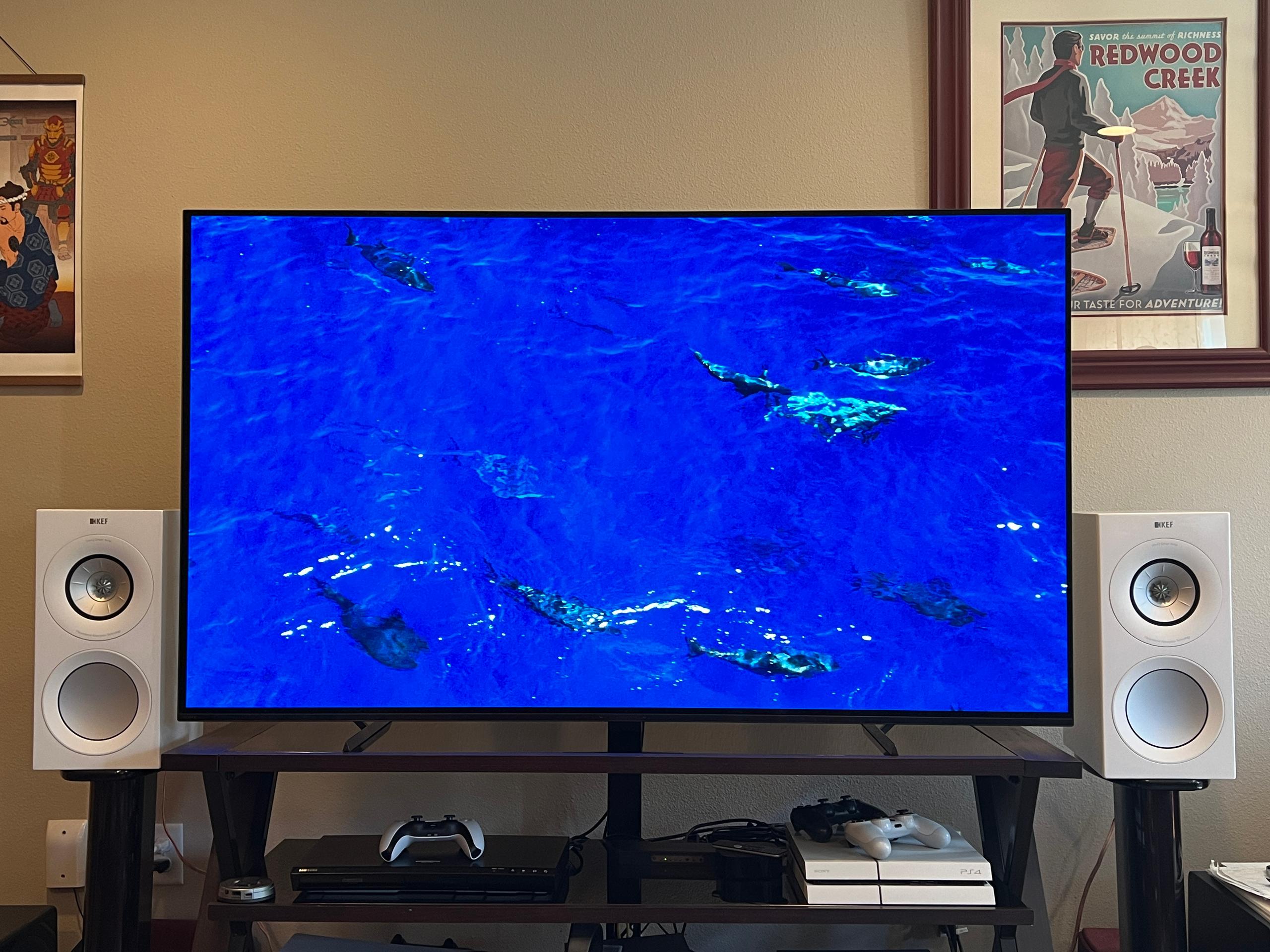 There are moments where the A80L's lack of brightness comes into play. Sony claims the TV is up to 10% brighter than last year's A80K, depending on screen size, and the two are matched pretty closely when it comes to other performance features. Most measurements put the A80L's peak HDR brightness below 700 nits – lower than LG's rival C3, and around half of what pricier flagships like the top-rated LG G3, and Samsung's S95C can achieve in their brightest moments.
This is especially notable in the flashy spectral highlights of nature content like Netflix's Our Planet. In scenes where sunlight sparkles off the water, the TV lacks the sparkling brilliance of brighter sets like the flagship S95C, but also mid-tier LED displays like TCL's Q7. Sunlight still flashes and it actually calls less attention to itself since it balances better with the sapphire blue water, but you lose some of the wow factor. The coral reef scenes are also duller with less showy neon brilliance, though some may prefer more subtle coloration there anyway.
The TV's lack of SDR brightness can also pose a challenge with especially dark content in ambient light situations. Pulling up the infamously tough test scenes from Harry Potter and the Deathly Hallows Part 2, there's more black crushing and less overall image pop in the darkest moments than I'd expect in 2023. It's something that has long been a drawback of OLED displays, only recently remedied by some of the best OLED TVs.
Still, I really enjoyed my time with the A80L over several days. The TV provides a luscious, eye-catching viewing experience – especially if you're not one for viewing in sunbathed rooms.
Competition and comparison
The A80L's top competition this year comes from LG's C3, which reportedly packs better overall brightness to better combat difficult viewing environments. It doesn't have the A80L's XR processing, but still delivers LG's renowned picture performance, and also boasts four full-bandwidth HDMI 2.1 ports, all at similar pricing or below.
Last year's A80K is another enticing option if you're on a tighter budget, offering similar specs and features. The difference in brightness between the two models is minimal so it could be a good way to save some cash while it's still available.
If you want to step up to next-gen brightness, there's the acclaimed Gallery G3 OLED with LG's MLA technology, and Samsung's S95C QD-OLED, an absolutely mind-blowing display that I couldn't get enough of. However, both will cost you a fair bit more than the A80L.
Finally, those with a more flexible budget who want the best of both worlds may also want to consider Sony's A95L when available, which utilizes the same great Sony picture processing as the A80L alongside a QD-OLED display that is primed to achieve searing brightness to take on the top OLEDs on the market.
Conclusion
Sony's A80L may not be for everyone. Serious gamers may find the TV's relative shortage of HDMI 2.1 ports limits versatility and those looking for showier HDR highlights and better SDR brightness may want to look elsewhere. But despite those limitations, the A80L delivers real thrills, offering some of the best color reproduction, clarity, and overall image quality around. That, combined with a great interface and good sound, makes this a fantastic day-to-day TV that is sure to please picture purists and OLED newbies alike.