The X90J is Sony's strongest attempt to convince customers to part with a few extra hundred dollars for a mid-range 4K TV. If you're wondering why you should pay more for this TV when you can get similar models for less, here's a quick rundown of what the X90J has to offer.
It is a native 120Hz TV with plenty of functionality and a solid design to justify its slightly higher price. The TV features a full-array local dimming panel for enhanced black levels. It also has Variable Refresh Rate, Auto Low Latency Mode, and four HDMI ports.
Most significantly, Sony made this TV better than many similar models with its new Cognitive Processor XR for first-rate contrast control and incredible upscaling.
It's not perfect, though. There are a few issues with off-axis viewing and watching the TV in a bright room. But considering its outstanding performance and reasonable price, the Sony Bravia X90J is worth buying.
How Does the Sony Bravia X90J Perform?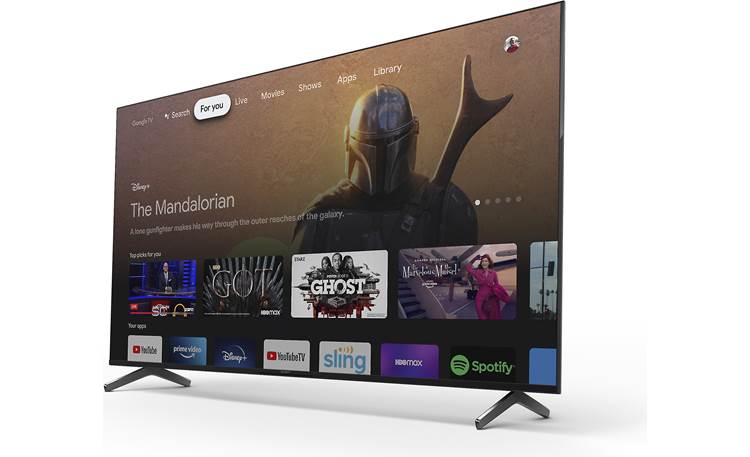 Design
The Sony Bravia X90J has a subtle, understated design. It doesn't come in a razor-thin frame like other Sony OLED models, but while it is not super slim, it still has an attractive look and feel.
The bezel is streamlined and sits on two legs that stabilize the screen. At the back of the TV is a full array panel with local dimming. Side firing woofers and two tweeters flank the sides of the TV at the back. The port selection has four HDMI ports, two of them supporting HDMI 2.1 for PS5 and Xbox Series X.
The TV comes with a relatively large remote control and a built-in microphone for voice control. The remote has four shortcut buttons for YouTube, Netflix, Disney Plus, and Amazon.
Picture Quality
The design would be a waste without excellent picture quality, and in this respect, the Sony Bravia X90J doesn't disappoint. The Cognitive Processor XR makes phenomenal XR 4K upscaling possible; the set offers exceptional image quality with deep black levels.
It also has excellent contrast and color saturation. Plus, its luminance is on the same level as the X900H, making it a bright TV. With the full-array local dimming feature, you can illuminate different screen areas for better contrast. This set features 24 zones and a VA panel type.
For the best results in terms of picture quality, you need to sit straight in front of the TV. So, while the VA panel doesn't give this model the best viewing angles, it makes it ideal for gaming. There are hardly any issues with artifacts or motion, even when you set the TV to Standard picture mode.
Audio Output
As expected, the Sony Bravia X90J uses the brand's X-Balanced Speaker to produce clear audio with less distortion.
In terms of bass, the X90J won't wow you. But it delivers surprisingly good sound for a mid-range set that isn't equipped with an attached soundbar. Plus, it offers a Dolby Atmos passthrough for better listening.
Smart TV
For a Smart TV platform, the X90J is one of Sony's first with Google TV. That means you can expect more apps and content than you will find in other Sony Android TV platforms.
With Google TV, you get plenty of recommendations from all the services you use and others you don't right on your home screen. Plus, setting up is a breeze. All you need to do is sign in to your Google account beforehand.
High Points
Exceptional 4K HDR TV picture quality with Dolby Vision HDR
Better contrast control, excellent upscaling, and brilliant image quality with the Cognitive Processor XR
Easy to set up with capable Google TV smart system that recommends interesting content to keep you entertained
Offers fantastic connectivity
Low Points
Sony's X90J is pricier than many other models with similar picture quality
Offers a mediocre off-axis viewing experience, so it is not your best choice if your setup requires watching TV at an angle
Final Thoughts
For the money, you'll be lucky to find an LED-LCD TV that beats the Sony X90J. The TV comes with just about everything you want in a mid-range 4K LED-LCD TV, making it the best in class for that category. In a nutshell, this is the TV to get if you are fed up with awful contrast and poor upscaling.