When it comes to Sony's Dolby Atmos soundbar lineup, you could say the HT-A3000 completes the set. Following the flagship HT-A7000 and step-down HT-A5000, the A3000 is both the smallest and the most affordable of Sony's premium soundbars. Cheaper doesn't always equate to better value, however. While the HT-A3000's $700 MSRP makes it Sony's most approachable Dolby Atmos system, the company cut a lot of features to make it so.
Most notably, the A3000 is the only of Sony's top bars that trades the upfiring drivers so integral to convincing Dolby Atmos immersion for digital signal processing.
This is still a potent soundbar for its size, and it offers some compelling features like multiple Wi-Fi streaming options, a minimalist form factor, and the ability to add wireless surrounds and/or a subwoofer later on. But the A3000 is far from the best bang for your buck on the Dolby Atmos market. Before you pull the trigger, it's well worth examining exactly what you get – and what you don't – with Sony's most latest premium bar.
Setup and Design - Sony HT-A3000 Review
As Sony's simplest Atmos system, the A3000 is also the easiest to get going. Once the bar is plugged into power, setup is as simple as connecting the included HDMI cable from the bar's HDMI eARC port to your TV's corresponding one and tapping the Home key on the included remote for network connection and audio settings on your TV screen. You can also adjust basic settings from Sony's Music Center app once the bar is online, but while most competitors have migrated nearly all settings to your phone (with varying results), Sony keeps it old school. Users of Sony A/V receivers will feel right at home.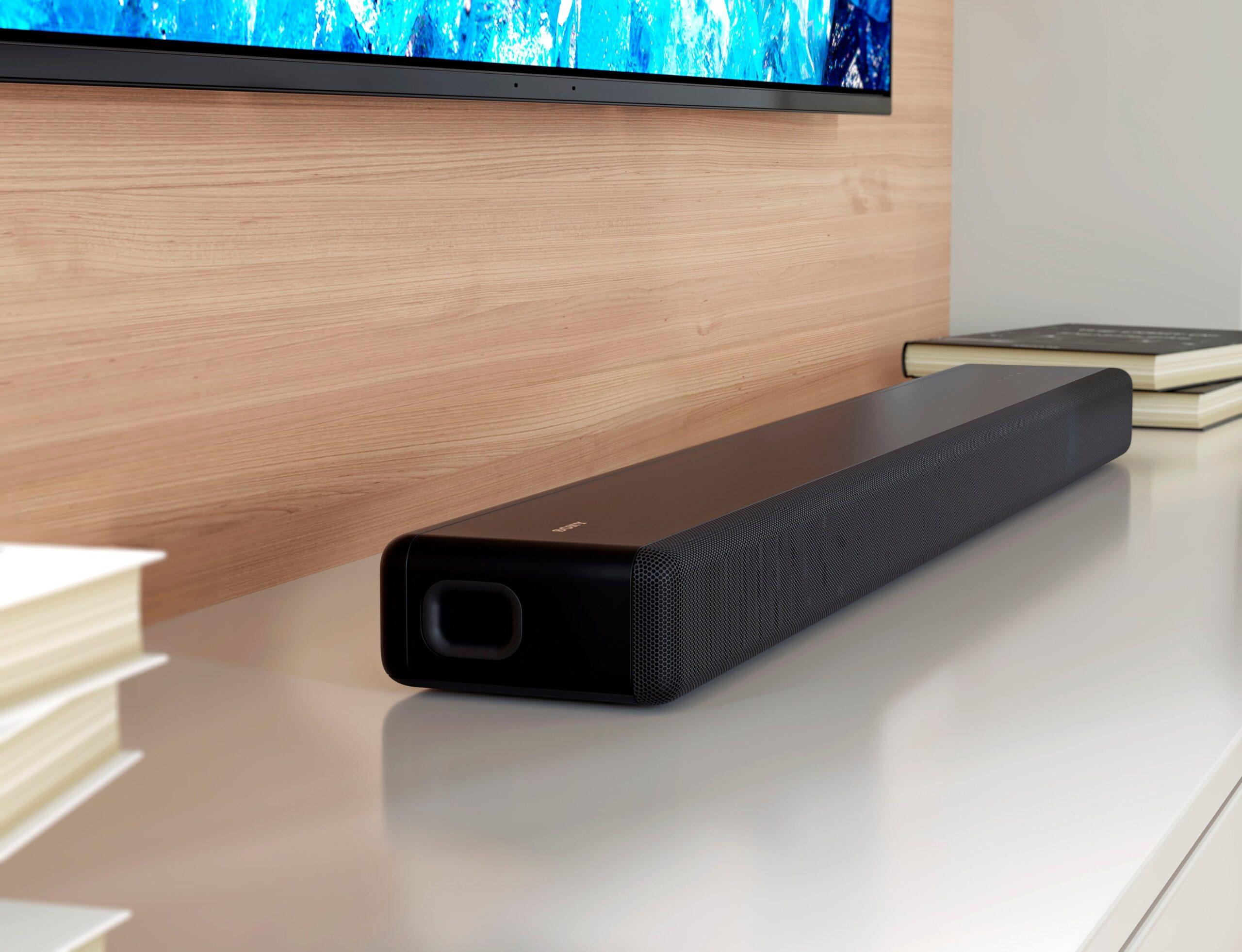 If your TV supports HDMI eARC, common for upper-crest models from the last few years, you can transmit lossless audio formats via Blu-ray players and game consoles like Dolby TrueHD directly from your TV. Otherwise, given the A3000's single HDMI connection, you'll be limited to lossy audio formats. (An optical port serves as a backup connection, but this is limited to 5.1 audio, and won't allow you to control volume or power from your TV remote.)
When it comes to design, the A3000 is simply dressed, with a metal front grill, rounded edges with ports at the sides, and a dimpled topside for a touch of style. It's notably pint-sized compared to its siblings, weighing just over 10 pounds and measuring 2 ⅝ inches high, 5 ⅛ inches deep, and 37 ½ inches wide. That's still relatively wide compared to most soundbars, but the A3000's tempered height means it will sit comfortably below most TVs. If it does happen to block your TV's IR sensor there's an available IR repeater.
The A3000's 3.1-channel configuration includes a built-in "subwoofer" in place of an outboard wireless sub. This is consistent throughout Sony's lineup, and it's becoming pretty common in the segment, though you can improve bass response greatly with a Sony subwoofer (for a hefty $400). The bar's left, right, and center channels are powered by oval drivers measuring 1.8 inches x 3.75 inches each, while the built-in subwoofer comprises two more speakers measuring 1.8 inches x 4.375 inches each. That's all powered by a claimed 250 watts.
Features and audio formats
With expectations set high from a soundbar at this price, it may be prudent to start with what the A3000 doesn't offer. Along with its lack of upfiring drivers on top, the soundbar omits a few other basics like room correction or even manual channel adjustment. There's also no real EQ to speak of; the only way to adjust bass is toggling the subwoofer key between Max, Mid, and Min, while a Voice mode key to boost the upper midrange for dialogue is your only other tool.
There's also no spare HDMI port. That's not uncommon these days – even the priciest Bose and Sonos bars skip it, relegating all audio transmission to your TV. But it's worth mentioning here given that Sony's HT-A5000 and HT-A7000 both offer spare HDMI inputs (one and two respectively) that support 4K passthrough at up to 120Hz for gaming at high frame rates. It's also just nice to have an extra port to replace the one your soundbar hogs.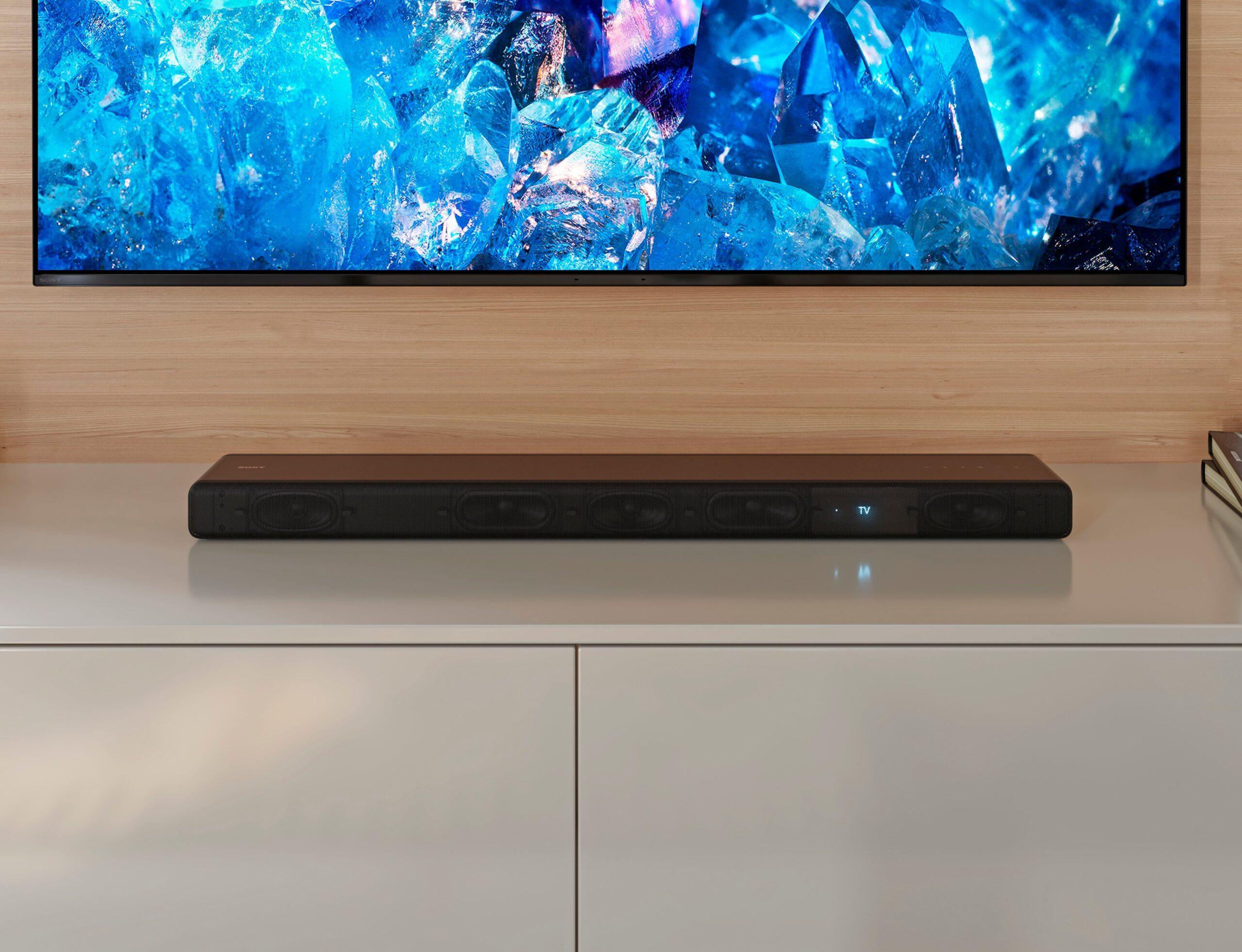 That's not to say the A3000 doesn't pack some solid goodies. Standouts include wireless streaming over Wi-Fi via Spotify Connect, AirPlay 2, and Google Chromecast; compatibility with both Amazon Alexa and Google Assistant (through a separate smart speaker or your phone); and the ability to connect Bluetooth headphones for late night binge sessions while the family slumbers.
While you can't create a multi-room audio system like Sonos and Bose models, the ability to expand the A3000 later with wireless speakers is always nice to see at this price. And while it may seem like a given, the legible (if small) front LED display is getting increasingly rare in today's minimalist soundbar segment. Those with select Sony Bravia TVs can also connect the TV as a complementary center speaker.
One of the biggest claims to fame for Sony's latest HT soundbars is their wide support of hi-res music and audio formats. The HT-A3000 supports a wide swath of hi-res audio files, from OGG and FLAC files to DSD and ALAC via its USB input. As long as your TV supports eARC, the soundbar supports virtually all major audio formats, too, including Dolby Atmos over Dolby TrueHD, DTS HD Master Audio, DTS HD High Resolution Audio, DTS:X, and of course, Sony's 360 Reality Audio format.
Hands-on impressions
Sony made its name in the soundbar space for its impressive virtual surround sound processing, and the A3000 takes advantage of that pedigree. After engaging the bar's Vertical Surround Engine, I was happily surprised by how well this compact speaker set was able to replicate surround sound movement in my relatively small living room. While the immersion doesn't rise to the level of bars like Bose's Smart Soundbar 900 or Sony's own HT-A5000, it's an impressive trick from such a slim device.
Playing the "Amaze" track on my Dolby Atmos demo disc revealed noteworthy immersion, from the first expansive scene as the front of the room was inundated by chirping insects, to the surprisingly realistic circling of the tropical bird that very nearly seemed to spin around my head, without the help of Sony surround speakers. The rain segment was the system's biggest stumble, as it's nearly impossible to replicate true overhead audio without upfiring drivers, but otherwise the bar's slick processing did a solid job of expanding its soundstage.
Moving to one of my favorite Dolby Atmos test films, "Ant-Man," extended the fun. The bar did a surprisingly good job in the revealing briefcase drop from Darren's besieged helicopter. As the tiny men spar inside the case, they accidentally initiate Siri on an iPhone, which then bombards the environment with Cure's "Disintegration." While the moment wasn't as effective as bars with dedicated Dolby Atmos channels like the Sonos Arc, it was impressive for virtualized Atmos, creating a bloom of sound that reached above the bar and out toward my position on the couch.
The A3000 is also able to muster a solid slab of hefty mid-bass for its size thanks to its hearty built-in subwoofer. While the bar can't deliver the kind of deep-space frequencies you'll get from a real subwoofer, the upper bass on offer serves up some cinematic thrills from plenty of content – though this can also be to its detriment at times
Going back to the "Amaze" scene, the initial crack of rolling thunder was served up with much more brawn than I expected from such a slim machine, to the point that the system actually rumbled my TV console. The over-eager bass response eventually became something of a theme, and I was forced to lower the sub from its default Max to the Mid setting, otherwise the heavier mid-bass frequencies sometimes became boomy, overpowering and occasionally masking other frequencies.
Never was this more apparent than when I watched the ninth episode of Disney's Star Wars series "Andor." Without giving anything away, in a scene with plenty of clattering machinery and lots of rapid-fire British dialogue, the voices were outweighed by the lower frequencies, muffling it all into a mess of incomprehension. Adjusting the bass with the remote's subwoofer key and engaging the Voice key helped, but the bar still tended to lose clarity in especially active or complex moments.
Switching to simpler fare, such as reruns of "The Office," the A3000 puts its clear and detailed center channel on display. Dialogue is a cut or two above what you'll get from entry-level bars, with particular attention to vocal textures and other subtle details. The sound here isn't as rich or smooth as what you'll get from something like the Sonos Arc, but it's definitely a big improvement over your TV.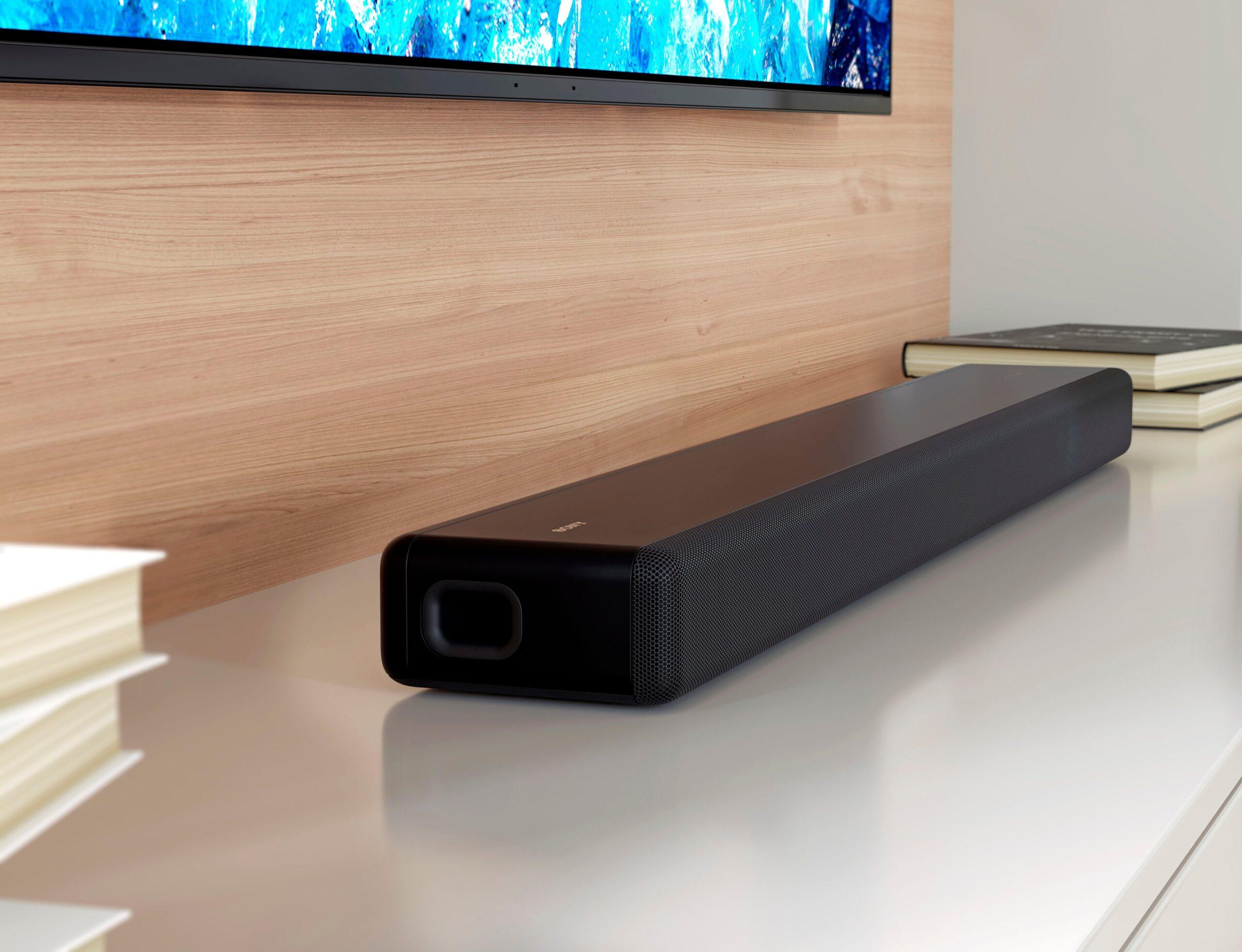 When it comes to streaming music, the A3000 does an admirable if somewhat forgettable job. There's nothing really out of place or unbalanced, which is more than I can say for a lot of cinema-focused soundbars, but there also aren't a lot of moments to make your ears perk up in attention. Streaming over Spotify Connect, I did note a few favorite moments in songs like "Carolina Drama" where the crunchy twang of the electric guitar paired beautifully with the acoustic guitar's crisp, nickel-steel attack.
Vocals were generally quite clear across genres, especially with the Voice key engaged, and unlike my evaluation of the HT-A7000 and HT-A5000, I actually enjoyed music with the Sound Field optimizer engaged for a bigger, more expansive soundstage. While this system doesn't delight as much as some of my favorite Dolby Atmos bars, it outdoes cheaper bars like the Sonos Beam in this arena. And those with a library of high-res audio files will no doubt find even better clarity and overall presence.
Conclusion
Sony's HT-A3000 soundbar does a lot with a little, and even without upfiring drivers or rear speakers, it's no slouch when it comes to virtual surround sound immersion. It also offers some great features, including support for tons of audio files and formats, and the ability to expand as you go (granted at a high price).
That said, it's competing in one of the toughest segments in consumer audio and, frankly, the value is not there to make this a top option. For most folks, I'd recommend moving up a class to the Sonos Arc or Sony's HT-A5000 for more convincing Atmos immersion, or saving some cash on something like the Bose Smart Soundbar 600. That said, if you have a Bravia TV or you really want a Sony-branded bar that does hi-res audio, the A3000 could be a viable option—especially if you can find it on sale.
Pros:
Clear, expansive virtual surround
Hi-res audio support
Simplified design and setup
Punchy bass without a sub
Cons:
No upfiring drivers for Dolby Atmos
No spare HDMI port
No EQ or channel adjustment
No multi-room audio features