We'd like to thank ProjectorScreen.com for their assistance with our projector evaluations and testing. Their yearly shoot-out, extensive selection and helpful attitude makes our life easier when we need to dig in a little more.
After posting my initial First Look article for Sony's new VPL-VW915ES, the company was kind enough to let me hang on to it so I could get a more in-depth feel for the projector. As I previously wrote, Sony has added in some new hardware and software features over the previous model, which help improve the overall experience and improve picture quality, too. While I don't think it's fair to say these improvements constitute a revolutionary jump in overall performance, the improvements over the VPL-VW885ES the 915ES replaces are the types of gains in performance that were needed most. And, most importantly, Sony has dropped the price by twenty percent, bringing the MSRP down to $19,999.
The first of these improvements is an updated dynamic contrast system, which Sony calls Dual Contrast Control. At launch, the 885ES was only using its laser light source to dynamically boost contrast performance. With DCC on the 915ES, Sony has enabled the iris found within the lens to help further enhance contrast. With two ways to boost contrast, Sony can not only more efficiently adapt the projected image, it can also do it with fewer visible dynamic contrast-related artifacts. In fact, with the exception to full-fades-to-black, the 915ES has one of the most well-programmed dynamic contrast systems found in any home theater projector available today. With normal, everyday video content, I witnessed no issues with pumping, flickering, or gamma shifts like you see on most other projectors using dynamic contrast.
The second notable improvement is an updated video processing solution, which Sony claims can analyze more parameters of the video than ever before, down to the individual pixel level. The new 'X1 for projector' video processing solution found inside the 915ES also allows Sony to include a new HDR processing mode called Dynamic HDR Enhancer. As I mentioned in my First Look article, however, this new software feature is not a dynamic tonemapping solution that many were hoping for. Instead, this appears to be no more than an updated and tweaked version of the Contrast Enhance software feature of the 885ES. While this new software definitely provides a boost in subjective image quality when viewing HDR10 video, it still falls a bit behind some of the more advanced tonemapping techniques currently employed by other brands in the premium projector market. More on this later.
As I mentioned before, pretty much everything else with this projector remains the same compared to the previous model. The 915ES still uses Sony's latest 0.74-inch native 4K SXRD panels, a long-lasting Z-Phosphor (blue laser and phosphor) light source providing owners with up to 2,000 lumens of light output, a fully motorized lens with lens memories, Sony's Reality Creation upscaling and image refinement engine, Digital Focus Optimizer to help offset lens focus non-uniformity, MotionFlow creative frame interpolation with video sources up to 4K60p, as well as support for HLG, HDR10 (with REC2020 compatibility), and 3D.
Setting Up the Sony VPL-VW915ES
The 915ES comes in an attractive matte black chassis that looks nearly indistinguishable from the 995ES I reviewed last year. This is a fairly large and bulky projector, weighing in at a hefty 44 pounds. Take note of this if you plan on ceiling-mounting the projector. You're going to need an extra set of hands if you want to do this safely.
The main thing that sets the 915ES apart from the 995ES in looks is a slightly less impressive lens to help justify the reduction in price. Sony specifies the throw ratio for this lens as a wide 1.38:1 to 2.83:1, with up to ±85 percent vertical and ±31 percent horizontal lens shift. This gives owners a ton of flexibility in where the projector can be placed in relation to the screen. And with the lens being centrally mounted and fully motorized, it makes the initial setup quick and painless. Owners can simply walk up to their screen and dial in zoom, shift, and focus with the remote control. If you notice some issues with convergence during setup, the 915ES features a digital convergence correction feature in the menu system to better align the projector's three primary color images. I highly suggest you take advantage of this software for the sharpest-looking image possible.
Connection options are pretty typical for a home theater projector in this price segment. Owners will find a pair of full-bandwidth HDMI 2.0b ports; a pair of 12-volt triggers; dedicated IR, IP, and RS-232 system control options; and a type-A USB port for system updates. If you happen to misplace your remote, Sony has also included physical buttons on the chassis to control the projector. The included remote is one of the best in the business. It's large, backlit, and gives you direct access to nearly every picture control option you'd want to have in the palm of your hand.
The menu system is intuitively laid out, with a whole host of options available within to alter the image and control the projector. As well as basic calibration controls, the 915ES offers a full color management system, two-point white balance controls, user-selectable gamma settings, and laser power settings to control the peak white image brightness of the projector. Other useful settings found within the menu system are the Reality Creation smart sharpening and noise reduction options, MotionFlow smooth motion options, Cinema Black Pro dynamic contrast options, manual HDR video processing options, and manual color space control options.
The projector also comes with several preset picture options to choose from, each ideal for a different setup scenario. Unless you're placing the 915ES in a less-than-ideal space with poor light control, you'll want to stick to the projector's Reference picture mode, as it offers the best out-of-the-box image performance, but the least amount of light output. If you're struggling with image brightness, you have the option of choosing a different image mode to gain some light output, but at the expense of image accuracy.
If you plan on gaming with the 915ES, you'll find a dedicated low-lag video processing mode that dramatically reduces the time it takes for the signal to be received and ultimately displayed on screen. With my Leo Bodnar input lag tester, I measured an excellent 21 milliseconds of lag, which is about as good as it gets for a projector in this price range and a low enough figure for most non-competitive gamers.
If you plan on using an anamorphic lens with the 915ES, you'll be happy to hear that the projector not only includes an anamorphic scaling mode for traditional 1.33x anamorphic lenses, but also those manufactured by Panamorph, which allows owners to use the entire 4096 by 2160 pixel count of the projector for increased image brightness on screen. If you zoom to fill your anamorphic aspect ratio screen, you can set lens settings to memory to be recalled later. Owners have five dedicated memory slots that can be used for specific aspect ratios.
While all major 3D formats are supported, glasses are not included in the box. The 3D emitter is built into the projector, with no dedicated port on the back for use with a third-party emitter. So if you plan on watching 3D, be sure to pick up some glasses when you order the projector.
How Does the Sony VPL-VW915ES Perform?
At the 915ES's premium $19,999 price point, I was expecting nothing short of class leading performance across the board. And, other than with some issues in the way this projector handles HDR10 video (which we'll discuss more in the next section), the 915ES provides one of the best projected images available today.
Sony has designed a projector that offers top-tier performance in nearly every facet of its image. This projector offers a rare combination of high contrast, high brightness, strong color saturation, native 4K resolution, and high-quality video processing that few other projectors currently have. With SDR video in particular, you'd be hard pressed to find another projector available today that looks as good as the 915ES does overall. And if we look at the measured performance, it's easy to see why.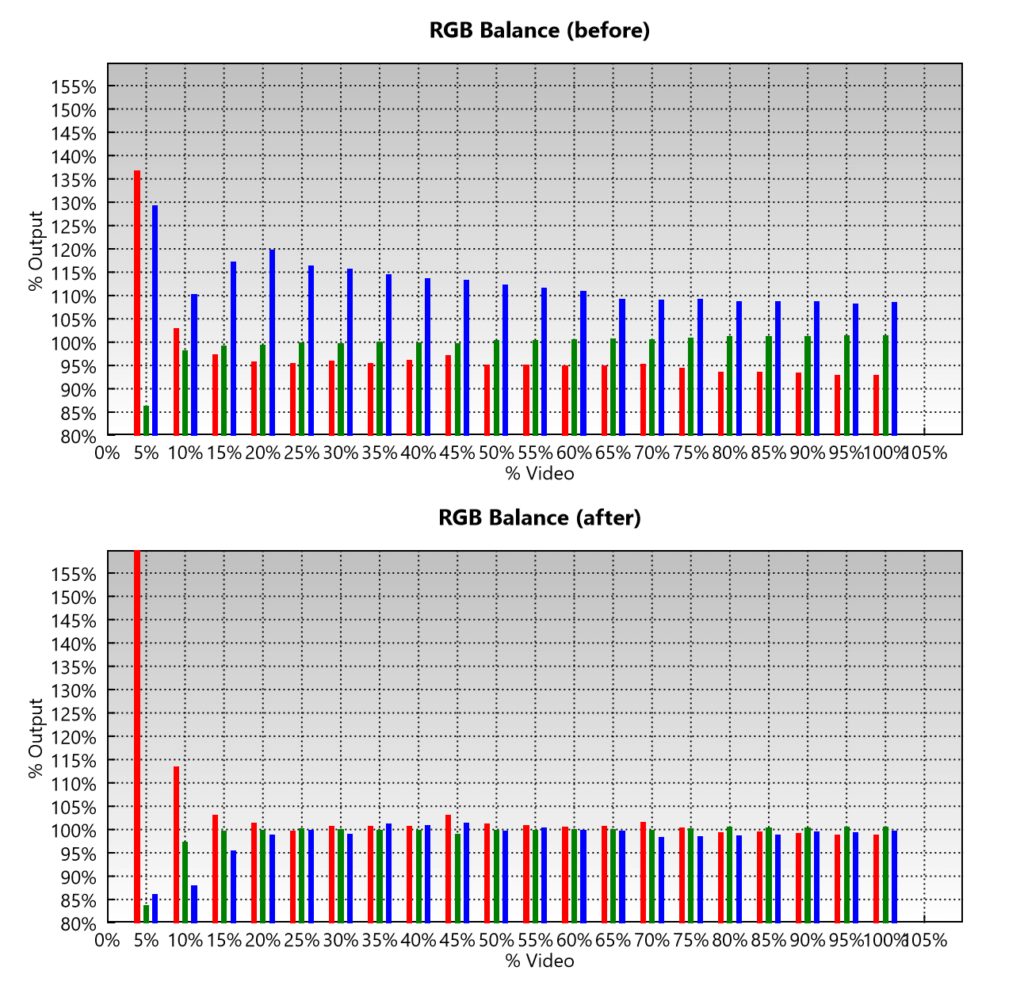 Out of the box, choosing the projector's aptly named Reference picture mode, the 915ES offers just that. In fact, once I calibrated out the small white balance shift my screen introduced into the image with the included two-point white balance controls, the 915ES offered the best out-of-the-box image performance I've seen from any projector to date. No other changes within the menu system were needed to achieve an accurate calibration. And, compared to the lamps typically used in home theater projectors, this projector's laser light source is far less prone (though not immune) to changes in the quality of light entering the optical engine, so owners should expect this level of performance to remain for quite some time.
As you can see, grayscale performance tracked nicely across all IREs, with the projector accurately covering the entire REC709 color gamut required for most SDR video. And with the gamma correction setting option enabled within the menu system, opting for the 2.2 preset, I measured flat performance across all IREs as well, with delta errors across the board well below 3.0, which is the threshold for visible errors.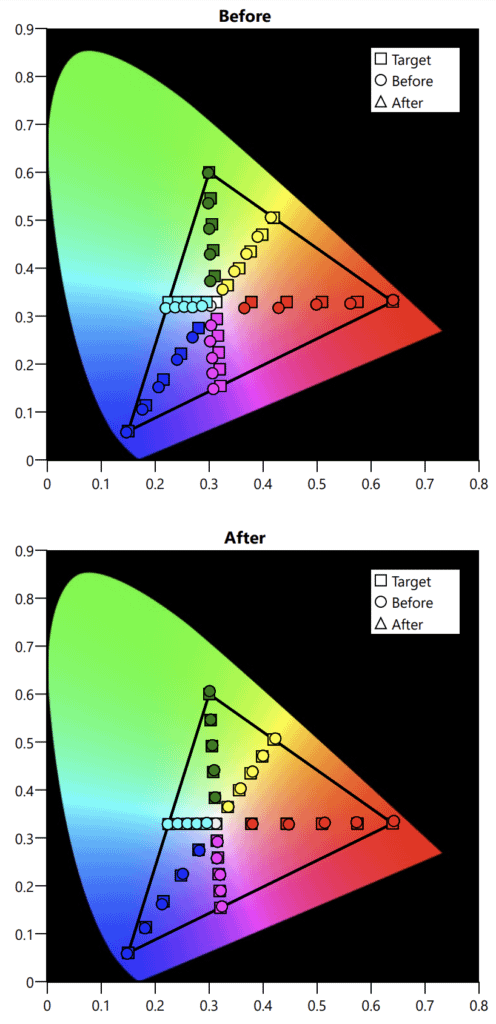 For HDR10 video sources, the 915ES offers a REC2020 compatibility mode. After calibration, I measured the projector to cover nearly 90 percent of the DCI-P3 color gamut within the REC2020 triangle. While this level of color performance is technically a step below a few other projectors near or below the 915ES in price, in practice, I found this level of color saturation beyond REC709 still subjectively satisfying enough and definitely noticeable with content that makes good use of it.
I often use Inside Out on Ultra HD Blu-ray to test out color saturation performance because it has some of the deepest and most vibrant shades of color found in any video material available today. And while a few other projectors may have a small yet noticeable lead in color rendition, I was still more than satisfied by the performance offered by the 915ES. Colors appeared well-saturated and natural in tone.
Light output offered by the 915ES is class competitive. After an SDR calibration, with the projector's lens set to maximum zoom and the laser light source set to maximum output, I measured peak light output at 1,750 lumens, which is bright enough to fill a fairly large sized projection screen in a dedicated, light-controlled space. If you prefer less light to hit your screen, you have the option to adjust the laser light source output, in one percent increments, down to your desired level.
Contrast performance is also very good overall. I measured a maximum native contrast ratio of 14,300:1, after calibration. And with regular video content playing on screen, you can expect just under 30,000:1 dynamic contrast with Sony's new Dual Contrast Control system enabled. Additionally, with the dynamic contrast system setting set to Full, the lasers shut off when an all-black image is detected, effectively giving the 915ES an infinite level of contrast. However, throw just a few pixels of non-black picture information into frame and you jump back up to the same black level that 30,000:1 in on/off contrast provides.
Other than what's provided by current JVC projectors, the 915ES is about as good as it gets for contrast performance from any home theater projector available today. Despite being used to the level of contrast my reference JVC DLA-NX9 provides, there were only a few instances throughout my time with this projector where I felt the level of contrast provided was at a disadvantage.
It took some pretty challenging video, such as the opening sequence of Avengers: Infinity War, to show the difference. I like to use this sequence to test contrast and black level performance because it not only shows the blackness of space, but also some pretty tough low-lit interior shots where mixed dark and bright elements appear on screen at the same time. While this sequence through the 915ES didn't have quite the same dynamic range or black floor provided by my NX9, the performance was still extremely impressive, dwarfing all of the other projectors that I've reviewed recently in terms of raw dynamic range within the image. So, unless you plan on watching a lot of extremely dark video content, like you'd find on the later Harry Potter films or Game of Thrones, the 915ES should satisfy all but the pickiest of videophiles.
Keen-eyed readers may have noticed that a lot of these measurements are nearly identical to those I measured from Sony's far more expensive VPL-VW995ES projector, which helps cement the idea I've had ever since the 915ES arrived -- you're getting nearly the same overall level of performance and image quality, but for dramatically less money. The crucial bit that I think makes this a reality is a much-improved lens compared to older 4K SXRD projectors that use, supposedly, the same lens. I'm assuming that Sony is hand-picking the best lenses for this model, which would explain what I'm seeing. The 915ES focused down on pixels a bit tighter and focus uniformity across the entire image has improved over previous models that share this same lens. It's to the point where, from a normal seating distance, I don't know how much an improvement in image sharpness the 995ES's ARC-F lens would add.
The only areas of measured performance I'd like Sony to try and improve upon would be to increase native on/off contrast performance closer to what JVC is currently offering near this price point, and provide additional color saturation performance to cover, at minimum, the full DCI-P3 color gamut within REC2020.
The Downside
The only major drawback to the 915ES is with its software handling of HDR video material. Let me be clear -- if you want to get the most from this projector when playing back HDR10 video material, like you'll find on Ultra HD Blu-ray discs and HDR video from most streaming services available today, you'll want to steer clear of the built-in HDR video processing solution. It's not that what's included is bad, per say, it's just that the way it processes and displays HDR is outdated by today's standards. It's the kind of HDR rendering performance I'd expect to see in the sub-$5,000 price segment, not something worthy of a projector costing four times more. So if you want to leverage all that this projector has to offer in terms of dynamic range and color fidelity, you'll want to purchase something like a Lumagen Radiance Pro or madVR Envy to dynamically tonemap HDR video content instead.
The problem is that Sony is still adhering to either a reference PQ curve or an optional static tonemapping solution (enabled by default), which can be further augmented by Sony's new Dynamic HDR Enhancer software tool. You can think of a static tonemap as a way to compress the huge amount of dynamic range encoded into an HDR10 image down into a fixed range set by the software that's easier for low-light displays to handle.
The problem with this method is that the amount of dynamic range encoded into the video signal fluctuates as it moves from scene to scene and frame to frame, so this single set of instructions on how to compress an ever-changing amount of dynamic range found in the video is rarely ideal for all portions of the video being played back. What you're often left with are clipping artifacts and an image that can appear overly dark, colors that appear oversaturated, and, ironically, subjectively lacking in dynamic range. Sony uses their Dynamic HDR Enhancer tool to try and fix some of these inherent flaws to a static tonemap approach. This software is what's known as a digital contrast enhancement tool, not dynamic tonemapping.
In a nutshell, with this software, Sony shifts certain brighter pixels rendered within the static tonemapped image brighter, and makes certain darker pixels darker, in an effort to give the appearance there is more dynamic range within the image. Additionally, the software applies some desaturation of color to help mitigate any obvious oversaturated color issues. The processing works on a frame-by-frame basis. But compared to more advanced ways to tonemap HDR10 video material, even Sony's Dynamic HDR Enhancer software leaves a lot to be desired. You still end up with an image that can appear overly dark and lacking in apparent dynamic range and, with particularly high-nit HDR10 video content, pixel information that's supposed to be visible can be lost to clipping.
These inherent problems are why others in the industry, such as JVC and LG, have switched to a dynamic tonemapping (DTM) solution instead. Properly implemented DTM removes all of these issues because it can change the tonemap settings for each individual frame, providing viewers with not only all of the pixel information a static tonemap approach loses to clipping, but an image that appears far brighter overall, with more natural looking colors, and a better sense of dynamic range. When implemented correctly, DTM affords low-light output displays, like most home theater projectors, a new lease on life when it comes to presenting HDR. This is why JVC and LG include such software with their projectors and I'd like to see Sony make the same move on any subsequent 4K SXRD models. JVC and LG currently offer this type of HDR processing on models costing nearly a quarter the price of the 915ES, so Sony has no excuse not to include it as well. It really does make that much of a difference.
I fully realize that adding one of these outboard video processing solutions dramatically increases the cost of owning this projector. If you find yourself struggling to justify the additional cost, I'd recommend using one of Panasonic's Ultra HD Blu-ray players to handle HDR10 video material instead. All models, including Panasonic's $249 DP-UB420, feature the company's excellent smart static tonemapping software, which not only gives you more control over how the HDR image is processed and rendered; HDR image quality is a step above what Sony's built-in processing provides, too.
How Does the Sony VPL-VW915ES Compare to the Competition?
JVC's DLA-NX9 (aka DLA-RS3000 in certain markets) is the 915ES's direct competitor. These projectors have a lot in common and also a few key differences. Both are native 4K, offer a similar level of light output, similar build quality, and feature many of the same video processing and software features.
One of the main differentiating features between the two is that the NX9 is lamp-based, while the 915ES uses a laser-based light source, which is where I think Sony justifies asking $2,000 more for their projector. But the NX9 offers far greater native and dynamic contrast ratios, more color saturation, a slightly nicer lens, and a far more robust HDR video processing solution (the real-time dynamic tonemapping mentioned above), which elevates stock HDR performance well above what the 915ES currently offers.
At the end of the day, if you're the kind of person who plans on watching a lot of HDR video, the NX9 is simply a better projector for this type of video content. That is, unless you want to spend extra money on an outboard video processing solution to bridge the gap with the 915ES. If HDR isn't your cup of tea, however, as I noted throughout my review, SDR video performance is extremely impressive, with image quality that truly reflects Sony's asking price.
Final Thoughts
Sony's VPL-VW915ES offers the kind of measured performance and image accuracy that most home theater projectors only wish they could have. With that said, I feel that Sony has dropped the ball a bit with its software handling of HDR10 video material compared to others in the premium home theater projector space. And with HDR video quickly becoming ubiquitous across all platforms, this puts the 915ES a step behind some of its direct competitors.
If you're spending nearly twenty grand on a projector, I think it goes without saying that you're looking for a complete solution that allows you to maximize picture quality, no matter the type of video content being played back. The 915ES has the ability to look excellent with HDR video material relative to what others in the premium home theater projector market space are currently offering. Remember, it has the raw image performance necessary to do this. It's just that it needs some help to get there. Namely from a Lumagen Radiance Pro or from madVR. I had the opportunity to use both of these video processors with the 915ES while it was here and can attest that HDR did indeed look excellent. So if you plan on buying this projector, know that adding an outboard video processing solution is a prerequisite If you want to take advantage of all that the 915ES has to offer.