We'd like to thank ProjectorScreen.com for their assistance with our projector evaluations and testing. Their yearly shoot-out, extensive selection and helpful attitude makes our life easier when we need to dig in a little more.

Introduction to the Sony 5000ES Projector
Sony's VPL-XW5000ES represents a breakthrough as their first native 4K laser projector priced under $6,000. I was thrilled to get my hands on this projector for testing and see if it lives up to the hype. With 2,000 ANSI lumens, HDR support, and Sony's renowned SXRD imagers, the 5000ES brings tempting specs at an unprecedented price point. But how does it fare in real-world use? In this comprehensive review, I'll cover everything from unboxing and setup to performance and picture quality.
High Points
True native 4K resolution with over 8 million pixels provides unmatched clarity
Laser light source rated for 20,000 hours of virtually maintenance-free operation
Outstanding contrast ratio delivers deep blacks for excellent dynamic range
Vibrant, accurate colors with wide DCI-P3 gamut after calibration
Sony's renowned X1 Ultimate processor enables impeccable upscaling and near-perfect HDR tone mapping
1.6x zoom lens with generous lens shift offers ample installation flexibility
Extensive calibration controls allow dialing in the ideal picture
Low Points
Lack of motorized lens memory presets makes setup more tedious
No HDMI 2.1 support
Very minor fan noise may be audible in extremely quiet environments
Unboxing and Setup
The XW5000ES arrived safely packaged along with a power cord, remote, and manuals. Unboxing reveals Sony's familiar refined industrial design with a squared-off matte black chassis, which exudes elegance. The included backlit remote provides direct access to picture adjustments and modes. Extensive options like gamma, color temperature and Reality Creation controls are at your fingertips.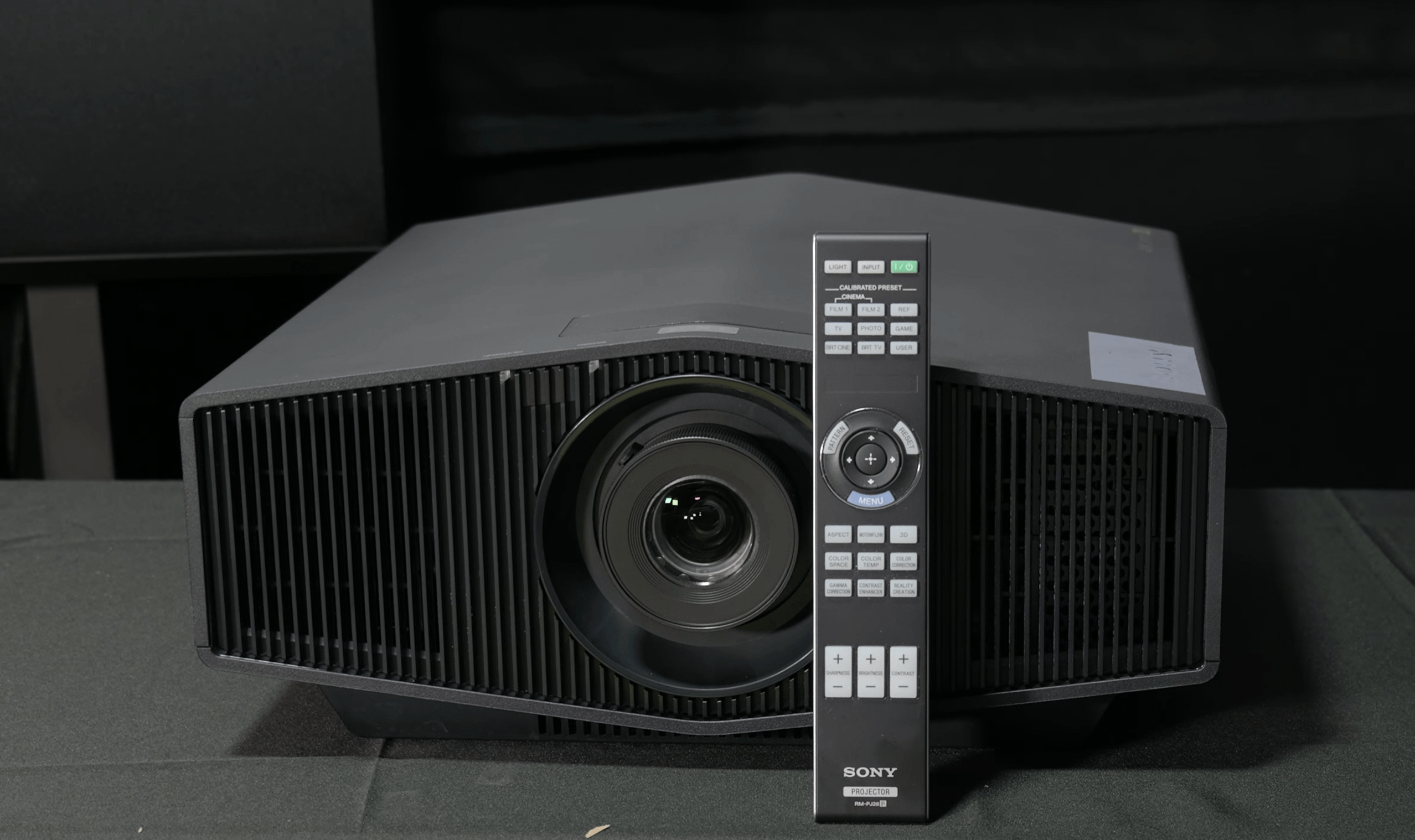 Physical setup is straightforward but lacks motorized controls, so lens placement isn't as flexible as some competitors. The manual zoom, focus and lens shift controls operate smoothly. Connectivity includes two HDMI inputs, RS-232 control, Ethernet, IR, and a 12V trigger.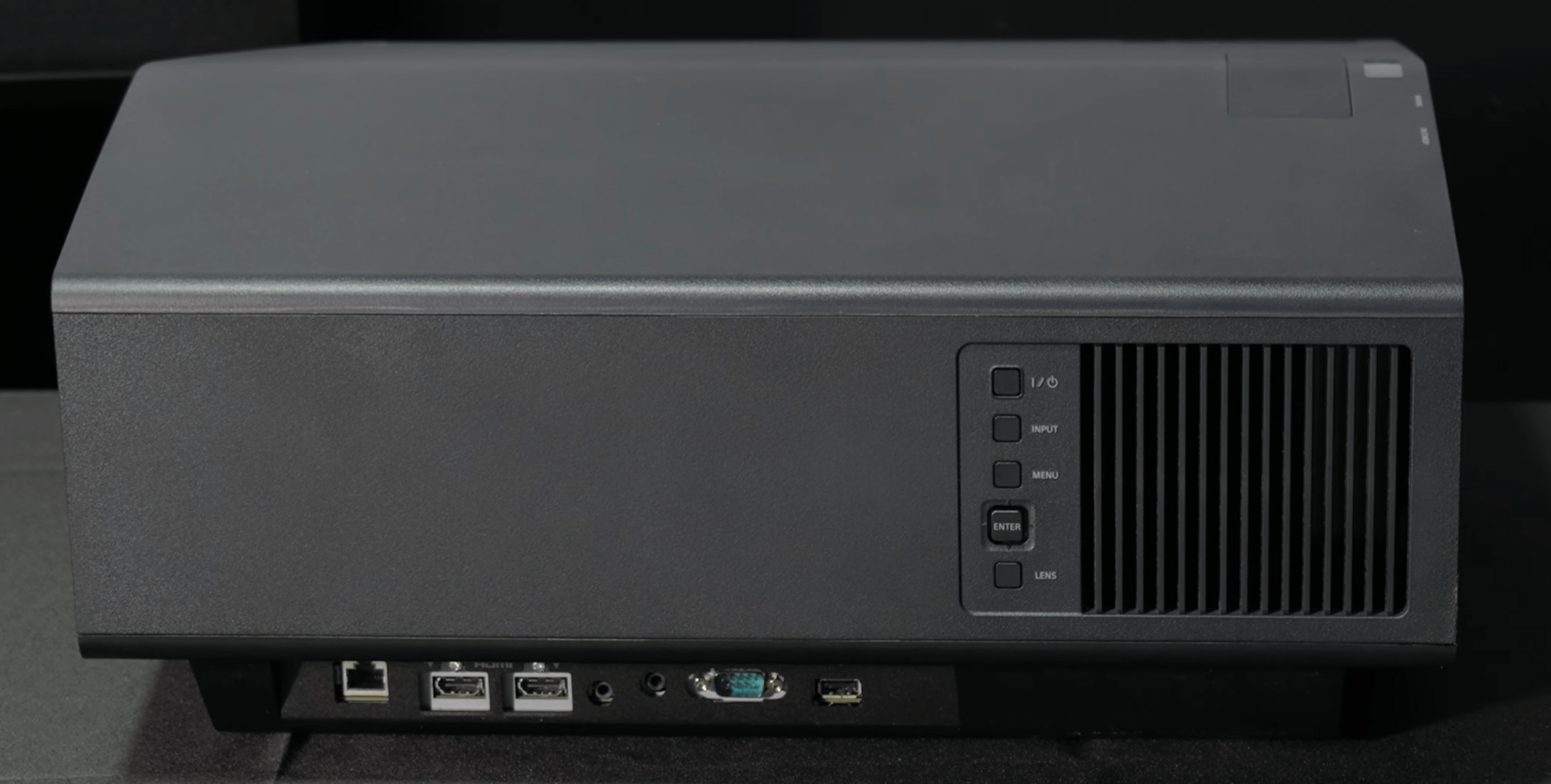 The projector has a 1.6x zoom lens that provides a throw ratio range from 1.35-2.20:1. This allows flexible placement from around 7 to 20 feet from a 100" screen. Both horizontal and vertical lens shift offer a wide adjustment range of +/-25% and +/-80% respectively.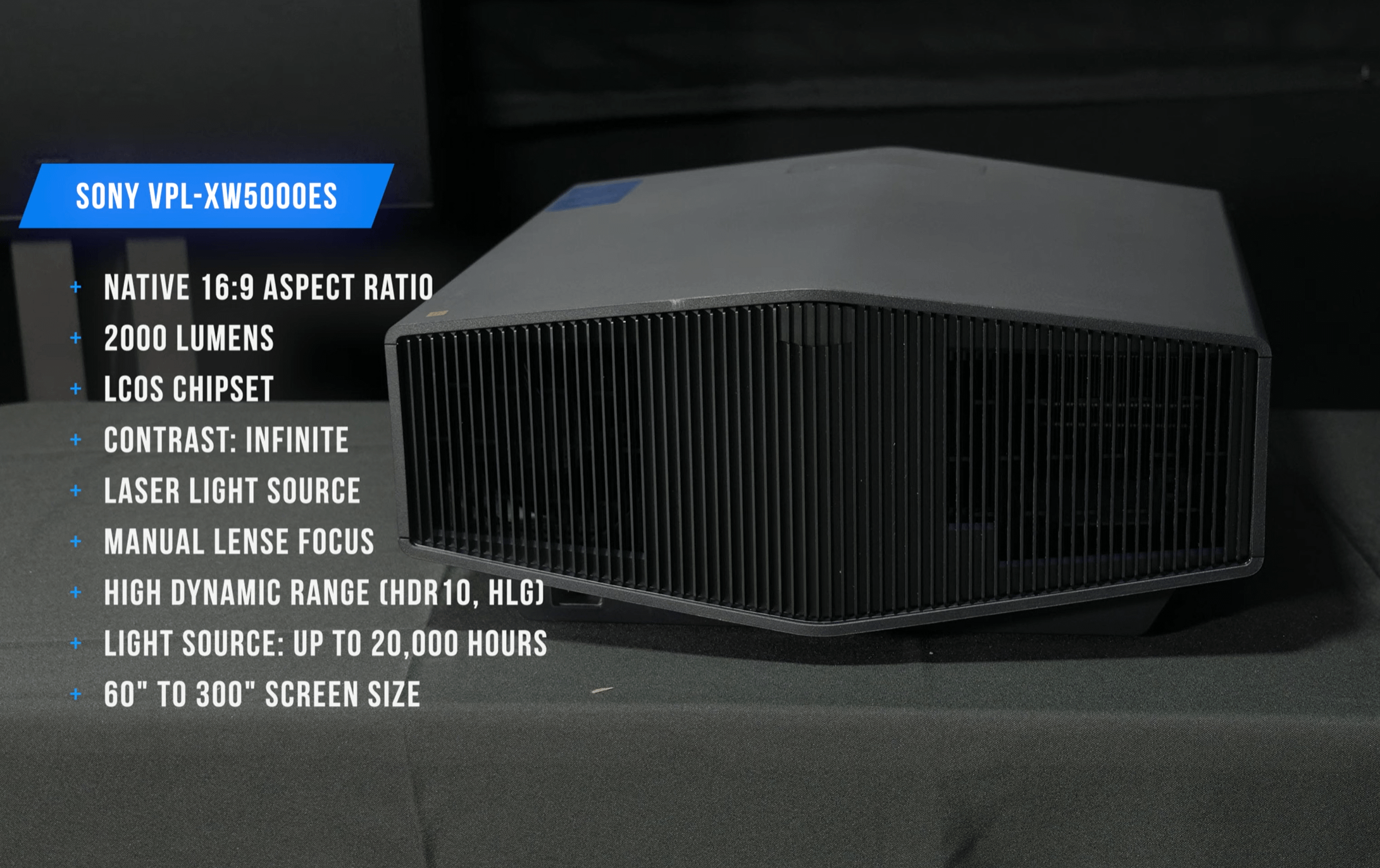 Focusing and zooming the image to fill my screen took just a few minutes thanks to the precise manual controls. The manual approach does mean recalling previous placements takes more effort compared to projectors with motorized lens memory. But for most, setup should be quick and painless. Focus controls stay precise over the entire range. Lens shift is equally flexible with a wide horizontal and vertical range to simplify installation.
Features and Picture Modes
The XW5000ES provides extensive options for tweaking the picture to your liking. Ten picture modes plus customizable settings allow dialing in the perfect image for movies, sports, gaming, and more. Presets include Cinema Film 1 & 2, Reference, TV, Bright Cinema, Bright TV, Game, and two user modes.
Within these modes, you can configure color space, color temperature, Reality Creation enhancements, contrast controls, motion settings, and more. HDR tone mapping can be configured in HDR modes as well.
The X1 Ultimate processor brings Sony's most sophisticated video and HDR processing yet, borrowed from their flagship $80,000 model. This allows the XW5000ES to optimize 4K and HD content alike with enhanced detail, textures, color and contrast. It also enables near-perfect frame-by-frame dynamic tone mapping for HDR, optimizing contrast and color vibrance. This is a strong suit, as the color and contrast are top-notch.
Image Performance
In a word, the XW5000ES's picture quality is mesmerizing. The native 4K resolution reveals pristine clarity and fine details that feel almost three-dimensional. Even with the sharpest eye from close up, pixels are barely discernible.
Brightness is solid, allowing enjoyment even in ambient light, though competitors may offer more raw output. Contrast is equally impressive with inky blacks that lend images depth and dimension.
After calibration, colors shine with high accuracy. The wide color gamut and Sony's esteemed upscaling make both 4K and 1080p content spring to life with natural, vibrant hues.
Focus and motion handling are top-notch too. Fast action scenes retain sharpness free of blur or judder.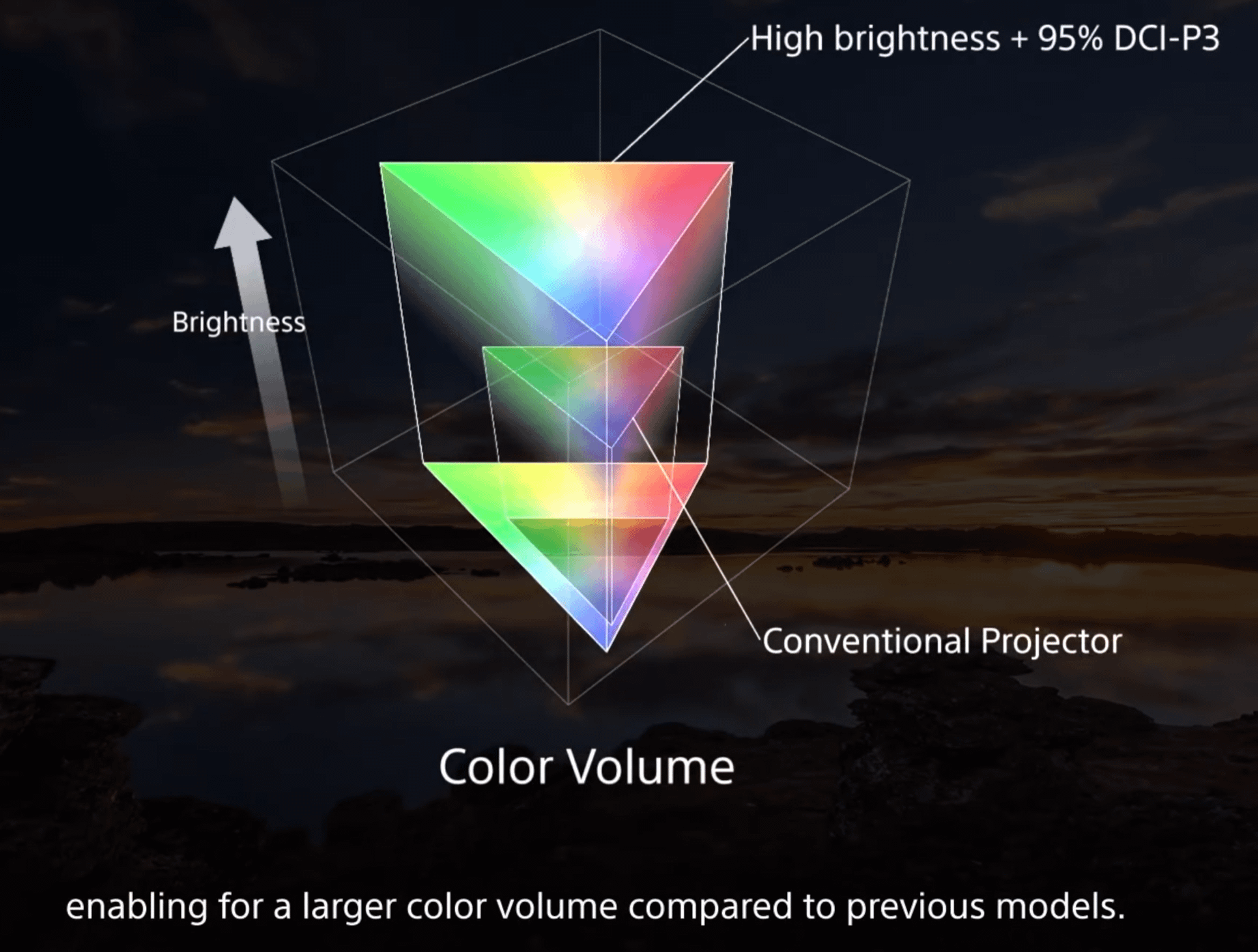 Competition
Epson LS12000: This projector is a direct competitor to the Sony VPL-XW5000ES. It offers a higher brightness level of 2700 lumens compared to the Sony's 2000 lumens. However, the Sony projector has a sharper image and better black levels. The Epson LS12000 is a good option for those who want a brighter projector and don't mind sacrificing a bit of image quality.
JVC NP5: The JVC NP5 is another strong competitor to the Sony VPL-XW5000ES. It has a wider throw ratio range and offers more installation flexibility than the Sony projector. However, it uses a bulb-based light source, which can dim over time and require costly replacements. The Sony VPL-XW5000ES, on the other hand, uses a laser light source that doesn't dim over time, making it a more cost-effective option in the long run.
BenQ HT8060: The BenQ HT8060 is a strong competitor to the Sony VPL-XW5000ES, offering 4K UHD resolution, HDR support, and a higher brightness level. However, it has a higher price and may not perform as well in terms of contrast performance, especially in mid to low brightness scenes, which may look a bit washed out.
Sony VPL-XW7000ES: This is a higher-end model from Sony itself. It offers better performance and features than the Sony VPL-XW5000ES, but it is significantly more expensive.
Conclusion
The Sony VPL-XW5000ES delivers a truly mind-blowing visual experience with true native 4K clarity at an unprecedented price point. Truly ideal for a dedicated home cinema, you get awesome picture quality at a great price since Sony removed a few costly nice-to-haves. For fixed-placement dedicated rooms, the feature set is everything you need and you won't miss the motorized lenses when you sit down and watch.
The level of fine detail the XW5000ES reveals is simply unmatched by any shifter or pixel-shifting projector technology. With over 8 million pixels precisely illuminating the screen, the image retains its lifelike realism up close or at a distance. When combined with deep blacks and vibrant color from the laser light engine, the XW5000ES makes images practically jump off the screen. HDR content is utterly spectacular, with highlights that sear with intensity while shadows remain richly detailed.
Despite using the same advanced SXRD technology found in Sony's $80,000 flagship, the XW5000ES puts this experience within reach at 1/10th the price. There are a few nice-to-have features found elsewhere, like motorized lenses or HDR10+ support, but nothing touches the XW5000ES for sheer 4K visual thrills in this price range.
If you desire truly uncompromising 4K clarity from an easy-to-use laser projector that will wow your friends, the Sony VPL-XW5000ES earns our Highly Recommended award. For less than $6,000, it redefines what the 4K home cinema experience can and should be.