What should we expect from a portable bluetooth speaker? Size, transportability, and sound immersion all weigh differently depending on your desired price point. It's a tall order to fill for an on demand, wireless 50W spatial audio speaker to provide a cohesive blend of hi-res sound, customized bass, and lasting battery life.
At the Motion X600's $199.99 price point, you'll want it to be versatile enough to accommodate just about any situation. Soundcore's X600 may have just hit the mark, offering a crisp, powerful listening experience that's suitable enough for home, party halls, or even outdoors.
Soundcore's Motion X600 is surely an evolution in design. Whereas their 80W Motion Boom Plus model is larger, louder, and more outdoor-centric, the X600 streamlines high fidelity sound quality while delivering as much as it can for portability. Centered around its immersive spatial audio and high-fidelity capabilities, the X600 merges scalability, seamless audio controls, and an impressive industrial design into a small package.
Pros
Immersive, powerful spatial sound performance
Intuitive setup and controls with the Soundcore app
Ability to pair a second X600
Compact, solid aluminum/polymer IPX7 waterproof case
Cons
No included AC adapter, USB-C charge only
Confusing local battery indicator and battery lifecycle
Speakerphone function may result in random echos and feedback
Motion X600 Industrial Design Highlights
Handling Soundcore's Motion X600 reveals solid build quality and premium material selection. This bluetooth wireless speaker is sleek and slim with minimal heft, making it a pleasure when you're on the move. You'll gain a habit of running your hands across the nearly 12" long, solid aluminum/polymer black mesh frame and handle.
At 3.19" wide and less than 5" tall, it's easy to pack away for a weekend trip. It would help if the handle could slide downward, compacting it for easy backpack or bag carry. Despite this, it's not bulky overall. The X600 is available in multiple colors including Midnight Black, Aurora Green, and Lunar Blue.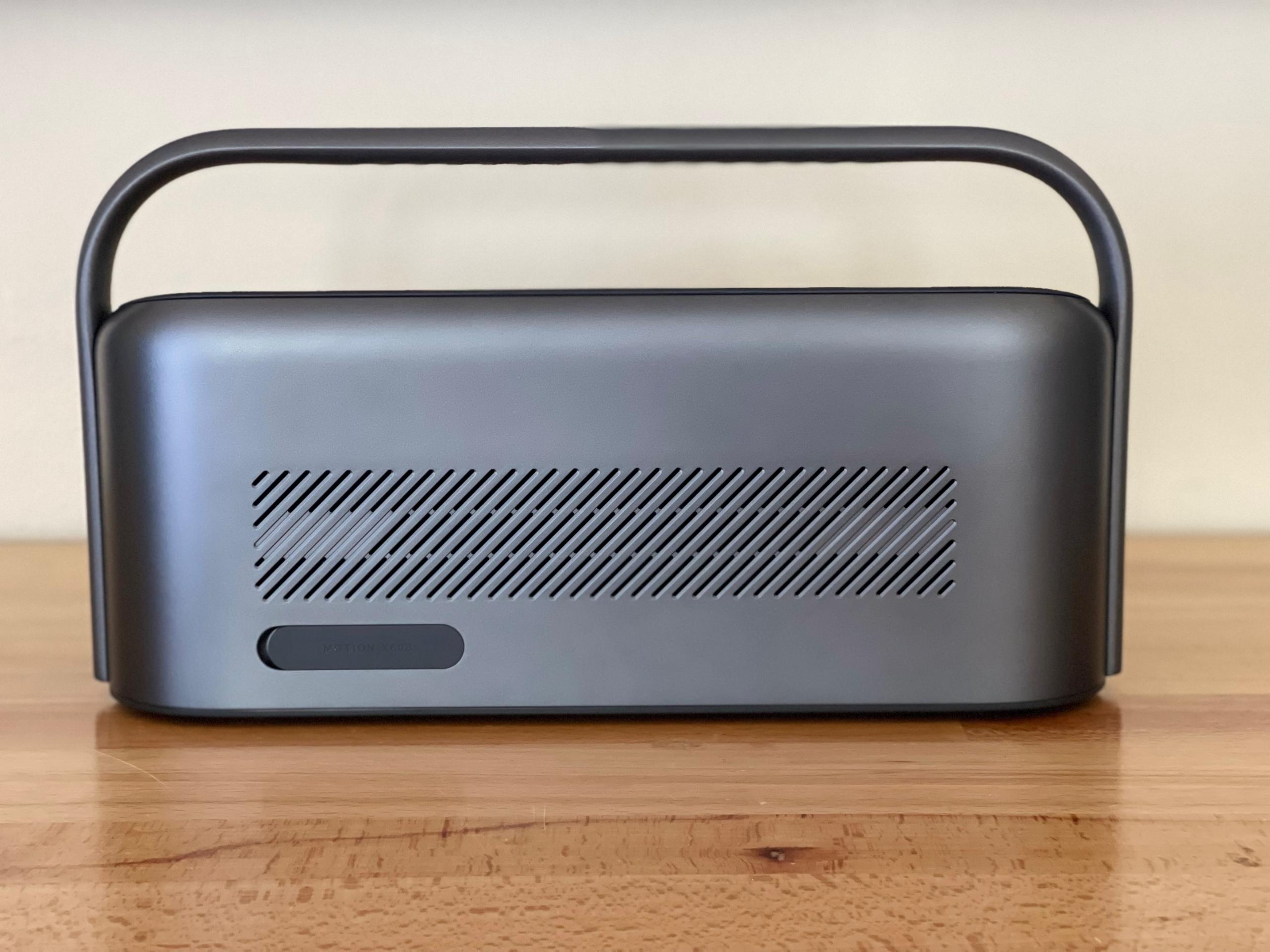 The control buttons are flush and responsive, requiring a firm push to activate. Thanks to IPX7 water resistance, the buttons seem almost hermetically sealed from liquid. Make no mistake, while IPX7 is rated as waterproof to 1 meter @ 30 minutes submersion, IPX7 is not tested against minute solid objects such as dust or sand. That's not to say some beach sand or dirt is going to be a showstopper for the X600's solid design. The rear gasket firmly seals the USB-C and 3.5mm audio ports from liquid or dust.
The placement of the upward-firing driver is a nice touch. Centered around Soundcore's logo, it completes its spatial audio configuration. An additional 4 drivers and 5 amplifiers are strategically positioned across the unit for a multi-dimensional soundstage.
It's worth being said that if you're going to advertise portability with a 12 hour rechargeable battery life (varies based on performance needs), Soundcore should have at least included a wall charger to attach to the 5V 3A USB-C. I could imagine wanting to have the convenience and peace of mind of having a readily available wall charger rather than spend time searching for something to accommodate USB-C.
Soundcore's Seamless App Setup and Physical Controls
The Motion X600 setup experience was a pleasure. In fact, it immediately paired and I was up and running without even using the app. It's a good sign when there's a smooth interaction between your phone and the speaker. Some people just want it to work - with or without the app.
To build an impressive dual X600 sound stage, one only needs to complete a quick process to define a master speaker between two X600's using its physical bluetooth button. That procedure can be found here in the Bluetooth FAQ section on Soundcore's website. In addition, pairing two Motion X600's together does not require the app.
The Soundcore app was fairly straight forward to use after the pairing process. Firing up Apple Music, the medley of songs played could be fine-tuned using Soundcore's 9-band custom EQ settings. Presets include Soundcore Signature, Voice, Treble Boost, and Balanced. The EQ's graphical settings provide nine points of manipulation for customizable sound performance. A quick toggle allows you to adjust between standard bass and the BassUp setting, adding more punch to whatever tune you're playing.
The BassUp option is available in the app as well as on the unit. Keep in mind that there's no integration between Apple Music and the Soundcore app, so you'll have to switch between apps to in order to navigate music. Another aspect to note is that the BassUp mode does not work with custom EQ settings, only presets.
One thing's for certain, if you're partying in another room - or on another floor for that matter, the pairing bond between your phone's bluetooth connection and the X600 is fantastic. It maintained a solid connection while nearly two floors away. I was able to control the music and customize settings from my phone.
If you're on the dance floor at a considerable distance from the speaker, the connection stays convenient with controls in your pocket. There was barely any latency and according to additional research, the X600 supports a connectivity range of up to 334.6 ft.
I really wanted to learn more about the X600's LDAC support. LDAC provides Bluetooth encoding on "steroids", with the ability to transmit 3x the amount of data than traditional Bluetooth. At the time of this writing, it seems that LDAC is only available on Android.
As for the speakerphone function, I wasn't properly equipped to test its performance. While it works in a pinch, the person I called did experience varied amounts of echo when they spoke back to me via iPhone. I heard them fine and they heard my voice reasonably well, but for some reason they also received a fair amount of feedback no matter where I was or how I positioned the speaker relative to the phone.
Finally, don't think you're just bound to iOS or Android with the X600. I was able to quickly pair a MacBook to the unit and stream Netflix and Amazon Prime movies with impressive surround sound quality. If music isn't called for, portable home theater speakers for your laptop certainly should be.
Understand that you can't control the movie sound quality via the app as you're now bound to the MacBook's audio control features. Without the app to formerly indicate what you're paired to, switching between MacBook and iPhone bluetooth was a bit clunky, but acceptable.
M600X Wireless Speaker Battery Performance
Soundcore advertises a 12 hour battery life, but this will vary depending on what you're asking from it. If you prefer the BassUp feature, you'll find a reduction in the stated specs by at least 2-3 hours. Performance can also vary for movies, especially if you're on ultra high volume with continuous BassUp and Spatial Audio. In the Soundcore app, you can utilize the Auto Power Off feature to shut the speaker down when not needed using 5 to 60 minute timeframes.
Understanding how much juice you have left in the X600 could be laborious for some. While the app features a battery indicator, there wasn't any real indication of battery time on the unit itself. If it's low, the power button will flash red. If it's charging, you'll have steady red indication. But what about in between? While music or movie night rages on, there's no indication as to how much time or charge you'll have left unless you use the app.
This also brings up another question regarding battery specifications. The internal rechargeable 6400mAH battery takes 6 hours to fully charge. How many charge cycles is the unit capable of over its lifecycle? Can the battery be replaced without having to scrap the entire unit?
We're not sure. You're going with a leap of faith and it should have been more clear in Soundcore's documentation. Overall, 12 hours of runtime is considerable for what you're getting. I found that BassUp and Sound Immersion set at high volume for a few hours showed barely a dent in battery level.
Mighty, Captivating Sound in a Portable Package
This little box pumps beautiful, pulsating sound quality when it matters most. I played a wide range of music, from orchestra to metal. I actually preferred having both BassUp and Immersive Spatial Sound on regardless of genre. However, it was the app presets that, in some cases, didn't jive well with me.
Of course, this is all relative to personal sound preferences but I found both the Soundcore Signature and Treble Boost presets were fantastic compared to Voice and Balanced. The Voice preset, regardless of song, seemed to muffle the artist's voice. The Balanced preset reduced just about all sound and immersion (as evident in the app's preset EQ graphic). I found that Balanced was relatively boring and took away from the X600's true capabilities.
Traffic's Dear Mr. Fantasy projects Steve Winwood's voice with good clarity on Treble Boost as opposed to Voice. That was also the case with Taylor Swift's Style and Le Click's Call Me dance song. Of course, with Ozzy Osbourne's Crazy Train, it didn't seem to matter what setting you chose, the instrumentals and vocals thrashed loudly and the X600 seemed worthy enough for the Prince of Darkness.
I also took EPMD's classic You Gots to Chill on high volume with both BassUp and Immersive Spatial Audio active. If it wasn't for its slight weight and rubber feet across the bottom of the unit, the X600 would be dancing on its own. You can feel the entire box pulsate when touched. It's not overly chest throbbing, but enough to know both the unit and band meant business. In some cases, the BassUp setting seemed to max out, especially when playing The Notorious B.I.G.'s Juicy.
Moving over to Titans by Vangelis from the Alexander movie soundtrack, the sound immersion pitted you with perhaps mid-row seats at the orchestra. It felt clean, balanced, and sharp, I could actually hear several background instruments that I wasn't aware of thanks to the X600's sound immersion. Das Punk's Get Lucky offered a vivid blend of techno symphonic beats which I thoroughly enjoyed while using Treble Boost.
On the movie front, I synced up with my MacBook for a weekend viewing of the original Blade Runner: Director's Cut. Suffice to say, I'm just as impressed by how Soundcore configured it's directional speakers to deliver an incredible home theater experience that could, at the very least, put up a commendable fight against my Samsung HW-K450 Soundbar.
As I sat in the center of my largest room, I was about 8-10 ft. away, facing the Motion X600. The introduction scene of Blade Runner panning over the vast industrial landscape, coupled with 80's synthesized sounds and bass, was pretty awe inspiring. The sound immersion was enveloping and the X600 had no problem processing the intense theatric opening at high volume.
Conclusion
Soundcore's X600 should not only be marketed as a wireless bluetooth speaker. It should be branded as a complete, portable multimedia experience. It's not to say that it doesn't have quirks when it comes to certain sound expectations such as voice and bass limits.
As mentioned in the beginning of this review, there's only so much you can ask for when balancing immersive sound, portability, and battery life into a compact wireless bluetooth speaker. Coupled with its robust construction, aesthetically pleasing form factor, and seamless setup, it's almost as if this little guy is going out of its way to impress you.
I got the impression that the X600 is like a scrappy little featherweight fighter that sneaks into the room and tries to pick fights with the bigger guys from another weight category. While it might not win most matches against a heavyweight, it will certainly earn their respect, as it has earned our Highly Recommended award.
Soundcore X600 Technical Specifications
Dimensions: 12.0 cm in height, 30.0 cm in width, and 8.1 cm
Weight: 1980.0 g
Power source: Battery and USB
Battery capacity: 6,400mAh / 7.2V
Audio output power: 50W
Charging time: 6 hours with a certified 5V/3A wall charger
Playtime: Up to 12 hours at 50
Waterproof level: IPX7
Bluetooth version: 5.3
Wireless protocols: Bluetooth (with LDAC support)
Wired connectivity: 3.5mm audio jack
Speakers: 5 audio drivers and 5 amplifiers
Premium design with partial metal exterior
Supports Sony's LDAC audio
Spatial audio mode widens soundstage
BassUp feature boosts the bass
9-band graphic EQ and several sound presets