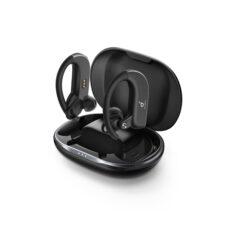 Anker's Soundcore Spirit X2 ($79.99) is a water-resistant, sports-oriented true-wireless earphone designed for the active listener who wants a bit more bass and needs a bit more durability than what's offered by most of the competition.
Its IP68 rating makes it quite water-resistant, and its SweatGuard protection means it can handle any amount of salty perspiration your most strenuous workouts can throw at it. Nor will it fall out thanks to a distinctive earhook design and silicon tips.
The Soundcore Spirit X2 is slotted competitively against the Jabra Elite 65t ($120), the Jabra Elite Active 65t ($140), Urbanista's Athens True Wireless Sport Earphones ($99.99), and the Beats by Dre — PowerBeats ($149.99), the latter of which it resembles most in terms of form factor.
Like its newer competition, the Spirit X2 employs the latest Bluetooth version 5.0, which results in excellent battery life, extremely low latency (no noticeable lip-sync lag when watching video content or playing games), and quick and easy syncing to your device.
How Does the Soundcore Spirit X2 Perform?
Pairing is quick and straightforward, and once paired to your multiple devices (smart phone, laptop / PC, tablet, etc.), switching between them is a snap. The Soundcore Spirit X2 boasts an impressive nine hours battery life on a full charge, and there are an additional three full charges waiting for you in the battery case, giving you 36 hours of playback before you need to find an electrical outlet.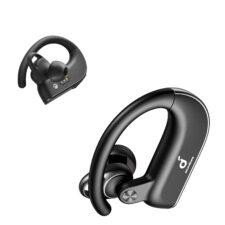 Buttons on the top of the earhook will summon whichever assistant your device has available. There is no voice control without tapping twice on either the right or left earhook; that said, the controls work consistently and intuitively, and in no time I had all the button taps memorized for volume control, play/pause, skip ahead or back, switching between the EQ settings, and call controls.
I made several test calls to test call clarity and attenuation of background noise. Those on the other end reported excellent results, as did I hearing them on my end.
My listening sessions included the audiobook We Are Legion (We Are Bob) by Dennis E. Taylor, and all the fine shades of expression brought forth by the excellent reading by Ray Porter were present and fully reproduced.
As for music, I started with "Bad Guy" by Billie Eilish. The whisper-like vocals and hard right-left panning of clicks creating the rhythm of this track both need to be resolved well to deliver a satisfying listening experience. The Spirit X2 was up to the task and handled the low frequencies without problem as well.
Bad Guy - Billie Eilish (8D AUDIO)
Next up I went with "Walk Me Home" by Pink. This track has a beautifully mixed spaciousness that leaves plenty of room for Pink's vocals. Two minutes in, however, the addition of background vocals, heavy drums, and pads makes for a challenge plenty of earbuds far more costly than the Spirit X2 fail to resolve.
This was a great track to use for comparing the different EQ modes, and although I have no doubt some will prefer the more bass-heavy setting, I found myself returning to the neutral setting and keeping it there. The Spirit X2 would definitely benefit from more control you only get from a dedicated app, but the built-in EQ settings at least allow for some level of tweaking.
P!NK - Walk Me Home (Official Video)
High Points:
Sound quality is excellent for music and spoken word alike, as well as for phone calls.
The fit of the Spirit X2 is secure yet comfortable thanks to the variety of included silicone ear tips, as well as two sets of ear wings.
The IP68 waterproof rating is seriously a nice bonus at this price point.
The nine-hour battery life is also best-in-class and the battery case charges via the included USB-C cable
Low Points:
The Spirit X2 features no integrated voice-control. To summon the voice assistant associated with your device, you need to tap twice on a physical button on either earbud.
Some may find the large silhouette less than aesthetically pleasing
How Does the Soundcore Spirit X2 Compare to the Competition?
The Jabra Elite 65t and Elite Active 65t offer voice control without the need for a button-press, which is a very nice feature.
Urbanista's Athens True Wireless Sport Earphones also have this feature, while the Spirit X2 requires you to tap twice on a button on either the right or left earbud.
Sound across all three of these competitors is excellent, though the associated app for the Jabra offers more personal control over the sound profile. The Spirit X2 is the least expensive of the bunch, though, so if you're shopping based purely on value, it's hard to beat.
Final Thoughts
The Soundcore Spirit X2 offer a compelling feature set at a great price. If sound quality, secure fit, water resistance, and battery life are the four most important factors for your truly wireless earbud needs, these are a great choice.