Audio technology company SoundFun has unveiled its latest product, the Mirai Speaker, designed to boost dialogue clarity for TV shows, movies, and other content without cranking up the volume. Scheduled for its debut in the US this November, the stereo soundbar leverages proprietary curved speaker drivers to achieve heightened speech intelligibility.
The new soundbar builds upon SoundFun's original Mirai mono speaker, which debuted in 2022 via an Indiegogo campaign. While the initial model required an analog audio connection, the revamped Mirai Speaker adds key connectivity upgrades, including an optical input. This enables broad compatibility with modern smart TVs equipped with digital optical audio output.
According to SoundFun, the Mirai Speaker's sideways-firing curved speaker diaphragms more efficiently spread audio throughout a wide listening area. The company claims this provides superior voice reproduction and detail compared to traditional flat driver designs.
"With over a decade of research and development, and a growing audience in Japan that has already resonated with over 200,000 satisfied users, stepping into the U.S. market with the introduction of the Mirai Speaker is a truly momentous milestone for SoundFun," said Hiroshi Yamaji, CEO and President of SoundFun.
"We are thrilled to introduce an advanced auditory experience to a broader audience, ensuring that everyone can enjoy clear TV spoken sound, both at normal levels as well as from further away. This launch signifies not just a new chapter, but also the commencement of an exhilarating journey for us here at SoundFun, as we strive to redefine the very fabric of acoustic innovation."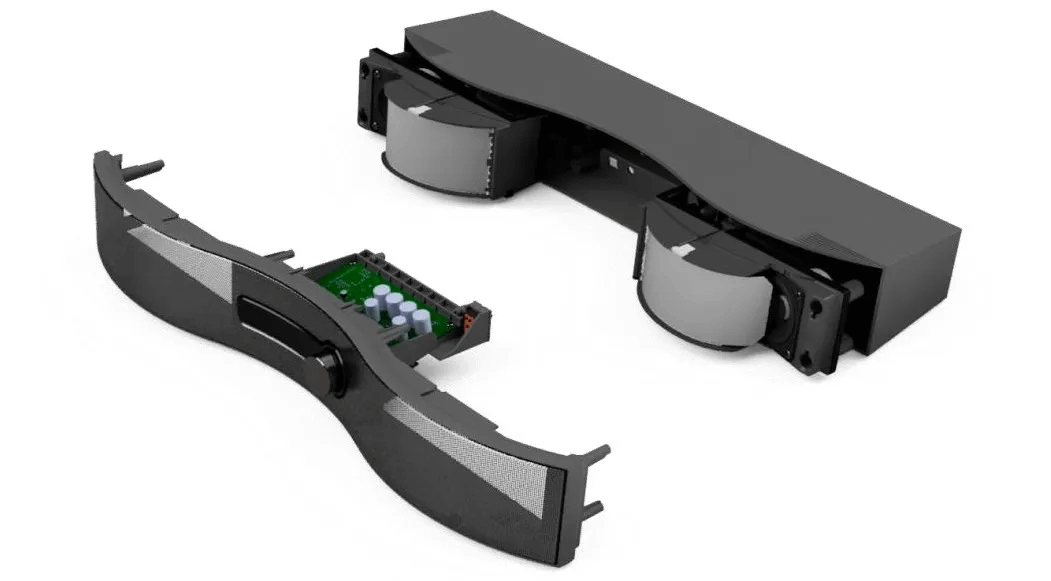 The curved shape purportedly minimizes sound distortion, allowing users to retain speech clarity at lower volumes. This aims to enhance content consumption for those with hearing difficulties without having to constantly adjust the loudness.
In keeping with its focus on dialogue, the soundbar's included remote control features just three straightforward buttons - volume up/down and mute. The simplified controls cater to users who prioritize comprehension of vocal frequencies over more robust music playback.
Currently priced at $300, the Mirai Speaker positions itself as a uniquely specialized product compared to standard all-in-one soundbars. Brands such as Yamaha, Sony, and Vizio offer soundbars with dedicated voice mode settings but rely on digital processing rather than proprietary driver shapes. Meanwhile, hearing aid company ZVOX markets the AV157 specifically for dialogue enhancement, albeit utilizing different audio tuning techniques.
With its singular design and mission, SoundFun aims to fill a niche for those unsatisfied with inadequate TV speaker performance but seeking minimal fuss. For consumers specifically wanting a plug-and-play audio boost for streaming shows and cinema content, the Mirai Speaker proposes an alternate solution.
The Mirai Speaker is available for purchase now via its official website and at Amazon for $299.00.