The new season of Spring is here, and it presents the opportunity to level up your audio game with Best Buy's Spring Audio Event. Best Buy is known for its high-quality offerings of electronics, and this event is no exception to the rule. From the latest releases of soundbars and headphones to speakers and home theater systems, there are incredible deals that are unmatched on a range of audio products. Whether you are seeking to create a cinematic experience in your living room or elevate how you listen to music, the Spring Audio Event has something for everyone to enjoy. This is a great time to take advantage of these specials and change the way you savor sound, as it ends on March 26.
One special that will be beneficial to those wanting to upgrade their home theater or create one can be found on the Yamaha RX-V4A. This audio/video receiver is packed with exceptional features that make watching television or listening to your favorite playlist a blast! Currently, it is on sale for $429.95, which is a savings of $170 from its original price of $599.95! Don't pass up this unbeatable offer!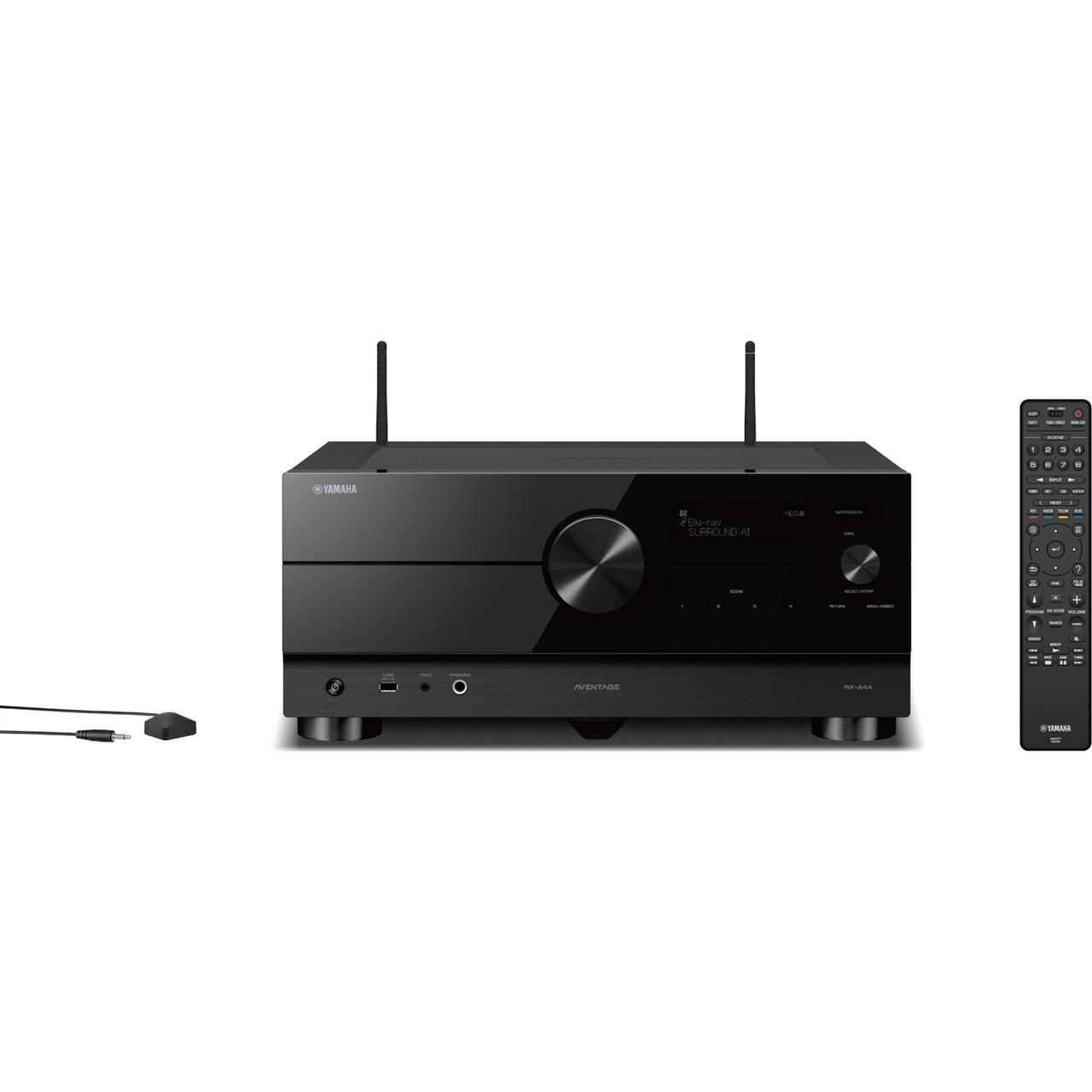 Feel the essence of a movie theater at home with the Yamaha RX-V4A 5.2-channel AV Receiver. With Dolby Digital Plus, Dolby Vision, and DTS-HD Master Audio, you can be sure to make the most of your movie nights! These modern technologies help produce state-of-the-art audio and video processing, giving your entertainment the extra boost to be more enjoyable for you. Built within the RX-V4A is an 80W + 80 W amplifier, delivering powerful sound to accompany the eye-catching visuals. As a plus for gamers, the HDMI 2.1 with HDCP 2.3 and eARC (4-in/1-out) provides compatibility with all your favorite gaming consoles. This also goes for other video devices, including 8K, 4K/120AB, and 8K/60B.
The Yamaha RX-V4A also boasts wireless streaming capabilities, like Wi-Fi®, Apple AirPlay 2®, Spotify Connect, and more. A notable feature is its YPAO automatic room calibration, as this allows you to tailor and optimize your audio to that room specifically. Beyond that, this receiver is MusicCast Surround-capable, which means that if you want to configure your wireless surround sound setup to a 5.1-channel, you can add some MusicCast speakers. Seize the chance to save on a phenomenal product like the Yamaha RX-V4A today!
Browse through some more selections available during the Audio Event and see what catches your eye!
Witness outstanding, lifelike audio with the Definitive Technology BP-9020 Tower Speaker. This speaker is capable of producing deep bass without needing an external subwoofer, as it has an integrated 8" powered subwoofer. It also features a forward-focused bipolar array, which has been patented by Definitive Technology. This technology enlarges the soundstage throughout the room and creates clarity of the audio playing. If expanding your sound system interests you, you can opt to pair with A90 height speakers for the ultimate surround sound experience using DTS:X and 3D Dolby Atmos. Its cast aluminum design and attractive design also make this speaker an excellent fit for any home entertainment system. At $320.01 off its suggested retail price, you can get the BP-9020 for $429.98 instead of $749.99! Grab this amazing deal before it's gone!
For music lovers that want to create more memories on the go with their tunes, the Sony XG300 Portable Bluetooth Speaker is the choice for you. This speaker was carefully crafted into an X-Balanced diaphragm shape that ensures crystal-clear sound and roaring bass. Between its compact size, and included retractable handle, this speaker gives you the option to carry your music with you any and everywhere. The XG300's IP67 water and dust-resistant rating make it a valuable pick for outdoor activities. You can also play your audio for hours and hours, as it delivers up to 25 hours of battery life. Using Sony's Music Center app, you can pair up to a max amount of 100 X-series wireless speakers using Party Connect to get the party started. The Sony XG300 also comes with a microphone and Echo Cancelling technology, that helps conversations flow better during online meetings. For a limited time, you can get the Sony XG300 portable Bluetooth speaker at a discounted price of $199.99, saving $150 from its original price of $349.99. Get the Sony XG300 and experience music like never before!
This powerhouse of a soundbar by Sennheiser will take any home theater up a notch. Sennheiser's AMBEO Soundbar | Max is an engaging, robust 5.1.4 channel sound experience that will provide you with outstanding audio with every play. You can revel in profound 30Hz bass that doesn't require an additional subwoofer unless that is what you prefer. Adjust the sound to your preferences with the AMBEO | Max's built-in equalizer and three bespoke 3D technology settings. This gives you the ability to customize the audio to the attributes of the room. Be prepared for an outstanding home theater experience with its studio-grade sound and remarkable precision. It is also compatible with Dolby Atmos, DTS:X, and MPEG-H and features integrated Upmix Technology to create 3D surround sound. Additionally, built-in Wi-Fi, Bluetooth, Chromecast, AirPlay 2, Spotify Connect, and Tidal Connect allow for effortless wireless streaming. Now available, you can purchase this great soundbar at a discounted price of $1,699.98, reduced from its original price of $2,499.98, giving you a savings of $800! Act fast!
Introducing the Sony MDR-Z7M2 Over-the-Ear Headphones, which are guaranteed to expose you to a new level of sound quality. There is no shortage of high-resolution audio with this pair, as it features 70mm driver units and a wide frequency range. Experience the highest highs and lowest lows, as the MDR-Z7M2 can reach frequencies from 4Hz to 100kHz. Smooth, impressive high notes are achieved through its use of a Fibonacci-patterned grill, which amplifies the listening experience. For added comfort when enjoying an extended jam session, the headphones have a durable over-ear design that incorporates ergonomic ear pads. These pads are made of sewn synthetic leather and thick urethane foam for a snug fit that won't feel uncomfortable when worn for some time. At this time, these headphones can be purchased for $599.98, reflecting a $300 discount from their original price of $899.98. Hurry and get this offer today!
Create the home theater of your dreams by ensuring that you have the right equipment and setup for what you need! Our experts have put together this guide to give you some direction.