Audio cables are a necessary evil, so you may as well make the best of it! When buying premium cables there's a seemingly endless variety of options, with prices that range from commodity-level cheap to ludicrously expensive. But in the end, if you are buying cables what you want is good looks, solid performance, and value, which is a good reason to check out SVS SoundPath accessories.

Today SVS has announced two new additions to the SoundPath accessory lineup: Balanced XLR and digital optical. With these two new cable types, SVS ensures that there is an appropriate SoundPath cable for your application.
---
Balanced XLR cables are how pro audio gets things done, full stop. If you go to a studio and you see a bunch of cables connecting gear, that's balanced XLR doing the heavy lifting. Almost any recorded music you listen to passed through balanced XLR during its creation. So, needless to say, it's also a good choice if you want a reliable low-noise connection for your home audio gear if it supports it.
You'll find balanced XLR on high-end 2-channel gear and also quite a bit of home theater-oriented gear. One application where balanced XLR makes a ton of sense is for subwoofers. Why? Because usually a subwoofer cable is very long, and a long unbalanced cable can pick up noise and interference, but balanced cables intrinsically reject noise. And it's not uncommon to find a balanced XLR connector on a premium subwoofer, including models sold by SVS.
The new SoundPath balanced XLR cable starts at $39.99 for one meter and comes in lengths up to 15 meters.
"Cables should never be the weakest link in your system, nor should they cost more than yours peakers and components. Through inspired engineering and world-class materials, our new SoundPath Balanced XLR cables maintain absolute signal purity and offer no compromises when compared to much higher priced XLR cables."

Gary Yacoubian, President, SVS
---
Tech Specs
Cable Construction Materials:
Tri-balanced high gauge 99.99% oxygen-free-copper conductors individually isolated in independent HDPE dielectric jackets for consistent flow, high purity, and minimal signal loss
1.6mm HDPE inside core dielectric – the first of the five-layer insulation system shields twisted trio of dedicated conductors
Aluminum wrap shield – the second layer in the shielding and insulation system
56-strand spiral braid of 99.99% OFC tinned copper soldered to chassis ground terminal forms a critical third barrier in the five-layer insulation system to remove EMI and RF noise between electronics
High-density PVC jacket wrapped in densely braided cotton jacket provides flexibility, easy gripping, and forms the final two layers in the five-layer insulation system
Five-layer isolation system rejects electromagnetic interference (EMI)
XLR Connector Construction Materials:
Precision-soldered with high-grade lead-free solder to ensure durable and constant electrical contacts with consistent signal flow
24K gold-plated brass conductor pin for stable electrical contact and signal flow
A solid zinc-alloy terminal with black nickel plating provides a stylish and durable body with comfortable handling
Red and white marking bands for easy left and right channel designation
The shield layer is hand-soldered to source terminal chassis connection for the best possible grounding and noise rejection
ELECTRICAL PROPERTIES:
Conductor DCR = 77 mΩ/meter
Shield DCR: 40 mΩ/meter
Nominal Impedance: 110Ω. Cable and XLR connectors are impedance-matched to minimize Voltage Standing Wave Ratio (VSWR) and Return Loss.
Nominal Capacitance: 39 pF/meter @ 1kHz
Rated Bandwidth: DC-5.0 MHz (3M cable) with ≤1.09 VSWR and ≥27dB Return Loss.
---
This digital audio cable is compatible with standard and high-definition devices equipped with an optical or TOSLINK port. Its polished monofilament design delivers reliable signal transfer between audio components so you can enjoy high-fidelity digital audio.

This design's aircraft-grade aluminum terminals and 24K gold-plated connections assure a secure and distortion-free connection. The protective braided cotton jacket allows for simple gripping and routing, making SoundPath Optical Cable a versatile solution.

Uncompressed 2-channel PCM stereo audio and compressed 5.1-channel Dolby Digital and DTS audio can be carried using SVS SoundPath Digital Optical Cables. These cables work well with powered speakers, game consoles, AV receivers, Blu-ray players, soundbars, etc. The SVS SoundPath Cables use digital optical cable technology to ensure maximum sound quality.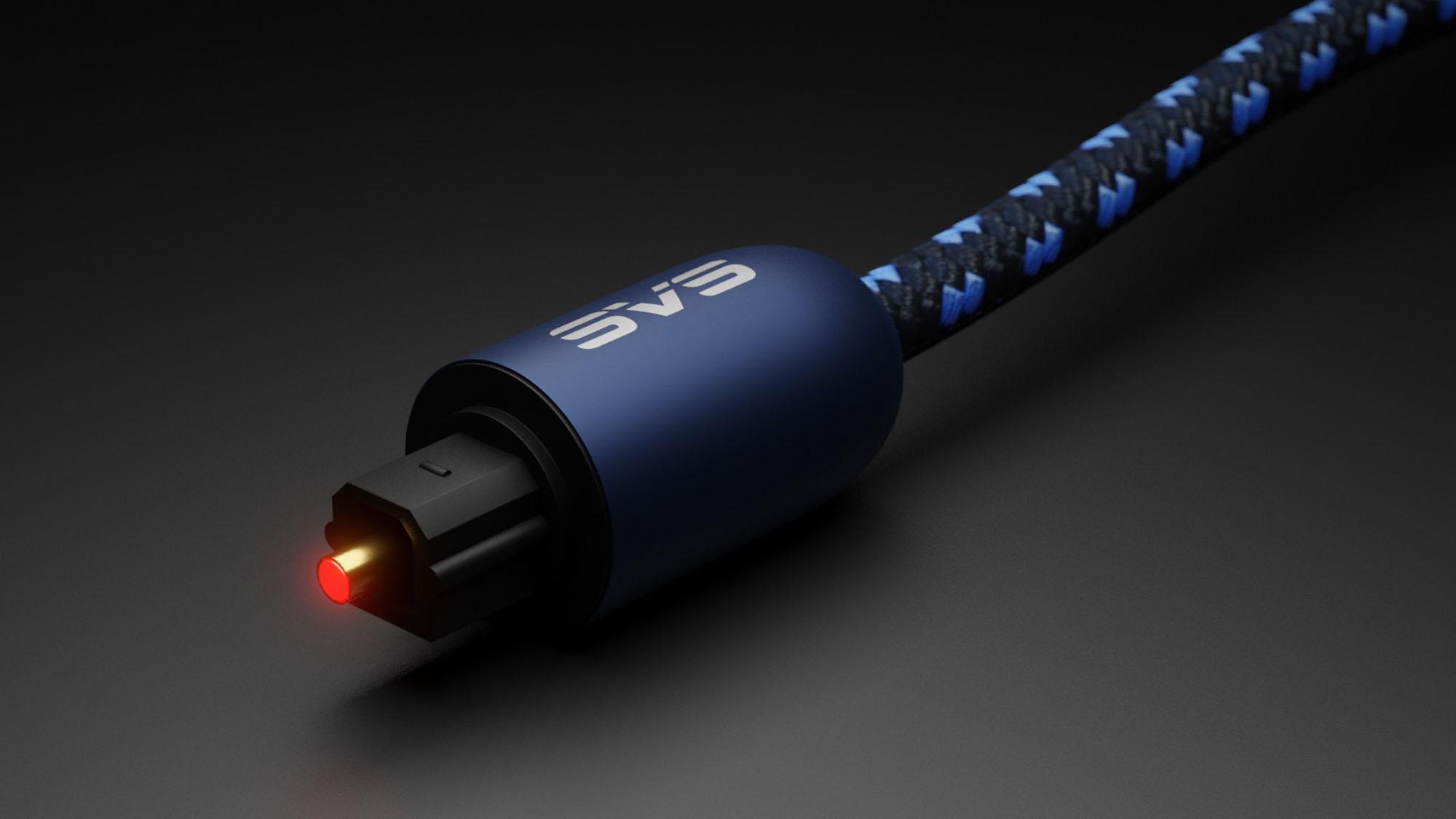 "All SVS Sound Path audio accessories follow the same design philosophy of bringing inspired engineering and world-class performance to more people than ever. Across the board, from the look, feel, and sound, our new SVS SoundPath Optical cable provides a high-end audio experience in every way."

Gary Yacoubian, President, SVS
Tech Specs
Cable Construction Materials:
1.0mm Polished PMMA solid core optical conductor - the optimal monofilament design for lossless data transfers
2.2mm HDPE inside the core insulates the optical conductor for optimal data transfer
High density 7.0mm PVC jacket gives a flexible and durable foundation around the optical conductor
A densely woven cotton braided jacket provides a stylish and durable exterior for easy gripping and premium feel without kinking
Optical Connector Construction Materials:
Precision machined and anodized aircraft-grade aluminum shell
24K gold plated brass conductor pin for a stable connection
Performance Properties:
Digital Data resolution up to 20 and 24 Bits
S/PDIF Audio Data Rate up to 44.1 and 48kHz
S/PDIF can carry up to 2-channel unimpressed PCM audio or compressed 5.1/7.1 surround sound
Transmission Loss ≤200dB/km