You could say I've been waiting for the SVS Prime Wireless Pro powered speakers for almost four years. It was back in the before times of early 2019 that I reviewed SVS' first internally powered bookshelf speakers, the original Prime Wireless. With hi-res audio support, plenty of ways to connect, and the fabulous sound you'd expect from SVS, they made for a brilliant standalone audio solution. But they also befuddled me for one simple reason: there was no easy way to use them for TV audio–they didn't even come with a remote.
The Prime Wireless Pro make up for those transgressions, adding HDMI ARC/eARC for seamless integration with your TV setup, alongside other upgrades (even a remote), and not a minute too soon. From Klipsch to KEF, active speakers designed as audiophile alternatives to skinny soundbars are having a moment. But the Prime Wireless Pro stand above the crowd thanks to great usability, glorious sound, and tons of features all at a reasonable price, making them a fantastic new option in this burgeoning segment.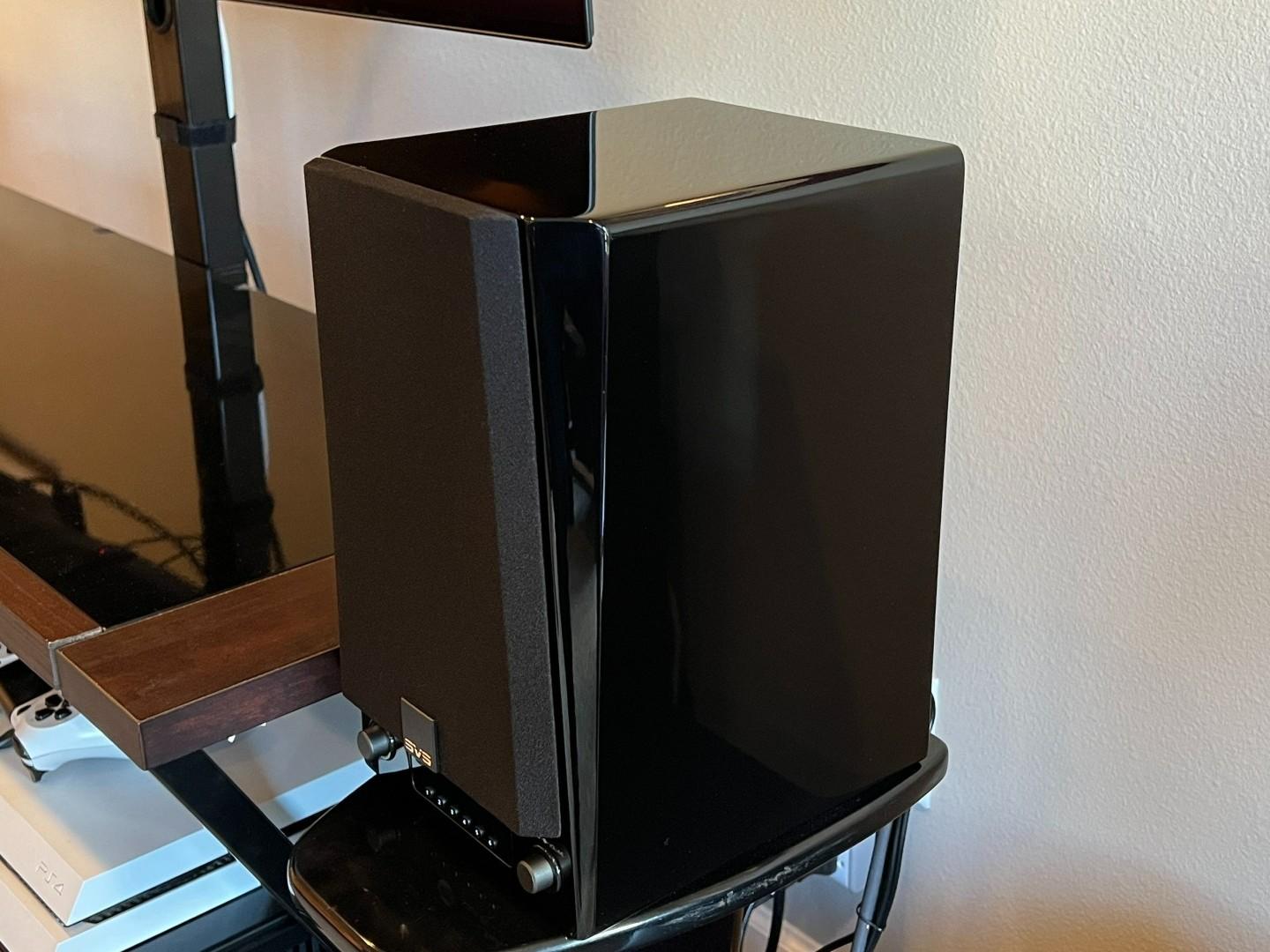 High Points
Exceptionally smooth, balanced, and detailed sound
Upgraded bass response
Hi-res audio streaming
Stylish, premium build quality
Versatile wired and wireless source options
Low Points
Play-Fi app setup took some finagling
No EQ or room calibration
Setup
Simplicity is the name of the game for active speakers (those without the need for external amplification), and the SVS Prime Wireless Pro exemplify it. Pulling them from the box reveals angular, lacquered cabinets in piano-gloss black or white, with prong speaker grilles attached. They look fantastic when integrated into my minimalist A/V setup, with style that feels utterly premium without the premium price.
Accessories include just two cables, a power cable and a network cable, as well as a small remote and batteries. You'll need to provide your own HDMI cable for TV connection, though that's not surprising from a traditional audio company.
The right speaker is the active one, housing all the inputs, internal amplification, controls, and the onboard digital display. The left speaker is passive, simply receiving the digital audio signal. While you'll definitely need a good pair of speaker stands (or a large console), connecting to your TV is as simple as connecting your HDMI cable between the right speaker and your TV's HDMI ARC port, plugging the network cable between the two speakers, and adding power.
You may also need to select HDMI as your TV's sound output, but I had them up and running before halftime concluded in the NFL playoff game I was watching (though it didn't stop the Chiefs from ruining yet another playoff season).
The only minor chore was connecting to Wi-Fi. For this, SVS employs DTS Play-Fi, a once-buggy system that has improved over time, but never quite reached "Sonos-level" simplicity or reliability. After downloading the iOS app and following the instructions, my test speakers refused to connect to my network multiple times. Finally, after a power cycle (unplug, replug), they complied. From there, Play-Fi was stable, and it's also essentially optional thanks to the Prime Wireless Pro's versatile streaming support.
Features and design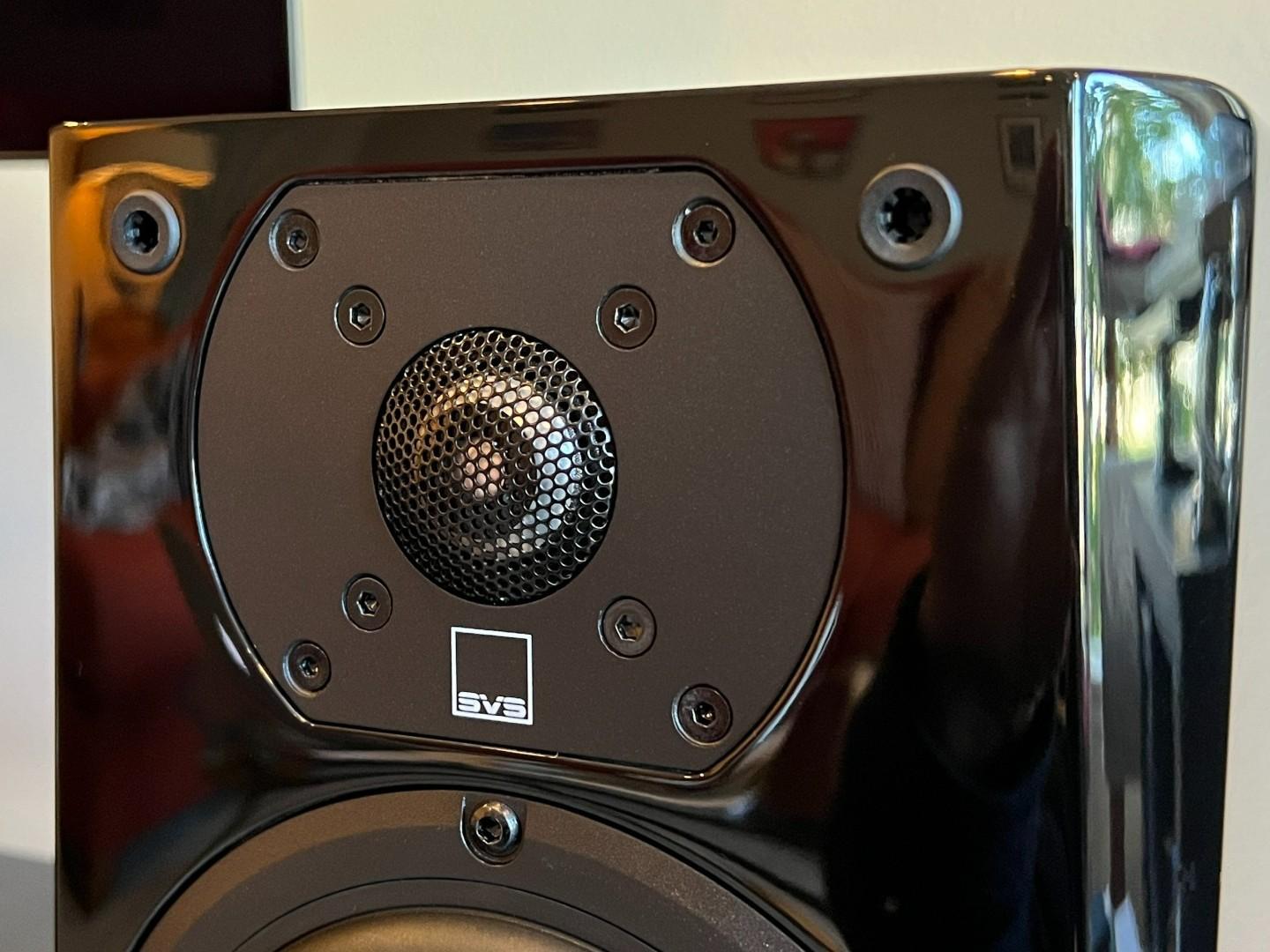 There are a whole lot of ways to stream wireless audio to the Prime Wireless Pro, including Bluetooth with aptX, AirPlay 2, Chromecast, and Spotify Connect over Wi-Fi, and directly in the app with an array of streamers, from Tidal to Deezer. The speakers default at up to CD-level resolution over Wi-Fi, but you can also select a hi-res option in the app to stream at up to 24bit/192kHz with compatible sources.
There are also multiple wired connection options: Wi-Fi is supplemented by Ethernet if needed, and you can plug in all your legacy gear thanks to RCA and 3.5mm analog inputs and a digital optical port. There's also a subwoofer output, and of course, HDMI ARC/eARC. The latter allows for both simple transmission of lossy and lossless audio from compatible TVs, as well as the ability to use your TV remote for volume and standby (the speakers never full power down to make sure they're always ready to stream).
That lets you mostly leave the included remote on the coffee table, though it comes in handy for input switching, especially because the speakers don't automatically switch to HDMI from other sources when you turn on your TV like a lot of soundbars do. That's actually a good thing, in my book, as it allows you more control over which sources you use. For instance, I was able to turn on the TV and watch some basketball, while keeping the tunes jamming, something that can be all but impossible to do on a soundbar.
The app also makes it extremely simple to switch inputs manually, or in a pinch, you can use the right speaker's onboard controls for the task. There you'll also find six preset buttons, designed for programming streaming services for one touch connection. I don't usually have much need for such options, but if you like that kind of automatic playback control, it's a nice addition.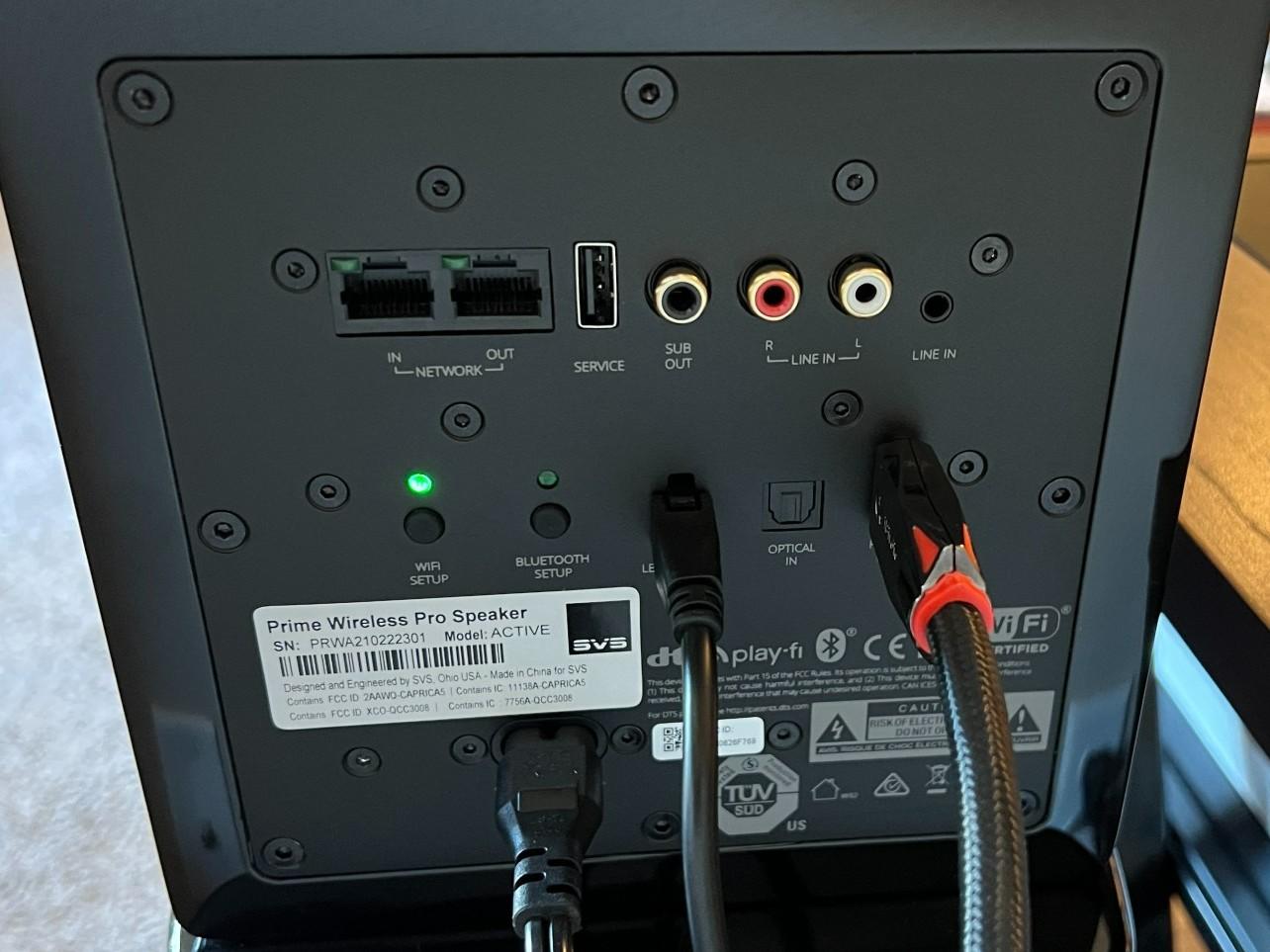 Play-Fi's app offers some cool features, from smart control via Alexa or Google Assistant, to the ability to group speakers across multiple brands, a Play-Fi signature. But it is is surprisingly limited when it comes to tuning the speakers. There's no room mode correction software or adjustment for things like wall proximity. Most surprising, there's no EQ at all. SVS said the brand considered adding a basic EQ, but decided the speakers were perfectly tuned as intended, and I tend to agree. Still, more options for those who like to customize would be nice.
As for the cabinets, each speaker measures 11.61 x 7.09 X 8.85inches (HxWxD), and the right and left speakers weigh 12.8 and 11.68 pounds respectively. Inside is Class D amplification providing 200 watts of peak power–100 watts for each of the two-way cabinets, and 50 watts for each driver. Drivers include the same 1-inch aluminum tweeter employed by the original Prime Wireless, while the mid-woofer has grown from 4.5 inches to a 5.25-inch polypropylene mid-range cone for improved bass response. The total frequency response is 42Hz-25kHz.
Audio performance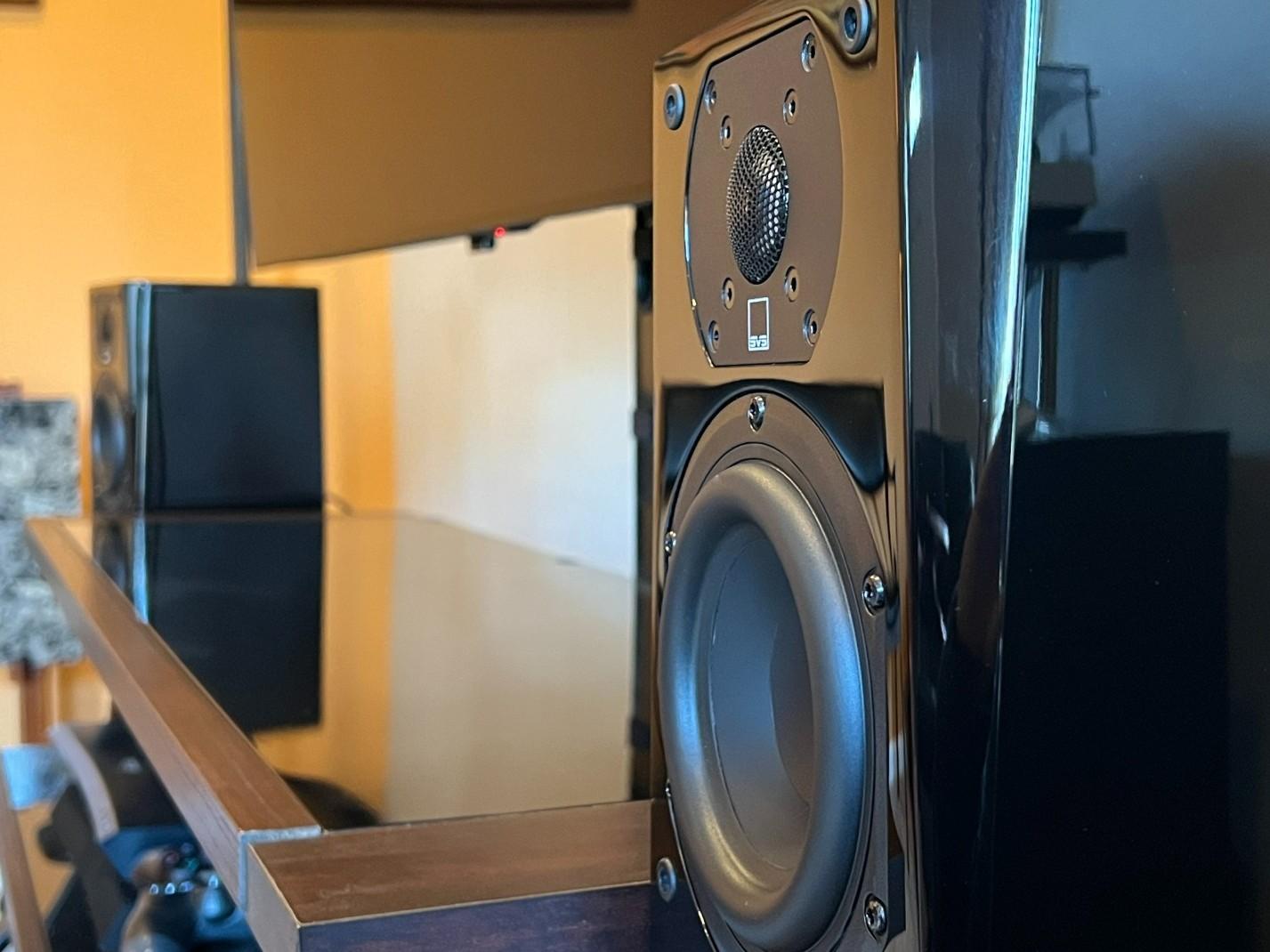 As a big fan of the Prime Series, it's no surprise that I was immediately impressed with the Prime Wireless Pro. They simply sound phenomenal in nearly any setting, offering rich and pulpy bass, a smooth and warm midrange, and impressive extension in the treble that soups up your favorite high-end percussion and synth instruments. Details punch well above their weight, while fast-moving transients and effects are timely and well-drawn. It's a gorgeous package, through and through.
I was all but sure the Prime Wireless Pro would please before I even plugged them in, but I was still initially surprised by how well they stepped in for my pricier KEF LSX active speakers, the usual leads in my 2.1 living room setup (along with a Pioneer Elite subwoofer).
Part of the reason is that SVS' traditional Prime Series speakers are hands down some of the best you can buy for their price point. But another part is the nature of the Prime Wireless Pro's digital internals. Not only is there custom-built amplification inside, but like KEF's active speakers, they also use a digital crossover to better align frequency timing between the two drivers within each cabinet–and when it comes to frequencies, timing is everything.
The Prime Wireless Pro don't quite reach the LSX's vodka-clear transparency. The SVS pair are a little warmer and ruddier in the midrange, and a bit heavier down low. As such, the sublest details like soft dialogue don't quite pop as readily. But don't get me wrong, the Prime do very well in the details department, especially when you consider that they cost a full $500 less than the current LSX II package. The fact that they come so close shows their mettle (and value).
The intro of "Skyfall" is revealed in all its musical excellence; percussion shines with clean and tight attacks, clear dialogue, and lifelike action scenes. From the cold-steel resonance of Bond's Walther P7 to the expansive crashing of the Volkswagen Beetles as they tumble off the train, the scene is engaging in all the right ways. You'll get a similarly cinematic experience with other examples, from the zooming saucers in "Close Encounters" to the helicopter wing flaps of the flying ant army in "Ant-Man." Even sitcoms show off rich detail. Occasionally very light effects and vocals can sound a touch shouty, but those moments were very rare in my testing.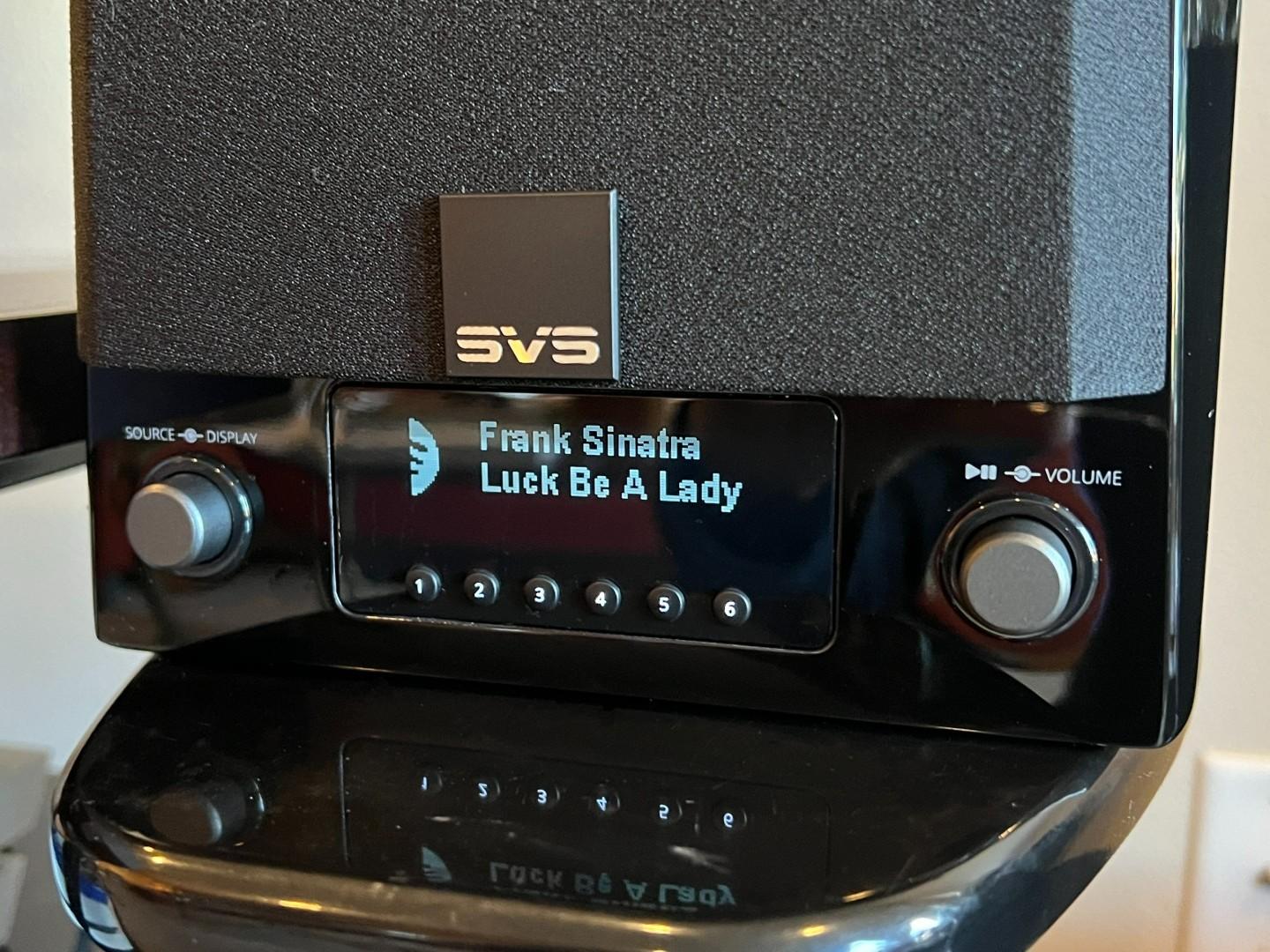 While sound is always subjective, the smoother flavor in the middle of the sound signature can make music even more enjoyable than more transparent speakers. The papery textures of hand drums and snare in Snarky Puppy's "Jefe" are drawn with impressive realism, while the acoustic guitar and mandolin in Nickel Creek's "Reasons Why" cut with clean pick work and sweet, golden resonance.
That added touch of smoke and gloss in the middle of the sound also tends to make the lyrical extension of the higher frequencies all the more rewarding when it lands. Brass and woodwind instruments absolutely soar in the upper midrange and treble, lending Sinatra's gravelly vocals in tunes like "Fly Me to the Moon" an almost live, jazz-club feel.
It's a lovely complexion of colors, and it had me beaming as I moved through my music library. The Prime Wireless Pro's pension for leaning into different timbres means they do a fantastic job of setting "scenes" within your music. Moving from the floating strings and dreamy harmonies of "Here Comes the Sun" to the buzzing '80s synths and Jack and Coke-fueled David Lee Roth wails in "Jump" was a musical odyssey, and the speakers never seem to break stride. They're a damn delight.
When it comes to bass, there's definitely more gravitas than what you'll experience with the original Prime Wireless, as well as the aforementioned LSX. While they don't revel in the doldrums of 60Hz kick drums and bass, they can definitely get there.
But whether you're rocking The Weeknd's "Starboy" or want the full impact of the Close Encounters mothership, you may want a subwoofer to complete the experience. SVS leant me its remarkably pint-sized Micro 3000 subwoofer for the job, and it blends with the speakers very nicely. At $900 extra, that makes a 2.1 set costlier than even high-end soundbars like the Sonos Arc (and without their Dolby Atmos heights), but if you want serious thump, you'll want to invest.
Comparison and Competition
KEF's LSX II are an obvious option as a step-up pair if you've got a deeper budget. You'll likely get better overall transparency, as well as more tuning options in the app, but you'll pay a hefty premium over the SVS Prime Wireless Pro to get them.
At the other end of the price spectrum are Klipsch's The Fives, which are also excellent active speakers that offer many of the same basics as the Prime Wireless Pro. Originally priced at $800, you can often find them on sale for $500-600. That said, they skip a ton of features you'll get with the SVS pair, including any form of Wi-Fi streaming (and with it, hi-res streaming).
Another option at around this price point is Sonos' Arc soundbar, which offers a compelling mix of solid sound quality alongside upfiring and side-firing drivers to expand well beyond the Prime Wireless Pro's stereo sound field. The Arc isn't nearly as good for music, though, and even with all its drivers, its basic soundstage isn't as well defined as a discrete stereo pair.
Conclusion
The SVS Prime Wireless Pro are an excellent option for upgrading your living room audio. At just under $900, they're an audiophile bargain, offering luscious sound, intuitive usability, and a ton of ways to connect both wired and wirelessly for a potent all-in-one sound solution.
Unless you're dead set on Dolby Atmos, you'll have a hard time doing better for under $1,000 anywhere on the market, especially if you have aspirations for hi-res streaming from services like Tidal or a NAS drive. With simple operation, top-notch performance, and plenty of style, the SVS Prime Wireless Pro are a seriously tantalizing way to raise the level of everything you play.