Today SVS unveiled their long anticipated new Prime Wireless Pro powered speakers. These replace the original Prime Wireless pair, and offer a host of well thought-out updates. They are available to order at SVS with launch price of $899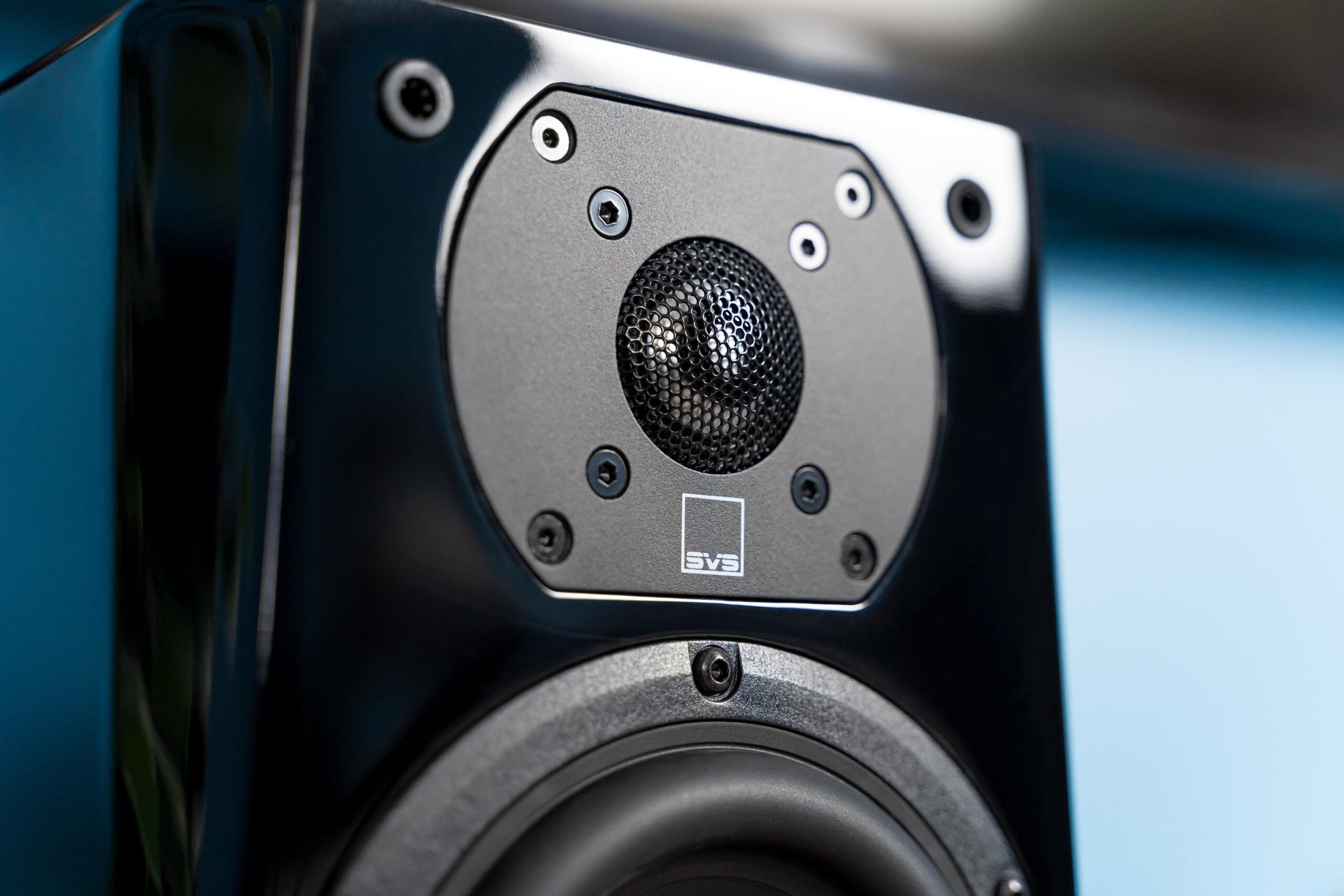 These are intended to be a fully self-contained solution for high quality listening from nearly any source. Wifi connectivity allows easy streaming from Spotify, Airplay 2, Play-Fi, Qobuz, Chromecast and other sources, while only needing a power plug for the integrated 200W amplification.
Sound quality gets an upgrade with larger drivers that dig down for deeper bass, while a tweaked DSP is engineered for the best possible sound. High quality DACs improve playback of high resolution files, and the system is voice control capable.
The biggest highlight from the Input section is the addition of HDMI. These speakers will easily beat out the majority of soundbars and offer a flexible solution for improved TV sound. With the subwoofer output, which auto-detects a connected sub to engage a low-pass filter, these are expandable to provide deep bass that movie lovers enjoy.
Looks remain similar to the past model, with an improved OLED screen and 6 preset buttons that improve usability. A Gloss White finish is also now an option and we love how multi-function these speakers can be. From traditional bookshelf use, desktop gaming, TV sound, and even room-filling casual listening, the flexibility ensures you will find a place for these in any home. Check back as we will be reviewing sound quality and usage in a full review soon.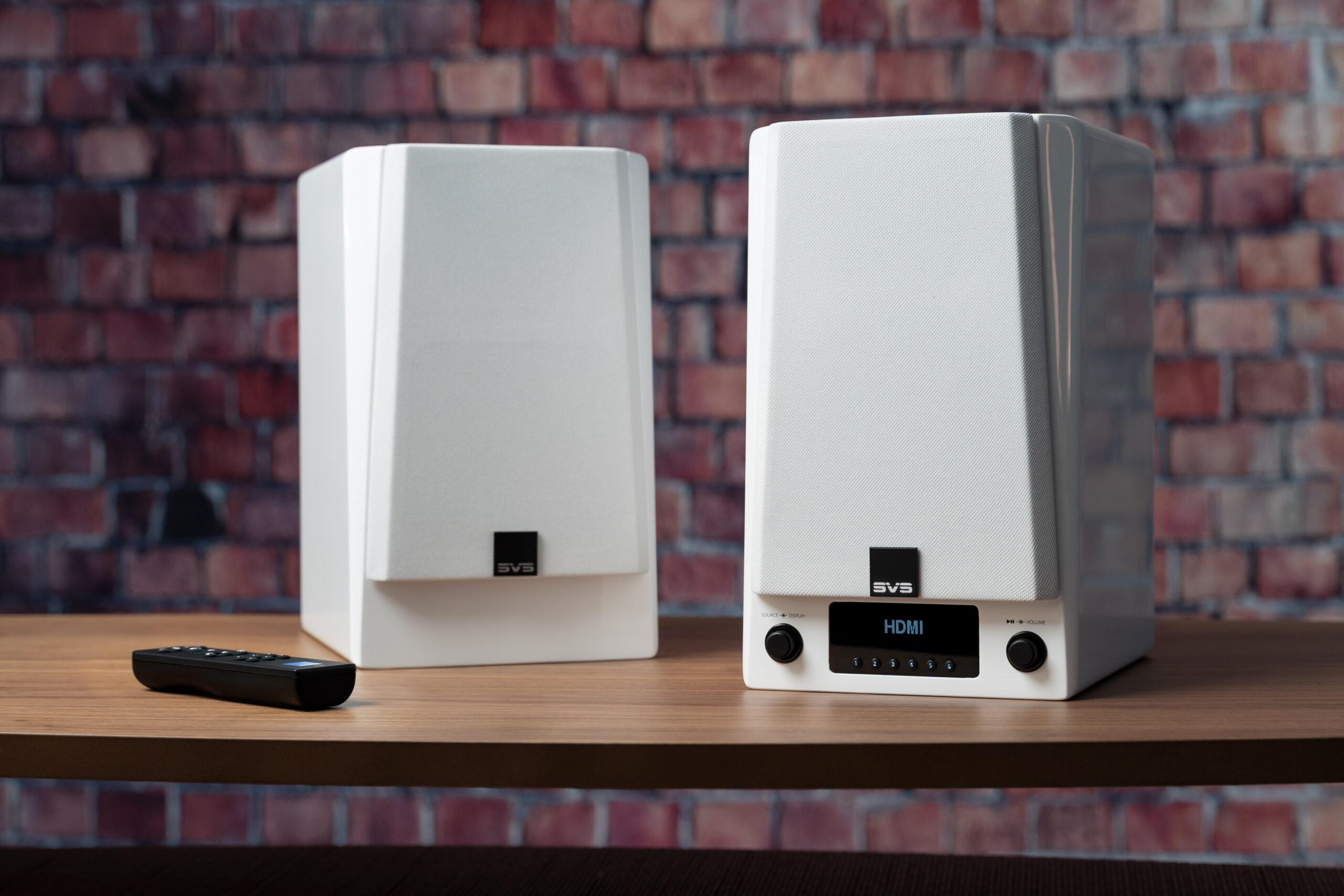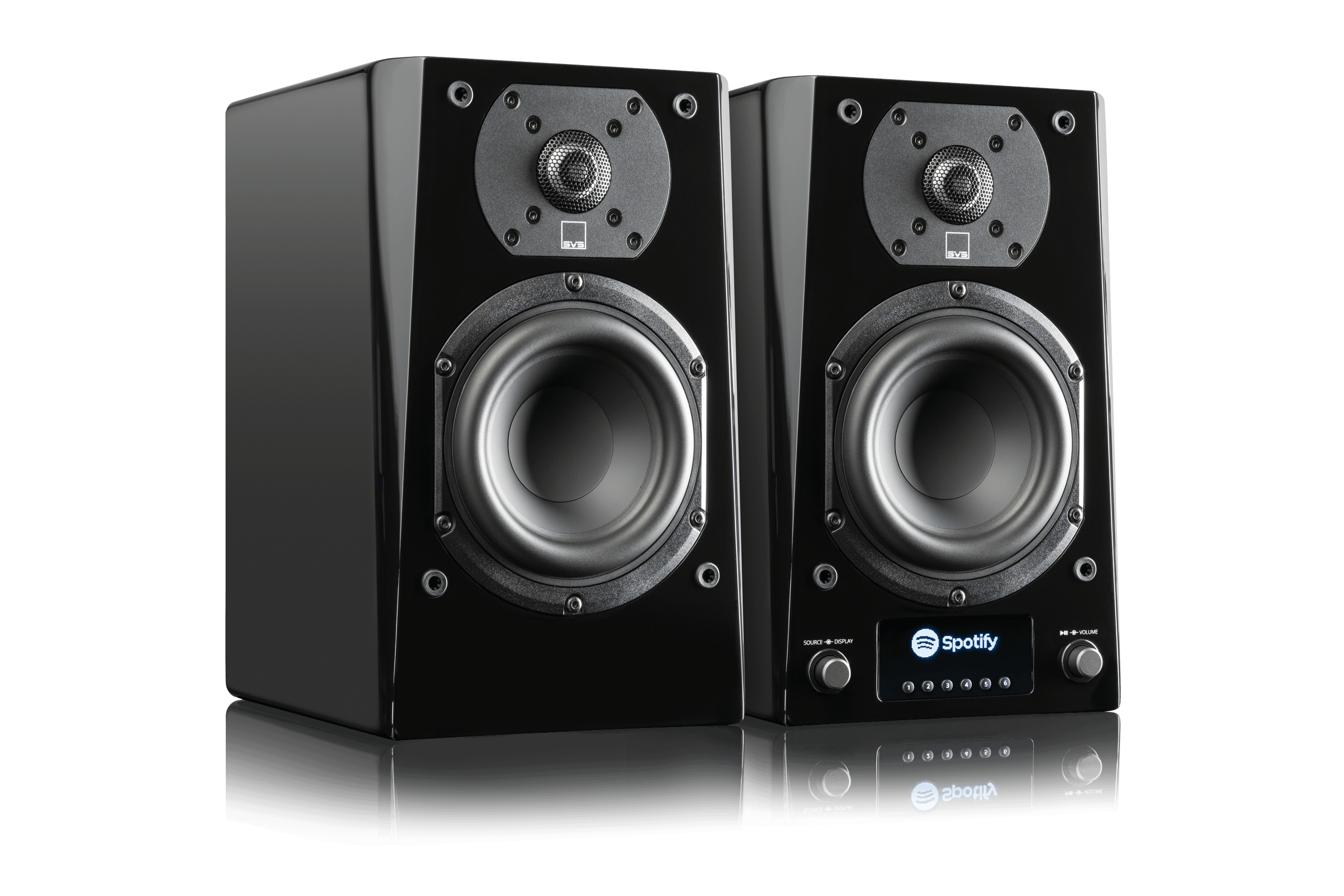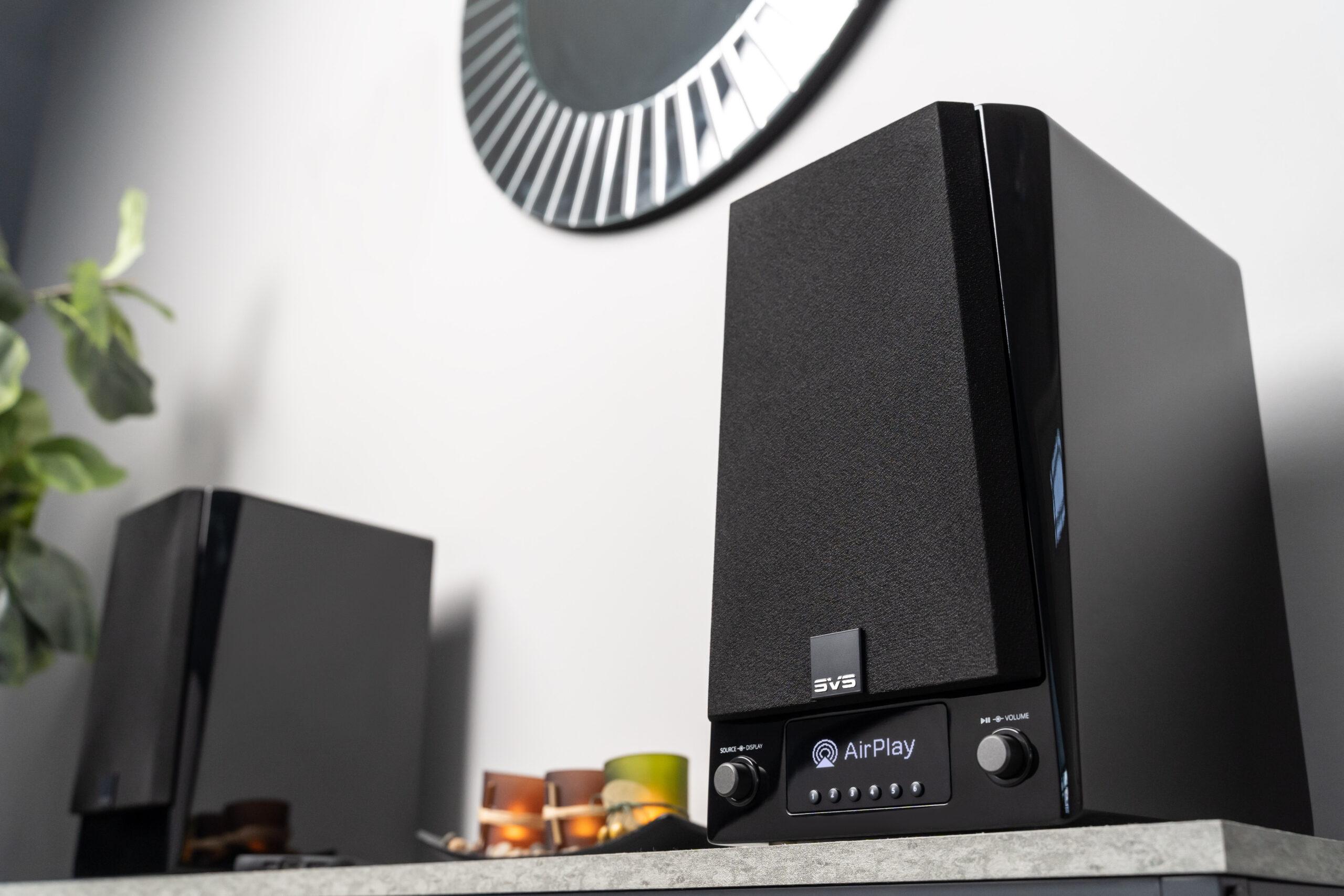 From SVS:
Two-channel powered speaker array sports a 200-watt (50 watts x 4) amplifier, sophisticated 192KHz/24-bit DAC, and precisely tuned digital crossover for stunning dynamics, deep bass, and breathtaking clarity.

Streams High-Resolution audio wirelessly via WiFi, Airplay 2, and Chromecast. Bluetooth-enabled. Features HDMI, line level, optical, 3.5 mm AUX and ethernet inputs, with subwoofer output.
Easy control via smartphone/desktop app, IR remote, voice commands, and data rich front panel interface with loads of unique features.
November 3, 2022 – Youngstown, OH – SVS, manufacturer of high-performance speakers, subwoofers, wireless audio, cables, and accessories, proudly announces the SVS Prime Wireless Pro Powered Speaker Pair. The company's second generation of wireless smart speakers brings reference sound quality to the wireless category by marrying High-Resolution audio playback with ample connectivity options, and smart, versatile control.
Consisting of two speakers, one powered and one passive, each driver in the SVS Prime Wireless Pro Powered Speakers receive 50 watts from a robust 200-watt (50 watts x 4) amplifier. Discrete bi-amplification to the 1" aluminum dome tweeters and 5.25" mid-bass drivers ensure massive dynamic output without a trace of distortion and a much bigger sounding speaker than the cabinet size would suggest.
A sophisticated 24-bit/192kHz DAC and precisely tuned active digital crossover within the Prime Wireless Pro Powered Speakers maximizes performance of each driver by controlling power delivery and frequency response with pinpoint precision. The processing capacity allows SVS Prime Wireless Pro Powered Speakers to render the highest resolution playback possible from all streaming services, wirelessly. Using the active digital crossover, SVS engineers painstakingly voiced the speakers to achieve near-flawless sound in any system or environment.
High-Resolution wireless streaming options for the SVS Prime Wireless Pro Powered Speakers include WiFi, Apple Airplay 2 for iPhones and iOS, and Chromecast for Android and other devices. Users can also connect directly via Spotify Connect and Bluetooth. Through the DTS Play-Fi app, the system supports the highest-resolution playback possible from streaming services, including Amazon Music, Qobuz, iHeart, Pandora, YouTube, Sirius XM, Tidal, Pandora, Audible, and others.
HDMI with ARC/eARC makes SVS Prime Wireless Pro a superior sounding soundbar replacement for high-resolution TV audio and streaming music in stereo. Additional inputs include optical (TOSLINK), analog line level, ethernet, 3.5mm AUX, and a subwoofer output. Control is possible via smartphone, tablet, or PC via the DTS Play-Fi app, the intuitive front panel display, or an IR remote. If hands-free is your preference, the speaker system responds to Siri, Alexa, and Hey Google voice commands via supported devices.
The DTS Play-Fi app also lets users access streaming services, radio guides or a home media server from any smartphone or tablet and distribute it across the home to as many as 32 different Play-Fi products in 16 zones.
Aesthetically, the SVS Prime Wireless Pro Powered Speakers combine the classically handsome appeal of a traditional HiFi stereo system with modern digital flare from the front panel OLED display. Source, artist name, song title, input, volume settings and more can be displayed for an intuitive user experience.
Also on the front panel are six backlit preset buttons for instant, one-touch access to sources, favorite playlists, streaming services, podcasts, and more, just like a car radio preset.
Knobs on the front panel allow users to toggle between sources and adjust display brightness as well as pause playback and set volume. The IR remote controls all the most critical functions and provides direct input buttons for HDMI, Bluetooth, Optical and Line In for easy switching between sources.
"We weren't content with making the best sounding wireless speaker, but rather a solution that competes with the finest sounding speakers available at any price," said SVS President, Gary Yacoubian. "Couple that with the amazing user interface and versatile connectivity options and Prime Wireless Pro appeals to both seasoned audiophiles and anyone just starting their Hi-Fi or home theater journey."
The SVS Prime Wireless Pro Powered Speaker Pair plays flawlessly as a two-channel audiophile system, soundbar or TV speaker replacement, gaming audio rig, in a multi-room/whole-home audio system, or all the options at once.
Yacoubian continued, "High-Resolution streaming has elevated the importance of sound quality to more people than ever, yet the wireless smart speaker category is still dominated by products that can't deliver on the potential. SVS Prime Wireless Pro marries the convenience and simplicity of smart wireless speakers with breathtaking sound quality. Audio fans can finally have the best of both worlds."
This unprecedented technology package is swathed in a stunning, hand-applied Piano Gloss Black or Piano Gloss White cabinet finish that blends seamlessly into any décor. Pricing is $899.99 for the speaker pair.
For more information, please visit www.svsound.com or follow SVS on Facebook, Instagram, YouTube, Pinterest or Twitter.
About SVS
Headquartered in Youngstown, Ohio, SVS high performance subwoofers, speakers and audio accessories deliver thrilling and immersive audio experiences and unmatched performance for the price. SVS engages customers worldwide through direct and retail channels and offers Sound Experts technical support seven days a week via phone, web, social media, chat, email, in forums and wherever audio fans want to connect.