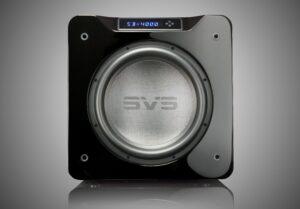 My main listening room is used for both music and movies and measures about 1,700 cubic feet. For the past several years I've been using a pair of 15-inch sealed subwoofers with built-in equalization. They worked well but are older, and one developed some connection problems, which provided me the opportunity to check out some current options. Enter the SVS SB-4000. Like many of you, I knew SVS as a manufacturer of subwoofers but was not incredibly familiar with their lineup until about a year or so ago. SVS makes multiple series of subwoofers, with each series having sealed and ported versions. The 4000 series is the penultimate lineup, second only to the 16-Ultra seires, and it functions as a replacement for the SVS 13-Ultra series. Literally. SVS 13-Ultra can upgrade their units to new Sledge STA-1200D amplifier, for $399, and effectively have a 4000 series sub.
SVS 13-Ultra Subwoofer Amplifier Upgrade Installation Tutorial
My colleague Dennis Burger reviewed the SB-4000's ported sibling, the PB-4000, and found it to be a "bass-bringing beast." There is also a cylindrical version, the PC-4000. The SB-4000 reviewed here today has a similar feature set to the PB-4000 but in a much smaller sealed box. A quick look at the specifications reveals that at 18.3 inches high by 17.8 inches wide by 18.6 inches deep and weighing in at 102.3 pounds, the SB-4000 is significantly smaller and lighter than its ported sibling. The SB-4000 is rated at 19Hz to 310 Hz ±3dB, whereas the extra size and ports of the PB-4000 can extend the low end another 6Hz and generally provide more output, especially below 50Hz. However, there are more similarities than differences between the 4000 series models, including the 13.5-inch driver; the Digital Signal Processing and Sledge STA-1200D Class D amplifier with 1,200 watts RMS and over 4,000 watts peak power; remote control; etc. You can read Dennis' review for more information on the complete feature set.
The SB-4000 is available in two finishes: Premium Black Ash ($1,499) or Piano Gloss Black ($1,599); if you buy a pair you can save $200. For this review, SVS provided a pair of SB-4000s in Piano Gloss Black. The subwoofers are attractive, with their front-facing woofers firing through a curved, steel mesh grill. The center portion of the top of the front panel is beveled back, with the recessed portion containing a display panel and four directional arrow buttons.
I placed the SB-4000s in positions I knew to work well in my room, connecting the subwoofers to my stereo system through the left channel balanced inputs and the multi-channel system through the right channel so I could run the subwoofers with either system without swapping cables. The subwoofers also have outputs so you can daisy chain them. There is also a complete set of single ended inputs and outputs. Once the subwoofers were in place and connected, I then began work on the SVS app, which I had installed on my iPhone. An Android version is also available and a remote is supplied if you would rather avoid using a smartphone.
Getting two subwoofers properly aligned can be tricky for the uninitiated, but when I called the SVS customer service line, someone was able to provide suggested settings and easy-to-follow instructions, which the SVS app made easy to implement. I adjusted the phase of one subwoofer until I had a smooth response. There is also a three-band parametric equalizer, which I did not end up using, but I did use the adjustable low-pass filter for my two-channel system configuration as well, as the multiple presets to quickly go between my two settings.
Watching Interstellar in UHD, the subwoofers got quite the workout. During the rocket launch scene, the low bass was tactile, rumbling the room and rattling loose objects. I re-watched this scene at increasingly louder levels without any noticeable compression or distortion. In addition to increasing output, the dual subwoofers also made for a more even response across all three seats. With one subwoofer there is more likely to be peak in one seat and a null in another.
I also had an opportunity to watch a variety of action movies with plenty of explosions, gunshots, and other bass heavy calamity. While the pair of SB-4000s never seemed to break a sweat as they provided a solid, well-formed bass foundation for a variety of soundtracks, they also did not provide the amount of chest slam or call attention to themselves as a large ported subwoofer would.
I also used the SB-4000s in a two-channel configuration, experimenting with running the main speakers full-range as well as using a processor to set a crossover point. I was able to use the SVS app to get a smooth transition either way but had a preference for using a crossover to relieve my main speakers of bass duty as, depending on which main speakers were in use at the time, this could greatly increase dynamic range as well as let me take advantage of optimum positioning of the subwoofers.
While I generally prefer dual subwoofers, budget and space constraints may limit you to one subwoofer. With this in mind, I also tried listening with a single SB-4000. When I was in my main listening position listening to stereo music tracks, the difference was minimal. As expected, when I moved to different positions in the room, there was a greater variation in bass response than with dual subwoofers. I note that if the positioning was optimized for one subwoofer, rather than two, the variations may be reduced. SVS provides some good information regarding the use of dual subwoofers, which I recommend reading if the use of dual subwoofers is an option for you. On movies or bass heavy music, the lack of a second subwoofer was noticeable, with reduced impact on dynamic scenes such as crashes and explosions when listening at louder volumes.
My CEA2010 measurements were performed at 2 meters (add 6dB to compare to 1M measurements).
| | |
| --- | --- |
| Frequency | SPL |
| 63Hz | 120.0 dB |
| 50Hz | 118.1 dB |
| 40Hz | 113.1 dB |
| 31.5Hz | 105.1 dB |
| 25Hz | 98.3 dB |
| 20Hz | 95.5 dB |
High Points
The pair of SB-4000s blended with my main speakers and provided a solid, deep bass foundation with both music and movies without calling attention to themselves.
I was able to obtain smooth, accurate bass down to 20Hz across all three of the listening positions in my room.
The SVS app allows for easy, precise, and repeatable adjustments making system integration much easier, especially if you have multiple configurations.
The stereo input and outputs allow for use in dual, co-located systems without cable swapping.
Low Points
The lack of an automated equalization system, a feature common on other subwoofers, makes setup a more hands-on process with the SVS subwoofers.
The sealed SB-4000 has significantly less output than its ported brother, the PB-4000, especially below 50Hz. While a pair of SB-4000s pressurized my listening room without obvious strain at all reasonable listening volumes, they did not provide as much of the chest punch that Dennis found with the PB-4000. I note that this is also a function of room size and placement.
How does the SVS SB-4000 compare to the competition?
The SB-4000's ported match, the PB-4000 ($1,899), is significantly bigger but also delivers significantly deeper bass.
Hsu's ULS-15 MK2 ($799 in satin black) is a sealed 15-inch subwoofer that also has speaker level inputs, but a much more stripped down control set.
Rythmik Audio is an internet forum favorite, and their F15HP ($1,282) is another 15-inch sealed model, but with direct servo technology. Rythmik offers different amplifier options, but has no application or auto-EQ options.
Sticking with similarly priced and more widely available options, Paradigm and the related Martin Logan have a large selection of subwoofers in their Defiance and Dynamo series. These subwoofers come in different sizes, but what makes them standout as worthy contenders is the control app and excellent room correction capabilities.
Final thoughts
The SB-4000s shook and rattled my room with apparent ease when over-the-top action scenes called for it. However, the majority of the time, they subtly provided low frequency and extension to my system that was more noticeable by its absence than by their engagement. This was especially true with music, where the SB-4000s enhanced the low frequency reproduction by adding solidity and an even-handed, well-defined bottom end.
The SB-4000's transient response is very good, reproducing stringed bass and drums without bloat or overhang. However, if you want super sharp, stop-on-a-dime transients, you may want to check out the SB-16 Ultra. If you have a very large room or crave extra bass, you may want to check out the larger Ultra series or ported SVS options, but in all but the biggest home theater or music rooms, the SB-4000 (or better yet, a pair of them) should provide plenty of low frequency energy while maintaining a compact footprint and providing the tools to make it all easy to configure and use.
What I liked best about the SB-4000 is that it is a great multi-purpose subwoofer that balances brawn with finesse. The Goldilocks of subwoofers, hitting the sweet spot of energy, control, size, features and cost.
Additional Resources
• Visit the SVS website for more product information.
• SVS SB-2000 Pro Subwoofer Now Available in Piano Gloss White at HomeTheaterReview.com.
• SVS Announces Black Friday 2000 Series Subwoofer Deals at HomeTheaterReview.com.