Technics has announced the latest entry in its AZ series, the AZ40M2. The AZ40M2s join the AZ80s and the AZ60M2s in the company's line of premium earbud products, promising to deliver powerful performance in a compact and stylish package.
Internally, the AZ40M2s feature a 6mm driver that delivers the clear and rich sound that Technics products have become known for over the last 55 years. To help elevate the sound even more, the AZ40M2s utilize an acoustic control chamber which optimizes air flow to produce a more natural sound with great dynamics and reducing distortion.
Combined together, these features result in a sound that is immersive and detailed, with a strong bass response to boot. The quality of the sound can be taken even further on the AZ40M2s with its LDAC support, a codec that allows for a ultra-high resolution Bluetooth sound.
The AZ40M2s also come equipped with stronger Active Noise Cancelling technology than in previous models, allowing for maximum immersion as you listen. The earbuds manage to reach high levels of noise cancellation through a digital software filter and a feedforward mic. There are different noise cancelling modes, including Ambient Mode and Attention Mode.
For maximum comfort, and to ensure that the noise cancellation works properly for different ear shapes, Technics includes a box of different sized earpieces with the AZ40M2s, to help you find a perfect fit.
The design of the AZ40M2s is sleek, compact, and lightweight. They are available in three different color options: Black, Silver, and Rose Gold, with a brushed metallic finish and an engraved Technics logo to add a premium touch. Additionally, the AZ40M2s are IPX4 certified, meaning they will be unharmed by water splashes in any direction.
One the side panels of each earbud are touch sensors which offer a variety of control options, including track forward and back, taking and ending calls, and more. Customization of these controls are available in the Technics app.
The earbuds are designed for all-day comfort, given its lightweight, and will stay in place no matter what you are doing. Accompanied with the aforementioned provided earpieces for different ear shapes, the AZ40M2s will provide an ultra-comfortable listening experience.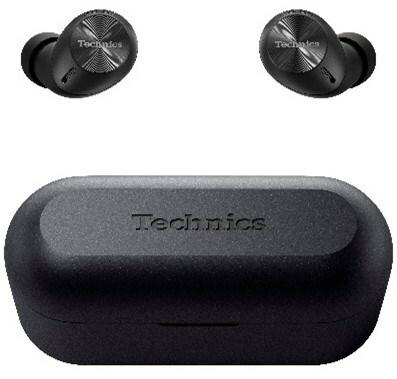 Other noteworthy features on the AZ40M2s include the Multipoint Connection option, which in an industry first, will allow you to seamlessly connect to up to three Bluetooth devices at the same time and swap between them easily. In addition, the AZ40M2s utilize Beamforming Technology to allow for clear calls, eliminating surrounding noise in your area.
Listeners will be able to enjoy their music for prolonged sessions with the AZ40M2s extensive battery life, boasting seven hours of usage on a single charge, with an additional 24 hours available in the compact carrying case. With ANC on, they support 5.5 hours of playback and an additional 18 hours from the case.
Finally, the AZ40M2s allow for extensive user customization via its accompanying app, which gives you the ability to edit the sound to your liking, adjust controls, set up a voice assistant, and more.
The AZ40M2s will be available on Technics.com, Best Buy, and Amazon for a price tag of $169.99 in August, making it cheaper than other Technics recently released products, the AZ80 and AZ60M2.